Color Swatches Pro for Magento 2

|

v2.0.1
Screenshots:
The core part of your Magento web store are simple products. Hundreds and thousands of simple products. Technically, they may be part of the configurable, bundle, or virtual products. And when it comes to their presentation it can be rather complex. With the Color Swatches Pro extension, you can make sure all of your simple products are presented in the right and proper way. Make good steps on the way to providing better shopping experience.

EXCEPTIONAL PRESENTATION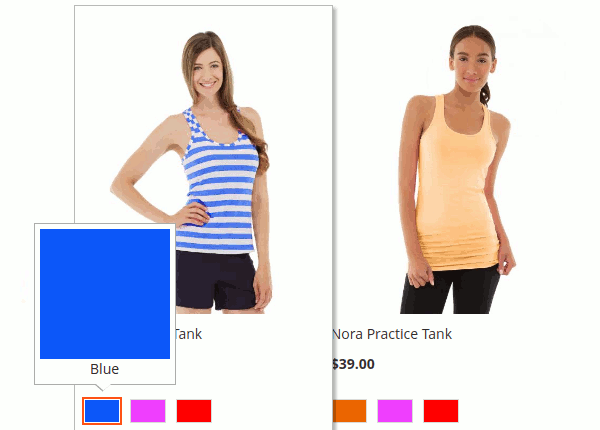 Change main product image on mouse hover
Let your customers switch between product variants on mouse hover. Improve your UX by ridding of multiple clicking on swatches.
Show relevant product info on the cart and checkout pages
By default, after customers add items to the cart, the selected product options are not presented evidently. Now you can display relevant simple product information on the cart and checkout pages.
Use smart page reload
The information like an image, price, description, SKU and etc. will be reloaded automatically after customers select particular option.

Various price display
Display prices in drop-downs
It's also possible to show prices in drop-downs. You can choose whether to show the actual simple product price or the price difference like RED +15$, BROWN +20$, etc.
Prices below options
Display prices of simple products below corresponding swatches right on a parent item page. Therefore, store visitors won't have to click on numerous product configurations to find out how much they'll pay for each of them.

Advanced options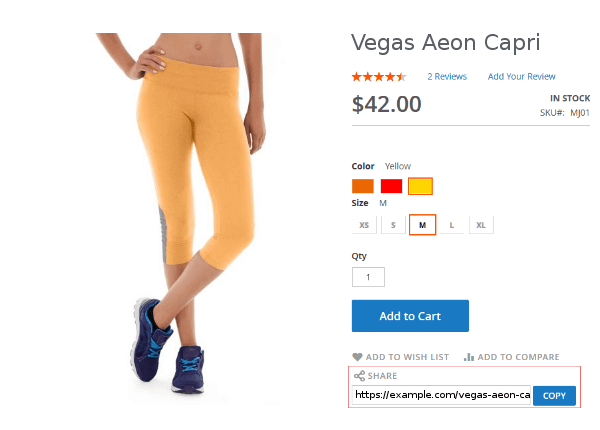 Share URLs with custom options
When a customer chooses different item options like (color, size etc.), the product page URL automatically changes. Now it's possible to copy and share such URLs with others in a few simple steps. Just click on a special Share symbol placed on each product page and copy the URL.
More items in search result
Suggest more variants to your customers when they search by colors. Associate related colors in one group and let customers find their desired products fast. For example, you can merge sky blue, azure, light blue and indigo colors into one group. So when a visitor browses by blue, all products matching the previously mentioned colors will be shown.
Polish color swatches functionality to make it shine
Limit the number of swatches on category pages
Manage the number of swatches displayed under the main product image. In case the number of visible swatches is limited, customers will see a link like More Colors Available.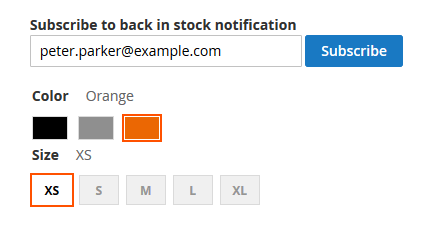 Enjoy the synergy of two modules: now predefined product options will be displayed on the customized cart and checkout pages. So that your customers will derive pleasure from the shopping process and definitely come back to your store again.
Let customers subscribe to out of stock options of configurable products
In case some of simple options of any configurable product are currently out of stock you can display them and let customers subscribe to a special notification letter. Motivate shoppers to return to your store. Check our Out of Stock Notification extension to use this feature.
Free Labels
You can greatly enhance your web store visual presentation with free Amasty product labels' pack.
Other Features
100% Open Source — Easy To Customize
Follows Magento Code Architecture
Separated HTML/CSS/JS
W3C Validated Code
* The name "Magento" and the logo are the trademarks of Magento, Inc.
Amazing support
We are very happy with the extension. It has a lot of useful options. We also appreciate a lot a very quick response time of the support team.
Good Extension & Professional Support
This is a very useful extension for any kind of configurable product that you wish to present. The customer support is unbelievably quick and resolved every single issue I faced instantly.
Awesome sauce!
The module's helped me boost sales. Products to which my clients haven't even browsed are now being sold. Special thanks for the support! I was assisted timely and efficiently.
Stunning - Why not in Core?
Thanks for that free module. It was fixing an issue I always wondered why it is not in Core. Like updating of attributes.

This module fixes it. Easy and quick installation. CSS is clean. Really nothing to complain about really.

Thanks
Thank you, Amasty!
I would like to say thanks for Amasty's developing team, who created a simple, but perfect solution, and also for your helpful and enthusiastic support guys!
Good job, it's pleasant to work with you :)
Write Your Own Review
Version 2.0.1
-
October 17, 2017
– New: the feature with displaying the simple products prices below corresponding swatches works for an unlimited number of attributes.
– Minor fixes
Version 2.0.0
-
September 28, 2017
– New: Change the product image on mouse hover
– New: Display the selected simple product options in cart and checkout
– New: Group the associated colors and shows relevant items in the search result
– New: Show simple products' prices in drop-downs
– Magento 2.2 compatibility tested and confirmed
– Compatibility with Amasty One Step Checkout extension
Version 1.1.3
-
March 29, 2017
– Minor improvement
Version 1.1.2
-
March 16, 2017
– Improvement for reloading block of attributes
Version 1.1.1
-
March 10, 2017
– Compatibility with the One Step Checkout extension improved
Version 1.1.0
-
February 15, 2017
– Add SKU for reloadable information when specific configuration selected