Color Swatches Pro
for Magento 2
Provide customers with the most fulfilling shopping experience possible. Enrich the Magento 2 Color Swatches functionality with a bunch of new features.
Display price of simple products
Change product image on mouse hover
AJAX product info reload for better perception
Group related colors and show more items in search
Fully optimized for mobile
An important part of Magento web stores are products like magento 2 configurable, bundle products or virtual products that consist of
simple products
. And it might be challenging to present items that have numerous options like color, design, material and other. That's why store owners prefer a direct method of communication with swatches. With the
Color Swatches Pro
extension, you can make sure all of your products are presented in the right and proper way.
Magento color swatches
is an extension for the e-commerce platform default functionality. In a nutshell, it is a color selector module for online stores, which animates text attributes of configurable products in Magento. Thus, color swatches
(a)
help shoppers view various product color options and
(b)
let store owners be more creative in presenting their inventory to stand out in the competitive crowd.
Make good steps on the way to providing a better shopping experience.
Check our video guide to see how to configure price display options
Ecommerce has its specifics: customers cannot touch and examine goods in their hands as they do in regular store. Instead while online, they want as much detailed information on products as possible. Manage a vivid many-sided presentation of your configurable products with the extension for Magento 2: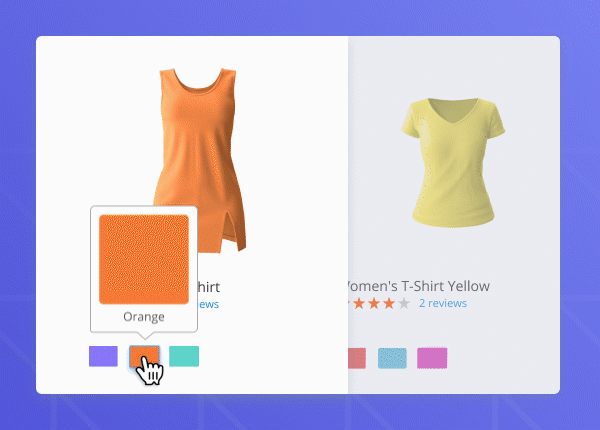 Change main product image on mouse hover
Let your customers swatch colors of Magento 2 configurable product variants simply hovering over the options.
Show relevant product info on the cart and checkout pages
Always display only relevant simple product information on the cart and checkout pages.
Use smart page reload
The data as image, price, SKU will be reloaded automatically after customers select custom options.
Shoppers are always attentive to sales and discounts, they concern about price a lot. It's in your interest to keep all the price details in order and display everything accurately (especially for configurable and bundle Magento 2 products):
Display prices with swatches
Display prices of the simples below corresponding swatches on a parent item page. Also, mark an out-of-stock item as a crossed-out swatch.
NEW | Product Matrix
Display a handy product matrix together with Magento 2 color swatches pro.
Display prices in drop-downs
You can also show prices in drop-downs. Choose whether to show the actual simple product price or the price difference.
Highlight the quality of your goods with a must-have option for any product store. To perfectly display the goods with many details and nuances, use lens zoom functionality. Not to overweigh customers' attention - select inner zoom. Also, you can improve shopping experience with neat carousel & zoom. And a Magento 2 lightbox popup to focus customers on particular aspects.
Outside Zoom
Inner Zoom
Lens Zoom
Carousel options
Smart Lightbox
NEW | Image Flipper
Configurable Preselect
Apply preselect feature to display the cheapest or the first simple item on the product and category pages.
Share URLs with custom options
When a customer chooses different item options like
(color, size etc.)
, the product URL automatically changes.
More items in search result
Suggest more variants to your customers when they search by colors. Associate related colors in one group.
Polish Magento 2 Color Swatches extension to make it shine
Limit the number of swatches on category pages
Manage the number of configurable Magento 2 swatches displayed under the main product image. In case the number of visible swatches is limited, customers will see a link like More Colors Available.
Create an outstanding shopping experience
An open secret: it's cheaper to retain a customer than acquire a new one. Pay extra attention to creating a foremost shopping experience. With the synergetic work of Amasty Color Swatches Pro and Amasty AJAX Shopping Cart extensions, you can make a huge step towards the aim.
Enjoy the synergy of two modules: now predefined product options will be displayed on the customized cart and checkout pages. So that your customers will derive pleasure from the shopping process and definitely come back to your store again.
Let customers subscribe to out of stock options of configurable products
In case some of simple options of any configurable product are currently out of stock you can display them and let customers subscribe to a special notification letter. Motivate shoppers to return to your store. Check our Out of Stock Notification extension to use this feature.
Highlight special offers with eye-catching labels
Use Color Swatches Pro jointly with Product Labels extension and immediately draw customer attention to new arrivals or special products through various engaging labels. Automatically run several marketing campaigns at the same time, create any labels you need with ready made shapes. Enable your customers easily find necessary items in product list, and quickly make a purchasing decision.
According to the statistics, the extension can cover each business need in synergy with the following solution: magento b2b ecommerce.
Easily guide international customers to the corresponding store versions
Make your store attractive and comfortable for the shoppers worlwide with the magento 2 currency switcher by guiding international customers to the corresponding stores with the appropriate currency and language.
How to create a new color swatch for a configurable product in Magento 2?
Go to Stores > Attributes > Product and open the color attribute;
set the Catalog Input Type for Store Owner field to Visual Swatch;
in the Manage Swatch section, click Add Swatch and choose one of 3 options: Choose a color, Upload a file, Clear;
then fill in the color names for the Admin and Storefront;
save the attribute.
Other Features
100% Open Source — Easy To Customize
Follows Magento Code Architecture
Separated HTML/CSS/JS
Simple installation via Composer
* The name "Magento" and the logo are the trademarks of Magento, Inc.
We've been able to use our custom product images
ProStone, Ecommerce Manager
We have been using the extension for over 3 years to address a limitation in standard Magento functionality. We've been able to use our custom product images in color swatches.

This extension is very usable for shops that sell products with custom colors in order to be able to display the actual look of the product.

The extension is easy to use, almost no training required.
Amasty answer
Mar 02, 2021
Alena Hamolka
/ Product Team Lead
Dear Adrian, thank you for your kind feedback, we are happy to see that the extension has helped you show your customers the actual look of the items that you're selling. Thanks again for choosing Amasty, and we'll look forward to seeing you in our store again!
Exactly what we needed
Zoiha, Director
We were looking for a solution to display various prices for different colors and product variations. And the Amasty Color Swatches Pro was exactly what we needed. Anyone who is trying to make their store more user-friendly and has many variations of the same product at different prices should use this product.
Amasty answer
Feb 09, 2021
Alena Hamolka
/ Product Team Lead
Hi Umair, thank you for your feedback! We are happy to hear that the extension has fully addressed your needs. Don't hesitate to contact us anytime you need additional functionality or if you have any questions!
Easy to use very practical
I can advise it to everyone who want to increase their sales. It's easy to use very practicall. We use it for 3 months and it's excellent. Extenstion helps with products promotions and increase sales.
Amasty answer
May 26, 2020
Natalya Chekanina
/ Head of Sales Team
Hi, Lennin! I am happy to hear that you're satisfied with Amasty Color Swatches Pro for Magento 2 extension. We would be happy to see you in our Amasty Store again!
Professional company that is always available to solve problems.
VIVOCI, Director
I've used Color Swatches Pro for about 9 months.The issue I wanted to solve was wholesale sales. Put various sizes and colors of the same product in the cart simply and quickly. The module improved usability. It is easy to use and well documented.
Amasty is a professional company that is always available to solve problems.Whenever I need a new resource, I look for Amasty solutions and find a solution that exceeds expectations.
All with surprisingly fast support.
In fact, they solve the problem for you.
Amasty answer
Apr 21, 2020
Natalya Chekanina
/ Head of Sales Team
Hi Péricles! Thank you so much for your detailed review. We would be happy to provide you with the same service again.
I love all the modules
JiGX Products, Owner
I've notice measurable changes on my website after Amasty product implementation. I love all the modules.
Amasty answer
Jan 10, 2020
Natalya Chekanina
/ Head of Sales Team
Dear Rob, thank you for your review! We would be happy to see you in our store again!
Very satisfied
CouveLimao, Developer
I acquired this tool and I am very satisfied with the quality and support provided. Very attentive. After the implementation of the tool, I realized that the customers were more satisfied to be able to better visualize the products. Very good support, always very careful to the correct operation of the tool. Very good support, always very careful to the correct operation of the tool.
Amasty answer
Mar 26, 2019
Natalya Chekanina
/ Head of Sales Team
Dear Thiago, thank you for your review! We would be happy to see you in our store again!
Improves user experience
Works out of box, though, I'll add some extra features like other than drop dawn prices display. Anyway, the module worths the money and shows results in better ux and higher sales.
I like the way it works!
I have fully satisfied the Magento 2 functionality out of the box. However i purchased few extensions to enhance the default behavior. One of them is Colored Swatches Pro by Amasty. And another one is Amasty Layered Navigation of course. These two modules rocks! Thanks a lot!

Good choice for products presentation
I liked new option to preselect needed variants of a conf product and extension works well, in general. I've received several reviews on my product pages convenience. So, I'm definitely satisfied with such result.
Great features!
I have purchased and installed the Color Swatches Pro extension on my site. It works like described. I very much like the zoom and carousel functionality. Great job!

rich functionality
I bought it just after they released new features and had few problems with installation and conflicts with other modules. However support works fine and the plugin itself is of use. Just because of the troubles I give only 4, though the functionality is great.
Amazing support
We are very happy with the extension. It has a lot of useful options. We also appreciate a lot a very quick response time of the support team.
Good Extension & Professional Support
This is a very useful extension for any kind of configurable product that you wish to present. The customer support is unbelievably quick and resolved every single issue I faced instantly.
Awesome sauce!
The module's helped me boost sales. Products to which my clients haven't even browsed are now being sold. Special thanks for the support! I was assisted timely and efficiently.
Stunning - Why not in Core?
Thanks for that free module. It was fixing an issue I always wondered why it is not in Core. Like updating of attributes.

This module fixes it. Easy and quick installation. CSS is clean. Really nothing to complain about really.

Thanks
Thank you, Amasty!
I would like to say thanks for Amasty's developing team, who created a simple, but perfect solution, and also for your helpful and enthusiastic support guys!
Good job, it's pleasant to work with you :)
Do you have any questions?
Schedule a demo and get all the answers you're looking for!
book a live demo
Are you looking to add specific functionality for this extension or want to acquire a reliable development partner altogether? With custom development services by Amasty, you will receive high quality and cost-effective solutions developed by Magento professionals according to industry's best practices.
2.4.2-p1, 2.3.7, 2.4.2, 2.4.1-p1, 2.3.6-p1
You can always download the recent version free of charge from your account
Installing an upgrade is easy — check now
My Downloads
Version 2.9.0
Last Update: Mar 24, 2021
Improvement we refactored the extension code to transfer Group Attributes functionality to the independent module Amasty Group Options
Version 2.8.8
Last Update: Feb 19, 2021
Improvement now the lightbox is working even if there is only one image assigned to the product
Fix  we corrected the delete confirmation popup title
Fix we resolved the issue with unexpected crossing out of in-stock options for Configurable Products
Fix we corrected the display of simple products' prices in swatch titles
Fix now the swatches are not getting selected upon hovering over
Fix now the editing of product from the checkout cart page is performed as expected if product matrix is involved
Compatibility we improved compatibility with Amasty Quick Order extension
Compatibility compatibility with Magento 2.4 was added
Compatibility now the extension is compatible with Amasty Jet Theme
Fix we resolved the issue with incorrect display of out of stock items in product matrix
Fix we corrected the malfunctioning of sorting on Group Attributes grid
Improvement we slightly improved Grouped Options grid
Compatibility compatibility with Elasticsearch was improved
Compatibility compatibility with Amasty One Step Checkout was improved
New GraphQL read compatibility was added for configurable products and product reloadable information settings
Version 2.7.4
Last Update: Mar 10, 2020
Fix we rechecked and established correct dependency on jQuery UI library
Compatibility compatibility with Request a Quote extension was enhanced
Fix issue with Magento Inventory was resolved
Improvement we significantly improved extension's performance
New we introduced an option to display simple product SKU in product matrix
Improvement we implemented performance enhancement
Compatibility compatibility with Amasty Ajax Cart was improved
Fix we resolved multiple issues related to frontend view and backend product configuration
Version 2.6.6
Last Update: Oct 07, 2019
Improvement we reviewed and enhanced the plugin's code
Compatibility compatibility with Magento 2.2.5 was improved
Fix issue with grouped options was resolved
Fix issue with child configurable products was fixed
Fix minor fixes were resolved
Compatibility a compatibility with Amasty Pre Order extension was improved
Fix a minor issue with grouped options was resolved
Compatibility compatibility with Amasty Google Rich Snippets and SEO Toolkit extensions was enhanced
Compatibility compatibility with Amasty Ajax Shopping Cart extension was improved
Fix an issue with some filter items created using the "Manage Group Attributes" displayed even they give 0 results was resolved
Improvement now, the product matrix subtotal is displayed between the selection and the 'Add to cart' button
Improvement minor usability and design improvements were made
Version 2.5.9
Last Update: Nov 20, 2018
Compatibility compatibility with Magento 2.3.0-alpha was added
Compatibility compatibility with Amasty Ajax Shopping Cart extension was enhanced
Fix the issue with an unselected attribute remaining in the URL was resolved
Fix the issue with the 'Enable Swipe Effect for Main Image in Mobile' setting and zoom feature on mobile version was resolved
Improvement the work of share link with one dropdown and one swatches was enhanced
Compatibility compatibility with Amasty Product Labels extension was improved. Now it allows to change the product label upon the simple product selection for configurable products
Compatibility compatibility with Amasty Out of Stock Notification extension was improved
Fix an issue with change image on hover on the product page was resolved
Improvement the styles and templates refactoring was made
New the ability to set a slider for the swatches was added
Improvement the product matrix work with quantity was enhanced
Improvement the Share URL feature was enhanced
Improvement product page optimization for mobile was made
Improvement configuration page was enhanced
Fix the issue with zoom on a product page was resolved
New now, the module allows to preselect product attributes on the category page
Version 2.4.2
Last Update: Jun 08, 2018
Compatibility the compatibility with Amasty Ajax Shopping Cart extension was improved
Fix the issue with displaying price in dropdown for disabled options was resolved
Improvement customer is able to view the additional images on mobile using the swipe function
New display product matrix for configurable items to help customers quickly add multiple child products to cart
Version 2.3.11
Last Update: May 29, 2018
Fix a problem with slick gallery was resolved
Fix an issue with the product info not reloaded after dropdown change was fixed
Fix an issues on IE browser were resolved
Fix an issue with image responsiveness on mobile was fixed
Fixed an issue with incorrect backend model
Fixed an issue with missing Share link for the dropdowns
Fixed an issue with the 'configurable preselect' feature when gallery was loaded before the swatches
New Information section is added. Now you can see the version of installed extension, available updates, User Guide link, conflicts and other useful data right on the module Configuration page
New Added the check for the zoom to be enabled when reloading an image by mouse hover
Fixed an issue with minor java script error related to dropdown usage
Fixed an issue with the unslick not working for the slow pages when the contend hadn't loaded before java script started working
Added the compatibility with the video image type
New added the possibility to preselect the options of the configurable product i.e. the first options or the cheapest simple product
New an image flipper feature is added. It allows to quickly view an alternate image on the catalog products listing simply by placing mouse over the product image
Version 2.2.0
Last Update: Feb 09, 2018
New Allows to show the out-of-stock products as crossed swatches. After the version 2.2.0 Magento has removed the out of stock swatches feature - the functionality with crossed swatches. We have implemented this feature in the extension.
Version 2.1.3
Last Update: Jan 05, 2018
Fixed an issue with the missing gallery for RTL direction
Fixed an issue with loading the simple product images at the end of the gallery
Improved the compatibility with M2.1.5 (image reload with zoom enabled)
Magento 2.1 compatibility improvements
New Added the Zoom (Outside / Inside / Lens) functionality that allows to see every detail of the product
New Added the Lightbox effect when opening full-size images
New Added the Carousel to show the product thumbnails
New Allows to change the main product image on mouse hover
Version 2.0.1
Last Update: Oct 17, 2017
New the feature with displaying the simple products prices below corresponding swatches works for an unlimited number of attributes.
Minor fixes
New Change the product image on mouse hover
New Display the selected simple product options in cart and checkout
New Group the associated colors and shows relevant items in the search result
New Show simple products' prices in drop-downs
Magento 2.2 compatibility tested and confirmed
Compatibility with Amasty One Step Checkout extension
Version 1.1.3
Last Update: Mar 29, 2017
Improvement for reloading block of attributes
Compatibility with the One Step Checkout extension improved
Add SKU for reloadable information when specific configuration selected