Custom Reports Builder
for Magento 2
Create an unlimited variety of your own custom reports based on any available store data. Analyze each aspect of your store performance and make beneficial data-driven decisions with easy-to-use Magento 2 Custom Reports Builder. Increase your sales revenue exactly understanding sales trends and dependencies.
Build an unlimited number of custom reports
Use any available store information for your reports
Apply smart filtering and sorting to get exact results
Save your time using prebuilt report templates
Set time intervals and visualize data with charts
Flexibly adjust data display on the report view page
Challenge
Comprehensive analytics is essential for each e-commerce store. To make beneficial strategic decisions, you need to know exactly what to sell, who buys it, understand sales trends and dependencies. The solutions with prebuilt reports mostly address these needs, but sometimes they are not enough. Nowadays the market situation changes rapidly, bringing more and more data, as well as the necessity to use this data in analytical reports without limitations.
Solution
Magento 2 Custom Reports Builder by Amasty is a unique software that gives you an opportunity to create any types of custom reports with no special analytical skills. This extension is designed to pull up and process any type of available store data thus allowing you to analyze the store performance from every possible angle. Arrange all needed columns in the most convenient order. Apply filters, set the time intervals, and visualize the data with charts.
What benefits you get for your store
Analyze any aspect of your store performance with custom reports
Build an effective sales strategy with all-encompassing reporting
Grow sales exactly understanding customer demands
Build custom reports based on any available store data
Get the most out of your data
Magento 2 Custom Reports allows you to use any available information for your reports according to specific goals. This extension represents a smart constructor enabling you to pick up a variety of entities (orders, products, shipments, categories, customers, etc.) for your report and to configure smart intersections between them. For example: Customer -> Orders -> Order Item -> Products -> Categories.
Build new reports with no special skills
Smoothly create any type of custom report with no special analytical skills. This extension is designed to assist you in building all necessary data intersections so that you could get only relevant results. Just choose the main entity for the report, and all the related entities will be displayed in a tree structure. So all you have to do is to pick up the needed entities' columns and form your report via drag-and-drop.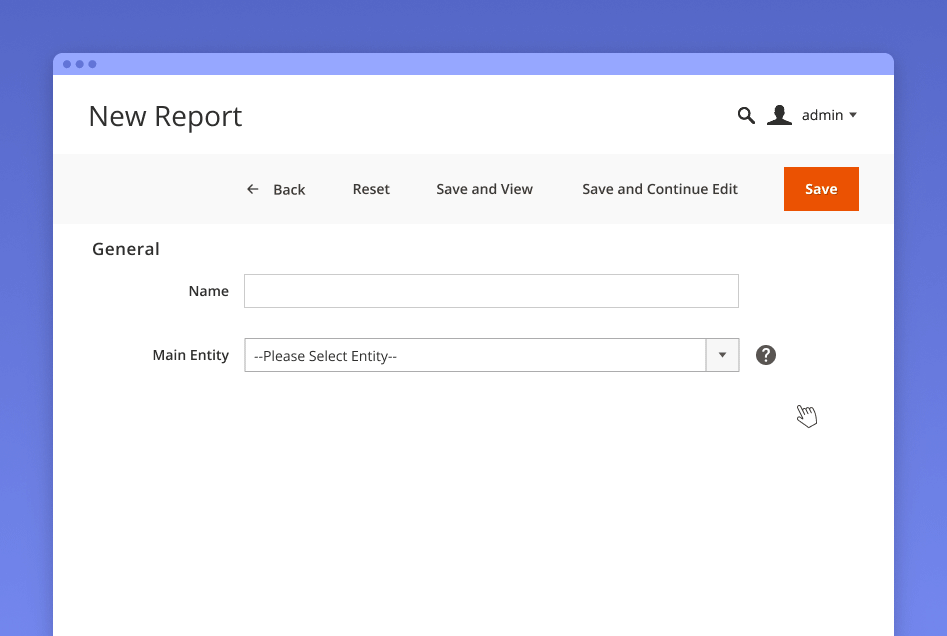 Manage reports in one place
With our Magento 2 Custom Reports Builder extension, you can conveniently view and manage all the custom reports in one grid. Filter reports by their ID, name, and store view. Make corrections in any reports according to your specific needs. Delete multiple redundant reports in one click via mass action. Create a new one right from the grid via the "Create New Report" button.
Save time using prebuilt reports
For your convenience, we included several basic reports with preconfigured connections between different entities. Use these reports as they are to better understand the capabilities and the main logic of the custom reports constructor or customize them. You can flexibly modify any of the prebuilt reports by adding or removing particular entities and columns, changing display settings, etc.
Adjust data display according to your needs
The Magento 2 Custom Reports provides you with the ability to flexibly configure the way of data representation for each report. You can organize the columns in a convenient order, choose any of them to remove or to make them invisible. Visualize the particular data with charts, use multiple filters, and set the time intervals for exact results. Also, you can specify the stores, for which the report will be generated.
Compatibility with other extensions
This extension will also analyze the data from other Amasty or 3-rd party modules installed on your Magento store. This means that the more modules you have, the more entities you can include in your reports. For example, you can add the stats on most demanded products with the Out of Stock Notification extension or add more checkout data with One Step Checkout, and so on.
Coming Soon in Custom Reports Builder 1.1.0
Simplified work with entities relations
Search box to quickly find the required column
Aggregation types switcher for report columns
Custom titles for added columns
Reports menu on the view report page
Support for RMA (EE), Store and Website entities
More predefined reports templates
Fast loading charts with AJAX
Enrich your store analytics with 20+ ready-made reports
Advanced Reports for Magento 2
provides you with 20+ essential e-commerce reports based on statistical data. Analyze customers' demands, explore and compare sales performance in various periods, analyze sales in real time, have all key metrics at hand on the informative dashboard, and many more.
Other Features
100% Open Source — Easy To Customize
Follows Magento Code Architecture
Separated HTML/CSS/JS
Simple installation via Composer
* The name "Magento" and the logo are the trademarks of Magento, Inc.
Be the first to review this product
Custom Reports Builder for Magento 2
Are you looking to add specific functionality for this extension or want to acquire a reliable development partner altogether? With custom development services by Amasty, you will receive high quality and cost-effective solutions developed by Magento professionals according to industry's best practices.
Magento 2.3, 2.4
You can always download the recent version free of charge from your account
Installing an upgrade is easy — check now
My Downloads
This extension has no updates yet