By default Magento 2 doesn't allow store admins to remove or somehow hide the unwanted orders. That's why to keep your order grid clean you will need a solution. Magento 2 Delete Orders programmatically removes unnecessary orders. Moreover, the module enables you to archive some orders to have the ability to restore them later.
Enhance order processing in your store
With the Magento 2 Delete Orders extension, you can increase your productivity and speed up order processing in the store. Get rid of unwanted orders in two different ways depending on your order policy.
Delete orders
Permanently remove orders and related data from the Magento 2 order grid. The action can not be reversed. That's why store admin should double check every order before performing this action.
Archive orders
Archive selected orders to the separate order grid to clean up the main one from the unwanted orders. You will have the ability to restore the archived orders later. On top of that, this feature can be automated to save your time.
Delete orders with backup in mind
Deleting orders is sometimes not the best practice because you may need certain information later. With the Magento 2 Delete Orders extension you can hide the unwanted orders in the archive where they will be stored until needed. On top of that, you can set up automatic order archiving to save time and avoid routine actions.
Archive orders instead of deleting them
With the module, it is easy to completely delete orders. However, you can benefit from the order archive as your order data backup can be restored and used in a number of clicks. Hence, archiving orders can become the solution in different situations.
Separate order archive grid
All archived orders are placed in a separate grid where they can be stored and will not interfere with active or recent orders. From this grid you can easily recover particular orders and their related information.
Mass order actions
Move multiple orders to archive, restore them back, or permanently delete many orders at the same time. The extension enables you to apply mass actions to multiple orders in a number of clicks. All order related data will also be affected.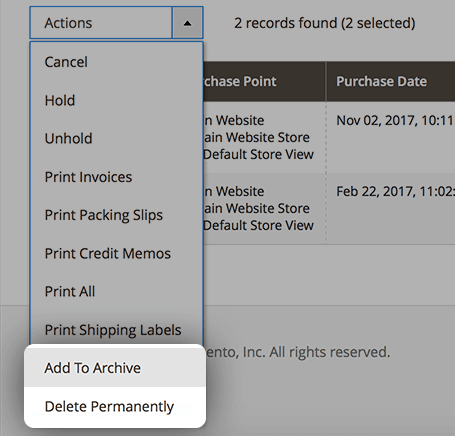 Automatic delete order archiving
Magento 2 Delete Orders extension enables you to automate some routine order archiving actions. Generally, you can archive orders individually after the certain number of days, by their statuses, or using the established frequency.
Define the number of days to archive orders
Specify the period of time in days after which the order should be placed into archive. Depending on your needs, you can automatically move orders and related data to the order archive grid after 30, 90, or any other specific number of days.
Archive orders by their status
Delete Orders Magento 2 module allow you to send orders to archive on achieving particular status. Define statuses that should trigger the movement and enjoy automatic order archiving for completed, closed or any other required order status.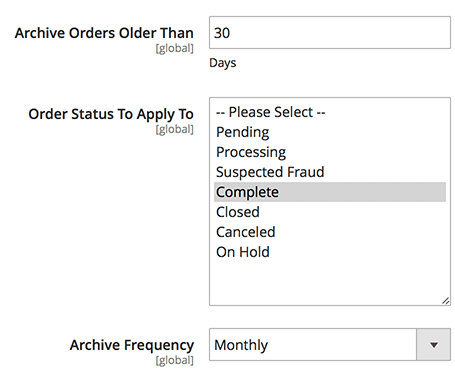 Establish archive frequency
Choose among fice predefined types of an archive frequency. Archive orders hourly, two-times per day, daily, weekly, or monthly. The extension allows you to set up the most suitable frequency for order archive procedures or manually configure cron job actions for any specific archive time.
Extra functionality for store admins
Interact with customers' accounts
Removing or archiving orders is only the half of the case. The extension lets you hide orders from accounts of your customers to provide them with relevant information about their recent orders.
Utilize API for order management
You can modify the Magento 2 delete order status using API. Remove, archive, and restore orders without visiting the admin panel of your store.
Other Features
100% Open Source — Easy To Customize
Follows Magento Code Architecture
Separated HTML/CSS/JS
Simple installation via Composer
* The name "Magento" and the logo are the trademarks of Magento, Inc.
Version 1.1.3
-
December 26, 2017
– Fixed an issue with the exception when table prefix is not empty
Version 1.1.2
-
December 19, 2017
– Fixed issue with export file in CSV
– Fixed issue with exception after deleting order
– Fixed an issue with exception if table prefix is not empty
Version 1.1.1
-
November 03, 2017
– Fixed issue with mass action "Delete permanently".