Cancel Orders
for Magento 2
Increase customers' loyalty by allowing them to revoke their orders right from the frontend. Save your time scheduling an automatic annulation of pending orders with the Magento 2 Cancel Orders tool. Analyze cancellation reasons and timely make sales strategy improvements.
Let customers cancel orders from their accounts
Display a user-friendly cancellation popup
Collect and analyze annulation reasons
Auto cancel pending orders after a specific period
Limit auto cancellation by payment methods
Auto restock products of the revoked orders
Send notifications to your managers
Get all must-have order tools in one pack
Challenge
From time to time customers make mistakes while placing orders, or they may just change their minds. Also, sometimes they specify wrong payment data, and orders are left incomplete. As the default Magento functionality doesn't have the options for automatic cancellation, unpaid orders are accumulated, which makes inventory data irrelevant. Such cases affect customer loyalty, cause stock issues and revenue losses, especially for the B2B segment.
Solution
Magento 2 Cancel Orders pack solves customers' and admins' challenges in seamless order canceling. With the extension, shoppers can annul inappropriate recordings by themselves from the frontend, while store admins can automatically annul pending purchases after a certain period. The improved user experience influences customer satisfaction, while store admins save time by avoiding manual rejection and inventory discrepancy.
What benefits do you get for your store
Improve your customer loyalty by offering seamless cancellation process
Reduce losses of time and money by managing and processing valid orders only
Decrease the burden on managers with the automatic cancellation
PROVIDE YOUR CUSTOMERS WITH SELF-SUPPORT TOOL
Let your customers eliminate wrong orders
Say, you were choosing between two T-shirts. When you finally decide which one you want, you place the order, but a few moments later, you change your mind and want to choose the other one. What to do? Usually, you need to refund products, or write an email to the vendor and ask to change the item or annul the purchase. It may take a long time. With Magento 2 Cancel Orders extension, processing recordings can be annulled by a customer on the 'My Orders' page.
Show cancellation details and add notes
To make sure that the cancellation request has been processed, shoppers may easily check the status of each item by clicking the 'View Order' button, where the date and the reason for cancellation are displayed. Moreover, customers may see if store admins left any notes for their requests.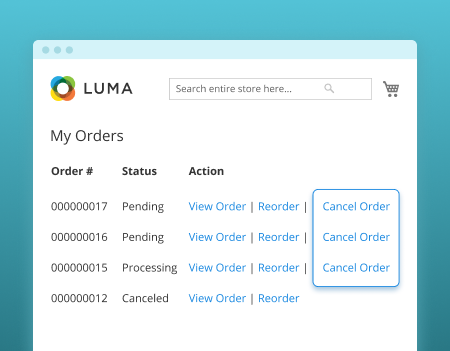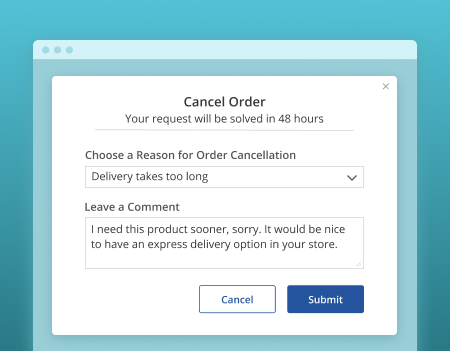 Collect info with a confirmation popup
If you want to collect valuable info about cancellation details, just enable a confirmation popup with a user-friendly comment field. By letting customers add their comments, you will avoid the issues with misunderstanding and reduce the time spent on document processing. To find out the most common reasons, you can add a list with reasons for elimination to the confirmation popup. All details a customer provides in this window will be shown in the order section in the admin panel.
Make a popup informative
Due to flexible settings, store admins can add notes to the popup to provide customers with extra details. For example, you may highlight the terms of the cancellation process or ask users to fill in particular details. To make sure the needed info will be specified, it is possible to set a reason dropdown and a comment field as required for cancellation.
Schedule an automatic cancellation
for pending orders
Auto cancel pending buys after a certain period
To keep stock data always relevant and reduce the number of manual tasks, now store admins can auto cancel Magento 2 pending orders. You may limit docs lifetime by specifying the particular time of creation that will be available for cancellation. Leave the field empty to apply auto annulation for all pending purchases. Such recordings will be placed in a separate Cancel Orders Grid. Customers, in their turn, will get notifications about the cancellation (the appropriate email template is included).
Limit cancellation by statuses
To make revocation more adjustable, you may select the necessary order statuses to which automatic cancellation will be applicable. Thus, it is possible to auto process items with the Pending and Pending Payment status to get rid of multiple unpaid orders at once. To avoid possible mistakes, auto cancel of processing Magento 2 orders can't be applied.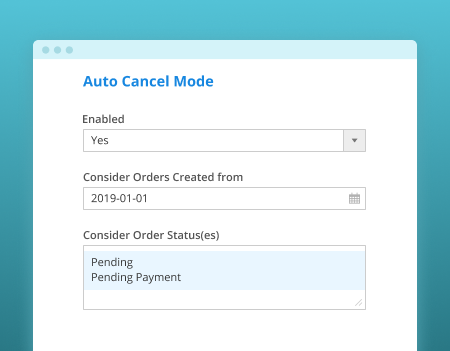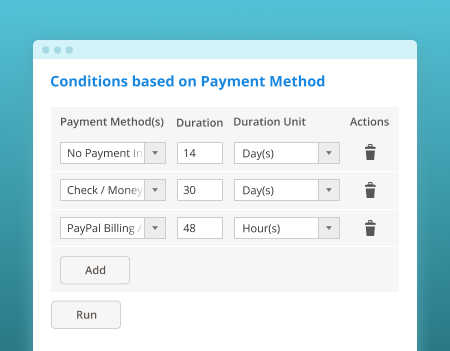 Set conditions for payment methods
Let's say you've decided to remove buys with Pending Payment status automatically. Of course, various payment methods can have their own peculiarities. To make cancellation even more elastic, you can set the time conditions for each particular payment method. Specify the time during which the orders with the corresponding method should remain incomplete to cancel them.
Automatically restock products
When the configuration is set, auto revocation will be executed each hour by default. All the items in the canceled orders will be restocked by the extension in a split second and become available for further purchases. In addition to this, if you want to restock products immediately, you may run cancellation manually using the button.
KEEP TRACK OF ALL REPEALED DOCS in one place
Smartly manage cancellation requests
The Magento 2 Cancel Orders extension allows you to see all the cases on one grid, archive them and delete. To speed up the processing even more, apply bulk actions. In addition to this, you may analyze the most common cancellation reasons by gathering all the info in one place.
Set annulation restrictions
To make canceling options even more flexible, store admins can enable extension opportunities for only specific customer groups or restrict elimination for particular ones according to your management requirements. For example, you may disable options for guests or wholesalers.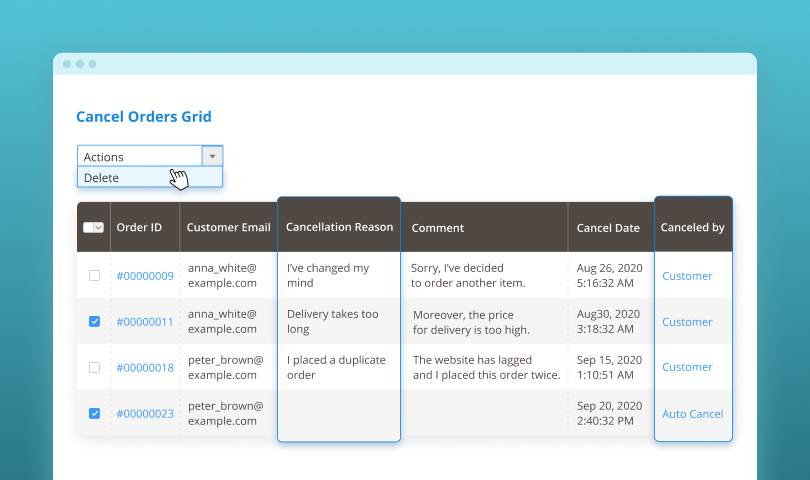 More Features for Magento 2 Cancel Orders
Keep your managers informed
When an order is canceled automatically or by the customer, Magento 2 Cancel Orders will send an email to your admins to notify them. For this, you need to set an email sender, email receiver, and email template in the backend. You can customize the default email template with additional information to make it more informative.
Make a refund automatically
The module provides possibility to reject orders regardless of their processing step. For example, if the client already paid for the goods, the extension will automatically create a credit memo and return the money to the customer after the cancellation. So there is no need for your admins to make it manually, which becomes extremely time-saving.
How to build a loss-free return management system?
Our
RMA extension
has all the features to create a unique return system that will refer to your business needs. Set specific refund rules for any category or disable returns for particular items, provide users with step-by-step instructions and support them via online chat. Automate the processing of refund requests and feedback collection. Create a strong system that will save you time and money.
How to delete outdated orders from Magento 2?
Extend vanilla M2 functionality with our
Delete Order
extension. Given installed and set up, it will automatically archive unnecessary documents with all the related data. You will have a separate archive grid and will be able to hide the purchases on the frontend. Also, you can delete and archive docs using API. Configure automatic grid clearance periods to keep the info updated.
How to let Magento 2 customers cancel orders by themselves?
Install and enable the Cancel Orders plugin.
Go to Stores > Configuration > Amasty Extensions > Cancel Orders.
In the Allow for Selected Group(s) field, specify which customer groups can perform this action.
In the Allowed Order Status(es) field, choose for what statuses cancellation is available.
In the Refund Paid Processing Orders Automatically field, enable the ability to return money automatically.
Save the changes.
How to make Magento cancel an order?
Do the following to make Magento cancel an order:
Log in to the admin panel and navigate to Sales > Operations > Orders.
Find the recording you want to cancel on the grid and select the needed checkbox.
Then in the Actions dropdown, set the Cancel option.
Confirm the cancellation.
How to auto cancel an order in Magento 2?
Install the extension.
Go to Stores > Configuration > Amasty Extensions > Cancel Orders tab > Auto Cancel Mode section.
Сhoose Yes in the Enabled dropdown to auto cancel pending purchases after a certain time.
In the Consider Orders Created from section choose the period of time to automatically cancel them after.
Consider Order Status(es) auto cancellation will be applied for.
Specify auto cancelation Conditions based on Payment Method.
According to the statistics, the extension can cover each business need in synergy with the following solution: magento order import.
Other Features
100% Open Source — Easy To Customize
Follows Magento Code Architecture
Separated HTML/CSS/JS
Simple installation via Composer
* The name "Magento" and the logo are the trademarks of Magento, Inc.
Love this plugin
Auto-refund feature is a must. It saves sooo much time! And it's easy to work with the extension. I really love this plugin so much!
Amasty answer
Jul 21, 2020
Alena Hamolka
/ Product Team Lead
Dear A. York, thank you for your feedback and for telling us about your favorite feature, we're happy to hear that you find auto-refunds so helpful. Thanks for your trust and for choosing Amasty, we'll be happy to see you in our store again!
Good
Everything works as stated. No complaints.
Amasty answer
May 25, 2020
Natalya Chekanina
/ Head of Sales Team
Hi Leora, thank you for your feedback, we're happy to hear that the extension has met your expectations and everything is working smoothly. If you need any additional features for your online store, please contact our team, and we'll be happy to recommend ready-made and custom solutions to meet your requirements!
Are you looking to add specific functionality for this extension or want to acquire a reliable development partner altogether? With custom development services by Amasty, you will receive high quality and cost-effective solutions developed by Magento professionals according to industry's best practices.
2.4.2-p1, 2.3.7, 2.4.2, 2.4.1-p1, 2.3.6-p1
You can always download the recent version free of charge from your account
Installing an upgrade is easy — check now
My Downloads
Version 1.1.6
Last Update: Jun 11, 2021
Compatibility the extension allows to cancel orders with statuses created by Amasty Order Status
Compatibility now the extension's elements match the styles of Jet Theme
Fix now Auto Cancel Mode feature works as expected in case payment methods' names have quote marks
Fix we resolved the issue with incorrect order IDs on the Cancel Orders Grid
Improvement MFTF tests were moved to additional packages particular for Magento 2.3.5+ and Magento 2.4.0+
Fix we resolved minor issue with disabling Auto Cancel Orders setting
Compatibility compatibility with Amasty Company Account was improved
New we inroduced auto-cancel mode: now Pending orders can be configured to get canceled automatically after a specified period of time
New now the extension is covered by MFTF tests, which will help to improve its quality and stability
New ability to manage all existing cron tasks on a Cron Tasks List grid in backend was added
Fix we corrected cancel orders view grid