Discounts for Active Reviewers for Advanced Product Reviews (Add-On)
for Magento 2
Motivate customers to leave more reviews and significantly increase their retention rate by granting discounts based on the customer recommendation activity.
Provide the most active reviewers with discounts
Grant rewards for giving feedback on particular products
Display discount amount in a shopping cart
Flexibly adjust promo conditions and discount amounts
Use only as an add-on to Advanced Product Reviews extension
Challenge
Even though reviews checking is a must-have step on the way to purchase for most customers, not all of them are ready to write a recommendation. Moreover, shoppers are more likely to express their dissatisfaction under a product description than positive feedback. Thus, a base of reviews grows too slowly, which leads to a lack of trust in the brand and systematic revenue losses.
Solution
Turn occasional review writing into the regular customer activity with the Magento 2 Discounts for Active Reviewers add-on. Encourage customers to register and leave more positive reviews and improve their retention by giving various discounts for their feedback activity. Make shoppers go deeper into your store and increase the number of repeated purchases with no extra costs.
What benefits do you get for your store
Improve trustworthiness with the constantly growing number of reviews
Build customer loyalty and improve retention by granting easy-to-get discounts
Reduce marketing costs by running review-based promo campaigns
Engage customers by exchanging reviews for rewards
Stimulate intense reviewing by giving discounts
Since rewards are the strongest motivation for most activities, the add-on lets store admins create flexible discount campaigns based on the number of approved reviews. By providing the most active reviewers with extra discounts, you will encourage registered customers to write noticeably more feedback. In addition to this, only approved reviews are counted, which improves not only the quantity of feedback but also its quality.
Drive sales with exclusive promo campaigns
The availability of easy discounts has an extremely positive effect on purchasing activity as well: the more reviews customers leave, the more discounts they get, the more they spend in your store! As a result, the number of returning customers and repeated purchases will be constantly growing.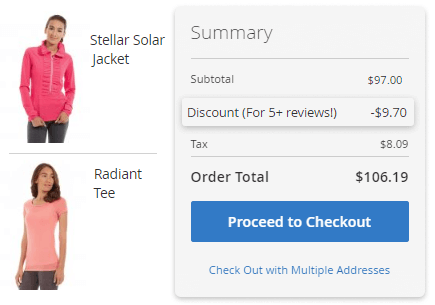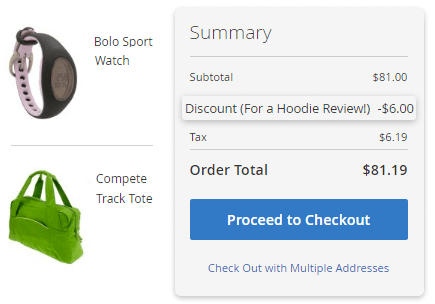 Triple the number of reviews for particular products
The extended functionality allows you to create highly-targeted promo campaigns: you may provide registered customers with discounts for reviewing particular products only. The strategy is aimed to increase the interest in specific items and boost their sales with no additional marketing costs.
Gain loyalty by displaying discounts in a cart
Thank customers for their positive feedback and show them respect by displaying their discount for reviews right in a shopping cart. Customize visible Magento 2 discount messages according to your target audience peculiarities and easily grow their loyalty level.
Launch a cost-effective review campaign in a few steps
With the add-on, you can easily create multiple review-based discount campaigns, aimed at various websites, store views and customer groups. Smart algorithm will automatically add customer reviews rules to the Magento 2 cart price rules grid. Thus, you can adjust all your promo actions in one place.
Choose a campaign strategy
Define the goal you want to achieve and, using conditions, target your campaign in order to boost reviews quantity or to promote particular products.
Set the discount type
Choose whether to add a percentage or fixed discount and set its amount. Apply to products or to a whole cart.
Customize the label
Specify a label text that a customer will see in a shopping cart to make a discount program clear for them.
Increase revenue by building trust in your brand
The add-on works only as a component of Advanced Product Reviews for Magento 2 extension. Get more loyal customers and stimulate repeated purchases with one Advanced Reviews solution.
Other Features
100% Open Source — Easy To Customize
Follows Magento Code Architecture
Separated HTML/CSS/JS
Simple installation via Composer
* The name "Magento" and the logo are the trademarks of Magento, Inc.
Amazing Add-on
Jiasaz.com, CEO
This add-on does a great job with low price. Has so many usable feature that gives many options to system admins.
Amasty answer
Aug 20, 2020
Natalya Chekanina
/ Head of Sales Team
Hi Rabar, Thank you for your kind feedback! It's great to hear that you find the add-on helpful and affordable, and we'll look forward to seeing you in our store again.
Are you looking to add specific functionality for this extension or want to acquire a reliable development partner altogether? With custom development services by Amasty, you will receive high quality and cost-effective solutions developed by Magento professionals according to industry's best practices.
Magento 2.2, 2.3, 2.4
You can always download the recent version free of charge from your account
Installing an upgrade is easy — check now
My Downloads
This extension has no updates yet