Import & Export for Advanced Product Reviews (Add-On)
for Magento 2
Easily add or extract reviews in bulk using Magento 2 Import & Export Reviews add-on. Create an unlimited number of review data in one click.
Import reviews for multiple products at once
Export all reviews into one CSV file
View and manage all imported reviews
Apply reviews from Magento 2 to any platform
Use only as an add-on to Magento 2 Advanced Product Reviews extension
Challenge
A distinctive feature of online shopping is that customers are not able to examine their future purchases, so they want to be sure the product is qualitative. Reviews are the most effective way to make a store trustworthy. But what store owners can do if they have just changed their e-commerce platform and reviews can be transferred only during lingering and time-consuming manual actions?
Solution
Transfer all review data to your Magento 2 webstore using one file! With the Magento 2 Reviews Import & Export add-on to Advanced Product Reviews extension, a store owner can move reviews from one e-commerce platform to another in just one click. Extract or upload reviews to all your products at once using a multipurpose CSV file and boost sales by greatly improving customer experience.
What benefits do you get for your store
Boost sales by uploading reviews to all products via one CSV file
Save time by moving reviews from one platform to another in one click
Build trustworthiness by adding an unlimited number of reviews
Upload reviews to all products in your Magento 2 store
in one click
ADD REVIEWS TO ALL PRODUCTS AT ONCE
With Magento 2 Import Reviews feature, you can easily add various review data to your webstore using a single CSV file. If you don't have the file of this format, just download a ready-made CSV template and fill in the data you need.
After that, all you need to do is to upload the file, check the data for possible errors and view the results in your backend. The reviews will be automatically added to Magento store in a split second.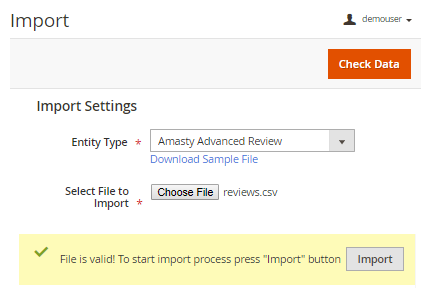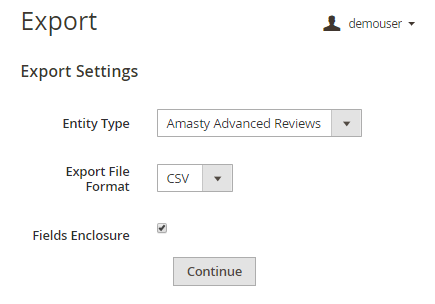 APPLY REVIEWS FROM MAGENTO 2 TO ANY PLATFORM
Product reviews and pictures that customers attach are not only improving the sales of particular products but also present a source of ideas for marketing campaigns.
With the add-on, you can export all the reviews from your Magento store and use it according to your business needs. Exclude the info that you don't need from exporting and get a ready-made file using just one button.
EASILY CUSTOMIZE ANY REVIEW DATA
There's no need to check and adjust the reviews one-by-one after the import. You can view and customize each detail right in a flexible CSV file.
A smart validation system will notify you if any errors exist, so you may confidently add, change or remove any information in one place and avoid routine backend management. Specify the path for pictures to be taken from and make reviews even more appealing.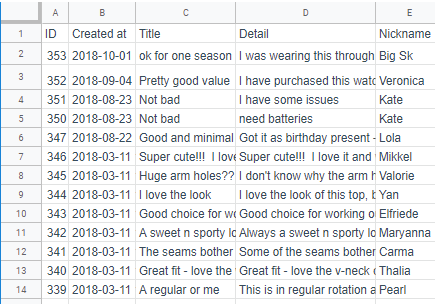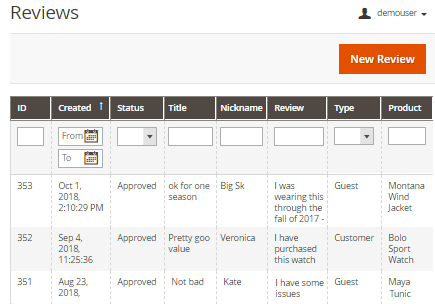 VIEW AND MANAGE ALL IMPORTED REVIEWS IN THE ADMIN PANEL
After the import is completed, all the reviews will appear on a separate grid in the marketing section. Check the result, make final adjustments and see the profit provided by motivating customers to complete the purchases.
Thus, with Magento 2 Import Product Reviews add-on, you will definitely engage customers and benefit from it with minimal time and effort spent.
Boost sales by reducing customers decision-making time
The add-on works only as a component of
Advanced Product Reviews for Magento 2
extension. Transform guests to leads and stimulate recurring purchases within one Advanced Reviews solution.
Other Features
100% Open Source — Easy To Customize
Follows Magento Code Architecture
Separated HTML/CSS/JS
Simple installation via Composer
* The name "Magento" and the logo are the trademarks of Magento, Inc.
Good, but expensive
co-founder
I was lucky to buy this add-on for credits, without it I probably would have thought for a long time whether it was worth the money. In general, I'm still sure the addition is fine but too expensive.
Amasty answer
Jan 06, 2020
Natalya Chekanina
/ Head of Sales Team
Hello Harry! Thank you for your review. I've already reported your price comment to Add-Ons Team. We would be happy to see you in our store again.
Marvelous
sales manager
This add-on helped us make work with reviews much faster.
Amasty answer
Nov 14, 2019
Natalya Chekanina
/ Head of Sales Team
Hi Mary! Thank you so much for your kind review. We would be happy to see you in our store again!
Are you looking to add specific functionality for this extension or want to acquire a reliable development partner altogether? With custom development services by Amasty, you will receive high quality and cost-effective solutions developed by Magento professionals according to industry's best practices.
Magento 2.2, 2.3, 2.4
You can always download the recent version free of charge from your account
Installing an upgrade is easy — check now
My Downloads
Version 1.0.2
Last Update: Apr 07, 2020
Improvement we corrected sample import file
Fix we fixed minor issue with created at date