Dropshipping
for Magento 2
Set up a multi-channel business with no warehouse costs using Magento 2 Dropshipping. Build a stable flow and ship products to customers directly from suppliers' warehouses.
Create dropshippers base
Assign products to particular warehouses
Allocate ordered products between suppliers
Limit dropshippers' access to order management
Calculate shipping costs based on warehouses location
Export Orders to suppliers automatically
All Advanced MSI features included
Challenge
Starting an e-commerce business from scratch has always been a challenging task. It requires money and effort, especially when it comes to the formation of the warehouse system. Order fulfillment, stock management and shipping process become the greatest troubles for beginners in the retail sphere.
Solution
Magento 2 dropship extension helps you start a business with the minimum costs. About 30% of online retailers have already chosen to dropship due to its profitability. As it is based on direct collaboration with suppliers, the tool minimizes the expenses and makes it possible to sell goods anytime, anywhere.
What benefits do you get for your store
Become worldwide: grow business regardless of the location
Cut costs: exclude warehouses rent by cooperating with suppliers
Avoid manual operations: automate order export as soon as a customer places an order
MAGENTO DROPSHIPPING PACK:
A ROCKET START FOR YOUR BUSINESS
Construct your base of dropshippers
As the dropshipping extensions in Magento implicate a multi-channel business model, the first step is to create a stable dropshippers' base to cooperate with. Using Magento 2 dropship, you can add an unlimited number of suppliers and create an efficient workspace for them.
Limit dropshippers' access to orders
Store owners can provide secure access for dropshippers only to their orders or particular products in them so that they can process the orders (create an invoice, shipping, attach a tracking number and send a notification to a buyer). Limitations for each supplier will improve their workflow and make the process safe.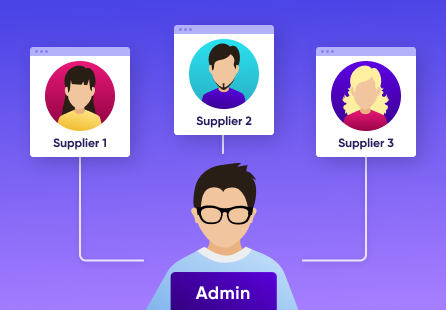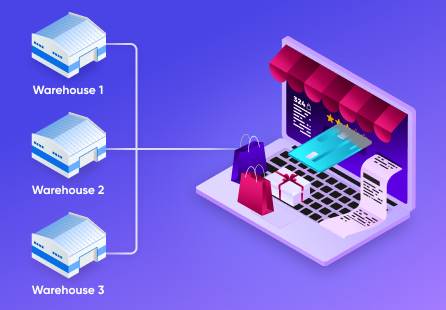 Add multiple warehouses
Admins can create the optimal number of warehouses and assign products to them using the included functionality of the Advanced MSI module. Multi warehouse inventory mechanism accurately matches physical and virtual stocks, while the auto-suggestion algorithm for shipping cuts delivery costs to the minimum.
Calculate and display shipping costs
Multiple warehouses also contribute to the customer shopping experience. The Magento dropshipping algorithm finds a suitable warehouse depending on the cheapest and the most convenient way to deliver products. Shoppers see all shipping costs variations right on the checkout page and can choose the optimal one.

Automatically redirect orders to suppliers
Now you can configure an automatic process of exporting orders. It works this way: you create a profile and set a filter for orders (e.g. by a particular supplier), then you decide when orders should be exported (for example, as soon as customers place them) and specify where to output the file (send by email, for instance). Plus, after export, you can auto-change the statuses of the processed orders.
Limit order data to transfer
Configure each export profile to make order processing easier for suppliers. You can decide what data to include in the export file, change the naming and choose a suitable format (4 variants are available). Also, to set accurate integration of Magento 2 and dropship, apply multiple filters to make sure a supplier will get only relevant orders.
Manually assign orders to suppliers
Even though an automatic export is available now, you can still reassign dropshippers manually. You may do it for a specific order or apply mass actions to process many of them at once.
Split products in order per suppliers
There can be a situation when a customer makes an order with the items from different dropshippers in it. In such cases, you can split products per suppliers within one order and ship them from different warehouses. Even though the order is the same, suppliers still won't be able to manage the products assigned to another supplier.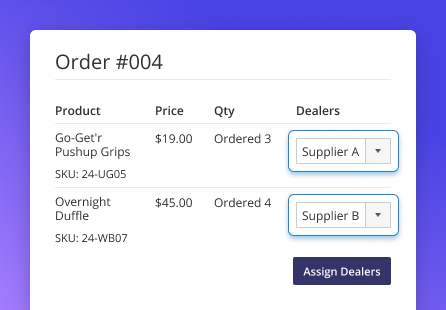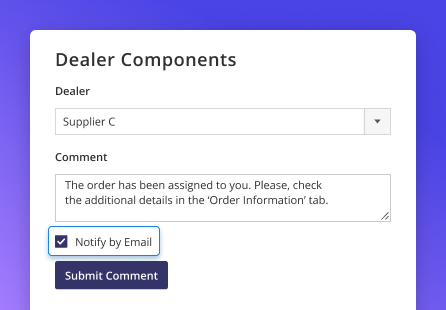 Communicate with suppliers
Set the two-way communication with your dropshippers. Magento 2 Dropship extension allows suppliers and admins to leave comments for each order right in the order management tab. It helps to install cooperation using the admin panel and no 3rd-party tools.
Send email notifications
Keep suppliers informed about new orders assigned to them or changes in the existing ones via automatic notifications. Just create an email template and the feature will help your dropshippers monitor all the actions taken during order management. Thus, none of the orders will remain unnoticed.
Magento 2 Dropship extension with free support is a dropshipping solution for efficiently managing orders, shipping costs, and warehouses. This extension allows you to determine which products are available for sale, select a suitable warehouse to send products to customers. Also, this module allows you to avoid unnecessary expenses due to the possibility of choosing a supplier since the cost of delivery differs from each warehouse.
Other Features
100% Open Source — Easy To Customize
Follows Magento Code Architecture
Separated HTML/CSS/JS
Simple installation via Composer
* The name "Magento" and the logo are the trademarks of Magento, Inc.
Be the first to review this product
Dropshipping for Magento 2
Are you looking to add specific functionality for this extension or want to acquire a reliable development partner altogether? With custom development services by Amasty, you will receive high quality and cost-effective solutions developed by Magento professionals according to industry's best practices.
2.3.6, 2.3.6-p1, 2.4.0-p1, 2.4.1, 2.4.1-p1, 2.4.2
You can always download the recent version free of charge from your account
Installing an upgrade is easy — check now
My Downloads
Version 1.4.5
Last Update: Jun 02, 2021
Fix we fixed the issue with the extension menu item
Improvement code was refactored according to Magento Marketplace standards
Fix we resolved the issue when users with limited resources cannot assign dealers
Improvement minor code improvements were implemented to enhance the extension security
Compatibility now the extension is compatible with Magento 2.4.1
Improvement we added Amasty Export Orders to the extension package. The combination of these extensions will help you to automate the process of data transmission to suppliers. It will be more convenient for you to send them information about customers and purchased products.
Version 1.3.1
Last Update: Jun 03, 2020
Fix we fixed the issue with getting a backend dealer
Improvement we added links for managing users and roles to Amasty Dropshipping dealers menu
Version 1.2.0
Last Update: Apr 24, 2020
Improvement we improved the assigning dealer to an ordered product process making it more comprehensive. Now it is possible to see if a dealer was notified by email after the item assignment
Improvement now it is possible to send a copy of the product assignment email to stakeholders
Fix we fixed the issue with orders export
Version 1.1.2
Last Update: Apr 14, 2020
Compatibility now the module is compatible with B2B Shared Catalogs
Fix we fixed the issue with Order Item Assign email template
Fix we fixed the issue with showing order items on the order review page for Admin
Fix we fixed the issue with selecting a template in the extension configuration
Fix we fixed the issue with assigning configurable order items to a dealer
Compatibility with Magento 2.3.4 was tested and confirmed
Improvement we added more information to email notifications that go to vendors after items assignment. Now email contains Customer Name, Customer Email, Shipping Address, Billing Address, Payment Method, Shipping method, items details including custom options