How it works?
Magento 2 order export extension provides a convenient way of exporting invoice, shipment, product & credit memo info and other order-related data generated by third-party modules. It's possible to create any number of highly flexible Magento 2 order export profiles and pre-select output format as csv or xml. Moreover, you can specify certain conditions (for example when the order is placed) that will trigger Magento 2 module to export orders along with all the specified products data and customer details. When all the information is put together, it can be sent directly to your email or uploaded to the server.
Highly customizable data profiles
Export only newly created orders
There's a simple way to manage order export. You need to configure export profiles to start next export process from newly created orders. For instance orders from 10000001 to 10000050 are exported already. In that case you can make our Magento 2 order export module start the next procedure with order 10000051. The same option can be applied to invoice and shipment numbers as well. Moreover, it's possible to export orders for a certain time period.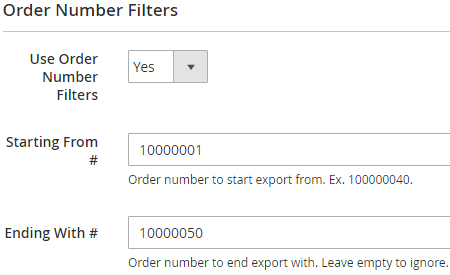 Export orders of a certain customer group
When you offer various deals and discounts to different groups of customers, it's vital to know the exact result of such marketing policy and make adjustments to get more revenue. Indicate, orders of which customer group to export, and analyze the results to make right decisions in the future.
Save files to a server
Export orders and send data to your Magento 2 store server via ftp or sftp. It's a good way to make sure no data is lost. You can run export manually or automatically.
Change order status for exported orders
It's possible to export Magento 2 orders and alter their status at the same time. It means that orders could be automatically turned from pending to processing after they have been exported.
Send exported files by email
Magento 2 order export module can become your time savior! You can specify a convenient schedule and get reports with exported orders in .csv or .xml format, for example once per day.
Advanced ways to export orders in Magento 2
Specify ending order number
You can choose till which number to export orders in Magento 2. For example, export orders only till number 1221. This option comes in handy if you want to split data into several arrays and process them differently.
Skip items with zero price
Run Magento 2 export without duplicating orders to avoid errors and confusion.
View export history
In the history tab you can view time and date of export procedures and download exported data in an archive or a file.
Export to regular XML format
Now one can easily export necessary order data to regular XML format (tree-structure for orders containing multiple items).
Export orders with selected status
You can export only orders with a particular Magento 2 status, for instance work only with processing and complete order statuses. It's also possible to export orders with several statuses in a single profile.
Select appropriate file format
On Magento 2 backend you can choose to export orders to .csv or .xml to make the data easily comprehensible. Files are highly flexible, remember to determine a delimiter and special symbols to enclouse values.
More export options
Export product attributes
Export data from order items (The option allows you to export orders with all specified product details );
Export info from shipping and billing addresses;
Export info that relates to gift messages.
Skip child or parent items
Now with the module you can choose whether to exclude either child or parent items from the export process. If you choose to skip 'parent' items, bundle and configurable 'parent' products will be ignored.
Run export profiles right from the 'Orders' grid
Now it's possible to run Magento 2 export profiles right from the Order grid. Do not waste your time switching the tabs and loading pages!
Other Features
100% Open Source — Easy To Customize
Follows Magento Code Architecture
Separated HTML/CSS/JS
Simple installation via Composer
* The name "Magento" and the logo are the trademarks of Magento, Inc.
Save time and nerves
This is beautiful experience. Firstly I say it, I installed it in a blink of an eye. As we have pretty much orders every single hour, the add-on saves us heaps of time and nerves. Nice work, Amsty.

Amare
Write Your Own Review
Version 1.1.12
-
January 11, 2018
– Fixed an issue with indexing a large amount of orders
– Extends DataObject to OrderExportList were added
Version 1.1.11
-
November 03, 2017
– Fixed issue with saving export file from Settings.
– Fixed issue with headline in emails.
Version 1.1.10
-
August 21, 2017
– Installation issue fixed
Version 1.1.9
-
June 26, 2017
– Fix wrong CSV row order
Version 1.1.8
-
May 03, 2017
– Fix for error when profile set to run automatically after order placed
Version 1.1.7
-
April 17, 2017
– Option to start export by calling special URL. Useful for integrations.
Version 1.1.6
-
February 20, 2017
– New export setting to skip parent products; will ignore bundle and configurable products from export
Version 1.1.5
-
December 12, 2016
– Fix for exporting orders from the order grid page; now only selected orders are exported
– Fix for installation script which caused some dates being set to 0 by default
– Improvement for working with exported files
Version 1.1.4
-
December 07, 2016
– Possibility to export gift message information
Version 1.1.3
-
November 28, 2016
– Minor fix for installation script and using table prefixes
Version 1.2.0
-
November 25, 2016
– New feature: possibility to export product attributes
Version 1.1.2
-
September 28, 2016
– Ability to modify sender email for export type "By Email"
Version 1.1.1
-
September 17, 2016
– Option to skip child products (for example to export only main configurable products)
– Improvements for 3-rd party link connection (possibility to export data from other tables)
Version 1.1.0
-
July 19, 2016
– Possibility to export to regular XML format (tree-structure for orders containing multiple items)
– Possibility to export information from shipping and billing addresses
– Possibility to export data from order items
Version 1.0.1
-
June 28, 2016
– Fix for running profile manually when order status change option is enabled
– Tested with Magento 2.1