Efficient Order Export
for Magento 2
Easily manage orders export. Configure flexible export profiles and gather all valuable order data, including the data generated by third-party extensions.
Rapid export of order, product, shipping & customer info
Create profiles and automate Magento 2 order export process
Generate CSV or XML files
Send export files by email or upload via FTP/SFTP
Export order data created by third-party extensions
How it works?
Magento 2 order export extension provides a convenient way of exporting invoice, shipment, product & credit memo info and other order-related data generated by third-party modules. It's possible to create any number of highly flexible Magento 2 order export profiles and pre-select output format as csv or xml. Moreover, you can specify certain conditions (for example when the order is placed) that will trigger Magento 2 module to export orders along with all the specified products data and customer details. When all the information is put together, it can be sent directly to your email or uploaded to the server.
Highly customizable data profiles
Export only newly created orders
There's a simple way to manage order export. You need to configure export profiles to start next export process from newly created orders. For instance orders from 10000001 to 10000050 are exported already. In that case you can make our Magento 2 order export module start the next procedure with order 10000051. The same option can be applied to invoice and shipment numbers as well. Moreover, it's possible to export orders for a certain time period.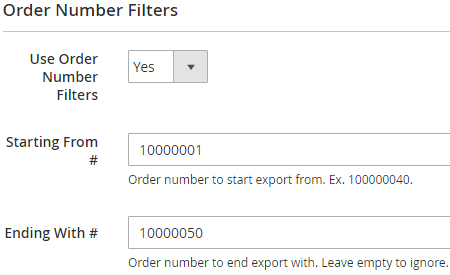 Export orders of a certain customer group
When you offer various deals and discounts to different groups of customers, it's vital to know the exact result of such marketing policy and make adjustments to get more revenue. Indicate, orders of which customer group to export, and analyze the results to make right decisions in the future.
Save files to a server
Export orders and send data to your Magento 2 store server via ftp or sftp. It's a good way to make sure no data is lost. You can export Magento 2 orders manually or programmatically.
Change order status for exported orders
It's possible to export Magento 2 orders and alter their status at the same time. It means that orders could be automatically turned from pending to processing after they have been exported.
Send exported files by email
Magento 2 order export module can become your time savior! You can specify a convenient schedule and get reports with exported orders in .csv or .xml format, for example once per day.
Advance your Magento 2 order export
Specify ending order number
You can choose till which number to export orders in Magento 2. For example, export orders only till number 1221. This option comes in handy if you want to split data into several arrays and process them differently.
Skip items with zero price
Run Magento 2 export without duplicating orders to avoid errors and confusion.
View export history
In the history tab you can view time and date of export procedures and download exported data in an archive or a file.
Export to regular XML format
Now one can easily export necessary order data to regular XML format (tree-structure for orders containing multiple items). Find more about XML format.
Export orders with selected status
You can export only orders with a particular Magento 2 status, for instance work only with processing and complete order statuses. It's also possible to export orders with several statuses in a single profile. See all order statuses utilized in Magento 2.
Select appropriate file format
On Magento 2 backend you can choose to export orders to .csv or .xml to make the data easily comprehensible. Files are highly flexible, remember to determine a delimiter and special symbols to enclouse values. Find more about CSV format.
More export options
Export product attributes
Export data from order items (The option allows you to export Magento 2 orders with all specified product details );
Export info from shipping and billing addresses;
Export info that relates to gift messages.
Skip child or parent items
Now with the module you can choose whether to exclude either child or parent items from the export process. If you choose to skip 'parent' items, bundle and configurable 'parent' products will be ignored.
Run export profiles right from the 'Orders' grid
Now it's possible to run Magento 2 export profiles right from the Order grid. Do not waste your time switching the tabs and loading pages!
Other Features
100% Open Source — Easy To Customize
Follows Magento Code Architecture
Separated HTML/CSS/JS
Simple installation via Composer
* The name "Magento" and the logo are the trademarks of Magento, Inc.
Good, but missing 'add to field' option
Sam, Director
Excellent extension and works well. I'm really missing the option to combine data: e.g. to download first name and last name in 1 single column. That would make it perfect for us to upload it directly into the shipping vendors system. Now it needs to be merged by us manually first.
Amasty answer
Jan 28, 2020
Natalya Chekanina
/ Head of Sales Team
Dear Shenghong! Thank you for choosing our extensions. I'm glad that you appreciate their quality. We would be happy to see you in our store again!
Slow support
AK Ent, Founder
I have bought 15+ extensions from Amasty. All of them are easy to install, and add rich functionality. I particularly love special promotions pro, product labels, promo banners, improved sorting, order export. We depend on these heavily to run our store smoothly! In addition, our workflow gets easier due to extensions like order export. Support response time is fair. It can be a bit faster as it used to be last year, but I guess you are also growing!
Amasty answer
Jun 19, 2019
Natalya Chekanina
/ Head of Sales Team
Dear Amit, thank you for your review! We would be happy to see you in our store again!
Even better than for m1
I used this module for my m1, when switched to m2 I bought this. That's cool that the mod can collect order data from separate plugins without additional settings, like it was in m1. Also the timestamp and automatic execution configs are great as now I see when the file was uploaded and last changed.
Worth the price I paid
The extension is absolutely worth the money I paid for it. After all the data is collected and merged it is directly uploaded to my server, this saves me much time. Plus, the guys continue upgrading it with new features like avoiding products with no price, that's of real use because when you run a large store with thousands of ids, it could be a big problem.
Good but can fail with too many orders
It makes handling order export much easier. I use this extension to export orders in both file formats. Order statuses in magento change immediately after exporting finishes, which is very convenient. Though it failed to index when there were too many orders. It's good and worth its price.
Good
Although there seem to be many settings this module is transparent and easy to configure, so we managed to run it without support. It helps export order information to ERP and customer data to CXM. saves a lot of time.
Intuitive native settings
If there were no installation problems I could say it's great as all the settings are native and clear. I saw the guys fixed the problem soon but when paying the money I thought I wouldn't come across with this.
enough export formats
3 data formats is pretty enough but what impressed me most is that I can choose special settings for each of them, for instance, split order items. When analyzing a big piece of data it's very convenient. What I didn't like is the ftp configs as they're pretty complex, for instance why should I use the passive mode I didn't find the answer and had to give the part to my administrator. Also we faced some glitches with some other plugins and though the support did well here I wished they did it faster.
It saves my time
I run several modules of different vendors and it was a real nightmare to gather all the order data from all the sources. Luckily I found this module. It does save me much time.
What's about product attributes
No doubt the mod is handy and useful. However, as I have already written it to support. It would be just great if I could export products with all the attributes. Hope to see the future soon. Thanks.
Save time and nerves
This is beautiful experience. Firstly I say it, I installed it in a blink of an eye. As we have pretty much orders every single hour, the add-on saves us heaps of time and nerves. Nice work, Amsty.

Amare
Pretty rough
Not bad, though it's very rough and needs improvements. So, just for the case, it'll be great to export data in xml format and include the shipping info. Also, I'd like you've checked the compatibility with external extensions as it's not as simple as you say to make them run together.
Backend
Create an order export profile
Are you looking to add specific functionality for this extension or want to acquire a reliable development partner altogether? With custom development services by Amasty, you will receive high quality and cost-effective solutions developed by Magento professionals according to industry's best practices.
Magento 2.2, 2.3 (including 2.3.5)
You can always download the recent version free of charge from your account
Installing an upgrade is easy — check now
My Downloads
Version 1.3.6
Last Update: Jan 08, 2020
Improvement now, the feature of exporting product options offers you to export custom options in separate column
Improvement we implemented a performance enhancement
Fix we solved the problem with exporting non split items in order
Fix we solved the problem with running profile after creating new order
Improvement ability to run order export automatically by cron was added
Improvement we returned back the ability to add orders to the export profile by selecting them on the grid
Improvement we improved order creation date formatting to be compliant with admin's locale
Fix the issue with not running export profiles automatically was resolved
Improvement minor visual improvement for the extension settings in the admin panel
Fix the possible error when running export profiles was resolved
Improvement the validation (if a table and a column exist) during the 3rd Party Link saving was added
Compatibility the compatibility with Magento 2.3 was enhanced
Compatibility the compatibility with Magento 2.2.6 and higher was enhanced
Compatibility the compatibility with Amasty Custom Order Number extension enhanced
Fix the issue with running a profile from the order grid was resolved
Fix the error on manual profile run was fixed
Fix the issue with timezones was resolved
New now, you can add static fields to the export profile
Version 1.1.12
Last Update: Jan 11, 2018
Fixed an issue with indexing a large amount of orders
Extends DataObject to OrderExportList were added
Fixed issue with saving export file from Settings.
Fixed issue with headline in emails.
Fix for error when profile set to run automatically after order placed
Option to start export by calling special URL. Useful for integrations.
New export setting to skip parent products; will ignore bundle and configurable products from export
Fix for exporting orders from the order grid page; now only selected orders are exported
Fix for installation script which caused some dates being set to 0 by default
Improvement for working with exported files
Possibility to export gift message information
Minor fix for installation script and using table prefixes
Ability to modify sender email for export type "By Email"
Option to skip child products (for example to export only main configurable products)
Improvements for 3-rd party link connection (possibility to export data from other tables)
Possibility to export to regular XML format (tree-structure for orders containing multiple items)
Possibility to export information from shipping and billing addresses
Possibility to export data from order items
Version 1.2.0
Last Update: Nov 25, 2016
New feature: possibility to export product attributes
Version 1.0.1
Last Update: Jun 28, 2016
Fix for running profile manually when order status change option is enabled
Tested with Magento 2.1