Exit Intent Popup
for Magento 2
Employ Magento 2 Exit Intent Popup to convert abandoning store visitors into customers. Drive more sales and notably boost your subscriber base.
Interact with abandoning customers via exit intent popup
Retain customers with attractive offers and discounts
Display exit popup on shopping cart and checkout pages
Сustomize popup content easily
Benefit from GDPR compliance
RETAIN YOUR WEBSTORE VISITORS TO COMPLETE THEIR ORDERS
Challenge
An average of 70% online shopping carts are abandoned at the checkout page. One of the reasons why customers don't complete their orders and abandon their carts is leaving the site. Buyers' attention may be distracted with something else or they may close the webpage accidentally. Anyway, this problem causes tangible financial losses for online retailers.
Solution
Magento 2 Exit Intent Popup provides the tool to capture abandoning visitors. When users are about to leave the store, the exit popup displays on their screens proposing them to enter the email to get a discount or other tempting offer. With exit intent technology, the extension will optimize your store conversion rate and improve customer retention.
What benefits do you get for your store
Convert ordinary visitors into customers with engaging anti-abandonment popup
Reduce cart abandonment rate proposing tempting discounts and free items
Boost your subscriber base collecting emails right from exit intent popup
TURN ABANDONING STORE VISITORS INTO CUSTOMERS
Interact with buyers via exit popup
Magento Exit Popup will allow you to keep in touch with your webstore visitors by showing an interactive subscription popup every time they intend to exit the site.
Motivate customers to complete their orders
In the admin panel, you can select the Magento pages where exit intent popup will be shown. Display it on the shopping cart or/and checkout page to timely prevent possible cart abandonment.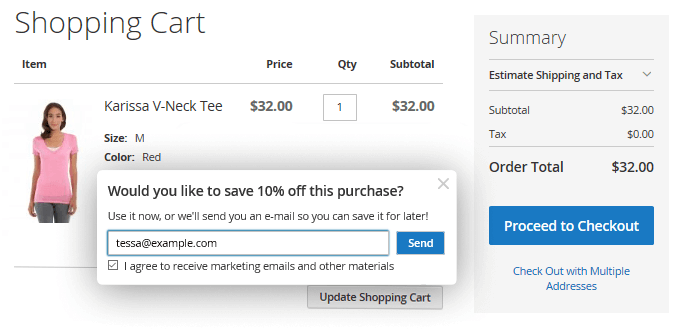 Make your exit intent popup engaging
Magento 2 popup extension will let you easily customize the heading and text in the popup window to encourage the abandoning visitors to subscribe and make a purchase.
Retain customers with attractive offers
Magento 2 Exit Intent Popup will allow you to draw customers' attention with tempting offers. Propose a discount or a virtual product that may be downloaded for free plus promote newsletters with this Magento 2 popup extension.
Automatically send emails with bonuses
After entering an email address and submitting the popup, customer automatically receive emails with discount coupons or a link for a downloadable product. All they need to do is to login and get a free item provided by Magento 2 popup extension.
Build customer loyalty with customized emails
With Magento 2 Exit Popup extension, you can flexibly adjust your email title and content to make it more appealing. You may also use and customize preconfigured email templates.
Increase number of completed orders
Add
Abandoned Cart Email for Magento 2
to effectively turn lost purchases into completed orders by sending smart automated reminders and discount coupons.
More tools to reduce cart abandonment rate
Employ
Magento 2 One Step Checkout
to speed up the whole shopping process. Enable visitors to instantly complete address fields and let them easily edit product options right on the checkout.
According to the statistics, the extension can cover each business need in synergy with the following solutions: magento 2 notification messages and magento 2 instagram shop.
Other Features
100% Open Source — Easy To Customize
Follows Magento Code Architecture
Separated HTML/CSS/JS
Simple installation via Composer
* The name "Magento" and the logo are the trademarks of Magento, Inc.
Be the first to review this product
Exit Intent Popup for Magento 2
Are you looking to add specific functionality for this extension or want to acquire a reliable development partner altogether? With custom development services by Amasty, you will receive high quality and cost-effective solutions developed by Magento professionals according to industry's best practices.
Magento 2.2, 2.3, 2.4
You can always download the recent version free of charge from your account
Installing an upgrade is easy — check now
My Downloads
Version 1.0.4
Last Update: Nov 13, 2020
Improvement the code was enhanced according to Magento standards
Compatibility with Paypal Express payment method was added
Fix the issue with huge text in popup was resolved
Fix link to the user guide was updated.
Compatibility compatibility with Internet Explorer was improved.