Take promotions to a new level
Every day online merchants offer tons of hot deals and tempting discounts to their customers. Therefore, it's very important to create really exclusive promotions to stand out in the crowd. Unfortunately, it will be hardly enough to use native Magento functionality to amaze store visitors.
Special Promotions for Magento 2 extension offers 20 more discount actions that will help to run promo campaigns based on the cheapest/most expensive products, quantity steps, cart subtotal and spent amounts. Easily create numerous percent and fixed discounts to win customers' appreciation and sell more.
Additional promo rules
Add new promo actions to default Magento 2 promotions and create various promotion types. Here is the list of the most popular deals you can offer with the help of the extension:
Buy 3 items, get the cheapest (most expensive) free;
Buy 5 products, get the cheapest (most expensive) with a discount;
Get $10 discount from each $100 spent;
Get each 3-d, 6-th book with a 20% discount;
Buy each 2-d, 4-th, 6-th T-shirt with a $15 discount;
Buy 2 blouses for full price and get 2 more with a 15% discount;
Purchase 3 bags and get each additional one for $100;
Buy 4 shirts and get each additional one with $10 off;
Create various discount combinations with cheapest and most expensive items
With the Magento 2 promotions extension one can configure promotions like 'Purchase One and Get One Cheapest (or Most Expensive) Free', 'Buy 5 items, get the most expensive (cheapest) for 25% off' and so on. As soon as BOGOF selling model is an effective tool that encourages customers to make more purchases, cheapest/most expensive based deals will definitely help to quickly empty your stock.
Run promotions based on spent amount
Due to the 'Get $Y for each $X spent' promo type you will be able to easily increase your average order value. Offer deals like 'Buy products for $500 and get $100 discount' to motivate customers spend more.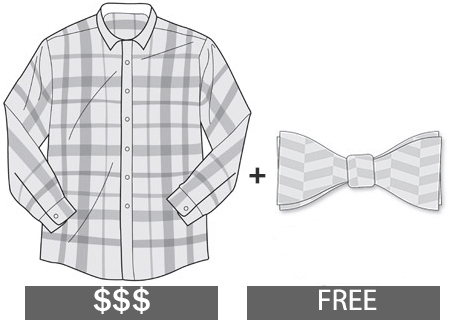 Create quantity step based promotions with fixed discounts
With the 'Each N-th: Fixed Discount' action of the Magento 2 promotion extension its possible to set any sum as a fixed discount and create as many various deals as you need. E.g. 'Get each 3rd book with $10 discount'.
Offer quantity step based deals with a percent discount
Magento 2 discount module also allows you to run quantity step based promotions with a percent discount, so you can easily offer 'Each second camera for 30% off' or 'Get each 3rd bag with a 15% discount'.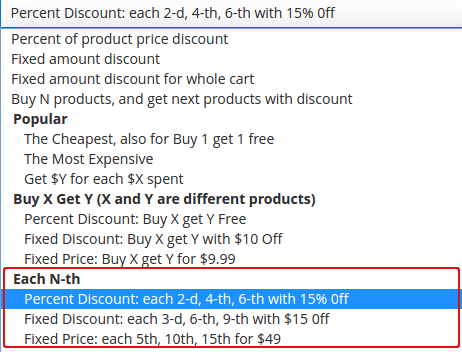 Configure promos like 'Buy 4 or 5 items for full price and get each extra item for $50 or with 20% ($20) discount'
Such promotions are possible with the 'Each product after N' action. The magento 2 special promotions tool offers 3 discount types for this action:
Percent discount
Fixed discount
Fixed price
Custom options
Now you can use any custom product options for creating flexible conditions. Due to the feature it's possible to accurately limit your promotions and apply particular discounts only to products with a specified unique option.
Enhance your promotional campaigns with Promo Banners extension.
Display banners according to your marketing ideas. With the extension, you can start
the checkout page promo
or use any other place on the web store (on the cart, category and product pages) to advertise.
Other Features
100% Open Source — Easy To Customize
Follows Magento Code Architecture
Separated HTML/CSS/JS
Simple installation via Composer
* The name "Magento" and the logo are the trademarks of Magento, Inc.
Amazing support, high quality
I used this amasty tool for magento 1, so when I decided to migrate to magento2 I purchased this app hoping it would be as great as its mother version. Fortunately, it lives up to my expectations! Yes, the module wasn't perfect at once, and yes - I had to apply to support. But these guys know what they do. Due to timely updates and a really qualified support team I finally got what I expected.

The module creates the same rules as its magento 1 version. Highly recommend.
Write Your Own Review
Backend
you'll be logged in automatically. Go to Marketing - Promotions - Cart Price Rules to see the rules' settings
Version 2.0.2
-
December 14, 2017
– The discount calculation for the "Each Nth" rules was fixed.
Version 2.0.1
-
December 04, 2017
– The installation script was fixed.
Version 2.0.0
-
November 29, 2017
– The configuration of several promo actions was simplified:
The promo actions "Each M-th After X-th" and "All Product after N" were combined in one action - "Each Product After N".
The promo actions "Buy X get N of Y" and "Buy X get Y" were combined in one action - "Buy X get Y".
– The issue with promo rule labels display was fixed.
Version 1.3.1
-
October 23, 2017
– Fixed discount display in admin area
Version 1.3.0
-
October 20, 2017
– New: Magento Enterprise edition Schedule feature compatibility
– Fixed the rare case of division by zero
Version 1.2.9
-
October 05, 2017
– "Each M-th after X-th" rule logic fixed
– Magento 2.2 compatibility tested and confirmed
Version 1.2.8
-
August 18, 2017
– Magento 2.1.8 compatibility improved
Version 1.2.7
-
June 19, 2017
– Catalog Rules reindex optimization
Version 1.2.6
-
April 05, 2017
– Fix issue with maximum discount amount
Version 1.2.5
-
March 09, 2017
– Fix for Schedule feature in Enterprise
Version 1.2.4
-
November 16, 2016
– Compatibility with Shipping Rules and Shipping Restrictions extensions
Version 1.2.3
-
September 26, 2016
– Fixed minor issue on cart rule edit page
Version 1.2.2
-
August 24, 2016
– Improved compatibility with Amasty Free Gift extension
Version 1.2.1
-
July 26, 2016
– Fix for JavaScript error which lead to fields being invisible in some cases
Version 1.2.0
-
July 07, 2016
– Compatibility with Magento 2.1
Version 1.1.2
-
June 10, 2016
– Two new settings added for actions conditions: Custom Options' SKU, Custom Options' Values.