Special Promotions for Magento 2

|

v1.2.4
Screenshots:
Take promotions to a new level
Every day online merchants offer tons of hot deals and tempting discounts to their customers. Therefore, it's very important to create really exclusive promotions to stand out in the crowd. Unfortunately, it will be hardly enough to use native Magento functionality to amaze store visitors.
Special Promotions for Magento 2 extension offers 22 more discount actions that will help to run promo campaigns based on the cheapest/most expensive products, quantity steps and spent amounts. Easily create numerous percent and fixed discounts to win customers' appreciation and sell more.
Additional promo rules
Add new promo actions to default Magento 2 promotions and create various promotion types. Here is the list of the most popular deals you can offer with the help of the extension:
Buy 3 items, get the cheapest (most expensive) free;
Buy 5 products, get the cheapest (most expensive) with a discount;
Get $10 discount from each $100 spent;
Get each 3-d, 6-th book with a 20% discount;
Buy each 2-d, 4-th, 6-th T-shirt with a $15 discount;
Buy 2 blouses for full price and get 2 more with a 15% discount;
Purchase 3 bags and get each additional one for $100;
Buy 4 shirts and get each additional one for $10 off;
Create various discount combinations with cheapest and most expensive items
With the Magento 2 promotions extension one can configure promotions like 'Purchase One and Get One Cheapest (or Most Expensive) Free', 'Buy 5 items, get the most expensive (cheapest) for 25% off' and so on. As soon as BOGOF selling model is an effective tool that encourages customers to make more purchases, cheapest/most expensive based deals will definitely help to quickly empty your stock.
Run promotions based on spent amount
Due to the 'Get $Y for each $X spent' promo type you will be able to easily increase your average order value. Offer deals like 'Buy products for $500 and get $100 discount' to motivate customers spend more.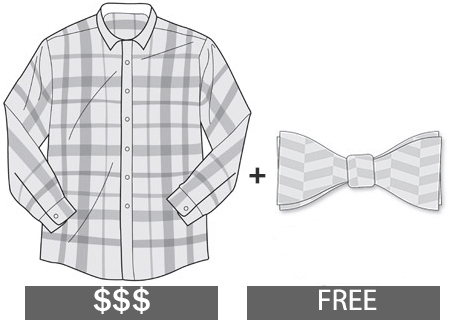 Create quantity step based promotions with fixed discounts
With the 'Each N-th: Fixed Discount' action of the Magento 2 promotion extension its possible to set any sum as a fixed discount and create as many various deals as you need. E.g. 'Get each 3rd book with $10 discount'.
Offer quantity step based deals with a percent discount
Magento 2 discount module also allows you to run quantity step based promotions with a percent discount, so you can easily offer 'Each second camera for 30% off' or 'Get each 3rd bag with a 15% discount'.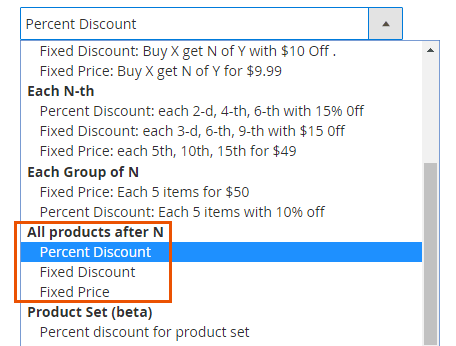 Configure promos like 'Buy 4 or 5 items for full price and get each extra item for $50 or with 20% ($20) discount'
Such promotions are possible with the 'All products after N' action. The magento 2 special promotions tool offers 3 discount types for this action:
Percent discount
Fixed discount
Fixed price
Custom options
Now you can use any custom product options for creating flexible conditions. Due to the feature it's possible to accurately limit your promotions and apply particular discounts only to products with a specified unique option.
7 reasons to choose
Risk-free Investment
30-day moneyback guarantee for all extensions. No questions asked.
Comprehensive Documentation
There is a detailed user guide with examples even for tiny addons. FAQ section and videos also available.
Solutions Which Work
Careful in-house testing ensures you get robust applications. Multiple stores support. Custom themes compatibility. All included.
Outstanding Support
Our support service is friendly and of high quality. And it is free. Unbelievably. Just check independent reviews at Magento Connect.
Usability and Performance
Nice and easy to use interfaces. Fast algorithms. Save your time and get things done.
Flexible and Easy Licensing
No product or store view or domain limits. No monthly fees. No hidden charges. One extension license for one Magento installation.
Long Term Strategy
We've been in the market for 5+ years. We're proud to be a Bronze partner and are planning to stick to Magento platform for years ahead. We're doing our best to build extensions which maximize effectiveness of your business. We're open to customers' suggestions and constantly update our products to match your needs.
Other Features
100% Open Source — Easy To Customize
Follows Magento Code Architecture
Separated HTML/CSS/JS
W3C Validated Code
* The name "Magento" and the logo are the trademarks of Magento, Inc.
General Questions

How can I pay for Amasty extensions?

What is the license policy? On how many websites can I use Amasty extensions?

How to install Magento extension by Amasty?

Can I test an Amasty extension on a staging site before transferring it to a live one?

Can I get a refund if an extension doesn't suit me?

Will I get any other benefits?
Version 1.2.4
-
November 16, 2016
– Compatibility with Shipping Rules and Shipping Restrictions extensions
Version 1.2.3
-
September 26, 2016
– Fixed minor issue on cart rule edit page
Version 1.2.2
-
August 24, 2016
– Improved compatibility with Amasty Free Gift extension
Version 1.2.1
-
July 26, 2016
– Fix for JavaScript error which lead to fields being invisible in some cases
Version 1.2.0
-
July 07, 2016
– Compatibility with Magento 2.1
Version 1.1.2
-
June 10, 2016
– Two new settings added for actions conditions: Custom Options' SKU, Custom Options' Values.