Thank You Page
for Magento 2
Increase the revenue from repeat sales with a custom Magento 2 order success page. Tailor Magento Thank You Page template and turn it into the first step towards the next purchase.
Register customers right on the Thank You page
Show order review and cross-sells blocks
Offer to customers coupons for the next purchase
Insert custom CMS blocks in one click
Enable newsletter subscription to strengthen the retention
TURN RANDOM BUYERS INTO LOYAL CUSTOMERS
Challenge
When сustomers visit a store they are expected to sign up for a newsletter, create an account, buy additional products and get engaged to purchase again. Usually, all these forms and call to actions are put at the checkout. But it doesn't work for magento checkout success page: customers feel stressed at that point. It may even decrease conversions as the magento 2 checkout success page becomes overloaded.
Solution
Place all the extra blocks like cross-sells, coupons and order review on the separate Magento Thank You page. Move 'Create Account' and sign-up forms to let shoppers make them when they feel the satisfaction of the completed order. Motivate customers to make repeat purchases and increase your store's profitability by up to 75 percent by growing retention.
See how to build a profitable Thank You Page
What benefits do you get for your store
Grow revenue by increasing the number of repeat sales
Increase customer base by registering newcomers in time
Build customer loyalty by creating a smart shopping experience
Maximize revenue by making your checkout digestible
Retain customers with a unique Magento 2 order success page
When shoppers have successfully completed their purchases, they are encouraged and ready for further interaction with your webstore. But the default order success page is rather dim with no appealing content on it. Set up a Magento custom Thank You page with order details, newsletter subscription, account creation, cross-sell and custom blocks. Configure top, body and bottom blocks. Re-order the blocks simply in the backend with "drag-and-drop".
Apply CMS blocks with no tech skills needed
Use Magento thank you page extension to engage shoppers and motivate them to continue shopping by providing them with the valuable info even on the last step. To fulfill the page with content, simply add relevant videos, photos and articles via custom blocks. Customize the CMS blocks and choose flexible layout positions. The good news for non-tech-savvy users is that you won't have to study CSS to add a custom background to a block - simply upload the image.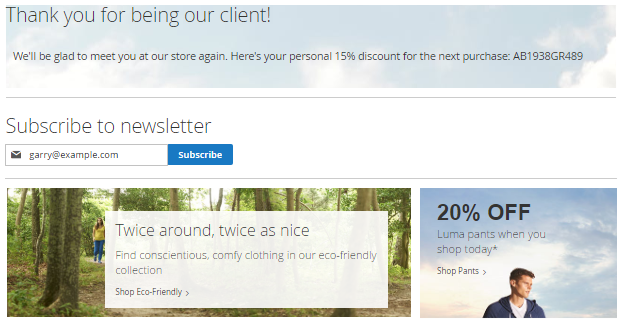 Preview your Thank You page from backend
There's no need to complete all order steps to preview the Thank You page html. Modify Magento 2 success page according to your business requirements, save the necessary changes and click just one button to see everything in action and make adjustments after the result view.
Configure your Thank You page layout
Using flexible extension settings, you can position your Thank You page blocks not only in a single column but in various ways using markup language and text editor. Adjust the success page layout to match it with your webstore design and make it even more catchy and informative for customers.
Trigger repeat purchases
Power up your Magento 2 order confirmation page with Special Promotions and cross-sells. Thank your clients with a custom coupon code they can use for their next purchase and display even more relevant products.
Display the Order Review block
Show an order review once a customer completes a purchase. Together with Magento 2 One Step Checkout extension, you can inform the customers about orders in details: show products, subtotal, total, shipping method and order status.
Benefit from user-friendly experience
Configuring page layout usually takes a lot of time, as you should take into account multiple page settings. But with the extension it won't take hours - it's a matter of minutes! Use Yes/No options, dropdown menus, and handy tips in the backend to save time and effort.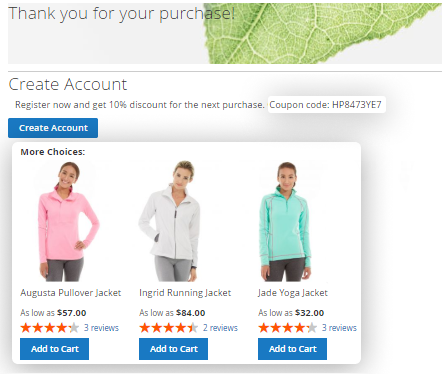 Get more regulars with the Create Account block
Let your random customers create an account in a few clicks at the moment they feel the highest satisfaction after the completed order. As a result, you will easily get new users and enlarge your customer base without any additional campaigns.
Enhance your brand consistency with the Newsletter block
Seize the day and enable newsletter signup block on the Magento 2 success page in one click. Let your customers know about bargains, discounts and other limited-time offers.
Engage customers to your store even better
Get 5 promo actions to automatically add free and discounted products to the cart with
Free Gift for Magento 2
extension. Show catchy banners to inform customers about special offers and let visitors select a gift among available promo items.
What is the Magento 2 order confirmation email?
An order confirmation email in Magento 2 is an email that is sent by the seller after the buyer has completed the payment in the online store. This email includes information about items, total price, shipping address, and billing address.
What is the Magento 2 order confirmation page?
Magento 2 order confirmation page displays information about products, delivery date, and other nuances. This page is also called a Thank-you page. The order confirmation page can significantly improve the user experience and also involve the user in further interaction with the site. For this page to be useful for your store, it needs to be improved. You can do this using our extension.
Product questions

How to increase Magento 2 ROI with custom order confirmation page?

When customers place their orders at your Magento 2 store, they see a success page with order details. This is an order confirmation page or thank-you page. By default, it looks like this:

Read the FULL answer

How to set up order confirmation email in Magento 2?

An order confirmation email is one of the basic triggered emails in Magento 2.

Read the FULL answer
Other Features
100% Open Source — Easy To Customize
Follows Magento Code Architecture
Separated HTML/CSS/JS
Simple installation via Composer
* The name "Magento" and the logo are the trademarks of Magento, Inc.
it's okay
good extension, good compatibility with Jet Theme
Good job, Amasty!
Quite easy to use the extension, I was pleased with the compatibility with other extensions. I especially like the opportunity to enable registration right on the success page feature.
Are you looking to add specific functionality for this extension or want to acquire a reliable development partner altogether? With custom development services by Amasty, you will receive high quality and cost-effective solutions developed by Magento professionals according to industry's best practices.
2.4.2-p1, 2.3.7, 2.4.2, 2.4.1-p1, 2.3.6-p1
You can always download the recent version free of charge from your account
Installing an upgrade is easy — check now
My Downloads
Version 1.2.0
Last Update: Jun 22, 2021
Improvement we improved code constructions
Version 1.1.10
Last Update: Apr 01, 2021
Fix we resolved the issue with the module extensibility
Fix we solved the problem with incorrect tracking Google Analytics on Thank you Page
Fix we solved the problem with ACL configuration
Compatibility with Amasty Jet Theme was greatly improved
Fix we solved the problems with multishipping address checkout
Compatibility with Magento 2.4.0 was added
Fix we solved the problem with Cross Sell block on Magento 2.3.5
Improvement we implemented a security update.
Improvement the code was enhanced according to Magento standarts
Fix link to user guide was updated.
Fix issue related to Show Out Of Stock option was resolved.
Improvement now you can use coupon variable not only in Text but also in Title Subtitle fields.
New now you can preview your Thank You page! Make necessary changes for adjusting settings to your needs, save configuration and press the Preview button to see everything in action.
New advanced layout management was introduced! Now, you can position your Thank You page blocks not only in a single column but in various ways using markup language and text editor.