XML Google® Sitemap
for Magento 2
Automatically generate Magento XML Sitemaps in an efficient way. Let your web store communicate with the search engines quickly and properly.
Index your content much faster
Include or exclude various types of pages
Specify frequency of updates for each type of pages
Set priority of importance for group of links
Specify Hreflang to deliver relevant content

Google has specific rules for sitemap generation. It is useful to have your XML sitemaps built automatically with a help of Magento 2 xml sitemap extension in order to meet all the requirements. Faster indexing of new pages shortens the time your new products appear in Google.
ADVANCED OPPORTUNITIES TO IMPROVE SEO
Make your web store more SEO-friendly
You have a web store full of highly-demanded goods and their descriptions are great as well. But dealing with SEO, apart from visitors, you have to care about search engine crawlers. Magento 2 XML seo sitemap extension will help you to introduce your web store to Google in the most appropriate way.
Google robots will certainly find necessary pages
Search engine crawlers need their guide to scan your website. They use a sitemap, which contains all the necessary group of links. Robots take it as a basis when indexing the pages. With Magento 2 Sitemap extension, search engine crawlers are going to find new pages faster and more efficiently.
Better functionality for proper setting
Include any links in your sitemaps:
Magento 2 XML sitemap extension allows to include links from various locations:
Category pages;
Product pages;
CMS pages;
Extra links.
Include Magento images in the sitemap to bring more traffic
Magento 2 Google Sitemap offers an easy way to include any images in your sitemap. Included images may bring you more traffic when Google indexes them.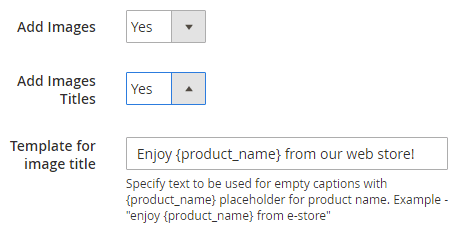 Relevant language and content for your target audience
When you want to translate your website (fully or only some templates) to properly present it to the different regional groups, you need to take SEO into consideration. Hreflang tag feature will help you to point Google what is relevant content to a particular audience and display it in the search results.
Use hreflang to find alternative links within one website or between various;
Select the language you want to share your content in;
Select the country you want to introduce your content in;
Relate various pages based on UUIDs, URL Keys, or IDs.
Google guidelines are followed and respected
To meet all Google's requirements, it is possible to set the maximal quantity of items per sitemap's file. You can also specify the maximal file size in Kb: when it is exceeded, there is a specific index file created.
Remove links easily
For SEO purposes, Magento 2 sitemap generator can exclude some of the links from your sitemaps. You can input URLs to exclude in the general configuration or specifically input URL keys in CMS pages settings.
All the sitemaps in one place
Use a handy grid with all the sitemaps. Easily generate, duplicate, edit, and delete sitemaps on one page. With the grid, you can have a clear vision of the sitemap's parameters, such as selected stores, path, URL, and the time it was generated.
More reliability with advanced settings
There are detailed settings, concerning the priority and frequency. You can set the values specifically for each group of links: Products, Categories, CMS pages, and Extra links to improve reliability and trust to your site from Google.

Efficiently manage cron tasks
Manage all existing cron tasks on a Cron Tasks List grid from admin panel. Run cron tasks and generate their schedule by clicking the 'Run Cron' button. Delete tasks in bulk, use filtering and sorting options when it is needed.
What is Magento 2 XML Sitemap in SEO?
XML SEO Sitemap of Magento 2 store is an XML file that includes a list of URLs and tags that identify types of data. This map helps Google bots crawl all the important pages of the website faster.
→ Learn how to create Magento 2 XML Sitemap.
WHAT IS THE google XML SITEMAP IN MAGENTO 2?
Google XML Magento 2 sitemap improves the indexing of your store by search engines and is specifically designed to find pages that might be missed by Google bots crawl. It should be updated as often as there are changes to the content on your site.
According to the statistics, the extension can cover each business need in synergy with the following solution: magento 2 schema markup.
Other Features
100% Open Source — Easy To Customize
Follows Magento Code Architecture
Separated HTML/CSS/JS
Simple installation via Composer
* The name "Magento" and the logo are the trademarks of Magento, Inc.
Awesome support team
I have installed the XML Sitemap extension on my site. It works like described. I have contacted the support team with some questions. They have replied the same day and helped to configure the module properly. Recommended!
must have for faster indexing
This is a must have extension for indexing the store pages much faster. Google guidelines are followed and respected. The support team is awesome. They answered all my questions. Recommended!
Adds flexibility to default feature
Very good company. Though Magento 2 has a default xml sitemap, I needed more options and flexibility. This extension helped me to achieve what I needed. I had some problems with multiple sitemaps (my site is really big, so I needed a sitemap index) but Amasty support helped me with it (thanks Max!).
I was suprized!
Thanks Amasty for this tool! A month ago we decided to do something with our Google position, so we started a serious work on our SEO. In combination with this extension, we have increased our organic traffic and the revenue. And what is more pleasant - we hadn't any problems with the extension integration. Well done!

Do you have any questions?
Schedule a demo and get all the answers you're looking for!
book a live demo
Are you looking to add specific functionality for this extension or want to acquire a reliable development partner altogether? With custom development services by Amasty, you will receive high quality and cost-effective solutions developed by Magento professionals according to industry's best practices.
2.4.2-p1, 2.3.7, 2.4.2, 2.4.1-p1, 2.3.6-p1
You can always download the recent version free of charge from your account
Installing an upgrade is easy — check now
My Downloads
Version 1.6.1
Last Update: Aug 24, 2020
Fix we fixed the error occurred upon sitemap generation if it gets divided into several files
New we added an option to choose which product types will be added to sitemap
Fix we resolved the issue with ignoring of base URl and locale in hreflangs on multi-website instance
Version 1.5.2
Last Update: Jun 25, 2020
Fix we adjusted the sorting error on sitemaps grid
Improvement now it's possible to exclude similar URLs from sitemap by using * symbol
Version 1.4.2
Last Update: Sep 19, 2019
Fix the issue related to XML Sitemap generation in case of large product collection was resolved
Fix the issue with removing store was resolved
New ability to manage all existing cron tasks on a Cron Tasks List grid in backend was added. Run cron tasks and generate their schedule by clicking the 'Run Cron' button. Also, delete tasks in bulk, apply filtering and sorting options when it is needed
Version 1.3.14
Last Update: Feb 08, 2019
Fix an issue with using http instead of https for some cms pages and images was resolved
Compatibility compatibility with Amasty Improved Layered Navigation extension was enhanced
Improvement the limit of external links was enlarged
New Information section is added. Now you can see the version of installed extension, available updates, User Guide link, conflicts and other useful info right on the module Configuration page
Fix the issue with the mass delete action was fixed
Fix the issue with the date format was resolved
Compatibility the compatibility with the Amasty Unique Product URL extension was enhanced
Fix the issue with the date format and incorrect schema was resolved
Improvement minor code improvement was made
Improvement the sitemap configuration was enhanced
Fix the minor issue was resolved
Improvement now disabled products are excluded from a sitemap by the extension
Improved the compatibility with the 3rd party extensions. Made the `amasty_hreflang_uuid` column optional for the cms_page
Compatibility with Amasty Faq and Products extension
New Added Hreflang Tag Support to notify Google which site to show to foreign users. Useful for a multi-lingual and multi-regional sites. Read more
Version 1.2.2
Last Update: Apr 03, 2018
The functionality that adds the Custom Pages and Brands to the Magento XML Sitemap has been moved to the Amasty Improved Layered Navigation extension starting from version 2.7.1. Please update this extension as well
The functionality that adds the Landing Pages to the Magento XML Sitemap has been moved to the Amasty Landing Pages extension starting from version 1.2.6. Please update this extension as well
The functionality that adds the Blog Pages to the Magento XML Sitemap has been moved to the Amasty Blog Pro extension starting from version 1.1.2. Please update this extension as well
Allows to show the watermarked images in the sitemap
Code style refactoring
New an extension allows to exclude Out of Stock Products from the XML Sitemap
Version 1.1.2
Last Update: Feb 16, 2018
Fixed an issue with not visible products added to the sitemap
Added possibility to run the XML sitemap generation manually using SSH
Fixed the wrong URL for the XML sitemap file
Version 1.0.3
Last Update: Nov 20, 2017
Fixed the product URLs issue in the multi-store configurations
Fixed the Category URL issue
Fixed the Brand page URL issue
Fixed the multiple image URLs issue