Loyalty Program
for Magento 1
Reward customers with discounts using shopping cart rules and it will automatically increase average order amount and eventually drive more sales. Make customers stay with you instead of shopping at competitors' stores.
Create promos based on purchase history
Bundle products support
Stimulate guest customers to register
Clearly indicate discounts in the cart
Create promos for individuals and groups
Why do you need Loyalty program?
Customer Loyalty Programs in Magento have a huge positive impact on emotions and, as well-known, decision-making is 70% emotional and 30% rational according to behavioral economists.
Providing customers with positive shopping experience is the way to spread the word about your brand and attract clients to your store at a low cost.
According to FiveStars loyalty study, Magento loyalty scheme members are 70% more likely to share news about your brand in social media and spend over 10X times more at your store than new customers.
Knowing all these facts It's up to you whether to apply a discount program or not.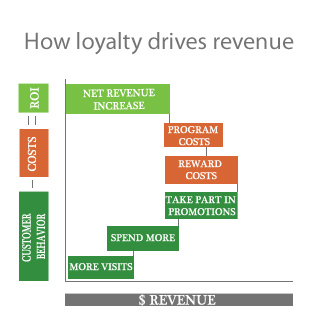 Increase purchase frequency
Respond to competitive challenges
Create brand advocates
Build a strong brand by offering unique and useful Magento 1 reward system
Initiate a promotional platform to drive marketing campaigns
Increase Customer Lifetime Value (CLV)
Support Best customer marketing (BCM)
Reward customers and stimulate them to make purchases at the same time
Display Magento 1 rewards program info in customer accounts
Customer account area is the perfect place for describing your Loyalty Program terms, especially when there's an ability to use rich html with images in the description. Customers must see what is needed to be done to get discounts in order to willingly participate in your magento rewards program.
Display detailed statisctics on customer' total, last and this month purchases
Loyalty Program Tab also reflects total, last and this month purchase statistics, which is a guarantee of getting discounts for clients. Correct statistics is important for customers as it is the basis of their trust.
Create targeted loyalty program offers
Conduct business with customers individually in order to better understand their needs. Offer different levels of discount program to customers with various purchase history situations. Add comprehensive number of Magento customer loyalty program options to foresee and satisfy any client case and also to give customers objectives to reach.
Various options of Loyalty Program
Targeted discounts for any customer segment
Unlimited number of Shopping Cart Price rules
Build up loyalty programs and save money
Now you can also exclude products with special price from your loyalty programs. Since such items are already discounted to the minimum, it is reasonable to make discount rules skip such items not to lose money.
Build a comprehensive database on purchasing behavior
Assign customers to particular groups according to their purchasing behavior, which will be the basement of Loyalty Program levels for your store. Apply Loyalty Program and give discounts only to specific customer groups with positive purchase history. Use coupons for Magento customer rewards.
Use coupons for rewarding
Separate customer groups discount support
Multiple coupons auto generation
Move customers up from one spending level to the next one
Create conditions based on Purchase History, Order Subselection, Cart and Customer Attributes. By encouraging customers to buy more you'll have a valid reason to upgrade their accounts, which will provide them with bigger discounts and you with more profit.
Purchase History
Order Subselection
Cart Attributes
Customer Attributes
Retain existing customers and get back the defected ones
With this Magento rewards extension you'll be able not only to take care of your existing customers, but to return the defected ones. Remember customers' order amounts and pay them back with discounts, it's one of the main reasons for them to come back to your store. Use Order Subselection options for rewarding customers with good order history.
Order Subselection includes:
Average Order Value
Total sales Amount
Number of Placed Orders
Make customers for life using Individual Promotions
Create individual Loyalty Program rules for the most loyal customers. Show the most loyal customers you value them through providing them with special order terms. Create coupons and Magento shopping cart price rules for individual customers based on customer attributes, Email, Last Name or TAX/VAT number.
Individual Promotions are created based on:
Email
Last Name or ID
TAX/VAT number
Stimulate guest customers to register
Limit the access to discount deals for guest customers in order to save money on customer involvement. Open up your loyalty system offers only for clients with long membership period, who are loyal to your store. Try to apply the strategy of Best customer marketing, which is - spend more time, effort, and money on the best customers in order to maximize the return on investment.
Apply Membership Days attribute
Give discounts to truly loyal customers
Follow Best Customer Marketing strategy
Reduce promotional and advertising costs
The best way to attract clients and extend their lifetime cycle is to always conduct interesting and surprising promotions. 21 shopping cart price rule actions are the best way to never tire customers with same and boring deals. This is the solution to make existing customers loyal and new customers involved with minimal investment. Remember that 20% of customers bring about 80% of your revenue.
Best deals with 21 shopping cart price rule actions
New customers with minimum investment
Combine Loyalty Program and Promotions
Free shipping is always a great bonus to purchase
Make free shipping option a part of loyalty system. Customers gladly buy products if free shipping is promised. According to a recent comScore survey, 61 percent of consumers say they will cancel their purchase if free shipping isn't offered. Liberate two birds in one day – get customers into the sales funnel and make them loyal in the long term.
Give a stimulus to continue shopping
Free shipping as a bonus for loyalty
Free shipping for particular products
Clearly show the reason for the discount
Let customers see why they get discounts. A clear list of actions and corresponding customer rewards in Magento are the best incentives for customers' activity. Show clients the name of the discount like 'Discount for VIP customers' and they'll feel how much you value them.
Give a name to discount displayed on the checkout
Explain what to do to get discounts
Surprise customers at the checkout to increase satisfaction
Enhanced functionality of shopping cart rules grid
Now Special Promotions includes the capabilities of Promotions Manager module. As follows, you can see all rule details (the type of discount action and discount amount) right on the shopping cart rules grid. Besides it, you are able to manage promotions on the grid:
Duplicate the rule
Quickly activate and deactivate the promo
Easily delete outdated rules and coupons
Set the rule priority
additional features
Bundle products support
You'll be able to create shopping cart price rules for bundle products. Many stores contain bundle products and the ability to create special offers for them is extremely useful.
Manually choose discount base
Admin user can define what price will be chosen as a discount base for the action – special price, the price after previous discounts or the original item price.
Full support of virtual products
If you're the owner of virtual products store you can use all the module capabilities for creating profitable marketing campaigns. This Magento loyalty extension fully supports virtual items and counts all their particular aspects.
Compatibility with Order Attributes
Order Attributes, which input is either text field or text area can be used in the conditions of the Loyalty extension.
Other Features
100% Open Source — Easy To Customize
Follows Magento Code Architecture
Separated HTML/CSS/JS
Simple installation via Composer
* The name "Magento" and the logo are the trademarks of Magento, Inc.
Simple yet effective
This is a simple extension with little functionality. But if it's what you are looking for, then the extension is worth a try. It doesn't have any complicated systems of points for different actions (they are cool but are not suitable for all stores). With the help od this module I've created 5 levels of loyal customers and a discount system for them, Quite handy and effective.
Worthy promotional tool
This is not the first promotional tool we use in our store, and it's become a good s upplement to previously installed promo mods. Unlike points and rewards tools, this tool simply allows discounts accumulation. But despite the limited functionality, the rules settings are extremely diverse.
After a couple of support consultations, we finally managed to configure all the settings we needed… woo-hoo! That was not an easy thing, by the way.
Now the mod works like a charm. We are happy, customers are happy (at least, according to GA stats).

Does what it says
We've faced some problems right after the extension installation because of the conflicts with two discount mods we'd already had. Finally after 3 days of contacting support service, we got our app running.
Having no marketing specialists in our store we have to utilize ready-to-implement tools. This one really helped us to boost our store audience and increase sales rate. But don't wait for miracles to happen. It took us about half a year to see measureable results.
The settings are quite complex and require time to be appropriately configured. But all these efforts pay twice. Although the extension doesn't offer the reward points, but only the discount system – it's quite enough to make people buy more.
ksiu6
Magento Connect
Complicated but effective
I wasn't expecting such functionality for this price – and this extension is VERY rich in features. You will need a day or two to set every thing up, but in the end it works perfectly. Not very simple I think, but the result is good and I like it. Lots of customer groups, rewards, coupons etc etc.
Magento Connect,
Juliaa38
Mandatory investment in your business
We have been using this extension for almost a year and definitely see positive impact. We are selling online courses, so customers often returns for next purchase. However you, know, there is strong competition and we HAVE to impact on customer loyalty and "help" them to buy again. Personal discounts and membership rules is our way to do this.
Easy set up and default shopping cart rules interface makes the maintenance process very transparent and allows to combine this module with other ecommerce best practices like points, catalog rules, event discounts or sales.
In the next version I love to see messages feature like "You need just 1 more purchase to earn the gold membership" and some advanced reporting.

AnastasiaR,
Magento Connect
very good, adding email support will be nice
I really like this extension, very good for marketing purposes and to attract customers, it will be very nice if you can add email support to it, so that customers can get monthly points statements. Everything else is great!
Hurry up to install!
That's a great plugin to install, especially on the Christmas Eve. We purchased it a month ago, and have noticed real conversion boost. Customers adore deals and discounts, and it's high time exploit this to the full :)
Amazing tool to increase returning conversions - exactly what I need.
Our returning conversions increased by 10% minimum as after a month of using the extension. A nice result I must say. This is the must have tool for any store that wants to have loyal customers.
Well done
This is our first Amasty module. We had no issues while installing it, and we have no issues with it now. The products are being sold out like hot pancakes with the incentives your plugin offer. Thank you Amasty!
Are you looking to add specific functionality for this extension or want to acquire a reliable development partner altogether? With custom development services by Amasty, you will receive high quality and cost-effective solutions developed by Magento professionals according to industry's best practices.
CE 1.4.x - 1.9.x, EE 1.8.x - 1.14.x
You can always download the recent version free of charge from your account
Installing an upgrade is easy — check now
My Downloads
Version 1.15.1
Last Update: Nov 20, 2019
Improvement we reviewed and enhanced the code according to Magento code standards
New We added an option "Maximum discount" for default Magento cart price rules
Version 1.14.5
Last Update: Jul 08, 2019
Fix the issue with incorrect discount in description was resolved
Fix the issue with validation for condition ANY with "Number of placed orders" was resolved
Fix the issue with the rule not triggering if "Discount QTY Step = 0" was resolved
Fix the issue with applying the biggest discount for original price was fixed
Fix the issue with applying rules after specifying Y-product and Y-categories on the rule was resolved
Fix the issue with a discount, exceeding an item's price, was resolved
Fix the issue with sorting for "Each N-th" and "Each Product After N" actions was resolved
New the debug mode for the shopping cart was added. Now you can see the discounts applied to each item in the cart
Fix the issue with actions 'buy X get Y' for products with the same price was resolved
Fix the issue when applying the biggest discount amount was resolved
Fix the issue with the discount amount for the 'Group N percent' rule was resolved
Version 1.13.9
Last Update: Aug 23, 2018
Fix the issue with labels displaying on products images was resolved
Fix the issue with time format was resolved
Fix the issue with apply the biggest discount setting was fixed
Improvement the localization was updated.
Improvement 'Usage examples' URLs are now opening in new tab
Localization updated
Fixed logic of 'Each Group of N' action. Now it will apply discount on group of cheaper items
Fixed an issue with 'Promo Items' field not accepting SKUs with spaces
Fixed an issue with 'Stop Further Rules Processing' setting
Fixed 'Max amount of discount' setting behavior
Links to User Guide added
Some minor UI changes
New Items Subselection condition which checks products ordered before
New Stock Qty and Weigh can be used as product conditions
Minor localization fixes
Version 1.11.3
Last Update: May 24, 2017
Added notifications on SKU (with "Out of stock" status or/and has Qty=0) that are used in rules. Notification notify you when you creat/edit rule and on rules grid.
Version 1.10.0
Last Update: Jan 05, 2017
New feature: possibility to display banners for promotion rules
Code refactoring to improve compatibility
A number of general improvements
Version 1.9.2
Last Update: Oct 18, 2016
Added sample rules for the first time installation
Added warnings about wrong condition usage
Fixed issue with discount breakdown display in some cases
Visual beautiful progress bar to display current discount amount and purchase volume needed to increase the discount
New feature: time conditions for shopping cart price rules - possibility to make rule active only on specified days within specified period of time
Version 1.8.4
Last Update: May 03, 2016
Long waited option to set discount on original price, not special or discounted item price
Minor improvements
Version 1.7.2
Last Update: Jul 27, 2015
Option to skip items with tier price
Version 1.5.2
Last Update: Nov 05, 2014
One cent rounding bug fix
Bundle and virtual product support
3 new popular actions with set of products
New action: fixed price for product set. For example "buy mobile phone, memory card and the case for $99 in total"
New action: percent discount for product set. For example "when buying shoes and jacket together, each item gets 10% off"
Version 1.4.4
Last Update: Nov 16, 2013
Better support of custom options
Ability to use custom options in the the rules