Free Shipping After Discount
for Magento 1
Take free shipping over total control with an advanced calculation tool. Provide free shipping based on cart subtotal after a discount to make delivery cost processing maximally precise.
Offer free shipping based on cart value after a discount
Make free shipping calculation accurate
Configure the extension just in one click
Bring shipping management to a new level
Full control over free shipping in one click
Native Magento functionality doesn't take into account discounted prices when offering a 'Free Shipping' method to customers. Thus, when a cart value decreases after a promo code coupon application, Magento free shipping will be still available even when the grand total doesn't meet the method conditions anymore.
With the Free Shipping After Discount extension you'll be able to accurately calculate shipping costs and display only relevant shipping methods on the shopping cart page. The module automatically disables free shipping if after a discount the cart value gets lower than the minimum order amount allowed for this method.
Apply free shipping after a discount
Don't know how to provide a 'Free Shipping' method based on cart subtotal after a discount? Simply enable the 'Free Shipping After Discount' option in your Magento admin panel and a free delivery will be provided based on a discounted cart subtotal.
How it works
For example, you offer free shipping for orders equal or greater than $100. A customer adds to cart products with the total value higher than $100, but after a coupon application the grand total reduces to $85. In this case the module won't offer the 'Free Shipping' method as the final cart value is lower than $100.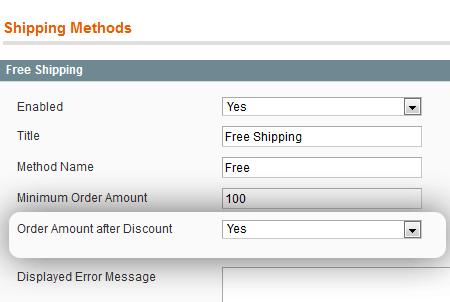 More Shipping Tools
Need more shipping tools? With the Shipping Rules extension you'll be able to easily modify shipping rates by popular shipping carriers like UPS, DHL, FedEx and many others. In case you want to restrict shipping based on cart subtotal (including the subtotal after a discount) take a look at the Shipping Restrictions module.
Other Features
100% Open Source — Easy To Customize
Follows Magento Code Architecture
Separated HTML/CSS/JS
Simple installation via Composer
* The name "Magento" and the logo are the trademarks of Magento, Inc.
Magneto 2
May i know is this extension has Magento 2 version?
Excellent!
This is what I was looking for. After deep discount customer also able to get free shipping which was lost in total. But this extension is works perfect and now its calculationg correct after discount price

Thank you very much for this extension
Amasty team is very helpful always :)
Awesome!
Was able to install this within minutes on a live site without any issues. Used to be able to do this through Shopping Cart Price Rules. However, upgraded & now Shopping Cart Price Rules no longer work for this. Didn't even realize that it wasn't working until an order came through with deep discounts & free shipping. So, I desperately needed a fix to keep that from continuing. This extension was the fix needed. Works beautifully & with Magento v.1.9.3.7.

Thank you Amasty!!!!
Are you looking to add specific functionality for this extension or want to acquire a reliable development partner altogether? With custom development services by Amasty, you will receive high quality and cost-effective solutions developed by Magento professionals according to industry's best practices.
CE 1.4.x - 1.9.x, EE 1.8.x - 1.14.x
You can always download the recent version free of charge from your account
Installing an upgrade is easy — check now
My Downloads
This extension has no updates yet