Unique Product URL
for Magento 2
Create unique product URLs to avoid situations when a product has multiple links to it. Settle the desired URL depth level to optimize the paths to your product pages and make them search engine friendly.
Utilize a short path or a long one in a product URL
Select the pass by a sum of characters or URL depth level
Redirect secondary URLs to the main one automatically
Ignore certain categories in a product's link
Customize breadcrumbs according to URL or category

SEARCH ENGINE FRIENDLY URLS FOR PRODUCT PAGES
Search engine ranking is crucial for your e-commerce business. The correct in-store pages indexation influence their chances to be discovered by your potential customers. That's why it is so important to keep each product's URL unique. Using this handy extension, you are able to completely eliminate most of the issues regarding duplicate content and take full control of product URLs. Moreover, you can modify the default Magento breadcrumbs in order to display current URL or the last visited category.
Include category and subcategory names in product URL
Once a product is included in several different categories you may face a duplicate content issue that negatively influences your store SEO. By using the Magento Unique Product URL extension, you can escape this pain by including unique paths in a link to each product.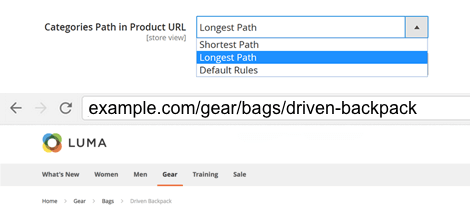 Set the length of the category path
Use the shortest variant or the longest one as the category path in product URL to include both a category and subcategories. Alternatively, you can limit a URL to the shortest number of categories. Moreover, you can always return to the Magento default options.
Define the condition to create exclusive product URLs
Tell Magento how to check the length of each category path. You can either select the URL depth level or the total sum of characters in the path. That scenario will be used to set the number of categories and subcategories in URL.
Advanced breadcrumbs customization
You can diversify the built-in breadcrumbs using the Magento Unique Product URL module. Display only the last visited category or the full URL to the product. The full URL option will implement all categories and subcategories from URL into the breadcrumbs section.
NEW
The extension lets you avoid duplicating of a subcategory in breadcrumbs when this subcategory is assigned to several categories simultaneously.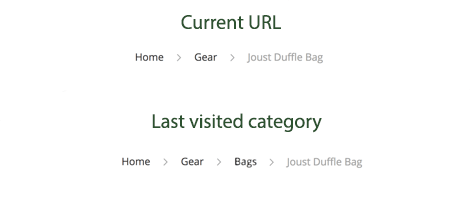 Automated 301 redirect to canonical URL
An extra step to avoid duplicate content in the store is to enable redirects from the existing secondary URLs to the main canonical one.
Exclude a category path from product URL
Sometimes you may need to avoid adding some categories or subcategories to a product link. With the extension, you can select a custom set of categories to be removed from product URLs.
Other Features
100% Open Source — Easy To Customize
Follows Magento Code Architecture
Separated HTML/CSS/JS
Simple installation via Composer
* The name "Magento" and the logo are the trademarks of Magento, Inc.
Great module for SEO
We manage client sites having products associated with multiple categories. In SEO terms this aspect is not, in itself, an optimal solution as it implies a useless waste of SEO budget. This module brilliantly solves this issue and, hence, it carries meaningful SEO improvements.
Good to remove duplicates
I'm not good at SEO. After I heard that there could be duplicate content on my webstore and this could damage its ranking, for sure I started looking for a solution to this problem. This extension helped me a lot with this SEO hassle. Now all duplicates are deindexed and, what is more, browsing my store is now more convenient for customers thanks to customized breadcrumbs.
A must for my business
We run a business selling gift certificates and naturally many of our items were included in multiple categories - for her, for both, birthday, new year, etc. We needed a solution that wouldn't stop visitors from accessing the gifts they want at the same time would improve our store ranking. This extension was a fine choice. It works well. Recommend it.
Easy, good for SEO
I like this module for ease of use and ability to improve webstore ranking even with no deep knowledge of SEO. In fact you just click through drop-and-downs and all the rest the module does by itself. We installed it about 6 months ago and our store ranking is much better now.
Do you have any questions?
Schedule a demo and get all the answers you're looking for!
book a live demo
Are you looking to add specific functionality for this extension or want to acquire a reliable development partner altogether? With custom development services by Amasty, you will receive high quality and cost-effective solutions developed by Magento professionals according to industry's best practices.
2.4.2-p1, 2.3.7, 2.4.2, 2.4.1-p1, 2.3.6-p1
You can always download the recent version free of charge from your account
Installing an upgrade is easy — check now
My Downloads
Version 1.0.22
Last Update: Jan 18, 2021
Compatibility we enhanced the compatibility with default Magento sitemap functionality
Compatibility compatibility with Magento 2.4 was improved
Improvement compatibility with Amasty AMP extension was improved
Fix we reviewed and corrected the behavior of Breadcrumbs settings
Compatibility compatibility with Amasty Google Page Speed Optimizer was improved
Fix categories are no longer getting added to meta title
Fix issue with module configuration was resolved
Fix the issue with module configuration was resolved
Fix an issue with breadcrumbs was resolved
Fix an issue with the breadcrumbs order was resolved
Improvement the module configuration was enhanced
Fix the issue on a product page was resolved
Fix the issue after adding product to the cart was resolved
Compatibility compatibility with Magento 2.2.4 was added
Improvement SEO friendly URL enhancement was made
Fix the issue with the sorting URLs by characters was fixed
Fixed an issue with the canonical URL and 301 redirect
Fixed an issue with incorrect longest / shortest paths in url-rewrites
Fixed the breadcrumbs issue with several categories with the same url key