SEARCH ENGINE FRIENDLY URLS FOR PRODUCT PAGES
Search engine ranking is crucial for your e-commerce business. The correct in-store pages indexation influence their chances to be discovered by your potential customers. That's why it is so important to keep each product's URL unique. Using this handy extension, you are able to completely eliminate most of the issues regarding duplicate content and take full control of product URLs. Moreover, you can modify the default Magento 2 breadcrumbs in order to display current URL or the last visited category.
Include category and subcategory names in product URL
Once a product is included in several different categories you may face a duplicate content issue that negatively influences your store SEO. By using the Magento 2 Unique Product URL extension, you can escape this pain by including unique paths in a link to each product.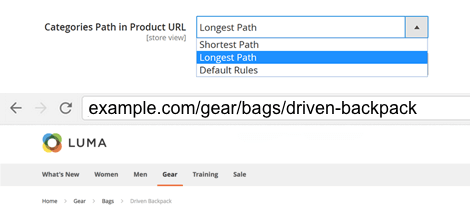 Set the length of the category path
Use the shortest variant or the longest one as the category path in product URL to include both a category and subcategories. Alternatively, you can limit a URL to the shortest number of categories. Moreover, you can always return to the Magento 2 default options.
Define the condition to create exclusive product URLs
Tell Magento 2 how to check the length of each category path. You can either select the URL depth level or the total sum of characters in the path. That scenario will be used to set the number of categories and subcategories in URL.
Advanced breadcrumbs customization
You can diversify the built-in breadcrumbs using the Magento 2 Unique Product URL module. Display only the last visited category or the full URL to the product. The full URL option will implement all categories and subcategories from URL into the breadcrumbs section.
NEW
The extension lets you avoid duplicating of a subcategory in breadcrumbs when this subcategory is assigned to several categories simultaneously.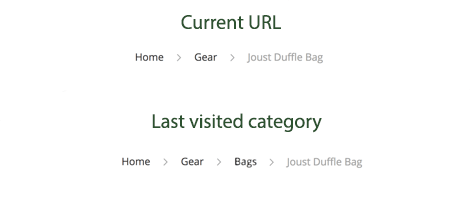 Automated 301 redirect to canonical URL
An extra step to avoid duplicate content in the store is to enable redirects from the existing secondary URLs to the main canonical one.
Exclude a category path from product URL
Sometimes you may need to avoid adding some categories or subcategories to a product link. With the extension, you can select a custom set of categories to be removed from product URLs.
Other Features
100% Open Source — Easy To Customize
Follows Magento Code Architecture
Separated HTML/CSS/JS
Simple installation via Composer
* The name "Magento" and the logo are the trademarks of Magento, Inc.
Version 1.0.4
-
February 08, 2018
– Fixed the breadcrumbs issue with several categories with the same url key
Version 1.0.3
-
December 11, 2017
– Minor fixes
Version 1.0.2
-
October 26, 2017
– Minor fixes
Version 1.0.1
-
October 11, 2017
– Fix minor issue