Shop by Brand
for Magento 1
Let customers quickly find the brands they love with a user-friendly brands showcase. Increase your sales giving users better shopping experience with unique and fully custom brand pages.
Brands Showcase in a Sidebar, Menu and Top links
Brand Listing with a Brand Slider and a Search box
Embed Brand Listing and Brand Slider anywhere
SEO-friendly URLs for Brand Detail Pages
Import and export Brands using CSV files
It's not a secret, that sometimes particular brand names speak louder than any advertising texts. Therefore, thousands of customers come to online stores with one particular goal - to find products of a specific manufacturer. Why not help such visitors to instantly get what they need by showing them the quickest path to their favorite brands?
Magento Shop by Brand extension allows you to add a handy block with brand names and logos to the sidebar as well as display brands in the top navigation menu, thus helping customers to instantly browse your Magento 1 store by popular brands.
Create custom pages for each particular brand and equip them with stunning logos, catchy texts and SEO-friendly URLs. Generate a brand listing page with a featured brands slide-show and a smart search box that auto suggests the most relevant brands when customers start typing in.
Key Features
Enable Brands Sidebar with Brand logos and names.
Add a Brands link to the Main Menu bar and Top Links.
Create a listing page with all Brands listed alphabetically.
Feature brands by adding them to the Brands slider.
Let customers find brands with a quick search window.
Upload custom images and different logos for sidebar, top menu, slider and brand listing page.
Show available products quantity for each brand.
Customize content for each brand page.
Generate short SEO-friendly URLs for brand pages.
Import and export brands in CSV format.
NOTE
Brands auto-creation out of the box
All brands are created based on specific product attribute values. Each attribute value is equal to a new brand. Products with a specified attribute will be assigned to new brands automatically.
Add brand filters to store navigation
Display brands in the top menu
Shop by Brand Magento 1 extension settings let you display an additional link to a brand listing page with brand names and logos right in the top menu. This way online shoppers will be able to sort store items by brand not only from category pages, but from any store page including personal customer accounts.
Show brands in the sidebar
With the Magento 1 brand tool an admin can show all created brands with their logos in the left sidebar. Once store visitors click on a specific manufacturer from the brands list, they will get redirected to the corresponding brand page with the products they need.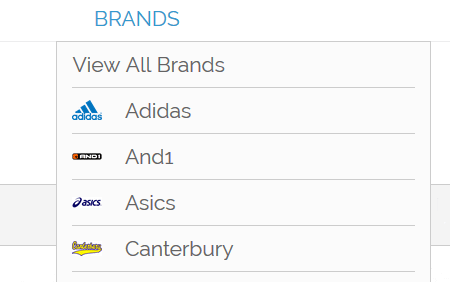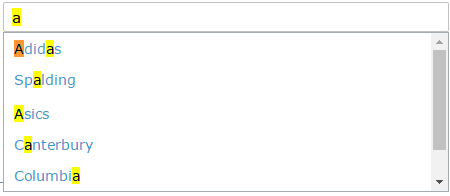 Enable a quick search box
In case you've got a rich list of brands help customers to quickly find a specific brand by placing a search box in the left sidebar and on a brands listing page. Enjoy the auto suggestion with the most relevant brands when start typing the first letter of a particular manufacturer into the search field. This easy-to-use Magento 'shop-by-brand' tool will help customers decrease the time spent on brand browsing and focus on the items they need.
Flexible settings for a brands listing page
Display a list of manufacturers on a special page
Gather all brands you offer on one page. Arrange brands in alphabetical order and/or filter Brands by first character to help customers easily browse through numerous manufacturer names. Show custom brand logos and labels together with the number of available products for each brand for better content perception. Configure the Brand Listing page style by choosing a header's color and a text.
Rotate popular brands in a slider
Add a brands slider to a product listing page to draw customers attention to the most popular manufacturers and increase the number of spontaneous purchases. Configure flexible settings to adjust slider images and header display to your specific requirements.
Customize brand pages
Manage brand pages content
To make Magento 1 manufacturer pages informative and catchy equip them with a brand title, logo and description. Use a wysiwyg tool to accurately edit brand page texts. Add a brand banner and a video via cms block. Allow filtering products by size, color, material, price, etc.
Create SEO-friendly URLs
Create short nice looking URLs like your-store.com/brand-name.html for each brand page to improve your store SEO. You can also specify necessary Meta data such as keywords and descriptions for all pages to show relevant information in SERP.
HINT
Expand your sales routine - 'Shop By' other attributes
As soon as the extension lets you choose any attribute as a brand, you can use the module for a great variety of purposes by letting customers shop by any attribute in your Magento 1 store. E.g. Shop by Sport Team, Shop by Player, Shop by Musician, Shop by Book Author or any other product attribute depending on your store specifics.
Advanced Options
Import and export brands
Speed up brands management by importing all brands in one go using a CSV file. This feature is extremely useful for huge stores with numerous brands. Apart from that, you can also easily export brands data for further processing.
Embed Brand Listing and Brand Slider anywhere
Take full control of site content management. The Magento 1 brand extension lets you place a brand listing block and a slider on any CMS page or a static block by inserting a special embedded code.
Benefit from combining the module with Magento AJAX Cart
Let your visitors choose products of a certain company on the Brands page and directly add them to the cart placed on the same page.
Other Features
100% Open Source — Easy To Customize
Follows Magento Code Architecture
Separated HTML/CSS/JS
Simple installation via Composer
* The name "Magento" and the logo are the trademarks of Magento, Inc.
Excellent extension and support!
Customers often make their decision based on the Brand. I believe this is the most feature rich Brands functionality on the market. It has beautiful listing page with all the brands and the slider. It is possible to auto generate brands based on any attribute or to import them quickly. I love the the SEO friendly URLs. This is that i need!
Just what we were looking for!
Really worthy tool if you sell brand products. It appeared to be very easy to configure, although we still had to apply to support guys coz the slider needed to be modified for our store theme.

Anyway, the app deserves 5 stars due to its handy interface and prompt support service.

Are you looking to add specific functionality for this extension or want to acquire a reliable development partner altogether? With custom development services by Amasty, you will receive high quality and cost-effective solutions developed by Magento professionals according to industry's best practices.
CE 1.4.x - 1.9.x, EE 1.8.x - 1.14.x
You can always download the recent version free of charge from your account
Installing an upgrade is easy — check now
My Downloads
Version 1.1.18
Last Update: Feb 25, 2020
Improvement we slightly improved brand router
Fix an issue with brands import was resolved
Fix an issue with slider arrows disappear when minifying css was resolved
Fix an issue with brand page URL was resolved
Fix an issue with double swatches on the brand page was resolved
Fix the minor issue with assigning products to the brand attribute was fixed
Compatibility the compatibility with the 3rd party custom themes was improved
New the information section was added. Now, you can see the version of the installed extension, available updates, User Guide link, conflicts and other useful info right on the module configuration page
Fix the issue with the Magento MAP popup was resolved
Fix minor issue was resolved
Improvement allows translation via CSV file
Improvement ability to specify the Meta Title for the brand page was added
Fixed an issue with not deleting option from the database when attribute is deleted
Added the breadcrumbs to the brand page
Minor improvements
Compatibility with Magento 1.7 and older improved
Compatibility with 3rd-party extensions improved
Other minor improvements
Brand links rendering improvements
Fix for products visibility reset
Compatibility with the Amasty Improved Layered Navigation extension
Minor fixes and improvements
Using table prefix (if any) in the installation script
Ability to quickly add / remove products for the Brand
Ability to add Brand right from the Brands grid
Frontend layout and design improvements
Added clickable Brand logo to the product page