Lite Layered Navigation
for Magento 2
Increase your store conversion rate by improving the users' filtering experience and thus speeding up the shopping process with Magento 2 Price Slider extension.
Fast shopping process with AJAX navigation and filtering
Show only relevant products with the multi-select option
Offer a highly targeted product list with the price slider
Boost mobile sales with responsive navigation and filtering
That's a lite version of the legendary best-seller Amasty Navigation
Challenge
According to a Baymard Institute study, 84% of websites offer poor filtering and navigation experience. This leads to high website abandonment rates and low conversion rate alongside potential revenue losses.
Solution
Magento 2 Price Filter lets you increase the number of conversions by providing an outstanding filtering and navigation experience. Let users instantly find exactly what they are looking for.
What benefits do you get for your store
Increase sales through the effective use of product filtering options
Boost the number of completed orders by showing relevant products
Lower your site abandonment rate thanks to a quick AJAX filtering
GROW YOUR PROFIT WITH A USER-FRIENDLY NAVIGATION TOOL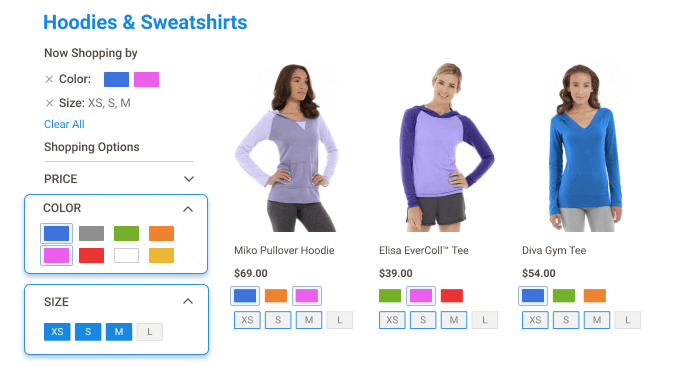 Avoid store abandonment with a quick AJAX filtering
Statistics say that 40% of users leave a website if the loading process takes more than 3 seconds. Make sure your filter results show up fast thanks to the AJAX filtering. By instantly showing product filter results without reloading the entire page, Magento 2 Price Filter Custom Range values help you improve your site performance and avoid losing potential customers.
Grow the chance of buying with the multiselect option
Help users to narrow down their search quickly and get more likely to buy from your store with Magento 2 Price Slider. Let them apply several options of the same filter at once. For example, a customer can specify that he wants to see men's t-shirts of only 2 colors: grey and green, instead of scrolling hundreds of multicolored t-shirts that don't cater to his tastes.
PROVIDE AN OUTSTANDING USER EXPERIENCE WITH A SMART NAVIGATION
Employ a smart filters design with vertical scrolling
Long lists of filtering options are always confusing and hard to operate. With Magento 2 Price Slider Layered Navigation, you can make them compact and handy by adding a vertical scrolling. Specify the maximal filter size you want to display without scrolling. When a filter is higher, the scrolling appears.
Go responsive with all modern devices
While mobile shopping is on the rise, don't lose any sale by letting customers shop anywhere and anytime. The Ajax Layered Navigation Magento 2 extension is fully responsive with all modern devices such as desktop, tablet and mobile.
Speed up shopping process with item count control
Let customers see the number of products found for each attribute they selected. This helps users to narrow or expand the product list to a maximally convenient size and save their time while exploring the relevant products.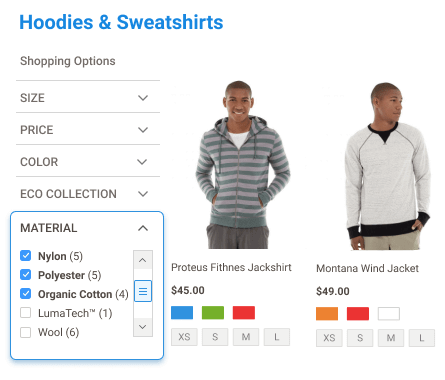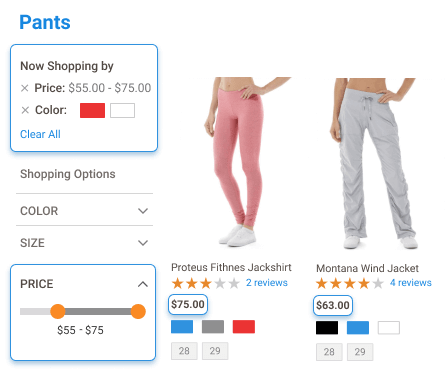 Show only relevant items with Magento 2 Ajax Filter
Display only those products that customers can afford by letting them adjust the Magento 2 Price Custom Range Filter via a handy price slider. Navigate customers to the right products (middle-priced or prestige) and get income from each customer segment.
Navigate customers to the page top after filtering
Contribute to a seamless shopping experience by automatically navigating customers to the top of a product list after applying filters with Magento 2 layered navigation extension. This will have a positive effect as users won't have to scroll to the top manually.
Ensure high usability with "Now Shopping By" section
When users apply filters and browse the product list, they expect to easily find and change the applied filters. Otherwise, the site creates a disconcerting experience. Give users a quick way to check currently applied filters and easily unselect certain filters at once in the "Now Shopping By" section with Magento 2 Product Filter.
More Options
The extension is compatible with Magento Commerce & Magento Open Source v2.2.x and v2.3.x versions;
The extension is compatible with Elasticsearch server v5.x, v6.x;
Choose your perfect
webstore navigation solution
The most suitable for your business needs
Lite
all for a webstore start
$149
Ajax navigation and filtering
Multi-select filter option
Smart vertical scrolling
Customizable filter size
Price slider for "From-To" filtering
"Now Shopping By" section
Mobile-optimized interface
Item count visibility
Pro Ultimate solution $349
Advanced filter display modes
Dependent & custom filters
Images swatches for filter results
Similar attributes mapping
Advanced category tree
Horizontal navigation
'New', 'On Sale', 'Rating', 'In Stock'
Decimal & from-to widget
Multiple filters with 'Show' button
SEO-optimized navigation links
Premium FOR ADVANCED BUSINESSES $549
Promote brand products with drag-and-drop placement
Sort brand products by name, stock, price, newest
Move to top or pin to certain position for brands listing
Auto loading of the catalog & search results pages
Customize navigation bars
'Back to top' and 'Load More'
Other Features
100% Open Source — Easy To Customize
Follows Magento Code Architecture
Separated HTML/CSS/JS
Simple installation via Composer
* The name "Magento" and the logo are the trademarks of Magento, Inc.
Performing well
I just build a magento 2 store with this readymade layered navigation extension. All the features described here works out of the box. No issues with my custom theme.Thanks!
Good addon!
It does everything I needed. We use multiple filters on our website, all of them work super-quick and look so nice. Thanks for this module!
glitchy settings
All runs well, just setup was trouble. Needed support's help.
Easy & Fast
Easy, Fast & Intuitive. Reasonable price, good features and best support team! Love working with Amasty team!
best-in-class
In my shop I had the same module from another vendor. It was lagging worst was that ajax didn't always run well and shoppers could not select from products 2nd time. Here no such trouble.

expected
Great extension, one of the best from them. I checked how long buyers now stay in shop searching before buy - for men it's about 5 mins, for ladies maybe 8-10. It's all that ajax filter. They see immediately best choice options and rush to buy. Tnx team.

Are you looking to add specific functionality for this extension or want to acquire a reliable development partner altogether? With custom development services by Amasty, you will receive high quality and cost-effective solutions developed by Magento professionals according to industry's best practices.
2.4.2-p1, 2.3.7, 2.4.2, 2.4.1-p1, 2.3.6-p1
You can always download the recent version free of charge from your account
Installing an upgrade is easy — check now
My Downloads
Version 1.0.11
Last Update: May 12, 2021
1.0.11 - May 12, 2021:
Compatibility compatibility with Amasty Jet Theme was improved
Compatibility now you can use this module with Magento 2.4.2-p1, 2.3.7 versions
1.0.10 - Feb 19, 2021:
Improvement we added changes to identify and prevent the conflict between Amasty Lite and Improved Layered Navigations in case they are installed together
1.0.9 - Dec 17, 2020:
Compatibility we improved compatibility with Amasty Jet Theme
Compatibility we enhanced compatibility with Amasty Quick Order extension
Fix we resolved issue with Swatch Preview hover effect
1.0.8 - Oct 14, 2020:
Compatibility now the extension is compatible with Magento 2.4.1
1.0.7 - Sep 02, 2020:
Compatibility compatibility with Magento 2.4 was enhanced
1.0.6 - Jul 10, 2020:
Improvement we rechecked and established correct dependency on jQuery UI library
Improvement we implemented several visual enhancements
Fix we slightly corrected the configuration of price slider to avoid unexpected behavior on the storefront
1.0.5 - May 28, 2020:
Improvement we updated the extension name
1.0.4 - Oct 31, 2019:
Compatibility compatibility with Elastic Search was improved
1.0.3 - Oct 28, 2019:
Improvement we implemented minor performance improvement
1.0.2 - Aug 28, 2019:
Improvement minor improvements were implemented
1.0.1 - Jul 08, 2019:
Compatibility we enhanced the compatibility with Porto theme