PWA for Shop by Brand (Add-On)
for Magento 2
Provide outstanding mobile shopping experience for brand lovers with this PWA add-on for Shop by Brand. Implement MVP extension features into mobile storefront to get more cross-device traffic and drive sales to your brand products.
Get a ready-made solution for the PWA Studio storefront
Maintain stable performance for your brand pages
Implement highly-responsive brand sliders
Make your website compatible with Magento Venia theme
Use only as an add-on for Shop by Brand extension with PWA theme installed
WHAT DO PWA AND PWA STUDIO STAND FOR?
Progressive Web Applications
PWA are web applications aimed to create an interface similar to a native mobile application, but with extra features for mobile browsing.
PWA Studio
Magento PWA Studio s a set of tools allowing developers to create and maintain a PWA frontend on Magento 2 stores.
Challenge
About 59% of shoppers prefer to purchase new products from brands they like and consider trustworthy. Since more than 50% of customers browse stores from mobile devices, they are used to judge webstores by cross-device usability. If a store doesn't contain products from familiar brands and is not optimized for smartphones, the bounce rate will constantly grow, causing revenue losses.
Solution
PWA add-on for Shop by Brand lets you kill two birds with one stone: present clear information about brand products and smoothly navigate shoppers to them regardless of devices they use. The PWA technology makes your store look like a native mobile app and makes a store interface intuitive, while Shop by Brand implements optimal brand searching options.
What benefits do you get for your store
Promote brand products on any device and grow mobile traffic
Improve mobile UX and UI to reduce the bounce and cart abandonment rates
Engage shoppers with interactive and responsive brand functionality
GROW CUSTOMER BASE WITH PWA-READY BRANDS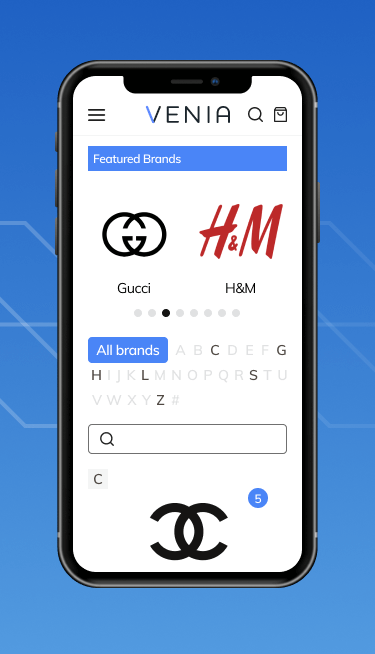 Make original extension ready for mobiles
PWA add-on lets you implement the most demanded Shop by Brand features into mobile and tablet interfaces. Add a responsive brand slider to your store pages, show the all-brands page with a brands list and popular brand products. Offer multiple navigation options, such as A-Z sorting and AJAX search window. Autosuggestion now works for mobiles too! Thus, you will lead shoppers that browse your store from smartphones directly to a purchase.
Offer flawless cross-device UX
PWA technology uses special techniques aimed to keep mobile performance stable and user-friendly. No page reloads, no complicated multistage navigation - all best practices are taken into account. In cooperation with the Venia theme, they create a unique store interface to engage customers and make brand shopping equally convenient for desktop, tablet and mobile users.
Reduce PWA implementation costs
This add-on applies a ready-to-use PWA component for a Magento 2 store. No need to allocate a budget for custom development - this extension is already optimized for a stylish mobile storefront. PWA Shop by Brand is developed under the PWA Studio standards so that you could minimize the time spent on implementing it into your store and avoid long-lasting bugs fixing.
Use Shop by Brand on Venia
To simplify further the implementation, our PWA add-on is fully compatible with the Venia theme. Venia is a storefront that Magento developed specifically for PWA integration. It means that you won't face any incompatibility issues with the store environment. This theme does not override databases, works stably and is easy-to-use for shoppers. Thus, each brand page and brand slider looks native on mobiles, so you can integrate this slider into any store page, including CMS pages and categories.
Improve SEO and grow traffic
Mobile shopping experience is what Google pays attention to. The quicker mobile pages load, the higher Google ranks them. PWA technology lets you get the most out of your mobile storefront - it loads x2 faster than the non-optimized Magento store. PWA is also compatible with all popular browsers like Chrome and Safari. To get a double effect in SEO, Shop by Brand features let you specify meta titles, descriptions, unique URLs and keywords for each brand page, which helps to promote such pages in search results.
Customize Shop by Brand design
Even though the PWA add-on for Venia is a ready-to-use solution, you can still adjust some frontend options. Customize the text and color of the brand slider heading, show or hide buttons, set pagination, configure the autoplay and manage other options to make its functionality as user-friendly as possible. Also, add the All-Brands page to the menu, choose the way to display and sort brand products, set maximum dimensions for logos in pixels or simply hide these images. As a result, you'll have a highly-customizable Magento store that looks great on any device.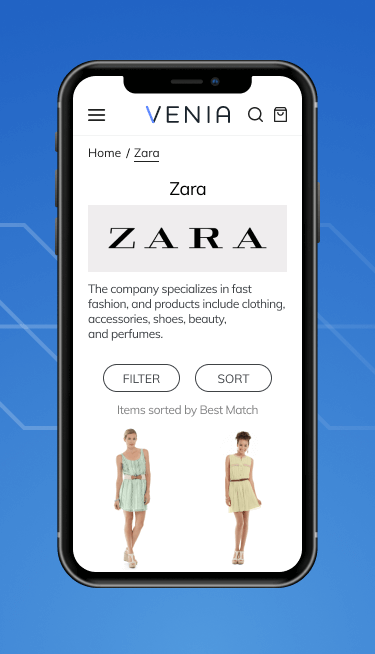 How to install PWA add-ons by Amasty?
The add-on works only if our Magento 2
Shop by Brand
extension is installed. Please note, that for the correct work of the add-on, a PWA theme should be installed as well. Learn more from our
PWA installation User Guide
.
Other Features
100% Open Source — Easy To Customize
Follows Magento Code Architecture
Separated HTML/CSS/JS
Simple installation via Composer
* The name "Magento" and the logo are the trademarks of Magento, Inc.
Nice!
Nice add-on. I recommend it and I advise you to read the installation guide before using it. I made several mistakes that I could avoid if I read the guide carefully.

Odin Pruitt
Everything worked well but there is a bug with the configurable product view. I hope this will be fixed.

Are you looking to add specific functionality for this extension or want to acquire a reliable development partner altogether? With custom development services by Amasty, you will receive high quality and cost-effective solutions developed by Magento professionals according to industry's best practices.
Magento 2.3, 2.4
You can always download the recent version free of charge from your account
Installing an upgrade is easy — check now
My Downloads
Version 1.0.3
Last Update: May 05, 2021
Compatibility now the extension supports PWA Studio 10.0.0 (Please, kindly note: since the system is under development the lower versions of PWA Studio are no more supported!)
Compatibility  now the extension supports PWA Studio 9.0.0 (Please, kindly note: since the system is under development the lower versions of PWA Studio are no more supported!)
Fix we resolved issue with configurable product view page