Screenshots:
URLs for products in multiple categories
Very often your store items can be included into 2 or more categories, thereby creating Magento duplicate content which is not favored by search engines. In order to prevent your products from having multiple URLs for proper site indexation by search engines you definitely need an effective solution.
With the Unique Product URL extension it's possible to easily manage the way to use category in product URLs in Magento by selecting one URL path for each product even if it's placed in numerous store categories.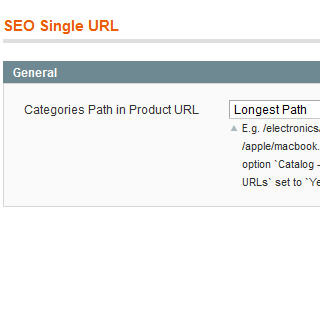 How it works
With this tool you'll be able to choose which URL path to use - either the shortest or the longest one. The path will be automatically applied to all the items having multiple URLs so that search engines will get unique Magento products URL for indexation. For example, if you have a 'T-shirt' in 2 categories: 'Shirts' and 'Sale', then choosing the Shortest path will mean using: example.com/sale/t-shirt as the main one.
3 Modes:
The shortest path
The longest path
Default settings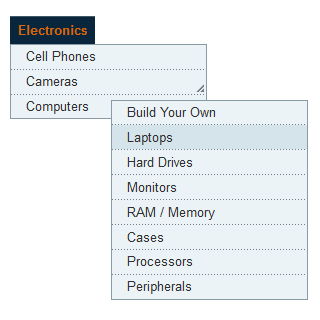 What pages are affected
The Magento product URL extension enables you to set the unique URL for each and every section of the store. The unique URL will also work when you come to the product page from the category page or by clicking a direct link.
Site map
Search results
Up sells
Cross sells
Related products
IMPORTANT:
No matter which category path you use, the product will be still accessible from all categories it is added to.
Auto redirect to canonical urls
Google doesn't favor duplicate content. You can remove duplicates by showing Google which URLs it should crawl. They are called canonical URLs. By setting up 301 redirect to canonical urls, you'll show search engines preferable urls to crawl and indicate that the content is not duplicated.
Breadcrumbs generation options
You can choose either to generate breadcrumbs based on current url or last visited category:
current url: Home -> Pants -> Classic -> Black pants
last visited category: Home -> On sale -> Black pants
Such breadcrumbs are highly user friendly, for instance, user may visit Black pants page from On sale category and won't be tangled of the product url path.
7 reasons to choose
Risk-free Investment
30-day moneyback guarantee for all extensions. No questions asked.
Comprehensive Documentation
There is a detailed user guide with examples even for tiny addons. FAQ section and videos also available.
Solutions Which Work
Careful in-house testing ensures you get robust applications. Multiple stores support. Custom themes compatibility. All included.
Outstanding Support
Our support service is friendly and of high quality. And it is free. Unbelievably. Just check independent reviews at Magento Connect.
Usability and Performance
Nice and easy to use interfaces. Fast algorithms. Save your time and get things done.
Flexible and Easy Licensing
No product or store view or domain limits. No monthly fees. No hidden charges. One extension license for one Magento installation.
Long Term Strategy
We've been in the market for 5+ years. We're proud to be a Bronze partner and are planning to stick to Magento platform for years ahead. We're doing our best to build extensions which maximize effectiveness of your business. We're open to customers' suggestions and constantly update our products to match your needs.
Other Features
100% Open Source — Easy To Customize
Follows Magento Code Architecture
Separated HTML/CSS/JS
W3C Validated Code
Online Extension User Guide
* The name "Magento" and the logo are the trademarks of Magento, Inc.
General Questions

How can I pay for Amasty extensions?

What is the license policy? On how many websites can I use Amasty extensions?

How to install Magento extension by Amasty?

Can I test an Amasty extension on a staging site before transferring it to a live one?

Can I get a refund if an extension doesn't suit me?

Will I get any other benefits?
Perfect for duplicate content
Perfect to eliminate duplicate content
The results that you can see immediately
The thoughts about duplicate content never came to my head until I started digging into seo details. Having upgraded my seo skills I started looking for the tools to help my store become more attractive for google.

The product url module was the first from numerous seo apps I started frantically installing to my store. And to tell the truth, the only one that appeared to work exactly the way I needed. The settings are very intuitive, so I don't see any issues which could prevent a sane person from properly configuring them.

In case you have nothing to do with the duplicate content and have never heard about google indexation… this module is also for you! I highly recommend it for any magento store.
Good way to organize products
I found this extension when I already had massive stock where products belonged to at least 3 categories. I suspected that this was a wrong way of organizing products but I didn't have time to think about that. Now all the Panda related talks made me to switch priorities and remove duplicate content from my Store.
This extension was of great help as now all the products are found only on one URL. But I advise you to make such changes once your store is set up as it's always easier to do something from the scratch than redo it later.
Life saver
I'm not quite into SEO, but this mod happened to help me a lot.
It was a sad story when I received a newsletter from amasty with a link to an article about duplicate content issues in Magento. Shock. I found I have lots of duplicate content in serps because I have a lot of products that belong to several categories… Naturally, I didn't know about that before. As a result I installed this mod and managed all the duplicates, and got them deindexed. And this influenced my rankings a lot. Please don't follow my footsteps and avoid this horrible mistake.
All in all the mod is super easy to handle, no rocket science settings. Please write more articles on things I still don't know…
klizka,
Magento Connect
Quick and nice solution
I like the mod as it does its job. I needed something easy to fix that particular problem as I have many products belonging to multiple categories. I didn't want a big extension with lots of features where only 30% of them are necessary for me.
This extension isn't overloaded. with anything and works just like it should. Thanks!
Write Your Own Review
Version 1.1.0
-
March 26, 2015
– Breadcrumbs configuration for redirected URL