Special Occasion Coupons
for Magento 2
Generate and send discount coupons based on birthdays, newsletter subscriptions, order placement and other events. Use custom email templates to draw customers' attention and build their loyalty.
Generate coupons based on multiple events
Send promo codes to customers automatically
Choose the date of dispatch and set the expiry period for each coupon type
Automatically delete unused coupons
Use predefined or custom email templates
Provide personal discounts to thousands of customers
It's obvious that a timely offered discount builds customer loyalty and significantly increases the chances of conversion. But if you are running a huge online store, you'll hardly be able to generate and timely provide personal discounts to thousands of customers.
Automatically send promo codes based on unique events
Smoothly create and send codes based on customer birthdays, wishlists or newsletter subscriptions. The module allows sending coupons even to the clients who haven't logged in for a specific time period or who got registered a year ago.
Specify a date of dispatch as well as an expiry date for each coupon type.
Choose among different discount variants and use custom email templates.
Generate coupons of multiple types
Wishlist creation
Wishlists clearly indicate that customers are interested in your products and are almost ready to start shopping. Use this opportunity to boost the number of orders by providing visitors with a discount once they add products to a wishlist.
Newsletter subscriptions
Encourage customers to subscribe to your newsletter by offering a tempting deal. Apart from that, this is an easy and effective way to enrich your customer emails list for marketing purposes.
Customer registration
Want to motivate store visitors to buy more and increase the average order value? Just send a discount promo code right after a customer's registration.
One more year since registration
As soon as customer retention is one of the most vital things for each store, sending 'One more year with us' promo coupons is an effective way to show your love and attention to clients.
Birthday coupons
Wish customers a happy birthday by sending them special promo codes. The module will automatically dispatch emails with warm greetings and discounts on a specified date. Also, the extension is protected from abuse: the coupon code can be sent only once per year even if the user changed his birth date.
No customer activity
Send discount coupons to customers who haven't visited your store for a long time to motivate them come back and make purchases. This easy, but very effective step will definitely help you increase sales.
Order placement
Offer promo codes to shoppers who have just placed an order in your store. Due to a timely sent incentive you are more likely to win their loyalty and make them return to your website for more purchases.
Advanced Settings
Fine-tune coupons dispatch
Configure the following options for each coupon type:
Set a time period after the event when the promo code will be sent (it's possible to send a birthday coupon before the birth date).
Use a separate email template for each coupon type.
Choose the discount type (percent of product price discount; fixed amount discount; fixed amount discount for whole cart).
Set the discount amount.
Indicate an expiry period.
Limit the number of coupon uses.
Specify customer groups for which the coupon will be available.
Set the minimal order subtotal.
NOTE: You can set all these options per store view and website.
Automatically remove expired coupons
Specify the time period after which invalid promo codes should be deleted. This way you'll be able to keep your promo code base clean and up-to-date.
Customize email templates
The extension lets you choose whether to use predefined email templates or create your own custom template for each coupon type to amaze your customers with catchy images and informative texts.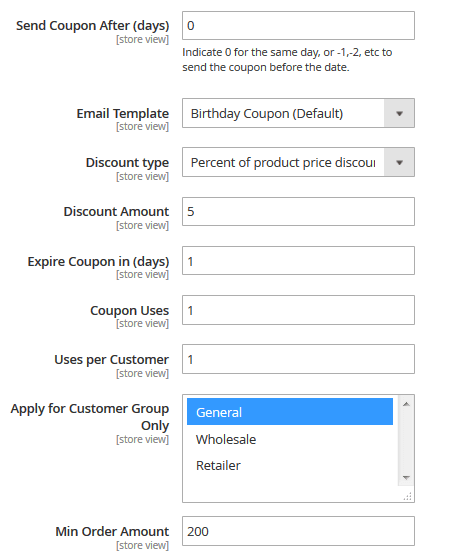 Extra options for the comprehensive coupon management
Enable applying several coupons per order
Let both guests and registered users to use coupons
Apply coupons to orders from the admin panel
Build a coupon hierarchy to avoid contradictions
View end export detailed coupon usage reports
Generate and import coupons per cart price rules
Use pre-made templates for the accurate codes generation
Provide coupons via URLs
Other Features
100% Open Source — Easy To Customize
Follows Magento Code Architecture
Separated HTML/CSS/JS
Simple installation via Composer
* The name "Magento" and the logo are the trademarks of Magento, Inc.
Thanks to Amasty for a new extension
This product is a huge help to us. We have a big store with an endless customers' e-mails database. Despite the high standards and expectations, in general, we are totally satisfied with the results with this Amasty's extension. Thank you for your work!
Are you looking to add specific functionality for this extension or want to acquire a reliable development partner altogether? With custom development services by Amasty, you will receive high quality and cost-effective solutions developed by Magento professionals according to industry's best practices.
Magento 2.3.5+, 2.4.x
You can always download the recent version free of charge from your account
Installing an upgrade is easy — check now
My Downloads
Version 1.0.7
Last Update: Jan 21, 2021
Fix we solved the problem with email sending
Improvement the code was enhanced according to Magento standards
Fix we solved the problem with email sending after order place
Fix we solved the problem with sending coupon code before order completing
New the ability to manage all existing cron tasks on a Cron Tasks List grid in backend was added. Run cron tasks and generate their schedule by clicking the 'Run Cron' button. Also, delete tasks in bulk, use filtering and sorting options when it is needed.
Improvement the code was enhanced
Compatibility the compatibility with Magento 2.2.x was enhanced