Generate and Import Coupons
for Magento 2
Reduce time spent on coupon management by generating and importing an unlimited number of promo codes in a couple of clicks. Easily track coupon usage statistics and export codes for your affiliates.
Generate and import thousands of coupons per cart price rule
View end export detailed coupon usage reports
Provide coupons via URLs
Use coupon templates for accurate codes generation
Offer deals on Groupon and other deal hosting services
Import and export thousands of promo codes in seconds
Looking for a feature-rich tool to make coupon management process as easy as it can be? With the Generate and Import Coupons extension for Magento 2, you'll be able to create, import and export thousands of promo codes in seconds.
Generate multiple coupons per cart price rule with the help of a handy customizable template in the blink of an eye.
Keep all the coupons you create over total control due to automatically generated code usage reports.
Share coupons with affiliates and sales representatives to drive more customers to your website and boost sales.
Get statistics on your promotional efforts as well as the entire Magento 2 store performance with the advanced
e-commerce reports tool.
Speed up coupon generation process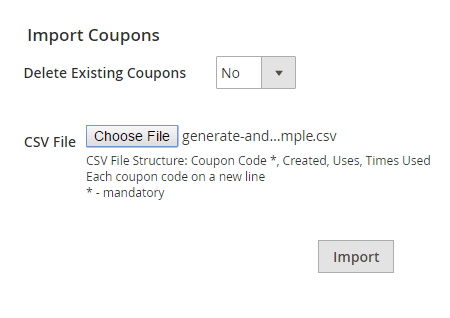 Add multiple coupons per cart price rule
Create an unlimited number of coupon codes for each cart price rule using a smart Magento 2 coupon code generator. Therefore, you won't have to create one and the same promo rule again and again to get multiple codes for a particular promotion.
Import Magento 2 coupon codes in bulk
Import an unlimited number of codes from a CSV file to any cart price rule. This feature will help you to instantly assign multiple promo codes to the rule you need. All imported coupons will automatically inherit all setting values from the main rule coupon. To download an example of a CSV file click on the button below.

Customize templates for promo codes creation
All automatically generated coupons are based on a custom template you create. You can use a unique template for each new coupons portion. Smart coupon generation system replaces 'L' and 'D' symbols used within templates with random letters and digits. Therefore, it's possible to generate thousands of promo codes in one go. Magento 2 discount coupons can be exported or deleted directly from the list.
Edit coupons without excess redirects
You can skip to coupons' editing right from the coupons' list. Specify the amount of uses per coupon and uses per customer.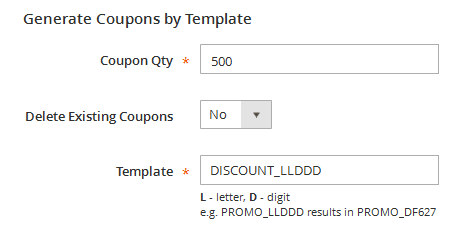 Work with Groupon-like websites and affiliates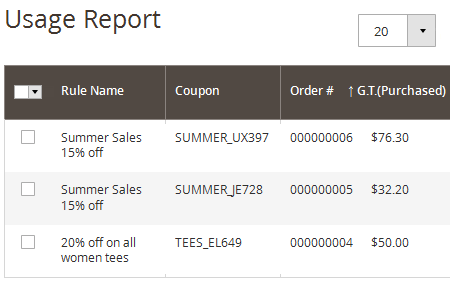 Track coupons usage
The module automatically generates detailed coupon usage reports that will be extremely helpful for cooperation with discount services. Apart from basic coupon information reports include tracking numbers and can be easily exported to CSV files. Promo codes usage reports work both for manually created coupons and imported ones.
Export promo codes
The Magento 2 discount coupon extension lets you export coupon codes to CSV or XML files in one click. Along with coupon codes the files contain information about the date of creation and the number of uses. You can provide exported coupons to your affiliates or sales representatives for further distribution.
Distribute coupons via URLs
With the Magento coupon code generator, you can create links like https://example.com/landing-page.html?coupon_code=NYC-178 to automatically apply coupons once store visitors click on the links. This option works great for promo banners. Besides, you can also place custom Magento 2 discount links on your affiliate sites to make your promotions attract more customers.
Extra options for the comprehensive coupon management
Enable applying several coupons per order
Let both guests and registered users to use coupons
Apply coupons to orders from the admin panel
Build a coupon hierarchy to avoid contradictions
Generate coupons based on various custom events
Send promo codes to customers automatically
Easily track coupon usage statistics
Export codes for your affiliates
According to the statistics, the Coupon Code Generator extension for Magento can cover each business need in synergy with the following solution: magento 2 facebook store integration.
Other Features
100% Open Source — Easy To Customize
Follows Magento Code Architecture
Separated HTML/CSS/JS
Simple installation via Composer
* The name "Magento" and the logo are the trademarks of Magento, Inc.
Excellent work
Smart tool - you can generate dozens of coupons in the blink of an eye. Very easy to install and work on a regular basis. Thanks!
Are you looking to add specific functionality for this extension or want to acquire a reliable development partner altogether? With custom development services by Amasty, you will receive high quality and cost-effective solutions developed by Magento professionals according to industry's best practices.
Magento 2.3.5+, 2.4.x
You can always download the recent version free of charge from your account
Installing an upgrade is easy — check now
My Downloads
Version 1.1.14
Last Update: Jan 25, 2021
Fix we solved the problem with Back button on coupon editing page
Improvement the code was enhanced according to Magento standards
Compatibility with Amasty Milticoupons extension was improved
Improvement message in case of import error was added
Fix the issue with order quotes after applying coupon codes by URL in admin area was resolved
Improvement "expiration date", "uses per customer" and "uses per coupon" fields were added to import
Fix the issue with incorrect notification on cart page was fixed
Fix the issue with number of uses coupon codes per customer was fixed
Fix the issue with reapplying a coupon code was resolved
Fix the issue with the Back button in the edit coupon section was resolved
Fix the issue with the coupon code removing was resolved
Fix the issue with applying coupon from an URL was resolved
Fix the issue with tax application was fixed
The issue with coupons import was fixed
Removing imported file even if import failed
It is now possible to edit coupon properties from the coupons grid
Version 1.0.1
Last Update: Nov 23, 2016
Fix for working with database when tables have prefix
Working with multiple tracking numbers corrected