2.4.3, 2.4.2-p2, 2.3.7-p1, 2.4.2-p1, 2.3.7
PWA for One Step Checkout (Add-on)
for Magento 2
Keep in step with the times and provide a smooth checkout experience from any device with a ready-made PWA checkout solution.
Create a checkout page that converts with highly-customizable fieldsets and page layouts
Know your customer behavior and choose what works the best for your store with built-in analytics
Satisfy your customers by providing extra perks at the checkout
Enjoy full compatibility with Venia Magento PWA Studio
Use only with Magento 2 One Step Checkout extension and with PWA theme installed

Coming Soon
Want to be the first who tries the extension? Subscribe for the release!
What are PWA and PWA Studio?
 💻 Progressive Web Application
PWA are web applications that have been developed to create an interface that looks like a native mobile application, but with cross-browser options.
Magento PWA Studio includes all must-have tools for creating and maintaining a trendy PWA storefront suitable for any device.
Why has PWA become a trend?
Since mobile commerce is constantly growing, e-commerce businesses face the challenge of keeping the audience across all devices. Big companies, such as AliExpress, decided to develop an app, but confronted crucial troubles - not all users downloaded the app, re-engagements required additional expenses, and the app itself was costly to maintain.

The solution was to combine all benefits of the app (such as performance) and a cross-browser web (such as maintenance). That's how a Progressive Web App appeared. The results are impressive - AliExpress got 104% for new users across all browsers; 82% increase in iOS conversion rate, 2X more pages visited per session and 74% increase in time spent. And they are not alone. Check PWA case studies below to make sure all these companies were right.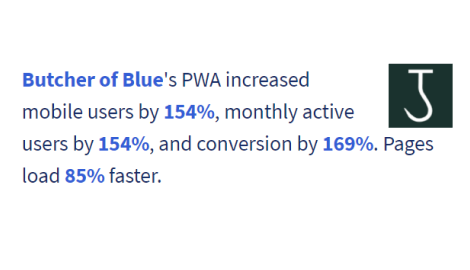 Clothing: Butcher of Blue's
Clothing: George case
Beauty: Lancôme case
Retail: Flipkart case
Marketplace: OLX case
🏹 What challenges does it help handle?
According to Datareportal study, 55.4 % of internet users do online shopping from mobile devices. It was also revealed that customers who are faced with a negative mobile checkout experience are a lot less likely to return to the website for a second purchase. So it is extremely important to prioritize a mobile optimization strategy for any merchant who wants to stay competitive in a rapidly changing market.
PWA for One Step Checkout helps you make the checkout process smoother and more intuitive for mobile device users. The add-on allows you to use all the features of the original One Step Checkout module on a smartphone or tablet. With the PWA add-on, you allow customers to conveniently complete their purchases and can easily increase the conversion rates of your store.
What benefits do you get for your store
Boost conversions and get more sales with a good mobile checkout flow
Increase the number of complete orders from mobile devices
Provide an outstanding customer experience
Create a seamless mobile checkout flow to streamline purchases in your store
Reduce bounce rates and increase customer satisfaction
Attract a large audience of mobile users by allowing them to purchase your products from the device without any hassle. Using this PWA add-on, you can increase the number of completed orders and motivate your customers to come back again. Moreover, the PWA loading speed is faster than the website and it makes the shopping process even more convenient for customers.
Enjoy key features of the One Step Checkout module
Use the full potential of One Step Checkout extension for all devices! The add-on provides core features of the native module, like the drag-and-drop layout builder and custom fields, a highly-flexible checkout fields manager, and a built-in analytical tool for tracking the checkout page effectiveness. You can also add extra options to the checkout page: display delivery date and time, enable Order/Delivery comments and add Gift wrapping.
Provide responsive design and intuitive navigation
The One Step Checkout add-on follows the latest UI/UX trends and provides an excellent user experience during checkout. Clear checkout steps and guest checkout option allow customers to freely reach the end of the checkout funnel and prevent cart abandonment.
Stimulate extra sales by making special offers
It is well known that additional promo offers can increase the average order value and help to improve customer loyalty. With this PWA add-on you can encourage customers to buy more by offering them coupon codes or gift cards just as in native One Step Checkout module.
How to correctly install PWA add-ons by Amasty?
This add-on is a ready-to-use solution for the PWA Studio storefront, supporting features of the original Magento 2 One Step Checkout extension. Please keep in mind that for the correct work of the add-on the original extension and a PWA theme must be installed. Learn more in our PWA installation User Guide.
4.3
See 216+ verified reviews

Are Amasty extensions compatible with all themes and extensions by other vendors?
Amasty extensions work with all plugins we issued and with most 3rd-party plugins. If you come across a compatibility issue with any third-party module, we'll definitely try to help you. If you face any technical issues, please create a ticket...
Will I get free support and updates?
Yes, once you buy any extension(s) by Amasty, you'll get updates for the product(s).Also, you can activate a support subscription, so that all possible technical issues are handled by professionals.Magento support subscription plans:Monthly Annual -...
Do you have the installation service?
Yes, we provide a professional installation service. You can purchase it when ordering an extension. If you buy more than 1 extension in one order, we can install all of them! If you need to configure plugins according to your business needs, you can...
Can I request a free trial?
Amasty doesn't provide any trials of Magento extensions. But we have a 60-day money-back guarantee. There's one exception: Amasty extensions are provided for testing or demo purposes to our official Platinum Partners as a part of the "access to Amasty...
Can I test an Amasty extension on a staging site before transferring it to a live one?
Yes, you can install any Amasty extension on a test site and configure all the settings there before doing it on your live store.
Amasty provides a 60-day money-back guarantee. In case the acquired extension didn't meet your expectations, our support team is always ready to help you. To get a full or partial refund of your order, please create a ticket in our support...
How can I receive a discount?
According to the rules of Amasty's Reward Program, you get $15 back to your reward points for every $100 spent.You can spend them to buy other extensions or services from our catalog.These Points are valid for 60 days from the purchase date. You can...
How to update a Magento 2 Amasty extension?
To update a Magento 2 extension by manual upload:1. log in to the customer account;2. navigate to the Products tab, scroll to the packages section, and click the Download link next to the extension that should be updated;3. Important: If some extension...
If I need additional features to be added to an Amasty extension, how can I ask for it?
To leave your feature request, log in to your customer account and open the Products tab. Then, scroll down to the bottom of the page, and leave your feature request in the following form: As soon as you send your request, it is considered by our ...
Magento 2 Amasty extensions installation
Each Amasty extension package is provided with the extension files, installation & setup guides, and a license agreement. Some extensions include import files examples as well. So how to install our Magento extension? What is the plugin...
How can I prolong support?
When you get any support subscription plan, it will be prolonged automatically. Also, you can cancel your subscription at any time. For this, go to your customer account and open the Subscriptions tab. If you cancel your subscription, the service will...
What should I do if my Reward Points have expired?
According to our reward program, the Reward Points are valid for 60 days starting from the moment they're transferred to your account. But we always try to stay supportive, so you can create a ticket, and we'll consider your case individually...
How can I use my Reward Points?
How to check your reward points balance? Step 1. Log in to your customer account or create a new one. After this, you will be redirected to your account dashboard. Step 2. In the left menu choose Reward points. Step 3. You will see your current reward...
Can I change the EE extension to CE for free?
Usually, no, you can't exchange modules. Please, contact our support managers and they'll consider your case individually. → Learn more about our special offers
How can I get a discount to re-purchase plugins?
Usually, we don't provide any discounts. But you can contact us, and we'll consider your case individually. → Learn more about our special offers
Ratings & Reviews
Be the first to review this product
Write your own review
Please rate

PWA for One Step Checkout (Add-on) for Magento 2

from 1 to 5 stars