PWA for Product Labels (Add-On)
for Magento 2
Maximize the efficiency of your promotional labels on all screen types. Use the PWA add-on for Product Labels to offer a smooth mobile experience for your users and boost the conversions in online-store.
Streamline promotions with mobile-ready labels
Offer an immersive shopping experience with a mobile-responsive website
Employ ready-to-use solution for PWA Studio storefront
Fully compatible with Magento Venia storefront
Use only as add-on for Magento 2 Product Labels extension and with PWA Theme installed
What are PWA and PWA Studio?
Progressive Web Applications
PWA are web applications that have been designed to create an experience that feels like a native mobile application, but with extra bonuses.
PWA Studio
Magento PWA Studio provides developers with needed tools required for creating and maintaining a PWA storefront on Magento 2.
Challenge
More people browse on mobile but buy via desktop: 53% of traffic to online stores comes via mobile devices. For merchants that means that without a nice-looking mobile version of the webstore, visitors won't even think of buying any products. Also, the 51% of smartphone users purchased from a different vendor than they originaly intended, because of information available on their fingertips the moment they needed it. That's why a mobile-ready website is a must-have requirement for every business.
Solution
With the PWA add-on for Product Labels for Magento 2, you can easily offer your customers an extension-like experience of shopping online. The store owners can leverage ready-made solutions. It results in reducing the implementation costs of adapting their web-store for mobile screens. You can quickly start gaining more loyal customers and winning over competition. This investment leads to the growth of store profits, as visitors can easily navigate a modern website that is available across all devices.
What benefits do you get for your store
Save developers' time with ready-made Product Labels PWA component
Increase conversions rate by offering mobile-ready online browsing experience
Boost mobile revenue by leveraging labels promotions on any screen type
Streamline mobile shopping experience with PWA-ready labels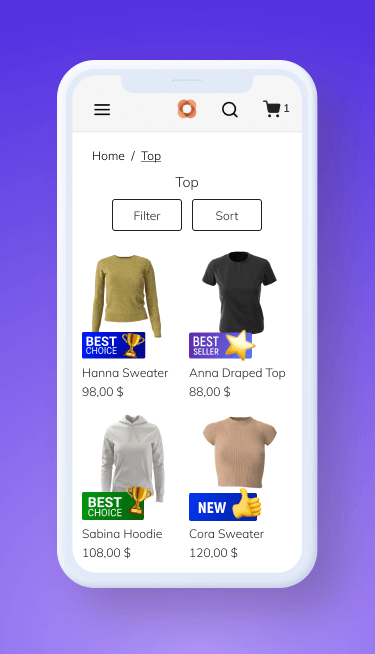 Fully compatible with Magento Venia
To make your PWA setup as easy as possible, the PWA add-on for Product Labels is fully compatible with the Venia PWA storefront. Venia also runs on top of an existing Magento 2 backend, without overriding your database. It was developed by Magento itself, therefore there will be significantly less compatibility issues with your web-site environment. We tested our PWA integration so that it runs stably with Venia storefront.
Maximize the product labels effect on users
The PWA add-on brings all functionality of Magento 2 Product Labels to the mobile screens. You can display any labels to users, based on flexible conditions set in the admin panel. Adapting the product labels functionality for smaller screens is a great way to re-activate the mobile traffic you have on your website and convert visitors to buyers. Benefit from PWA-optimized labels by highlighting promotions nicely at any screens, thus, boosting the promos efficiency.
Offer high performance for your product labels
The PWA add-on helps you ensure the best performance of your store on any screen resolution. Such technology ensures the incredibly fast loading of store pages, thus resulting in pleasant shopping for your customers and higher conversion rates for your store. It works smoothly with many browsers, including Chrome, Safari, Firefox. This way, the users will have a stable seamless online shopping experience no matter what device or browser they prefer.
Reduce PWA implementation costs
With ready-made Product Labels PWA component, you can significantly minimize the time needed for PWA integration. This way, your store will get an amazing mobile storefront without spending tons of money on custom development. The add-on is also fully compliant with the best PWA Studio storefront practices, which means a much more smooth project delivery from your development team, and less time spent on bug fixing.
Get higher search ranking positions with fast page load
Bring your product-label promotions to a new level, by letting more people find your website. The thing is that PWA-driven pages are cached on user's devices, which brings to much faster page loading. As Google identifies page speed as a direct search ranking factor, having a swift website is a must-have to win over more customers. Therefore, the traffic boost will positively impact sales, thus, resulting in revenue growth.
Let customers access your promotions in one click
PWA allows installing your website similarly to an app, but without the hassle of reviews you should pass at the app marketplaces. It means that with PWA compatibility, users will get a one-click access to your website via app-like icon, which will be displayed on the homepage of the mobile phone. This way, it's much easier to grow a loyal base of customers that will return to buy in your store, over and over again. Also, with a PWA app installed, you can trigger push notifications to your audience, thus, motivating customers to get back to your store.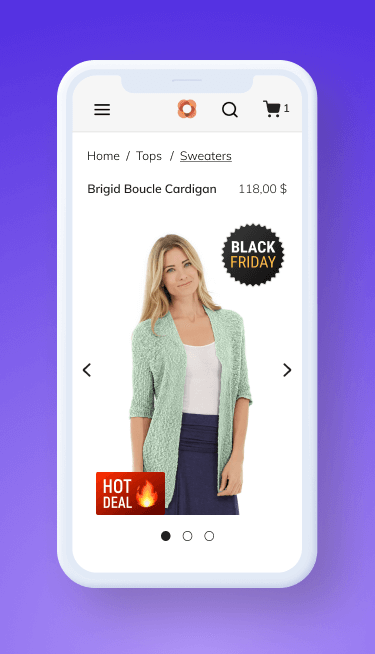 Generate more revenue with smart automatic algorithms
The add-on works only with Magento 2
Product Labels
extension. Help users easily find the products they need by displaying catchy labels to boost revenue and motivate customers to purchase faster with promo labels.
Also, keep in mind that you need to have
PWA theme installed
to apply the add-on.
Other Features
100% Open Source — Easy To Customize
Follows Magento Code Architecture
Separated HTML/CSS/JS
Simple installation via Composer
* The name "Magento" and the logo are the trademarks of Magento, Inc.
good pwa!
The developer was very happy that now he has to do less work. The add-on has very good code.

It's ok
Generally satisfied, but the extension is not fully optimized, not all module functions are supported by add-on.
Are you looking to add specific functionality for this extension or want to acquire a reliable development partner altogether? With custom development services by Amasty, you will receive high quality and cost-effective solutions developed by Magento professionals according to industry's best practices.
Magento 2.2, 2.3, 2.4
You can always download the recent version free of charge from your account
Installing an upgrade is easy — check now
My Downloads
Version 1.1.2
Last Update: May 04, 2021
Compatibility now the extension supports PWA Studio 10.0.0 (Please, kindly note: since the system is under development the lower versions of PWA Studio are no more supported!)
Compatibility  now the extension supports PWA Studio 9.0.0 (Please, kindly note: since the system is under development the lower versions of PWA Studio are no more supported!)
Improvement we implemented modifications into plugin architecture to make its installation and usage more convenient and to meet the extension standards of PWA Studio
Improvement we performed the code refactoring and optimized the plugin
Compatibility now the extension supports PWA Studio 8.0.0 (Please, kindly note: since the system is under development the lower versions of PWA Studio are no more supported!)
Version 1.0.1
Last Update: Jun 24, 2020
Fix we corrected the display of labels on desktop