PWA for Automatic Related Products (Add-On)
for Magento 2
This add-on helps to retain mobile users and makes them continue browsing your store thus giving more purchases of the related products and bundles offered.
Employ ready-to-use solution for PWA Studio storefront
Maintain stable performance for your special offers
Retain more users with cross-browser compatibility
Engage users with responsive design of your offerings
Use only as add-on for Automatic Related Products extension with PWA theme installed
What are PWA and PWA Studio?
Progressive Web Applications
PWA are web applications that have been designed to create an experience that feels like a native mobile application, but with extra bonuses.
PWA Studio
Magento PWA Studio provides developers with needed tools required for creating and maintaining a PWA storefront on Magento 2.
Challenge
The recent research by 99 Firms shows that 49% of website traffic usually comes from mobile devices. When almost half of your visitors browse the store on a smartphone before making a purchase, it sounds reasonable to create a convenient mobile experience for them, right? Poor mobile UX makes customers leave just in a few seconds, and then they're 62% less likely to purchase from this store in the future.
Solution
The PWA technology can help you make your store look great on mobile, being a stable and valuable alternative to the costly native mobile app. With this add-on for Magento 2 Automatic Related Products it becomes much easier to recommend related products and offer bundles to your customers in a user-friendly way, increase their retention, and thus, boost the conversion.
What benefits do you get for your store
Increase your average order value with the mobile-optimized automatic related products
Save developers' time with ready-made related products PWA component
Create a seamless mobile experience of following the smart product recommendations
Get higher conversions with PWA-ready related products
Reduce PWA implementation costs
With this ready-made PWA component for Magento 2 Automatic Related Products you can significantly minimize the development time required for PWA optimization for your store. You don't have to spend tons of money on custom development to get an amazing mobile storefront. The add-on also fully supports the PWA studio practices, which implies a much smoother project delivery from your development team, and less time spent on bug fixing.
Improve the performance for better UX
The original extension is based on a smart rule-based algorithm to provide your customers with the personalized shopping experience. With the add-on, you can reach the high performance of these algorithms working both on smartphones and desktops, and thus, decrease churn rate of the mobile users. The PWA stability and speed guarantee no constant reloads of store pages, pleasant shopping for your customers and thus, higher conversion rates.
Boost conversions with push notifications
As the PWA technology provides the option to configure flexible push notifications by default, why not use this for the bundles and other related products? The original extension saves time by showing related products automatically to your store visitors based on a data-driven recommendations algorithm. Knowing that, you can also benefit from configuring several push notifications related to your special offerings, thus triggering customers to purchase.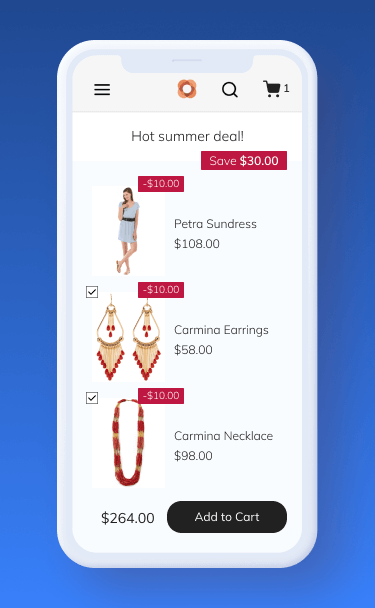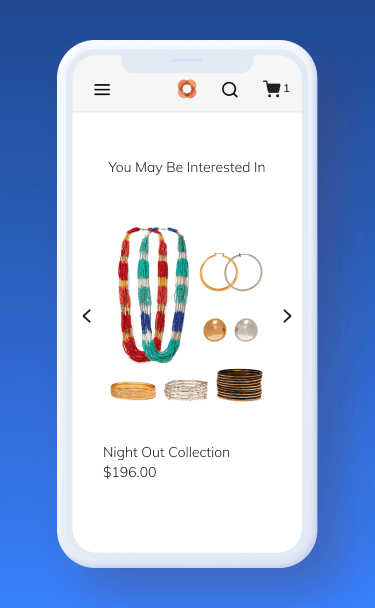 Fully compatible with Magento Venia
To make your PWA setup as easy as possible, the PWA add-on for Automatic Related Products is fully compatible with the Venia PWA storefront. Venia also runs on top of an existing Magento 2 backend, without overriding your database. It was developed by Magento itself, therefore there will be significantly less compatibility issues with your web-site environment. We tested our PWA integration so that it runs stably with Venia storefront.
Get higher search ranks with the responsive design
With this add-on, you don't have to think whether the custom placing of your related products block will look good on mobiles, it simply will. It doesn't matter where you choose to place your rule-based offering: on a shopping cart page, product or category, some custom pages or even in a bundle, the smooth mobile experience will be provided. As per Google, websites with responsive web design rank higher in searches.
Engage with the users from different browsers
With the cross-browser compatibility, users of Safari, Chrome, Firefox, and Edge can browse your store from mobile and thus, be informed about the related products you offer. Besides, that means you don't have to develop native apps for the most popular OSes to avoid compatibility conflicts, or to develop a cross-platform app for your store. PWA has already covered this problem.
How to correctly install PWA add-ons by Amasty?
This add-on is a ready-to-use solution for PWA Studio storefront, supporting features of the original
Magento 2 Automatic Related Products
extension. Please note that for the correct work of the add-on the original extension and a PWA theme must be installed. Learn more in our
PWA installation User Guide
.
Other Features
100% Open Source — Easy To Customize
Follows Magento Code Architecture
Separated HTML/CSS/JS
Simple installation via Composer
* The name "Magento" and the logo are the trademarks of Magento, Inc.
Highly recommend
There were some questions, but the support answered quickly and helped to resolve them. The add-on is working well now
Satisfied!
Got it in addition to the main module and did not regret it. PWA works well, raised no objections

Are you looking to add specific functionality for this extension or want to acquire a reliable development partner altogether? With custom development services by Amasty, you will receive high quality and cost-effective solutions developed by Magento professionals according to industry's best practices.
Magento 2.3, 2.4
You can always download the recent version free of charge from your account
Installing an upgrade is easy — check now
My Downloads
Version 1.1.2
Last Update: May 04, 2021
Compatibility now the extension supports PWA Studio 10.0.0 (Please, kindly note: since the system is under development the lower versions of PWA Studio are no more supported!)
Compatibility now the extension supports PWA Studio 9.0.0 (Please, kindly note: since the system is under development the lower versions of PWA Studio are no more supported!)
Improvement we implemented modifications into plugin architecture to make its installation and usage more convenient and to meet the extension standards of PWA Studio
Improvement we performed the code refactoring and optimized the plugin
Compatibility now the extension supports PWA Studio 8.0.0 (Please, kindly note: since the system is under development the lower versions of PWA Studio are no more supported!)