PWA for Elastic Search (Add-On)
for Magento 2
Guarantee your customers a smooth product searching experience from any device. Quickly lead shoppers to what they need and see how the revenue grows thanks to the cross-device audience.
Save time with Magento Venia theme compatibility
Enjoy autocomplete search popup available on any device
Ensure stable site performance while searching
Retain more customers with cross-browser compatibility
Use only as an add-on for Elastic Search extension with PWA theme installed
What are PWA and PWA Studio?
Progressive Web Applications
PWA are web applications aimed to create an interface similar to a native mobile application, but with extra features for mobile browsing.
PWA Studio
Magento PWA Studio s a set of tools allowing developers to create and maintain a PWA frontend on Magento 2 stores.
Challenge
The absence of a well-made mobile version of the website makes the majority of visitors stop further searching for the products and results in site abandonment in a few minutes. Moreover, if customers face poor mobile UX, they are 62% less likely to purchase in the future. As almost half of website traffic usually comes from mobiles, such tendency cannot be ignored.
Solution
Use this PWA add-on in a combination with the original Elastic Search extension to gain the loyalty of both mobile and desktop users. Provide smooth search experience across browsers and devices of all types. Let your customers quickly find what they need despite the typos. Enable displaying search suggestions, recent and related search terms.
Why to use ready-made PWA solutions?
Reach better overall site and search performance in particular on any device
Reduce development expenses by implementing a ready-to-use PWA solution
Avoid incompatibility with the Venia theme while enjoying extra functionality of the Elastic Search
Strengthen your sales pipeline on mobiles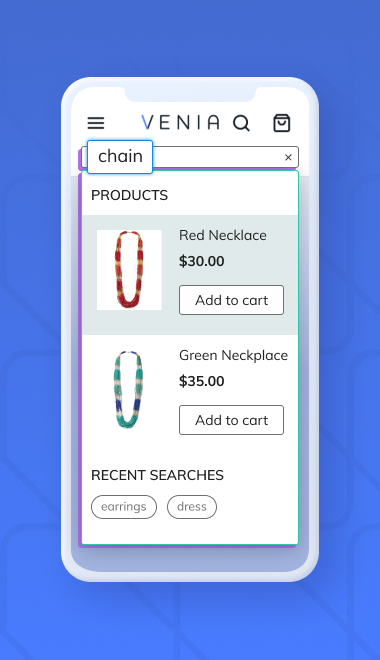 Predictively show search results based on synonyms and with spell corrections
Use the PWA add-on to add the advanced search functionality to your PWA-ready store. The original extension allows your customers to find the desired products quicker without having a headache like 'how should I type in the word to get a proper result'. The extension corrects typos automatically and shows product suggestions before you end typing.
Gather results from multiple sources without loss of performance
The PWA technology provides lots of valuable bonuses to a store, and performance stabilization is one of them. This technology is literally designed to increase the mobile loading speed and it is fully compatible with the most popular browsers used by online shoppers, including Chrome, Safari and Firefox. Display results from all the store pages including CMS.
Cut off costs for the PWA-compatible extensions implementation
In terms of PWA, our team strictly sticks to the best PWA studio coding practices, which results in less time spent on bug fixing and a much faster product delivery. Besides, we know all the nuances of our extensions which makes their adaptation for PWA smoother and quicker as well. Thus, you don't have to think about how to implement the Elastic Search to your PWA website, as our add-on guarantees its support on your website out of the box, without extra costs spent on custom development.
Less thinking on how to search - more searching
Use the original PWA extension in a combo with this PWA add-on to enable convenient searching by various product attributes like color, product name, manufacturer, material or any other. Use the character mapping settings to allow customers to search for the brands with the specific symbols, e.g. 'Dolce & Gabbana' or 'Chloé'. Allow customers to add products to cart right from the search popup.
Magento Venia compatibility
The Magento Venia is now the official Magento PWA theme on the market, which automatically makes it one of the most popular PWA themes. If you've chosen Venia for your store as well, then you'll enjoy a minimized setup time and avoid possible database overrides. In other words, our PWA add-on ensures your store will be safe from all possible incompatibility issues.
Responsive design for customizable autocomplete search popup
Use layout customization settings to stylize the autocomplete search popup using an alternative color scheme. As the PWA Venia is a mobile first e-commerce theme, your popup customizations as well as the search results, will look equally good on a desktop, tablets, mobiles, across various operation systems and browsers.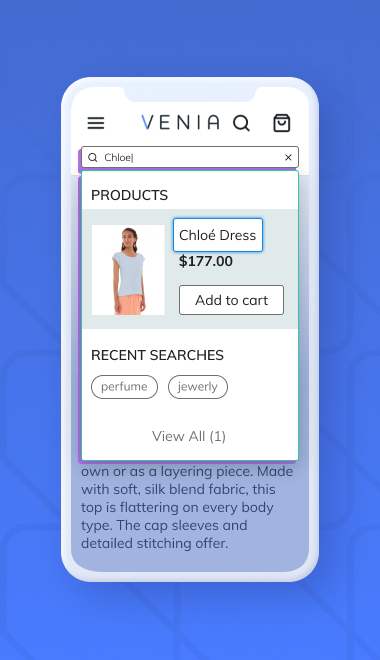 How to install PWA add-ons by Amasty correctly?
This add-on is a ready-to-use solution for PWA Studio storefront, supporting features of the original Magento 2
Elastic Search
extension. Please note that for the correct work of this add-on the original extension and a PWA theme must be installed. Learn more from our
PWA installation User Guide
.
More options for this add-on
The add-on саn also work for the
Advanced Search
extension for Magento 2. Learn more about the difference between the Elastic Search and Advanced Search
here
.
Other Features
100% Open Source — Easy To Customize
Follows Magento Code Architecture
Separated HTML/CSS/JS
Simple installation via Composer
* The name "Magento" and the logo are the trademarks of Magento, Inc.
Be the first to review this product
PWA for Elastic Search (Add-On) for Magento 2
Are you looking to add specific functionality for this extension or want to acquire a reliable development partner altogether? With custom development services by Amasty, you will receive high quality and cost-effective solutions developed by Magento professionals according to industry's best practices.
Magento 2.3, 2.4
You can always download the recent version free of charge from your account
Installing an upgrade is easy — check now
My Downloads
Version 1.0.2
Last Update: Apr 26, 2021
Compatibility now the extension supports PWA Studio 10.0.0 (Please, kindly note: since the system is under development the lower versions of PWA Studio are no more supported!)
Compatibility now the extension supports PWA Studio 9.0.0 (Please, kindly note: since the system is under development the lower versions of PWA Studio are no more supported!)