PWA for Social Login (Add-On)
for Magento 2
Follow the trend that came to be a new web standard: allow shoppers to log in with social networks in one click from any device.
Provide shoppers with user-friendly login options
Ready-made PWA solution out of the box
Supports Magento Venia theme
Cross-device and cross-browser compatibility
Designed to maintain enjoyable performance
Use only as an add-on for Magento 2 Social Login extension and with PWA theme installed
What do PWA and PWA Studio stand for?
Progressive Web Applications
PWA is a web application aimed to create an interface similar to a native mobile application, but with extra features for mobile browsing.
PWA Studio
Magento PWA Studio is a set of tools allowing developers to create and maintain a PWA frontend on Magento 2 stores.
Challenge
It's more than natural to be registered in at least one social network nowadays. Moreover, studies say that almost half (49%) of the website traffic comes from tablets and mobiles. It makes us social and mobile-first generation, used to make or at least plan purchases online and from the smartphone. Why not make this process easier? Keep in mind that more than half of site visitors (62%) are less likely to purchase from the store with poor mobile UX in the future.
Solution
This PWA add-on connects PWA Storefront with the original Social Login for Magento 2 extension and helps you attract more customers by simplifying the registration and login process. Remove the obstacles between your potential customers and website. Benefit from the PWA technology making your store look like a native mobile app and makes a store interface intuitive. Let shoppers enjoy their shopping regardless of the devices they use.
Why PWA add-ons for Magento 2?
You'll reduce development expenses by implementing an out of the box PWA solution
The add-ons provide seamless operation of the original extension on PWA-ready stores
These add-ons support all benefits of the PWA storefront, e.g. faster performance
Provide one-click login and registration
to your site visitors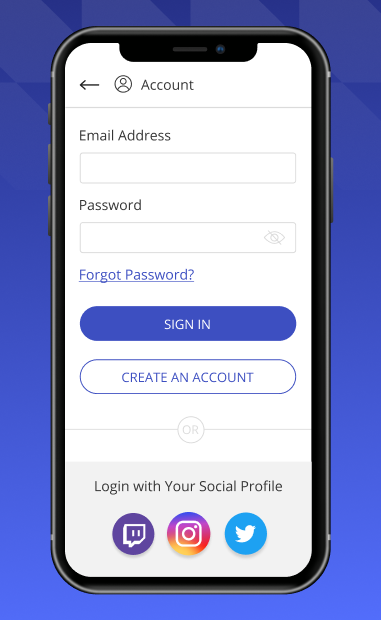 Integrate new features to your PWA store with minimum expenses
Enjoy a ready-to-use component that helps you to link the PWA storefront with the original Magento 2 extension. Previously, any mobile adaptation was impossible without manual customizations. But now you can minimize the time spent on the Social Login integration into your store and avoid undesired bug fixing. This add-on was developed in strict compliance with the PWA Studio and Magento quality standards. Save money on custom development and get a stable and mobile-friendly interface out of the box.
Get your store ready for the mobile-first market
Keep conversions high by offering your target audience a one-step login via their favourite social networks and services: Google, Twitter, LinkedIn, Instagram and Facebook. Keep the user experience simple and smooth: don't make shoppers remember their credentials. Let them just click on a social network button and instantly get what they want: an effortless sign in.
Maintain stable performance while running ads on social networks
The PWA technology and Social Login is a perfect match: the PWA-based store is always ready to keep the performance high on mobile. Thus, you'll be prepared for the massive traffic flows coming from the ads on social media. Attract new visitors from social networks and then let them immediately sign up or log in at your website with the same social network they came from. Besides, high loading speed on mobile devices contributes to store position on search result pages.
How Social Login can be beneficial for your store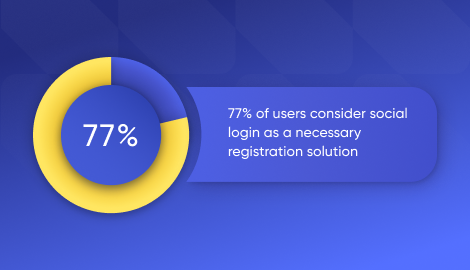 Provide a time-tested solution for easier registration
Social login is more effortless than any registration form
Login issues is a popular bottleneck in user flow that may cause increase of the abandonment rate
Run the extension on Magento Venia without extra development efforts
All our PWA add-ons provide full support for the Venia theme by Adobe and are developed in compliance with the Magento coding standards. This theme works stably and is easy-to-use for shoppers. Add a seamless social login to your website from any browser and on any device without the risk of meeting any incompatibility issues. Enjoy a minimized setup time and avoid possible database overrides.
Learn what social networks your shoppers use
Get a better understanding of your customers by connecting your PWA store with the analytical dashboard from the original Social Login extension for Magento 2. Gather valuable insights by monitoring the amount of connections and purchased items. Segment customers by social media preferences and make data-driven adjustments to your business strategy.
Enjoy flexible design options out of the box
Adjust the appearance of this social network block and buttons to make it fit to your website's design concept. Choose how many social links you'd like to show and disable the irrelevant ones based on the insights from the pre-integrated analytical dashboard. Besides, this add-on is fully compatible with the most demanded browsers, including Chrome, Safari, and Firefox.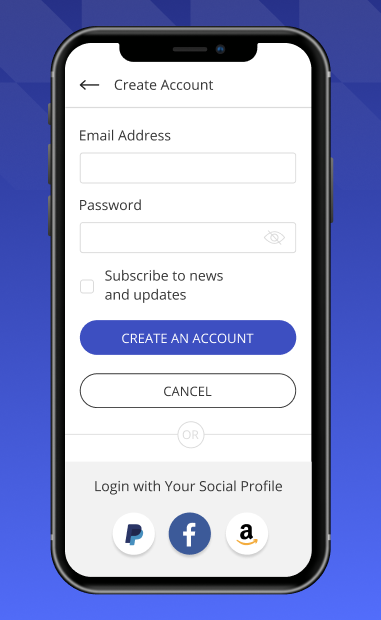 How to correctly install PWA add-ons by Amasty?
This add-on is a ready-to-use solution for the PWA Studio storefront, supporting features of the original
Magento 2 Social Login
extension. Please note that for the correct work of the add-on the original extension and a PWA theme must be installed. Learn more from our
PWA installation User Guide
.
Other Features
100% Open Source — Easy To Customize
Follows Magento Code Architecture
Separated HTML/CSS/JS
Simple installation via Composer
* The name "Magento" and the logo are the trademarks of Magento, Inc.
Be the first to review this product
PWA for Social Login (Add-On) for Magento 2
Are you looking to add specific functionality for this extension or want to acquire a reliable development partner altogether? With custom development services by Amasty, you will receive high quality and cost-effective solutions developed by Magento professionals according to industry's best practices.
2.4.2-p1, 2.3.7, 2.4.2, 2.4.1-p1, 2.3.6-p1
You can always download the recent version free of charge from your account
Installing an upgrade is easy — check now
My Downloads
This extension has no updates yet