Quick Order
for Magento 2
Boost B2B sales and increase repeated purchases with the Magento 2 Quick Order extension. Enable buyers to quickly order multiple products without visiting numerous web store pages.
Enable AJAX product search by SKU/Name
Create massive orders by inserting multiple SKUs
Let customers order in bulk via CSV and XML files
Validate SKU mismatches and out of stock on the fly
Convenient quick order UX on mobile and desktop
Allow placing quick orders from the category pages
Challenge
Today's B2B customers are expecting convenient self-service options while ordering online. They already know what they need and don't want to spend much time browsing through your website pages or getting in touch with representatives. According to McKinsey, only 15% of B2B buyers want to speak with a salesperson when repurchasing the same product. In such a case, they need the fastest way to search and order all desired products via a quick simple form.
Solution
With Magento 2 Quick Order extension, shoppers can add items to cart by entering the SKU or name instead of navigating to different pages of your website and manually adding products to their carts. Provide B2B customers with the instant AJAX product search and the ability to upload a file with SKUs and quantities to quickly prepare a long list of items to purchase. Besides, users can insert multiple SKUs at once and add these products to cart as well.
What benefits do you get for your store
Motivate repeat sales by providing a time-saving tool for essential B2B operations
Guarantee a convenient bulk order user experience on desktop and even on mobile
Simplify instant Wholesale purchasing process with AJAX search and file upload
Drive more sales with a streamlined ordering process
Save time of B2B customers by providing a single page with all crucial features for convenient quick order placing. There's no need to search through the multiple store pages and select products one by one - your clients will smoothly add multiple items from one place!
Search by SKU or product name
Add products by inserting multiple SKUs
NEW | Export order lists in CSV
Provide instant product search by SKU or product name
With the Magento 2 Quick Order extension, your customers will easily find the products they need entering the item SKU or name in the instant AJAX search box. This way you'll provide the highest level of accuracy in search results. Moreover, after only some characters are typed, the autosuggestions of available products will be shown.
Add product items to list by inserting multiple SKUs
Using the extension, your customers won't have to search - they will be able to upload multiple products to their quick orders just by inserting multiple Magento 2 SKUs, one per row. Customers can add SKUs only or also specify product quantity and options.
Export CSV product lists to place similar orders quicker
This feature simplifies the process of repeated B2B ordering for wholesalers. Thus, if a customer has once composed a detailed product list ready for ordering, they can export it in a moment and reuse it for placing similar orders.
Drag-and-drop CSV and XML files to upload products
Usually, your regular clients prepare the order sheet with particular product names, SKUs, quantity in advance. Why not make use of it? With Magento 2 Quick Order extension, buyers can search for multiple products and easily add them to cart by uploading a CSV or XML file (by the way, user can download sample files right from the storefront). The feature is extremely useful for wholesales and business customers, who are ordering large quantities of products.

→ Download a CSV file sample
→ Download an XML file sample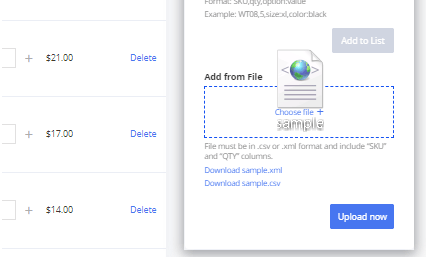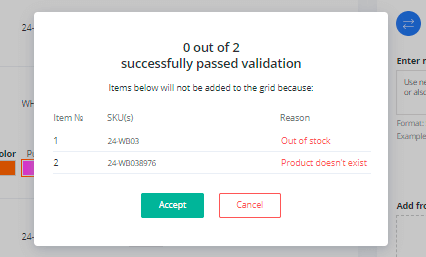 Validate uploaded product items on the fly
The quick order page algorithms will instantly show any possible errors in case of SKU mismatches from the uploaded file or multiple SKUs inserted. The extension also validates if a product is out of stock. It helps to avoid recreating a product list from scratch again in case of an error: just fix one or few items shown up on a handy validation popup.

See how it works on our demo.


Get the most from the improved user experience
Gain customer loyalty by offering more efficient interaction with the Quick Order page and improved ordering experience. To provide your B2B partners with extra convenience, we've designed the Quick Order page the way you can hide the right sidebar anytime when it becomes unnecessary or you just want to concentrate only on the products from your list.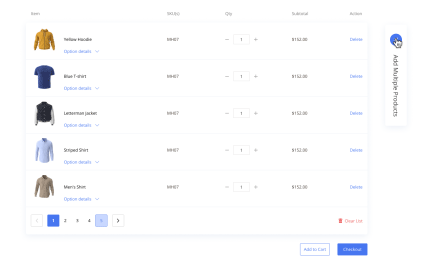 Easily prepare product list for wholesale or bulk ordering
Time is especially important when you are working with an extremely long product list. The professionally designed UX design of this Magento 2 Quick Order extension allows easily making adjustments of the product list. It helps to avoid re-adding product items with necessary configurations one by one from scratch in case you've occasionally added them with wrong product options or product quantity.
Change product options from the list
Adjust quantity for each product
Support all product types
Easily fine-tune grouped products
Add to cart or proceed to checkout
Request a quote for the chosen products
Specify product options right on the list
With Magento 2 Fast Order, buyers can select all product options for the items without browsing each product page separately. Buyers can adjust product quantities, sizes and colors for each item in the list. Also, they can easily remove unnecessary products from the order with a handy expand feature.
Adjust quantity for each product
For a better experience, your customers can specify the necessary product quantity for each product not only from the search line, but also from the product list.
Allow multiple product types ordering
Make the ordering process even more comfortable with multiple product types support. The Magento 2 Quick Order Form extension correctly works with various product types such as simple (including simple products with product options), downloadable, bundle, virtual, configurable and grouped products.
Easily configure grouped products
The quick order page algorithms will automatically split group products into separate items, so your customers will be able to adjust product options for each one of them individually.
Proceed to the next step when the list is ready
When the order list is ready for submission, customers can add selected products to cart and proceed shopping or immediately proceed to checkout right from the Quick Order page.
Allow customers request personalized offerings
Use the 'Add to Quote' button for adding chosen products from the Quick Order page to the Quote Cart. Please note that for using this functionality you have to install the
Request a Quote
extension first.
Specify customer group restrictions
Configure Magento 2 Fast Order extension in a matter of minutes. Enable the order method availability just for particular customer groups. You can also restrict file uploading for these groups.
Configure UX for more search convenience
The Quick Order module allows specifying the maximum number of products a user will see from the search line. By setting up this limit, you'll easily keep store performance high by not overloading it with complex search results to be displayed on the front.
Set custom URL and position for the Quick Order page
Choose from the several positions where to display the link to your Quick Order page: the header, top menu and footer. You can also change the label (name) of your page and specify a custom URL.
Set up handy pagination settings
Specify the number of products to be displayed on one page you'll guarantee a smooth shopping experience for your B2B partners and wholesale clients frequently ordering huge amounts of products at a time. Quickly navigate through the pages instead of endless scrolling.
NEW | Expand the Quick Order page functionality on category pages
Provide your B2B customers with the opportunity to quickly create orders of a huge volume from the category pages as well.
Enhance your catalog design
Simplify ordering with mass actions
Automatically exclude out-of-stock products
Configure custom products display per page
Flexibly regulate how different customer groups will see your catalog
Use the Table Category Mode to significantly upgrade the efficiency of category pages. This feature equips catalog with a Quick Order page design and makes bulk ordering possible from the categories. You can also manage what customer groups will be able to use this enhanced mode.
Enjoy user-friendly mass actions for the category pages
This feature allows users to select and unselect all products from the category in one click. When selected, these products can be massively added to cart right from the catalog. Use this feature as a tool for triggering more add-to-carts.
Select only relevant category products in bulk
Save time on manual repetitive tasks selecting huge volumes of products in bulk. The Table Mode will automatically exclude the out-of-stock products, so you'll get a perfectly filtered relevant order list.
Adjust the number of values shown up in a Table Mode per page
The Magento 2 Quick Order extension upgrades the dropdown for selection of the number of products displayed per page. Now you can define custom values to create the wholesale ordering process of the utmost convenience for your customers.
Attract more customers by creating advanced search experience
The search options of this extension can work even more efficiently if used together with the
Magento 2 Elastic Search
extension installed. Use autocomplete suggestions and spell corrections, partial search by SKU, name, attributes, category, provide multilingual search and more.
Coming soon features for Magento 2 Quick Order
Integration with Multiple Wishlist that will allow to save unlimited number of quick order lists as requisition lists
Other Features
100% Open Source — Easy To Customize
Follows Magento Code Architecture
Separated HTML/CSS/JS
Simple installation via Composer
* The name "Magento" and the logo are the trademarks of Magento, Inc.
OK
The extension works well. But it would be nice to be able to add products to a quick order not only by SKU or product name but also by other attributes. But anyway. It's a good plugin.
The XML support is awesome!
The plugin is great! I really like that it supports orders from CSV and XML files. It speedups our work so much. Thanks to this module, the load on our managers has decreased.
Are you looking to add specific functionality for this extension or want to acquire a reliable development partner altogether? With custom development services by Amasty, you will receive high quality and cost-effective solutions developed by Magento professionals according to industry's best practices.
2.4.2-p1, 2.3.7, 2.4.2, 2.4.1-p1, 2.3.6-p1
You can always download the recent version free of charge from your account
Installing an upgrade is easy — check now
My Downloads
Version 2.0.1
Last Update: Oct 13, 2020
Improvement MFTF tests were moved to additional packages particular for Magento 2.3.5+ and Magento 2.4.0+
New we designed a new mode for product display on Category Page: now customers can browse your store, select products, configure their options and add all chosen items together right from category pages
New we introduced an option to download the list of added items from Quick Order grid
Improvement we reviewed and enhanced the way grouped products are added to Quick Order grid
Improvement we added the ability to specify bundle items qty in imported files
Compatibility we improved integration with Amasty Request a Quote extension: now you can choose whether the button should be displayed on Quick Order grid
Version 1.0.1
Last Update: Jul 24, 2020
Compatibility compatibility with Magento 2.4 was improved