Search Pro
for Magento 1
Your customers will be happy with this advanced instant search solution with extremely high relevance. Set up Magento advanced search extension to let people quickly find exactly what they are looking for.
Significantly increase relevance of search results
Specify search priority for attributes
Enable customers to easily find the necessary products
Choose the search type – 'like', 'fulltext' or 'combined'
Highly-configurable autocomplete search
Fully optimized for mobile
Well-working search feature is the basis of ecommerce success
Your clients will appreciate new search solutions
Incorrect work of default Magento site search was one of the things we didn't like about our new website. Inadequate search results were frustrating. We had to give direct links to product pages to customers, because the needed modules were buried deep in the search results. To improve Magento search process and make sure our customers can easily find the products they are looking for, we've developed this advanced search extension. The module offers a rich list of advanced tools for better search in your Magento store.
People buy products only when they can find them
Before launching our Magento 1 search extension we tried it on our site. It didn't take us long to notice two major positive changes: no more questions of the kind 'where is the module?' and more orders. We have about 100 products in our store, with larger catalogs the positive impact of the plugin should be a lot more significant. Don't surprise customers with poor search feature. Surprise them with precise Magento quick search results.
Setup the search extension according to your needs and preferences

Choose the search type you prefer
Magento quick search module enables you to select the search type you prefer – 'Like', 'Fulltext' or 'Combined'. Please feel free to choose the one which suits you best.
Set search priority for attributes
Our Magento advanced search tool does search among all product information to insure accurate search results. At the same time you can improve magento 2 instant search process by setting search priority for attributes. For example, that first it should search in product name, then in product description and only after that in all other attributes.

Take advantage of the native Magento features
The advanced search plugin is completely integrated into Magento and supports its search features. For example, if you've specified synonyms for search terms in admin panel, the extension will respect them. The module feeds information into the 'Last 5 Search Terms' and 'Top 5 Search Terms', so there will be absolutely no negative effects of transition to Search Pro.
Find more info about Magento search plugin terms here.
Autocomplete feature for much better Magento search module usability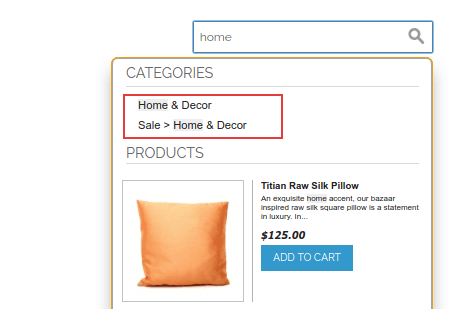 Customers can find products faster
While customers start to type something into the search box, the autocomplete Magento tool automatically starts searching and displaying products according to the entered information. So customers can find the right products much faster with the quick search option for Magento. The autocomplete Magento search results are shown in a popup window, which can be configured. Customers can click products in the window and get right to the product details pages.
Give particular attention to your store overall search experience, see the reasons for.
Include categories in search results
With the Magento Search Autocomplete extension, display categories with breadcrumbs right in a search results' pop-up. Let your customers have a better view on your web store structure, so they can clearly see where are the products they are looking for.
Autocomplete window features
To improve search process, configure the following parameters for Magento autocomplete search window:
Number of products displayed in the popup
Minimal number of characters entered by customers after which the window pops up
Autocomplete window width
Product name and description length to be shown
Display of reviews
Display Add to Cart button

new

Specify size for pop-up thumbnail

new

Display wider horizontal pop-up
Optimizing internal search functionality means more relevant results, thus more conversions, discover why.
Manage the autocomplete window look
Due to a flexible autocomplete Magento search option it is possible to manage a number of design parameters for the popup window, such as border color, font color, text highlight color, and colors for products, which are hovered with mouse.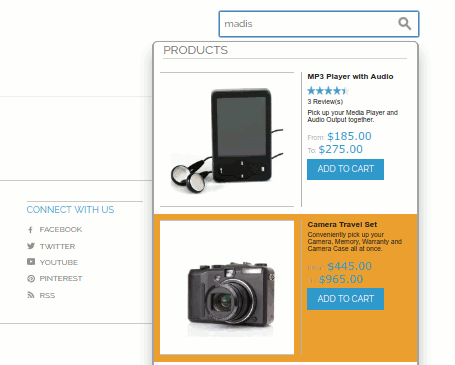 Expand Magento functionality with Advanced Search extension
Product questions

Can this extension perform search by both attribute name and value?

Yes, this is how our Search pro module works. For example, if an attribute name is "color of display" and its value is "red", the extension will search for both "display" and "red".

Will this extension work for product backend search in the catalog?

No, this module is suited to improve Magento search on the frontend only.

Is Search Pro extension compatible with custom themes?

Usually, the site search extension is compatible with the majority of custom themes right out of the box and doesn't require any additional tweaking. But in case there are any issues, our support specialists will eliminate them for free.

Is there a maximum number of products?

No, the number of products in a store is not limited, which allows for better search in Magento. Our extension works properly for shops with small, medium or large inventory.

Can I see what users search for in my store?

Yes, there is a search terms report where you can find all the data on searches users perform in your store.

How does this module treat synonyms of a search term?

Search synonyms are not considered by default. However, you can add synonyms for search terms in the admin panel. Read on to see the screenshot.

Does Search Pro uses data of SOLR, Sphinx or other search solutions?

No, our module uses requests to the database and doesn't utilize data of other 3rd party search engines including search SOLR.
Other Features
100% Open Source — Easy To Customize
Follows Magento Code Architecture
Separated HTML/CSS/JS
Simple installation via Composer
* The name "Magento" and the logo are the trademarks of Magento, Inc.
highly recommended
Great search extension and the support team is really amazing!
Excellent customer service
Upon installation of the plugin, there was a conflict with our old search module, ElasticSearch. This plugin provides highly satisfactory search results for us (we have 3000+ products). The Amasty team responded promptly and was able to resolve the issue. Excellent support staff, and I highly recommend their products and services.
Must have extension!!
I'm very satisfied with the extension I bought from you - 95% of time I use Amasty extension to avoid conflicts and if it should occur you will always know where to look because you know the extension. This extension works so well for my costumers and it is so easy to find products now. Had a problem with some old code before the Search Pro was functional, and you fixed very easy and always quickly.
Fantastic
I'm really happy with this extension. I run a site with over 5000 products. This search extension makes it possible to find any of the products by name, sku or description if I can't think of the name. A serious time saver for developers and clients.
Good extensions. Great support.
Installed several extensions from this company, all the modules work perfectly and smoothly. Support operational.
work out of the box
I purchase this extension and it works out of the box, the search is accurate and highly customizable.
A must-have extension
This extension is an absolute mus t-have for any store with extensive product ranges. Native Magento doesn't cope with site search very well, so customers often leave a store because they can't find what they need.
The settings are easy to understand and configure. I like that there's an ability to display product ratings in the autocomplete window. I can also set attributes order for search but there are only 10 fields available, it would be great to have an ability to add more, I need about 15.
Anyway, I'm happy with that extension and definitely recommend it.
Freedman,
Magento Connect
The module is really worth its price
In spite of having the conflict with another 3d party extension, I'm totally satisfied with this search tool. Amasty support fixed this issue right after we contacted them and we haven't faced any problems so far.
Should admit this mod was a real catch – all we needed to do was just to customize its color theme and adjust a couple of settings. We also appreciate that amasty constantly releases module updates polishing its functionality. Therefore, having bought it once, you won't have to install any other additional tools.
Spilleyn
Magento Connect

Great!!!
This extension is simply great. It really paid itself back in less than 1 hour. Now finally a customer can find what he is searching for, without endless trying of different search words. (And which customer does that nowadays?)
site search made better
The extension really makes the site search much more relevant. I had some hard time with configuring synonyms but it works out!
Great extension
Thanks for this great extencion. It´s perfect for our store and make it easy to find what you search!!
The search we were dreaming about!
I was thinking on various ways to improve my search in Magento, and this extension did it all! Autocomplete feature is very handy and makes the store really customer-friendly. I like the extension and the support the guys perform.
Another great mod by Amasty!
This is a great solution! I've tried a few of the free tools similar to this but the results weren't as good as one would expect. This extension is well worth the investment and gives you a nice autocomplete feature.
Fine extension
The usefulness of the extension is invaluable. Thanks to autocomplete feature the user experience on my website became better. Now it takes less time to type and find needed product
Waited for this extension for a long time!
At last, Amasty has released their search extension! Once I used it on their website, I was dreaming to have the same technology at my website. I implemented it and we'll see the results soon. Great stuff!
Really effective extension
Easy to install, easy to use, really effective, another great extension by Amasty !
Excellent search extension. Fast and really flawless.
Works amazingly. This extension fixes search issues in Magento that every merchant faces using standard search. This is a must have for any store.
Backend
you'll be logged in automatically
Are you looking to add specific functionality for this extension or want to acquire a reliable development partner altogether? With custom development services by Amasty, you will receive high quality and cost-effective solutions developed by Magento professionals according to industry's best practices.
CE 1.4.x - 1.9.x, EE 1.8.x - 1.14.x
You can always download the recent version free of charge from your account
Installing an upgrade is easy — check now
My Downloads
Version 1.7.6
Last Update: Jun 10, 2019
Fix the issue with color settings was resolved
Fix a minor style issue was resolved
Improvement the total results count was added to the search popup
Fix the database issue was resolved
Improvement Set FOLLOW for catalog search result page and advanced search result page
Compatibility compatibility with custom themes was improved
New allows to redirect customer to the store search results from the broken URL instead of the '404 Not Found' page
New adds NOINDEX to the app/design/frontend/YOUR_PACKAGE/YOUR_THEME/layout/local.xml in order to the to prevent search engines (Google, Bing, Yahoo, etc.) from needlessly indexing Magento catalog search results page(s) and advanced search results page(s)
Version 1.6.5
Last Update: Jun 05, 2018
Fix an issue with min query on Magento CE 1.9.2 was resolved
New the autocomplete popup window design was updated. Now it is available in horizontal view for the desktop and vertical view on mobile
Popup styles improvements
New Information section is added. Now you can see the version of installed extension, available updates, User Guide link, conflicts and other useful data right on the module Configuration page
Fixed an issue with the categories
Fixed an issue with the missed product images when no image size specified
New Added the Search by Categories
Improved the search window design
Version 1.5.3
Last Update: Jan 05, 2018
Improved the 'Image thumbnail size' setting default value
Fixed an issue with product images in popup
Compatibility with Hide Price and Call For Price
Allows to resize an image thumbnail in the quick search results popup
Version 1.4.15
Last Update: Aug 16, 2017
Add to Cart button issue fixed
Better compatibility with custom themes
Code refactoring and improvement
Minor improvement for fulltext search
Compatibility with Hide Price extension
Fixed using mb_string when the lib is not available
FPC improvements
Minor usability improvements:
The same URL for "more results" and direct search
The module doesn't clear search text on first click
Minor improvements for relevance calculation
Compatibility with Magento PATCH_SUPEE-3630_EE_1.13.x-1.14.x_v2
Mobile and Tablet Friendly version based on the device screen size
Possibility to display "Add to Cart" button in search results window
Version 1.14.10
Last Update: Jan 05, 2017
Compatibility with Call For Price extension
Translations file added (locale settings)
Improvement for GET query handling
Version 1.3.2
Last Update: Aug 20, 2014
Fix for missing Multibyte String PHP extension
"More Results" link added to the popup block
Version 1.2.5
Last Update: Dec 03, 2013
Fix for "Enter" key on search field
Improvements for search term highlighting
Minor fix for search phrase highlighting
"Re-index required" notification after changing module settings.
Improved relevancy when half of real word is using, not just full words
Version 1.0.4
Last Update: Sep 23, 2013
Bug fix for export in Magento 1.5.
Bug fix for routers.