Customer Group Auto Assign
for Magento 2
Reduce operating expenses and thus increase revenue thanks to automatic customer group management with Magento 2 auto customer group switching.
Automatically manage customer groups based on custom rules
Create group switching rules based on customer and order attributes
Schedule the rules processing frequency with integrated Cron functionality
Define rules processing order via prioritization
Easily manage all group-switching rules in one place
Challenge
Acquiring new customers is from 5 to 25 times more costly than retaining existing ones. Knowing this fact, most e-commerce businesses run loyalty programs and promotional campaigns. Yet, such activities require manual creating and managing numerous Magento customer groups, which is labor-intensive and time-consuming.
Solution
Save your time and lower operating costs by automating customer group assigning process with Magento 2 Customer Group Auto Assign extension. Fine tune custom group-switching rules based on various conditions to automatically move customers to any desired group with no assistance required.
What benefits do you get for your store
Increase revenue thanks to implementing automatic customer group switching system
Contribute to effective time management by reducing manual jobs
Boost customers retention with accurate and flexible loyalty programs
USE SMART ALGORITHM TO ASSIGN CUSTOMERS TO GROUPS
With Magento 2 auto customer group switching, set up custom rules that will assign users to the relevant customer groups based on set conditions.
Manage all rules in one place
The extension gathers all group-switching rules in one place. On a handy Rules grid, you can check all existing group-switching rules and easily reconfigure each of them if needed.
Automatically execute rules on a schedule
The integrated Cron functionality allows you to schedule the rules processing frequency to timely change customer groups. Also, you can define rules priority to fine tune the algorithm.
MAXIMUM FLEXIBILITY FOR CONFIGURING AUTOMATIC RULES
Group customers by order attributes
Organize your customers based on the order attributes, including the average order value, the number of completed orders and total sales amount. For example, you can move customers whose total sales amount exceeds $1 000 to the "VIP" group offering 10% discount for all future orders.
Divide users into groups based on customer attributes
The extension allows you to automatically switch customers to appropriate groups based on a huge list of customer attributes. This includes customer and account information, shipping and billing address details, and etc. For example, you can automatically move your clients registered for more than a year to a special discount group. Or simply group them by city, region or country.
Create any rule type with conditions combination
Easily create any type of Magento 2 automatic customer group switching rule by tuning and combining conditions to cover all your specific requirements.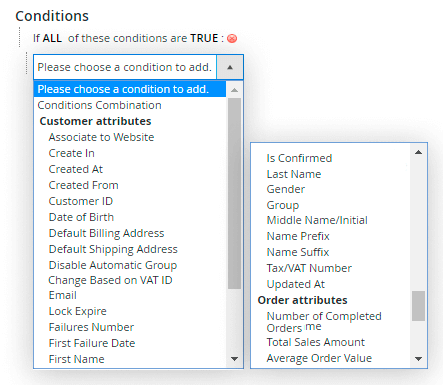 Enrich your Magento 2 store with a strong promotional tool
Significantly increase your store average order value with Amasty
Special Promotions Pro for Magento 2
extension. Reach any customer by offering highly targeted promotions for each separate customer group.
According to the statistics, the extension can cover each business need in synergy with the following solutions: magento 2 loyalty extension, magento customers list and custom registration fields for magento 2.
Other Features
100% Open Source — Easy To Customize
Follows Magento Code Architecture
Separated HTML/CSS/JS
Simple installation via Composer
* The name "Magento" and the logo are the trademarks of Magento, Inc.
Cool add-on for promos
For test I gave 10% off to buyers who already have a purchase history at $500. And really, 4 of 6 came to buy with discount and in just 2 days. It really works like promotions, no need to invent anything, it's just about combining.
Much better than expected
I didn't believe much in this. But it's working! It offers a really huge set of flexible conditions. I also experimented with autoshedule well explained, works perfectly. For check, I removed customer from discount group to general after a return. Came effective with no delays.
Really one click?
They say it's a one-click matter, but I don't see how it works. There are lots of rules, and it took me hours to set them efficiently. Working with cron is not easy either. For me it's lots of do-and-redo.
Hope it'll get better.

Are you looking to add specific functionality for this extension or want to acquire a reliable development partner altogether? With custom development services by Amasty, you will receive high quality and cost-effective solutions developed by Magento professionals according to industry's best practices.
Magento 2.2, 2.3, 2.4
You can always download the recent version free of charge from your account
Installing an upgrade is easy — check now
My Downloads
Version 1.0.3
Last Update: Jul 24, 2020
Fix we fixed the issue with the general setting used for different stores on Magento Commerce 2.3.5
Improvement we improved the performance of 'amasty_groupassign_update' cron job
Fix we resolved the issue with the priority of rules
Fix we fixed the issue with loading the default configuration