E-mail Blacklist

|

v1.0.0
CE 1.4.x - 1.9.x, EE 1.8.x - 1.14.x Use powerful tool to secure your store from spam and fraudulent orders! Stop spending your and your staff time on sorting spam - save it for processing valid orders!
Block email domains, domain zones
Email filter on registration and checkout pages
Bring store security to higher level
Screenshots:
Provide your Magento store with spam protection
Securing your Magento site with fraud protection is a key goal for any commerce organization, cause the business usually means large money turnover. It becomes even more significant in e-commerce, due to a lack of live contact with the clients. Spammers and fraudulent orders can cause strong damage to your store, and it will result in bad reputation. With E-mail Blacklist module you can block registration from certain domains or even domain zones, and make your security level higher.
Use options to specify email domains.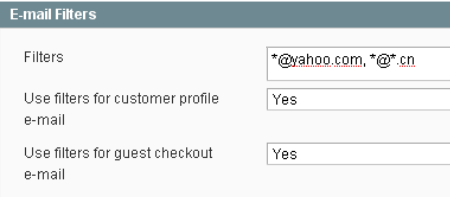 Specify email domains and/or domain zones, which you would like to block
Use any e-mail wildcard masks, e.g. *@*.ru or *@*.ch
Use filter both on registration and guest checkout pages.
Enabling filter for customer registration is not always enough. If you allow your customers to use guest checkout for the reason of increased conversion rate or somewhar else, don't forget it can become a tasty morsel for spammers or hackers. Use e-mail blacklist filter for guest checkout.
7 reasons to choose
Risk-free Investment
30-day moneyback guarantee for all extensions. No questions asked.
Comprehensive Documentation
There is a detailed user guide with examples even for tiny addons. FAQ section and videos also available.
Solutions Which Work
Careful in-house testing ensures you get robust applications. Multiple stores support. Custom themes compatibility. All included.
Outstanding Support
Our support service is friendly and of high quality. And it is free. Unbelievably. Just check independent reviews at Magento Connect.
Usability and Performance
Nice and easy to use interfaces. Fast algorithms. Save your time and get things done.
Flexible and Easy Licensing
No product or store view or domain limits. No monthly fees. No hidden charges. One extension license for one Magento installation.
Long Term Strategy
We've been in the market for 5+ years. We're proud to be a Bronze partner and are planning to stick to Magento platform for years ahead. We're doing our best to build extensions which maximize effectiveness of your business. We're open to customers' suggestions and constantly update our products to match your needs.
Other Features
100% Open Source — Easy To Customize
Follows Magento Code Architecture
Separated HTML/CSS/JS
W3C Validated Code
Online Extension User Guide
* The name "Magento" and the logo are the trademarks of Magento, Inc.
Effective spam fighter for any store
Just perfect as usual... Actually, this is the third Amasty module we've installed, and we are totally satisfied with its performance. I do recommend this extension.
Must have module for any shop
Clean shop without any spam - this is just what I've been dreaming about.
I'm happy to find Amasty
After fruitless attempts of installing the module by another company I decided to purchase this extension. I was really pleasantly surprised by its quality and easy installation. Well done!
Real spam fighter
I do love this module, it's simple and very effective. A great plus here is that you can ban not only certain emails, but the whole domains. For our store this feature is like a real treasure. No we have no problems with any junk mails.
That's what I've been looking for!
Just install it once and forget about spam headaches forever! I was surprised the way it easily helps get rid of unwanted letters and stop wasting time on processing this trash.

Holly_night,
Magento Connect
Effective block tool
After some massive spammers attacks I decided to find the way to protect my store from unwanted emails, and I've bought this extension. It really works! I've blocked not only emails, but the whole email domains. Since that time I haven't received any spam!
No unwanted trash emails
This extension really helps to block the whole unwanted domains, but not only particular emails.
Just what I've been looking for!
It saves pretty much of my priceless time. Cool!
No spam - no problem
Who is tired of spam, try this extension! Really recommend!
Priceless!
No junk anymore! Cheers, guys!

Luis, Stardom, admin
Write Your Own Review