Customer Segmentation
for Magento 2
Maximize the effectiveness of marketing campaigns and enhance retention with accurate customer segmentation. Segment registered customers and guest visitors by orders, shipping addresses, shopping cart data and many other parameters using conditions and their combinations.
Segment registered customers and guest visitors by multiple parameters
Optimize Magento 2 Cart Price Rules functionality for marketing initiatives
Apply condition combinations for complex rules
Update segmentation lists automatically by cron
Export segments to CSV or XML for further processing
Use in Amasty Abandoned Cart Email campaigns
Why do you need to segment customers
Optimize marketing expenses: create highly-targeted campaigns and increase their conversion rate
Improve satisfaction: build long-term relations by showing an individual approach
Reduce the load on marketers: create rules and automatically segment users by cron
Easy customer segmentation
With the Magento 2 Customer Segmentation extension you will be able to sort customers or guest visitors by various criteria like date of birth, payment and shipping methods, sales amount, products added to cart and many others. Create flexible segmentation rules to arrange registered clients and guest visitors in groups and run highly targeted marketing campaigns.
Segmentation based on customer data
Arrange registered customers in multiple groups using a great variety of parameters. With the module you can create an unlimited number of rules based on:
Website;
Customer group;
Gender;
First/middle and last name;
Days from the last visit/registration;
Days before birthday;
Customer email and many others.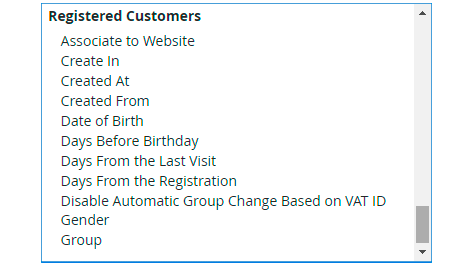 Set parameters for registered customers
Flexible settings let you specify customer attributes that should be available in rule conditions. Due to this option you can easily include/exclude any attributes to make rule creation fast and easy.
Automatically generate segments
Once a segmentation rule is created, the Magento 2 visitor segmentation module automatically generates the customers list according to rule conditions. All customer data is displayed on a separate grid right below the rule.
Segmentation based on shopping cart data
Sort clients depending on products they add to cart. This way you'll be able to learn customer preferences, generate targeted offers and implement personalization in Magento 2 store. Create Magento customer segments based on:
The number of days after cart creation;
The number of days after last cart update;
Cart grand total;
The number of items added to cart.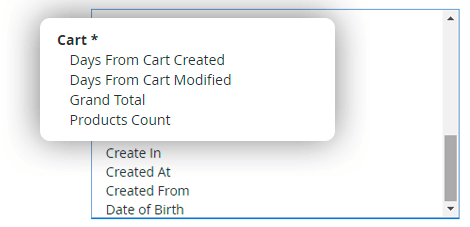 Update segmentation lists by cron
Automatically update segmentation lists by cron to use only relevant customer information for your marketing campaigns. Schedule automatic cron update to run it:
Hourly;
Two times a day;
Daily;
Weekly;
Monthly.
Manually refresh segmentation lists
Use the re-indexaction option to timely update Magento customer segments. By default re-indexation is run by cron according to your schedule, but you can also reindex segmentation lists in bulk manually at any time.
Export segment lists
You can export any generated segmentation list to XML or CSV files for further processing.
Order based segmentation
Create flexible rules based on multiple order parameters. E.g. Segment customers who purchased products with specified attributes amounting to a particular sum.
The number of days after first/last completed order;
Payment and shipping methods;
The number of purchased items (or the number of orders) with specific attributes;
Total sales amount;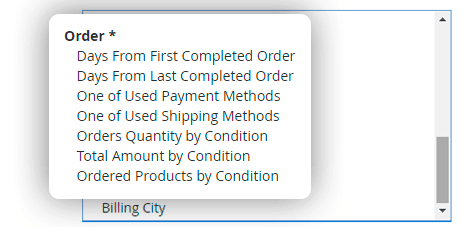 Segment guest visitors
Magento 2 Segmentation tool enables store admins to segment not only registered customers, but guest visitors as well. It is possible to sort unauthorized clients by such parameters as:
Order information;
Billing address;
Shipping address;
Shopping cart attributes.
Segments based on shipping and billing addresses
Segment registered and unauthorized customers by their shipping and billing addresses to create a rich database by country or city and target your campaigns depending on a customer location.
Use condition combinations
To create complex Magento 2 personalization rules, use the integration with the default Cart Price Rules and various condition combinations. Mix the order, cart and customer data to launch effective direct marketing campaigns.
Product based segmentation
Sort registered clients by the number of viewed products as well as the number of products, added to wishlists. Apart from that, these rule types let you specify any additional product attribute for proper personalization in Magento 2.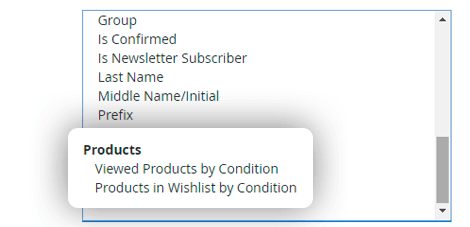 Advanced Options
Manage all cron tasks on a Cron Tasks List grid in the backend. Delete tasks in bulk, use filtering and sorting options when it is needed.
Exploit segmentation functionality to the full
Use Customer Segmentation and Magento Personalization tool together with the
Follow Up Email
extension to launch highly targeted email campaigns.
According to the statistics, the extension can cover each business need in synergy with the following solutions: magento 2 authentication and magento 2 payment gateway.
Other Features
100% Open Source — Easy To Customize
Follows Magento Code Architecture
Separated HTML/CSS/JS
Simple installation via Composer
* The name "Magento" and the logo are the trademarks of Magento, Inc.
My jump into targeting.
A good extension even if you are new to segmentation and all this customer-oriented stuff. It is not that difficult to install and start using it. There are many segmentation options from quite basic to more interesting ones (like guest segmentation which I discovered for myself). After you create rules it does a lot of work automatically, generates and updates customer lists.
Many segmentation options, including custom ones
A very handy marketing tool. We also use another extension for custom attributes but initially, they were not allowed by this module. We turned to support and to our great surprise they included this feature in a recent update. This is very convenient as now segmentation is more accurate. Many thanks!
A basic marketing extension
This is a starting point for working with your customer base. I use this extension to define customer segments and automatically distribute new customers to relevant groups. And then use this addon to better reach target customers with emails and promos.
Are you looking to add specific functionality for this extension or want to acquire a reliable development partner altogether? With custom development services by Amasty, you will receive high quality and cost-effective solutions developed by Magento professionals according to industry's best practices.
Magento 2.2, 2.3, 2.4
You can always download the recent version free of charge from your account
Installing an upgrade is easy — check now
My Downloads
Version 1.1.15
Last Update: May 31, 2021
Fix we resolved the problem occurred when reindexing via cron in case prefixes for tables are used in the database
Fix we fixed the issue occurred in reindexing
Fix we fixed the issue appeared in logs while saving a customer address
Improvement code was refactored according to Magento Marketplace standards
Improvement code was refactored according to Magento Marketplace standards
Fix we fixed the issue with quota validation when the product was removed
Improvement we added a new condition 'Average Order Total' that allows you to create customer segments based on average orders amount
Fix we fixed the issue with showing all customers on Matched Customers grid when no customers were matched by conditions
Improvement we improved code constructions for Magento Marketplace standards
Fix we solved the problem with filtering customer grid in editing segment page
Fix we solved the problem with creating new customer segment
Fix we solved the problem with segments reindex after product deleting
Fix we fixed the possible issue with not including guest users in segments
Fix we fixed the possible issue with not accurate segmentation list export file
New ability to manage all existing cron tasks on a Cron Tasks List grid in backend was added. Run cron tasks and generate their schedule by clicking the 'Run Cron' button. Also, delete tasks in bulk, use filtering and sorting options when it is needed
Improvement minor visual improvement for the extension settings in the admin panel
Compatibility the compatibility with the Amasty Follow Up Email extension was improved
Improvement the ability to segment guest purchases was implemented
Compatibility the compatibility with the Order Attributes extension was improved
New added the compatibility with the Amasty Order Attributes and Amasty Customer Attributes extensions. Now, you can select custom attributes for segmentation
Version 1.0.2
Last Update: Nov 16, 2017
Fixed an issue related to conditions with an address.
Fixed an issue with installation script.