Run a huge Magento store with a rich product catalog, numerous admin users and multiple store views? To keep all items over control and effectively manage sub-administrators let them see and edit only particular products, categories, store views/websites and pages.
With the Advanced Permissions Magento 2 extension you can easily create admin roles with a custom set of permissions and assign them to corresponding store managers so that they will get a limited access to backend tabs.
Advanced Permissions features
Due to the Magento 2 user management tool super-admin can restrict the access to particular backend tabs for any sub-administrators. The module enables you to limit the access to:
Specific products;
Categories;
Store views;
Websites;
Product attributes;
CMS elements;
Dashboard statistics;
Reports.
Flexible settings
Limit access by store view/website
With the Magento 2 advanced permissions you can allow or restrict the actions of sub-admin users by store-view and/or website. You can enable/disable the following actions:
Edit products and categories
Manage orders and configuration
Manage customers for selected store-view or website
Define roles that can be assigned
Let the existing admin users create the new ones and limit their ability to assign user roles. With the module, you can define the list of roles that a particular user can assign to the new users.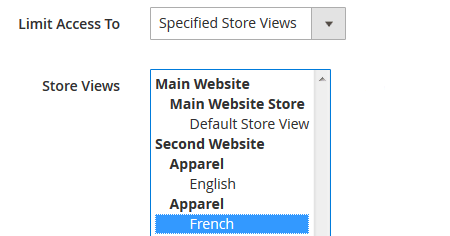 Improve product management
The Magento 2 advanced permissions module enables Super-admin to choose which products can be edited depending on the store view/website.
Choose necessary products and assign them to corresponding admin users
View/edit the products created by the user
Prevent products from being deleted
Allow sub-admins to view/edit product owner
Restrict access to reports tab
Limit the access to reports depending on sub-admins' roles to make them see the information they really need. The option will help you to keep your store data safe and properly updated.
Separate category management
Let specific admin users manage only particular categories. Configure the Magento 2 category permissions so that the user will see all store categories, but will be able to edit only specified ones.
Allow/Deny deleting categories
Allow/Deny category creation
Lock access to CMS tabs
The Magento 2 user permissions tool enables you to restrict the access to particular CMS elements (pages, blocks, widgets) for different admin roles.
Limit access to selected product attributes
The Advanced Permissions for Magento 2 extension allows you to limit access to attributes for certain user roles. Moreover, you can specify the desired list of attributes available for each role.
Customize display of dashboard statistics
Magento 2 admin permissions extension also allows you to restrict the display of Dashboard statistics according to store-view and website permissions to provide your managers with relevant data and protect important store information.
Change product owner
Once an admin user creates a product, he/she automatically becomes the product owner. The super-admin can easily change a product owner right on the corresponding product page.
Other Features
100% Open Source — Easy To Customize
Follows Magento Code Architecture
Separated HTML/CSS/JS
Simple installation via Composer
* The name "Magento" and the logo are the trademarks of Magento, Inc.
PREGUNTAS PARA LA COMPRA
1- ¿Qué tan adaptables son? ¿Se pueden modificar/personalizar fácilmente?
2- ¿Tienen fecha de caducidad?
3- Al actualizar Magento se deberán actualizar todos los plugins, ¿se deberán pagar otra vez?
4- ¿Los plugins se deben actualizar cada x tiempo? ¿tienen costo estas actualizaciones?
5- ¿Cuál es el soporte que debemos tener de este plugin?
Gracias espero una respuesta.

Sergio

------------------------------------

Hello, Sergio,

1. The module has flexible settings and can be easily fine-tuned depending on your requirements. In case you need and additional customization please contact our support department.
2. Amasty offers 4 months of free support and updates for products purchased from us. Optionally customers can order extended support when buying the module. Once the 120-day and extended support period is over, it is possible to get an update for 50% of the module price - this includes another 120-day period of free updates and support, with the possibility of paid extension for a longer period.
Things to improve
Great extension. As suggestion for next version, I would like to propose possibility to add more than one role for user. Currently there is no possible to do that.
Need a new feature
Please please integrate your wondeful extention with any IP adress extention or add restriction by IP. This can help a lot. Thank you. If you add this I will change to 5 stars surely.
Write Your Own Review
Roles grid
explore users and roles with various permission types
Version 1.2.3
-
March 15, 2018
– Fixed an issue on the categories page
– Fixed an issue when an admin saves a role without options
Version 1.2.2
-
March 05, 2018
– Fixed an issue with caching restricted product categories
Version 1.2.1
-
February 26, 2018
– Fixed an issue with the error on the customer grid after reindex
Version 1.2.0
-
February 22, 2018
– New: added the ability to regulate users' access to the new roles creating and editing. For example, users with a limited role can create new users with the same role and won't be able to add a SuperAdministrator
– New: added the ability to limit access to the product subcategories
– Stability and code improvements
– Fixed multiple issues with category permissions
Version 1.1.3
-
December 12, 2017
– Fixed issue with getting of websites and stores from CLI
Version 1.1.2
-
December 6, 2017
– PHP 7.1 compatibility improved
– Fixed an error with getting the default store
Version 1.1.1
-
November 14, 2017
– Fixed issue with error after editing Product or Product Atrribute access
Version 1.1.0
-
October 18, 2017
– New feature: now you can control access to individual attributes
– Magento 2.2 compatibility is tested and confirmed
– Fixed categories display issue for a new role without access permission to 'Default Category'
– Fixed an issue with missing the 'Product Owner' option for a new role in product detail backend page
– Number of minor bug fixes and improvements
Version 1.0.7
-
March 16, 2017
– Compatibility with the Extended Order Grid extension
Version 1.0.6
-
March 14, 2017
– Fix for website based restrictions on shopping cart price rules grid
Version 1.0.5
-
February 28, 2017
– Restricted websites and stores are now hidden from the product page
– A number of minor improvements
Version 1.0.3
-
September 07, 2016
– Compatibility improvements
Version 1.0.2
-
July 29, 2016
– Compatibility with Customer Group Catalog extension improved
– Minor fix
Version 1.0.1
-
July 11, 2016
– Compatibility with Magento 2.1