Advanced Permissions
for Magento 2
Easily manage multi-vendor stores by assigning custom role permissions to specific managers. Let them see and edit only particular products, categories, store views and websites.
Restrict access by store view or website
Separate category/product management
Manage access to CMS elements
Limit access to product attributes
Restrict access to dashboard statistics
Compatible with the Jet Theme by Amasty
Challenge
For growing stores with numerous staff an improved security level is essential. General access for all managers and admins is not convenient for the workers and may be the reason for data loss, as any of them can make a crucial mistake. To provide proper security, store owners must set flexible access limitations and restrictions based on employee position.
Solution
With the Advanced Permissions Magento 2 extension, you can easily create admin roles with a custom set of permissions and assign them to corresponding store managers so that they will get limited access to backend tabs. Let each admin user see and edit only particular products, categories, store views and websites.
Enhance Store Security with
Advanced Permissions features
Due to the Magento 2 permissions management tool super-admin can restrict the access to particular backend tabs for any sub-administrators. On the store view and the website level you can adjust the access to the main store documents: invoices, transactions, orders, shipments and credit memos. Moreover, the module enables you to limit the access to:
Specific products;
Categories;
Store views;
Websites;
Product attributes;
CMS elements;
Dashboard statistics;
Reports.
FLEXIBLY ADJUST ACCESS SETTINGS
Limit access by store view/website
With the Magento 2 Advanced Permissions, you can allow or restrict the actions of sub-admin users by store-view and/or website. You can enable/disable the following actions:
Edit products and categories
Manage orders and configuration
Manage customers for selected store-view or website
Define roles that can be assigned
With the module, you can let the existing admin users create new ones and limit their ability to assign user roles in Magento 2.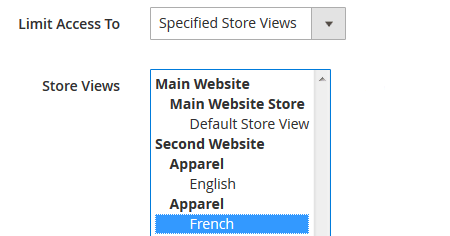 Improve product management
The Magento 2 Advanced Permissions Module enables you, as a super-admin, to choose which products and from which categories can be edited depending on the store view/website level. Also, you can set more specific limitations according to your security policy needs:
Assign certain products to particular admin users
View and edit the products created by any user
Prevent products from being deleted
Allow managers to view product owners
Allow/disallow admins to edit product owners
Change product owner
Within the default Magento functionality, once an admin user creates a product, he/she automatically becomes the product owner. With the extension, the super-admin can easily control and manage product affiliation: all that is needed is to change a product owner right on the corresponding product page.
Lock access to CMS tabs
With Magento 2 user permissions tool you can easily restrict access in Magento to particular CMS elements for different admin roles. Limit the availability to edit and delete CMS pages, blocks and widgets by restricting the visibility on a webstore/store view level.
Adjust category management
Set category permissions to let specific Magento 2 admin users manage only particular categories. The feature is extremely useful in cases you have managers who are responsible for particular categories. For example, you can configure the Magento user permissions so that the user can see all the store categories, but will be able to edit only specific ones.
Limit access to particular product attributes
Besides limiting the access on a category level, the Advanced Permissions for Magento 2 extension allows you to limit access to attributes for certain user roles. Moreover, you can specify the desired list of attributes available for each role and allow/disallow the access.
Customize display of dashboard statistics
Magento 2 Admin Permissions Extension also allows you to restrict the display of Dashboard statistics according to store-view and website restrictions and permissions. The feature will help you to provide your managers with relevant data and protect important store information in cases you don't want to let particular workers view the general statistics. You can also grant the access to the statistics only if you have an analyst.
Restrict access to reports tab
Limit the access to reports depending on sub-admin's role permission to let them see the information they really need. Thus, you will speed up data analysis and processing by optimizing your managers workflow. The option will also help you to keep your store data safe and properly updated.
How to limit the file permissions for your managers in Magento 2?
Install and set up the Advanced Permissions plugin by Amasty.
Go to Admin panel >System >Permissions > User Roles, click on the Add New Role button, and fill in Role Info.
In the Role Resources tab, set up what grids and files can this user see and what actions are available.
Then, navigate to the Role Users tab and choose what users will have this role.
Also, you can limit access to the store view, categories, products, or product attributes in the advanced tabs.
When you are ready, save the changes.
How to set up catalog permissions in Magento 2 Commerce?
Log in to your admin panel and navigate to Stores > Settings > Configuration.
In the Catalog tab, click Catalog.
In the Category Permissions section, enable this feature and set up from what customers groups and what actions you want to hide.
When ready, save the changes.
Now you can assign permissions to the categories by the path Catalog > Categories > Category Permissions.
Eficiently adjust product catalog visibility
Add
Magento 2 Category Permissions Extension
to tailor the catalog content to meet the needs of a particular customer group. Apply a differentiated approach, change the visibility of particular pages. Adjust Magento 2 catalog permissions for non-registered clients and motivate occasional visitors to create new user accounts.
According to the statistics, the extension can cover each business need in synergy with the following solution: magento 2 export.
Product questions

How to set Magento user permissions?

Magento 2 Contains Multiple Users for admin panel to access different section of the functionality based on their User Roles. You can see User Roles in the admin panel by click on the left navigation System -> Permissions -> User Roles

Read the FULL answer
Other Features
100% Open Source — Easy To Customize
Follows Magento Code Architecture
Separated HTML/CSS/JS
Simple installation via Composer
* The name "Magento" and the logo are the trademarks of Magento, Inc.
Must-have for big teams
We have several departments and consequently many people that work on our site. To avoid problems with changes caused by mere human error, we decided to use this module. Now we've been using this extension for about a year. Everything works fine, no major issues, no bugs. Actually, the module has so many functions that you hardly need to use all of them.
feature-rich module, minor issues
Huge module w/ many functions. But nothing stopping us to use it only to limit access to admins. Though, we faced performnace issues soon after installation. But the support solved it in a week or so.
PREGUNTAS PARA LA COMPRA
1- ¿Qué tan adaptables son? ¿Se pueden modificar/personalizar fácilmente?
2- ¿Tienen fecha de caducidad?
3- Al actualizar Magento se deberán actualizar todos los plugins, ¿se deberán pagar otra vez?
4- ¿Los plugins se deben actualizar cada x tiempo? ¿tienen costo estas actualizaciones?
5- ¿Cuál es el soporte que debemos tener de este plugin?
Gracias espero una respuesta.

Sergio

------------------------------------

Hello, Sergio,

1. The module has flexible settings and can be easily fine-tuned depending on your requirements. In case you need and additional customization please contact our support department.
2. Amasty offers 4 months of free support and updates for products purchased from us. Optionally customers can order extended support when buying the module. Once the 120-day and extended support period is over, it is possible to get an update for 50% of the module price - this includes another 120-day period of free updates and support, with the possibility of paid extension for a longer period.
Things to improve
Great extension. As suggestion for next version, I would like to propose possibility to add more than one role for user. Currently there is no possible to do that.
Need a new feature
Please please integrate your wondeful extention with any IP adress extention or add restriction by IP. This can help a lot. Thank you. If you add this I will change to 5 stars surely.
Roles grid
explore users and roles with various permission types (please log in with one user role at a time)
Are you looking to add specific functionality for this extension or want to acquire a reliable development partner altogether? With custom development services by Amasty, you will receive high quality and cost-effective solutions developed by Magento professionals according to industry's best practices.
2.3.6, 2.3.6-p1, 2.4.0-p1, 2.4.1, 2.4.1-p1, 2.4.2
You can always download the recent version free of charge from your account
Installing an upgrade is easy — check now
My Downloads
Version 1.4.25
Last Update: May 24, 2021
Fix we fixed the issue with the category tree display for restricted roles
Fix we fixed the issue with the tab 'Role Users' missing when editing a role
Compatibility we improved compatibility with Amasty Custom Form
Compatibility we made the module Amasty Advanced Permissions compatible with Amasty Order Archive and Archive Orders option in Magento Commerce
Fix we fixed the issue with product saving by the user with store restrictions
Fix we fixed the issue occurred when filtering on Customers grid using a restricted by store view role
Compatibility the compatibility with Magento 2.4 was added
Fix we fixed the issue with category saving by the user that has product restriction
Fix we resolved the issue appeared when working with 'My Quotes' in customer accounts
Improvement code was refactored according to Magento Marketplace standards
Fix we resolved the problem with stores restriction during the 'design_config_grid' reindexing
Improvement code was refactored according to Magento Marketplace standards
Fix we resolved the problem with a quote appearing for store view that is restricted for a specific user
Improvement we improved code constructions for Magento Marketplace standards
Compatibility now the module is compatibly with Amasty Shipping Rules
Fix we fixed the issue with wrong assigning of products to websites
Fix we fixed the issue with entries calculation in admin panel grid
Fix we implemented a stability enhancement
Compatibility now the module is compatible with Amasty Multi Warehouse extension
Fix we solved the problem with saving restricted customer attribute
Fix the issue with admin user grid permissions on Magento 2.3.2 was resolved
Fix the issue with not saving Conditions while creating a rule was resolved
Fix the issue on the order grid for Magento 2.3 was resolved
Fix the issue on a product set-up page in the admin area for Magento 2.3 was resolved
Fix the issue with editing a customer by an admin user with restrictions by a store view for Magento 2.3 was resolved
Fix the issue with not displaying deep level subcategories was resolved
Fix the issue with editing a subcategory by an admin user with restrictions by a store view was resolved
Fix the issue with incorrect cms blocks and pages restriction was resolved
Fix the issue with editing a product while having a product attribute restriction was resolved
Fix the issue with opening static blocks was resolved
Improvement the caching mechanism for the extension was improved. Possible issues with displaying content to a restricted user were resolved
Compatibility the compatibility with Magento 2.2.6/2.1.14 was enhanced
Compatibility the compatibility with Magento B2B was enhanced
Improvement we have improved the process when a user restricted by a store view edits attributes. Now he will not have the opportunity to amend attributes
Fix the issue when categories were displayed for a restricted user on the export page was resolved
Improvement the part of the extension's code related to save and edit the store view/website scoped entities was refactored. The stability of the extension was enhanced.
Improvement the code regarding the creation of collections while creating a website/store view restriction was refactored
Compatibility the compatibility with Magento 2.2.6 was enhanced
Fix the issue the issue with showing a reviews grid for a restricted user was resolved
Fix the issue with creating a product by a user with access to several websites was resolved
Fix the issue with removing the website scope from the user role after creating a new category was resolved
Fix the issue with filtering the Attributes Access grid filtering was resolved
Fix the issue with creating a product by a restricted user was resolved
Fix the issue with leaving a product review from a restricted user was resolved
Fix the error while editing an attribute by a restricted user was resolved
Version 1.3.7
Last Update: Dec 12, 2018
Fix the issue with editing a product by a user with restricted permissions was resolved
Fix the issue with assigning a website to more than one store view per role was resolved
Improvement the reindex process was improved
Compatibility the compatibility with Magento Enterprise was enhanced
Compatibility the compatibility with the Amasty Mass Product Actions extension was improved
Improvement the stability update was implemented
Fix the issue with the enabled/disabled status of a product after saving by a restricted user was resolved
Fix the issue with saving and watching reviews was resolved
New the ability to set the same product scope for all users within a role was added
Version 1.2.9
Last Update: May 21, 2018
Fix the issue with the 'Delete' mass action on the product grid was resolved
Fix the issues with the scope restriction on the Reports - Reviews and Reports-Product-Ordered pages were resolved
Fix the issue with saving subcategories on a restricted scope was resolved
Fix the issue with product categories on specific store views was fixed
Fix the issue with permissions for saved products was resolved
Fixed an issue with getting a column on the grid in Magento Enterprise (Magento Commerce)
Fixed an issue with hiding the Save button on a product edit page when user has no access to edit this product
Fixed an issue on the categories page
Fixed an issue when an admin saves a role without options
Fixed an issue with caching restricted product categories
Fixed an issue with the error on the customer grid after reindex
New added the ability to limit access to the product subcategories
New added the ability to regulate users' access to the new roles creating and editing. For example, users with a limited role can create new users with the same role and won't be able to add a SuperAdministrator
Fixed multiple issues with category permissions
Stability and code improvements
Version 1.1.3
Last Update: Dec 12, 2017
Fixed issue with getting of websites and stores from CLI
Fixed an error with getting the default store
PHP 7.1 compatibility improved
Fixed issue with error after editing Product or Product Atrribute access
Number of minor bug fixes and improvements
Fixed an issue with missing the 'Product Owner' option for a new role in product detail backend page
Fixed categories display issue for a new role without access permission to 'Default Category'
Magento 2.2 compatibility is tested and confirmed
New feature: now you can control access to individual attributes
Version 1.0.7
Last Update: Mar 16, 2017
Compatibility with the Extended Order Grid extension
Fix for website based restrictions on shopping cart price rules grid
Restricted websites and stores are now hidden from the product page
A number of minor improvements
Compatibility improvements
Compatibility with Customer Group Catalog extension improved
Minor fix
Compatibility with Magento 2.1