GeoIP Redirect
for Magento 2
Automatically change store view, currency and language depending on visitor's location. Expand your business across other countries without creating a separate store.
Automatically detect users' location
Redirect visitors to appropriate store view or custom URL
Restrict redirection for particular IP addresses
Display prices in visitor's local currency
Ignore user agents
Broaden your business horizons with Magento 2 GeoIP extension to other countries and let your foreign customers shop easily with multi-language, multi-currency and multi-store functionality.
Improve shopping experience of your foreign customers
Confirmation pop-up before redirecting
Set introducing confirmation and notification pop-up before redirecting. Comply with the requirements of EU regulations regarding geo-blocking and country redirects.
Redirect users to a specific store view
Automatically determine visitors' location and redirect them to the correct store view. With the help of the extension you can improve customers' shopping experience by showing localized information in familiar language and currency.
Auto-switch currency based on visitor's location
The extension detects location of your store visitor using GeoIP technology and changes price currency to the one which is actually used in the potential customer's country. Also your customers don't have to choose the language prior to start purchasing - it will be done automatically.
Restrict access to your website to specific IP addresses
With Magento 2 GeoIP Redirect Extension you can block certain visitors by their IP addresses and choose the CMS page that will be displayed to the restricted customers.
Ignore search engines and user agents
Avoid unwanted store switching for user agents and search engine spiders. You can specify which of them to ignore. For your convenience the most popular search engines like Google, Yahoo, Bing, etc. are ignored by default.
Redirect only from the home page
Sometimes a user may need to see particular pages of your store just as they are. In that case you can enable 'Redirect From Home Page Only' option. Thus, as soon as viewers enter the website homepage, they would be automatically redirected to the appropriate store view.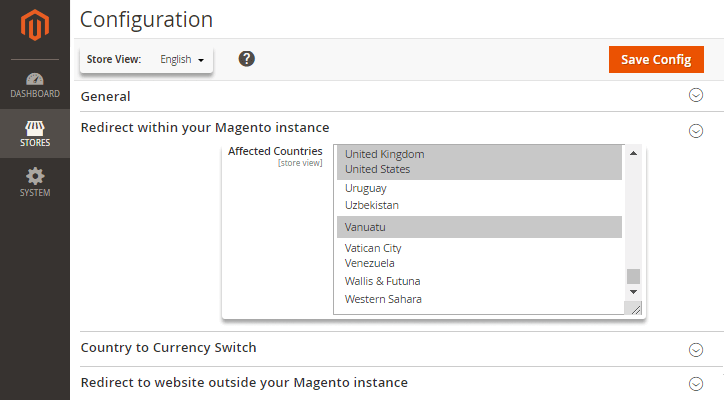 FLEXIBLY ADJUST REDIRECTION OPTIONS
Redirect to specific URLs with GeoIP extension
Use this option to redirect your customers to a specific store page, blog or your youtube channel based on their location. For example, if you don't provide delivery of some items to specific countries or regions you can redirect users from these regions to the page with the information where they can buy this product offline or find out more about your company.
Restrict redirection for particular URLs
In case you want to keep the URLs like home or FAQ page the same for all store views, you can exclude them from redirection. At the same time you can apply redirect option only to the certain store pages, e.g. Delivery info or Contacts.
Redirect users for each visit or only for the first one
Choose whether to adjust your webstore to users' geolocation and redirect them automatically or to allow them to choose which store version is more convenient. In this case they will be automatically redirected only during their first visit and then will be able to choose which store view to use. This feature works for both guest and registered customers.
Restrict redirects by IP address
Sometimes you may need to allow certain people to see your web site as it is despite their location. For example, when some of your staff works remotely from different countries. You can easily do this by specifying their IPs in the module's settings.
More content management tools with Blog Pro
Speak the same language with your customers using our
Magento 2 Blog plugin
. Let your visitors share their opinion in comments and establish a dialog with their vendor.
Product questions

How can I make Varnish Cache compatible with redirects?

How to fix the execution time limit of PHP scripts when importing the database?
Other Features
100% Open Source — Easy To Customize
Follows Magento Code Architecture
Separated HTML/CSS/JS
Simple installation via Composer
* The name "Magento" and the logo are the trademarks of Magento, Inc.
Didn't refused to help
I'd like to say the module is not bad at all. However it hasn't been without problems. When choosing us dollar currency it wouldn't save. I racked my brain till the tech group helped me with that. it turned out that problem was on my side and their devs didn't refuse to help me. Thanks a lot!
Feature Request: Switching based on Browser Language
Hi

Could it be possible to implement the browser language as a choice for switching?

Currently we have several storeviews for a country which has more than 1 official language. The geo-ip sometimes does crazy things like redirecting to be_nl/fr_nl/something when two storeviews are linked to the same country.

Maybe using the browser language we could prevent this from happening?

Kind regards

The module works well, thanks to support team
I don't know how it happened but I decided to roll the dice before xmas sale and installed the module a few days ago. When I didn't manage to import the doc I thought it's all gone. Happily the support worked that day and did everything just in 2 hours, good job! What I liked most is that google is ignored by default, so I didn't have to do any additional manipulations.
Many positive feedbacks from my customers
Finally my visitors don't have to choose the right version manually. I've use it for 3 mnth only but already received many positive feedbacks from my regulars. I had some troubles with my french store view but mistake was on my side. Anyway, the guys from support are very responsive and even agreed to talk to my admins, so we solved it soon.
Importing should be better
I agree w/ my friend that we are free to choose what we want. But I think when I buy an extension form a premier builder I'll see no troubles. I don't think so, I've saw people complained about the glitches w/ docs importing, yes, I had them too and this was the most annoying thing and it was not on my part. I had to wait for 3 days the module will finally work well after the support check. Thanks to support team they are really great, hope you'll make the moment smooth.
Very responsive support team
The choice of countries and currencies amazes but it didn't go well with setting it up. It would be great if your demo had some preselected settings, so i can see what I should put here and there on the go. As a whole, the module works well, with a 'little help' from support team, of course.
Works smoothly
I did each and every setting without any help. Yeap, though I went a few rounds with use website config, as the settings applied not only to the main website but to all the store views, I can say that if you read the user guide and notes in the backend, you'll do it in one fell swoop.
Good even for remote staff
I really don't know why people say they had troubles with uploading geoip data docs as I had no problems with that. Probably, there were troubles on your side. As for the features, excepted urls played right into my hands as most of my staff work outside Italy. I really spent time to deal with user agents, otherwise, the plugin works well.
Support team always helps
I wanted to import my own Geo Ip data docs, but they didn't upload properly, so I had to bother support assistants to help me out. Finally, in about 3 hours they replied and generated the file according to my needs. Now the module works the way I want.
The configs could be clearer
I started with importing my database an' failed then I received the error note on the absence of csv addressed to tech help they redirected me to the guide where it's said not to take the error into account. So, I have a question for you. Won't it be simpler not to confuse people with the error note at all? Eventually somehow I launched the module and now it works fine but without the tech help I wouldn't manage to run it.
Frontend Example
Redirect customers to a certain store view according to their geo-location
Magento 2.1, 2.2, 2.3
You can always download the recent version free of charge from your account
Installing an upgrade is easy — check now
My Downloads
Version 1.3.0
Last Update: Jan 21, 2020
New now it is possible to edit the redirection popup text with the help of WYSIWYG editor
Version 1.2.1
Last Update: Aug 12, 2019
Fix the issue with redirect users from Home Page was resolved
New unit tests were added to the Geo IP Data module
Improvement the code of the Geo IP Data module was refactored
Version 1.1.2
Last Update: Apr 08, 2019
Compatibility the compatibility of Geo IP Data module with Magento 2.1.x was enhanced
Improvement IPv6 support was added to Geo IP detection.
Improvement the possibility to upload the latest Geo IP Database was added
New introducing confirmation and notification pop-ups before redirecting. Comply with the requirements of EU regulations regarding geo-blocking and country redirects
New the possibility to restrict the access to a website by IP address was added
Improvement minor visual improvements for the extension settings in the admin panel were implemented
Version 1.0.18
Last Update: Jan 21, 2019
Improvement minor code improvement
Compatibility the compatibility with the Magento Full Page Cache was enhanced
Fix the issue with the redirection on product/category pages malfunction was resolved
Fix the issue with wrong geolocation detection was resolved
Fix the issue with the error when IP address fails to be found in the DB was resolved
Fix security issues were resolved
Fix the issue with the "too many redirects" error while selecting a store view was resolved
Fix the "Warning: strpos(): Empty needle" error in var/report was resolved
Improvement the location detection via GeoIP data was improved
Improvement for EU's GDPR compliance the restriction for the last IP address's digit was implemented
Fix the issue with URL replacing was resolved
Fix the issue with the incorrect redirect to categories and products when using different URLs for stores was fixed
Fixed an issue with the wrong store scope
Compatibility with the FPC extension is added.
Improved IP address check.
Improved import of GeoIP data.
Minor improvement for the "Apply Logic To" option.
All URLs" option is deactivated.
All Except Specified URLs" option is active by default.
We added URLs excepted by default .
Restriction by Ip" is renamed to "IP to Ignore" for better understanding.
Performance optimization.
Fix setting "First visit redirect only" didn't influence on setting "Enable Country --> Currency"/"Enable Country --> Store View". For repeat visit currency/store were the same.
Fixed loop redirection if option "First visit redirect only" has value - yes, and urls like http://somesite.com/intl/;
Fixed redirect after redirect;
Fixed error: Setting "Currency" in "Enable Country" didn't work if was activated "Apply Logic To" - "Redirect From Home Page Only";
Fixed currency switch on inconvenient URLs when "Apply Logic To - Specified URLs" + "Enable Country" set Currency;
Improvements for detecting IP address
Improvements for redirecting specific country to specified store
Few performance optimizations
Better compatibility with full page cache
Minor code refactoring
Possibility to enable/disable extension per each store