Screenshots:
As the Internet becomes more rapid and intuitive, users are getting less cautious. They often forget about the essential precautionary measures, when they login to their business accounts. As the saying goes: forewarned is forearmed. When you are prepared, you save yourself from many troubles and mess. The two-factor authentication extension is an easy way to get more confidence about security of your Magento admin panel.
Improve your Magento security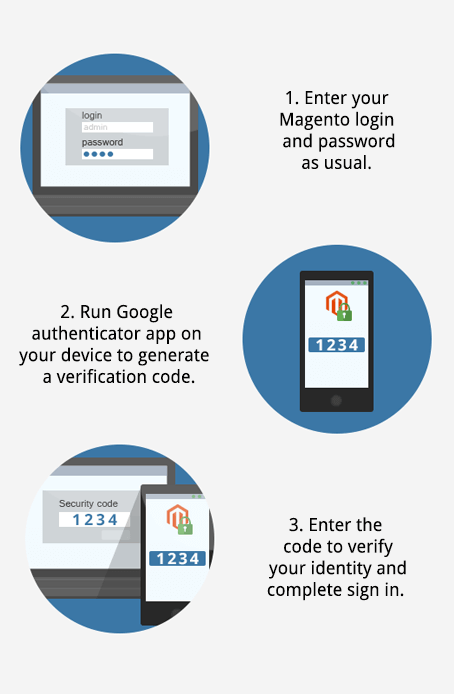 Double your Admin panel security
Two-step authentication is a simple yet efficient way to enhance your protection. This presupposes that to access your account, you have to prove yourself in two different ways. Besides from usual login and password, your mobile device becomes a necessary component of your authentication.
Protect your business account against fraud
As more services require to log in, users become less attentive. One-factor verification may become an easy target for the key loggers and data sniffing. The extension offers you a trustworthy solution of the present-day verification method, used by key figures of the industry (e.g. Facebook, Google, etc).
Use Google Authenticator to generate additional security code
Google Authenticator app is a simple way to make your personal device a crucial element for accessing the Magento account. The app generates security codes every 30 seconds, so even if your login and password were hacked somehow, there is one more additional security password.
Include reliable IP addresses in the white list
To free some IP addresses (e.g. your company) from a double checkup, simply add these IP addresses to the white list in the backend settings.
Enable security code for particular admin roles individually
The Magento 2 Two-factor Authentication extension offers a possibility to configure each admin role individually. Enable additional code for each particular company person.
Smartphone compatibility
NOTE! The extension is compatible with iPhone (iOS 3.1+), iPad, iPod touch, Android (1.5+) and BlackBerry (OS 4.5-6.0) smartphone.
Check if your device is able to run the Google Authenticator application before using the extension. This Google application generates additional security codes.

Improve your Magento management experience
Log all admin actions in your web store
To get more from admin management, check our extension Admin Actions Log for Magento 2. Track all the actions by store administrators in a real-time mode. Easily monitor the log history and all the login attempts.
Allow the admins of the store to work only with particular categories and products
For more flexible work with user permissions, check out the Advanced Permission for Magento 2 extension. You can assign different role permissions for particular managers.
Other Features
100% Open Source — Easy To Customize
Follows Magento Code Architecture
Separated HTML/CSS/JS
Simple installation via Composer
* The name "Magento" and the logo are the trademarks of Magento, Inc.
Version 1.1.1
-
November 23, 2017
– Fixed issue with missing menu tab
Version 1.1.0
-
August 28, 2017
– Compatibility with IPv6 introduced