NEW: Select a bar style
NEW: Specify cookie details
Change bar design
Manage given consents
NEW: Select a bar style
Choose 1 of 3 bar styles to fit your store and get consents at the first interaction: enable a bar with toggles, a popup bar or a sticky bar at the top or footer of the page. Each pop-up window contains detailed info about each cookie group, and customers can allow or forbid collecting any of them right in the popup.
NEW: Specify cookie details
Inform visitors what cookies your store collects. By clicking the 'More Information' link in any popup style, shoppers can find out a cookie provider, description, lifetime, etc. The more details they know, the higher the chance of getting consent is.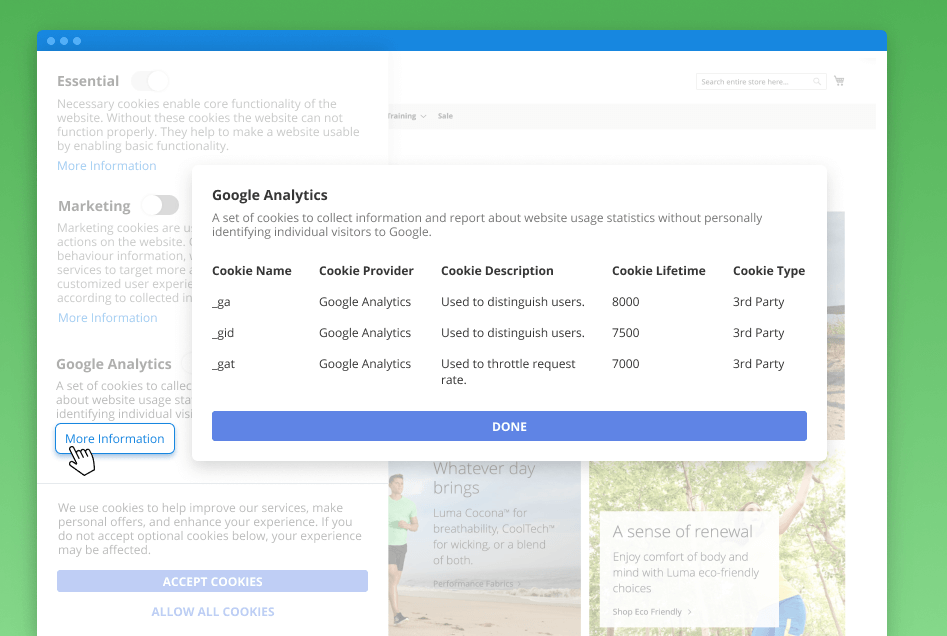 Change bar design
Each store is unique, and it's hard to find a cookie bar that will suit the store and catch customer attention at the same time. Our cookie bar deals with both challenges: use multiple customization options to make the mare look native and adjust buttons and links to motivate visitors to leave consents.
Manage given consents
All given consents are collected in the admin panel. You may check all the allowed cookies from the backend, where types and dates of consents are displayed. This documentation protects your store and lets you process cookies lawfully.