Cron Scheduler
for Magento 2
Increase revenue through a high site performance ensured by proper cron jobs processing. Efficiently track and manage all cron tasks running in the website background with Magento 2 Cron Scheduler extension.
View all existing cron tasks in a timeline order
Monitor all running and scheduled cron tasks on a separate grid
Get detailed info on each cron task: status, schedule, execution date, etc.
Track and manage all cron jobs in bulk or individually
Receive real-time error notifications on cron failures and set intervals to avoid spam
Challenge
Proper cron configuration is crucial for the correct website performance. It especially concerns vital features based on periodically scheduled activities, e.g. site re-indexation, export, import, generating Google sitemaps, Magento emails, etc. Also, managing cron jobs of both Magento 2 and external extensions requires strong technical skills and plenty of time.
Solution
Make your website run at peak performance thanks to the efficient cron jobs management with Magento Cron Scheduler. Find cron tasks execution errors in time and prevent all possible outcomes adversely affecting the Magento system. Easily manage all existing cron tasks running both by Magento and external modules on a single grid.
What benefits do you get for your store
Сontribute to a high performance of website by arranging a proper cron work
Timely detect and prevent cron tasks execution errors thanks to a visual timeline
Save up time by managing Magento and other modules' cron jobs in one place
EFFECTIVELY MONITOR ALL CRON TASKS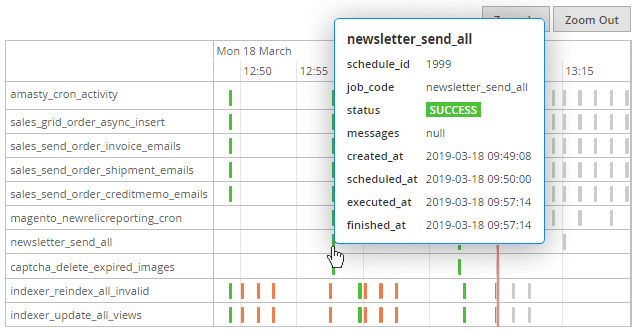 Visualize and solve cron errors on the timeline view
On the timeline, you can view all running and scheduled cron tasks in chronological order. Each task is represented as a mark of definite color so that you can easily detect cron tasks execution errors alongside successful and pending tasks. Also, each mark has a definite width depending on a task processing time. This helps you to define tasks which slow down other tasks work and timely modify the appropriate cron jobs schedule.
Save up managing time thanks to improved usability
Choose the most convenient way to handle the Cron Timeline grid. Use 'Zoom in' and 'Zoom out' buttons or hold 'Ctrl + Scroll' to scale the grid. Use 'Scroll' to move to the top or bottom of the grid. Start cron run manually any time it is needed by clicking the 'Cron Run' button. Also, Magento 2 Cron module lets you obtain details on each separate cron task on the mouse hover (the status of task, its ID, the "Scheduled at" and "Finished at" date, time, etc.).
Diagnose the cron work
The Magento 2 Cron Scheduler extension provides a separate grid listing all scheduled and executed cron tasks. Here you can find valuable insights to diagnose the cron work:
Check if cron works on the server;
Monitor if cron generates and processes task;
Detect cron execution errors.
Operate cron tasks on a Cron Tasks List grid
Run all cron tasks and generate their schedule by clicking the 'Run Cron' button. Also, clear Magento 2 cron schedule tasks in bulk, apply filtering and sorting options when it is needed.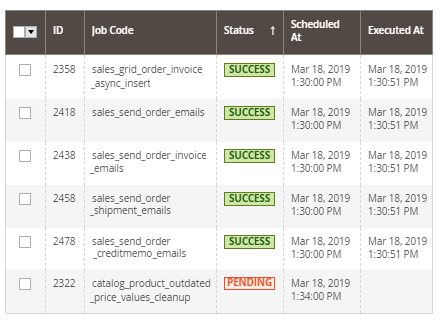 STREAMLINE CRON JOBS OPERATING PROCESS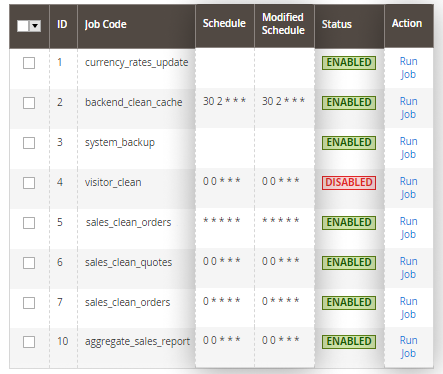 Easily manage all cron jobs in one place
Magento 2 AOE scheduler gathers all cron jobs of third-party modules together with native Magento ones on a special Cron Jobs List grid. That's why it is easy to monitor and manage the overall store cron work process. Also, the grid provides you with sufficient info on cron jobs, including a cron task status, group, schedule, etc.
Eliminate cron execution errors and delays
In case you find cron errors on the previous grids, here you can solve problems by reconfiguring the appropriate cron jobs. Easily change the frequency of cron tasks by modifying a cron job schedule right on the grid. Simply click on its record line and make the necessary changes.
Run cron jobs out of schedule
Start cron run and create tasks for a particular cron job any time you need by applying the 'Run Job' action.
Let your web store communicate with the search engines quickly and properly
Automatically generate XML Sitemaps in an efficient way with the magento xml extension.
Increase the chances for your emails to be actually delivered to customers
Send reliable emails from popular hosting services and reduce the possibility to get into spam with the magento custom smtp extension.
According to the statistics, the extension can cover each business need in synergy with the following solution: magento 2 sales category.
Other Features
100% Open Source — Easy To Customize
Follows Magento Code Architecture
Separated HTML/CSS/JS
Simple installation via Composer
* The name "Magento" and the logo are the trademarks of Magento, Inc.
semplifica il cron
Niik
Ottima estensione per tenere sotto controllo tutti i procedimenti cron
Amasty answer
Nov 06, 2020
Alena Hamolka
/ Product Team Lead
Hello Nicola, Thank you very much for your kind words. We appreciate your feedback and we are very happy that you like our Cron Scheduler extension.
No-tech-friendly
Nice helper in managing cron all alone, and up from the 1st day. There's also small question tag to check what to do. And a bonus: I'm now going to save on inhouse staff, and it's $1000 monthly. And the store doesn't lag. So, recommend

Cron made easy
I know how to work with cron, but I now started working on shop performance with this mod. It really saves time, where I needed some 20-30 mins to configure cron, with this product I need only 10-15. ckecked
could be better
Cron timeline rules. It's a good idea, just fixing detected troubles didn't work with me. My store lagged the whole day, so I called support. Guys helped and explained fixing in details. Lessons learned. But profit still lost.
Are you looking to add specific functionality for this extension or want to acquire a reliable development partner altogether? With custom development services by Amasty, you will receive high quality and cost-effective solutions developed by Magento professionals according to industry's best practices.
Magento 2.2, 2.3, 2.4
You can always download the recent version free of charge from your account
Installing an upgrade is easy — check now
My Downloads
Version 1.0.7
Last Update: Nov 11, 2020
Fix we fixed the issue with different time on cronline timeline and pop up
Fix we resolved the issue with sending emails about failed cron jobs
Fix we fixed the error appeared on Cron Timeline page after loading
Fix we solved the problem with cron scheduling changing by crontab.xml
Compatibility with Amasty Order Export was enhanced
Fix we solved the problem with cron commands running
Fix we solved the problem with running cron with custom schedule time
Compatibility with Magento 2.1.x was enhanced
Fix the issue while cron job generating was fixed
Fix the issue with redirecting to home page was resolved
We improved cron job preparation process