Admin Bookmarks
for Magento 2
The module adds handy customizable quick-links to the admin panel. Enable prompt and simple navigation through frequently used backend pages.
Bookmark frequently visited pages and return to them in one click;
Bookmark filtered data;
Create various bookmarks for different store views;
Name bookmarks at your choice;
Allow sharing bookmarks or give separate access for each admin user.
Optimize the work of your store
Navigation around the admin panel is a daily routine in e-commerce. This process can be quite slow and irritating if you need to come back to the same orders, customers, products or CMS pages over and over again. This module is designed to save your time and optimize your work.
Make Magento backend user-friendly
Instantly save any URL to a handy bar at the top of the admin panel. Now you can reach any page in just one click without wading through navigation grids. When quick links are not needed anymore, you can easily remove them.
Click on the pin to bookmark a page. When the page is already linked, pin sign turns yellow.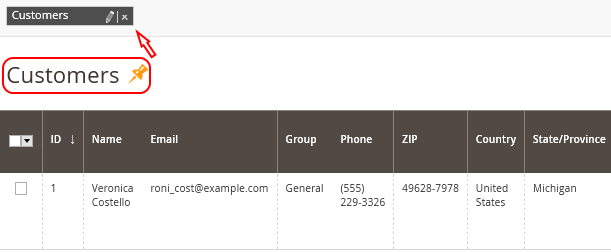 Save pages with filtered data
If you work with customer segmentation or products with different parameters, you probably apply filters every time viewing a page. This process can be quite time consuming. Bookmark a page when filters are already applied; the preferences and the data will be saved and reachable through the quick link.
Bookmark pages for different store views
If you choose a store view and then bookmark a page, this bookmark will be saved only for the selected store.
Rename bookmarks
It's possible to rename bookmark tabs to recognize the saved info at one glance. It comes in handy when you save the same page with different filters, for example.
Separate bookmarks for each user
If 'Share bookmarks' option is set to 'No', each of the backend users will be only able to create their own set of bookmarks. Users will not be able to view or use anybody else's marks. It helps keep backend comfortably sorted for each user and differentiate the work at the same time.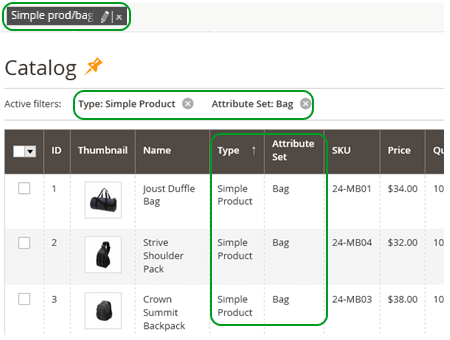 Common bookmarks for all users
If 'Share bookmarks' option is set to 'Yes', you can display all bookmarks for all users. This option will make all bookmarks common for all your staff. Quite handy feature when all the team works on the same project.
Other Features
100% Open Source — Easy To Customize
Follows Magento Code Architecture
Separated HTML/CSS/JS
Simple installation via Composer
* The name "Magento" and the logo are the trademarks of Magento, Inc.
Excellent. As all extensions by Amasty.
It's small and very useful extension, which allows for fast navigation across the admin panel. I have many extensions from Amasty and they all are just great.
Magento 2.1, 2.2, 2.3
You can always download the recent version free of charge from your account
Installing an upgrade is easy — check now
My Downloads
Version 1.0.6
Last Update: Jan 24, 2019
Improvement minor visual improvement for the extension settings in the admin panel
Fix security Issues were resolved
Improvement the compatibility with the 3rd party extensions was enhanced
Fixed an issue with saving filters in bookmarks
Compatibility with Magento 2.1