Mass Order Actions
for Magento 2
Grow sales revenue by automatically processing multiple orders faster with Magento 2 Bulk Order. Send invoices, submit shipments and edit tracking numbers right from the grid just in a few clicks.
Manage orders in bulk right from the grid
Apply chosen actions to multiple orders in one go
Display and edit tracking numbers on a handy grid
Utilize action combinations to process orders faster
Get all must-have order tools in one pack
EFFECTIVELY MANAGE MULTIPLE ORDERS
Challenge
If you are running a huge store with tons of daily orders, you know for sure that accurate order processing and fulfillment always requires a lot of time and effort. This is especially true on busy holiday seasons. By default, in Magento 2 you process orders manually one-by-one, which is burdensome. Moreover, this may lead to errors in shipping or invoices and therefore cause loss of income.
Solution
With Bulk Order Processing extension for Magento 2, you'll be able to improve your order management and start editing multiple orders right from the grid in bulk. Invoice and ship orders, change order statuses, specify tracking numbers and use action combinations to make order processing as easy and smooth as possible. Also, import the necessary data to speed up order management even more.
What benefits do you get for your store
Grow sales revenue by reducing the time spent on order processing/p>
Save time by automatically processing a large number of orders
Enhance customers' loyalty by providing precise order management
SAVE TIME AND BOOST REVENUE WITH ADVANCED ORDER PROCESSING TOOL
Manage order statuses quicker
The Mass Order Actions tool enables you to set a default status for each particular action. It means that it will be automatically applied together with the corresponding action. You can also change statuses for specific orders if necessary.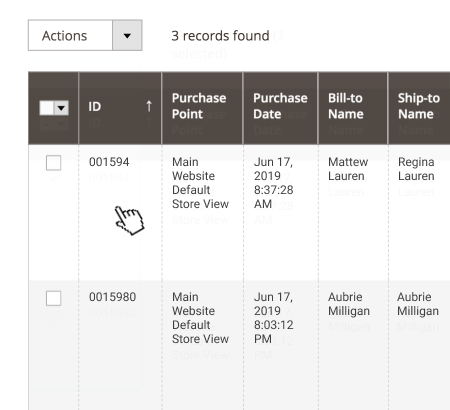 Massively send the tracking info from the grid
This mass action allows you to send a huge amount of shipment emails to your customers right from the grid in a few clicks. It saves time as you don't have to go to each order anymore to send the tracking info.
Create invoices right from the grid
Magento 2 Bulk Order Processing module allows you to create and send invoices on a handy grid. There is no more need to open a separate order page each time you have to send an invoice. Simply add the corresponding action to the actions dropdown and apply it to all selected orders.
Ship orders in one click
Starting the process, you can not only view Magento 2 carriers for products, but also update shipping info in bulk. Change the carrier or ship all the products with the dropdown menu.
Take advantage of flexible settings
Thanks to multiple extension settings, you can choose mass actions that will be available on the order grid. Once you've selected necessary actions, they will be shown in the actions dropdown on the grid.
Use actions combination
To process orders even faster, use actions combination. If you need to invoice and ship orders at once - you don't have to apply the actions one by one. Just choose the 'Invoice > Ship' option in the dropdown and perform two actions in one click.
MANAGE SHIPPING DATA WITHOUT ERRORS
To make sure both retail and wholesale customers will be satisfied with the shopping experience, goods must be sent quickly. Bulk Order extension will help you organize grid views for various purposes according to the store admin needs. Hide unnecessary columns and enhance order processing. More importantly, now you can edit shipping details right on the grid and even more.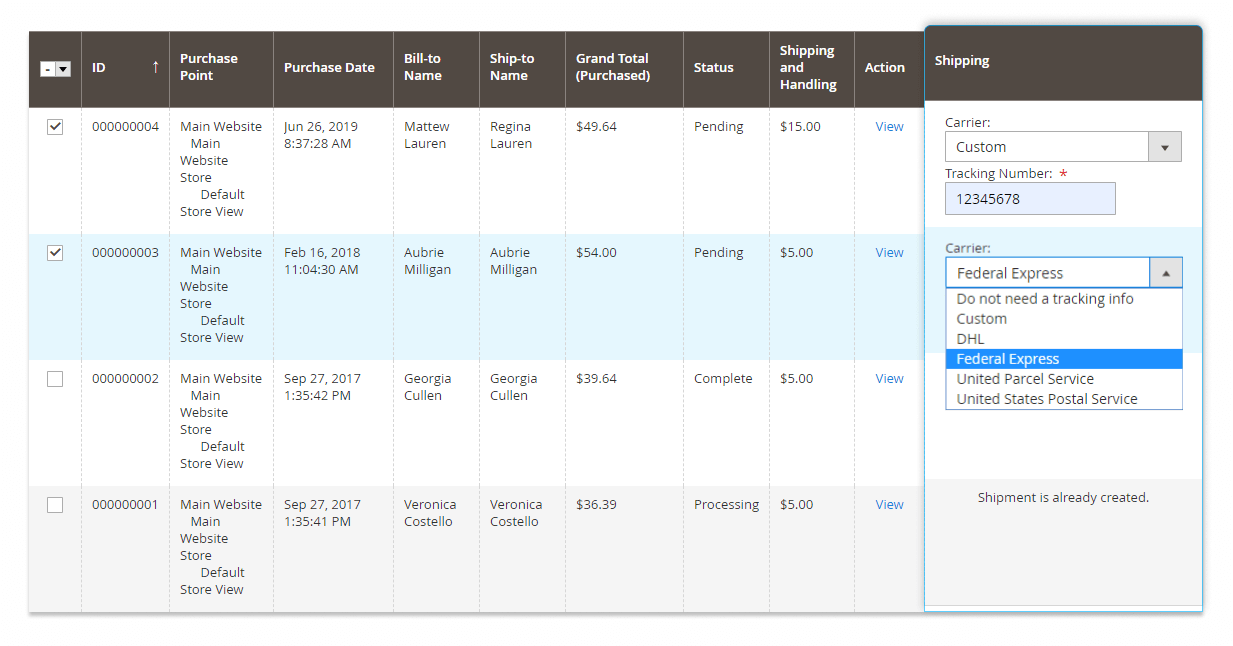 Provide seamless order cancellation
Increase customers' loyalty by allowing them to cancel their orders right from the frontend. Save your time scheduling an automatic annulation of pending orders with
Magento 2 Cancel Orders tool
. Analyze cancellation reasons and timely make sales strategy improvements.
Optimize grid display
The integration with
Extended Order Grid for Magento 2
extension allows you to modify grid template as you wish to fit it for various business needs. Create custom columns to display new product characteristics, benefit from drag-and-drop to assign attribute position, etc.
According to the statistics, the extension can cover each business need in synergy with the following solution: magento 2 bulk change category.
Product questions

How to get the shipment tracking number in Magento 2?

Providing the ability to track order numbers is an essential element for online shopping. This allows the buyer to track the delivery of the goods, find out about delays, and quickly resolve issues with the seller. Tracking shipment is an important point in supply chain management. So that store owners can implement a number of methods to get order tracking numbers in Magento 2.

Read the FULL answer
Other Features
100% Open Source — Easy To Customize
Follows Magento Code Architecture
Separated HTML/CSS/JS
Simple installation via Composer
* The name "Magento" and the logo are the trademarks of Magento, Inc.
Timesaver! Recommnded
A flexible module that makes order processing much easier and faster. Now we don't even have to manually add tracking numbers - they can be imported from one file. Though we had some isses with order statuses and actions on the grid, the ext works fine most of the time.
Quick closing orders
For us, closing orders always takes a lot of time especially in peak season. Now we just select as many orders as we need and use a combo of invoicing and shipping actions to close them. So just a few clicks and that's it. Installation went fine, w/o issues.
recommended
We have been recommending this tool for M1 for each and every client we had with Magento. Now we are doing almost the same here - I know that Amasty does a lot of updates for their extensions, so I hope that very soon the functionality will be as rich as it is for the M1 copy.
Backend
you'll be logged in automatically
Are you looking to add specific functionality for this extension or want to acquire a reliable development partner altogether? With custom development services by Amasty, you will receive high quality and cost-effective solutions developed by Magento professionals according to industry's best practices.
2.3.6, 2.3.6-p1, 2.4.0-p1, 2.4.1, 2.4.1-p1, 2.4.2
You can always download the recent version free of charge from your account
Installing an upgrade is easy — check now
My Downloads
Version 1.5.10
Last Update: Nov 05, 2020
Fix we fixed the problem with downloading the sample file with tracking numbers on Import page
Fix we resolved the issue with the absence of options for mass actions when other 3rd party solutions adding mass actions are installed
Fix we fixed the issue with the 'Change Status' mass order action
Fix we solved the problem appeared when using PHP 7.0
Improvement now the Orders grid contains the additional mass action that allows sending tracking information with multiple selected orders
Fix we fixed the issue with HTML tag
in the confirmation message
Fix we fixed the issue with order status changing after performing 'Invoice' mass action
Improvement we improved code constructions for Magento Marketplace standards
Fix we fixed issue with getting broken orders via repository and error on order grid
Improvement we implemented a compatibility enhancement with Amasty Custom Order Status and Amasty Order Attributes extensions
Improvement we added the validation for the import CSV file column names.
Improvement we added an option 'Do not need tracking info' for the ship action. The 'Tracking Number' field will not be displayed if 'Do not need tracking info' was selected.
Improvement we improved the 'Change Status' action operation and increased its stability.
Fix we have added the refreshing of data in the sales grid after a change status action. Issues with not showing a new order status were resolved.
Improvement minor visual improvement in the admin area.
Fix the issue with not sending e-mail notifications while using mass actions was resolved.
Fix the issue with templates paths was resolved.
Compatibility the compatibility with Amasty "Order Attributes" extension was added.
Version 1.4.1
Last Update: Jul 11, 2018
Fix the issue with the status change from the grid was resolved.
New added the option for receiving payment via invoice
fixed an issue with the incorrect status assignment in Magento 2.1
Version 1.3.0
Last Update: Mar 27, 2018
fixed an issue with the display/hide actions on the order grid
UX improvements for creating shipments from the grid without a tracking number
Version 1.2.0
Last Update: Mar 15, 2018
New added the option to define the list of statuses that are available on the order grid
Version 1.1.0
Last Update: Feb 08, 2018
New added the ability to add the tracking numbers using the Import functionality
Version 1.0.6
Last Update: Nov 29, 2017
New added a possibility to ship without tracking number.
Improvement Magento 2.2.x compatibility was tested and confirmed.
Compatibility compatibility with Amasty Order Attributes extension was added.
Fix an issue with incorrect display of shipment status on grid was resolved.
Improvement enhanced compatibility with Magento 2.1.5.
Fix minor fixes for shipments.
Improvement minor improvements for working with shipments.
Improvement compatibility with the Order Status extension was improved.
Fix added minor fixes in code syntax.