1/8
Admin Bookmarks
for Magento 1
Create bookmarks for frequently used backend pages to implement an efficient admin navigation.
Easily navigate on Magento backend
Bookmark filtered data on pages
Each user has separate access to bookmarks
Name bookmarks as you like
Store management is all about returning to the same pages again and again. Magento native functionality makes it longer and even more irritating. Now you can create your own backend navigation by placing the most popular pages you use in a bar with tabs.
Admin navigation
Set up quick links bar at the top of your Magento backend to simply navigate between needed pages.
Speed up your store management
Save any admin URL, including customer, order, CMS or product pages. Name bookmarks as you want to easily recognize the saved info.
Bookmark pages with filtered data
When you moderate pages and apply particular filters the filtered data stays saved. It's extremely useful when you work with customer segments or products with definite options.
Easy access to the most used pages
Add bookmarks to backend pages, which you use more often. Click on the pin image next to the page title. The pin is colored yellow once becoming a bookmark.
Individual bookmarks for each user
Users can edit only bookmarks for their accounts. If 'Share bookmarks' option is enabled, they can only see the other users' bookmarks. When the work is clearly differentiated, it helps to keep each user's backend in order.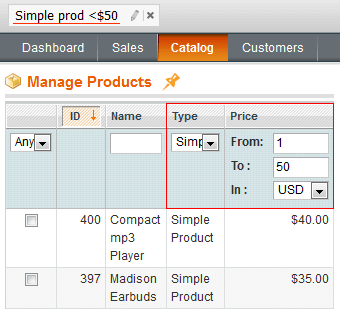 Supports store views
You can create bookmarks for different store views. Just choose needed store view and bookmark pages, they will be saved only for this store view.
Sort tabs with drag and drop
Work can become a lot more effective when all the necessary tabs are at hand. Simply drag and drop the bookmarks to sort them comfortably.
Find out how to easily create admin bookmarks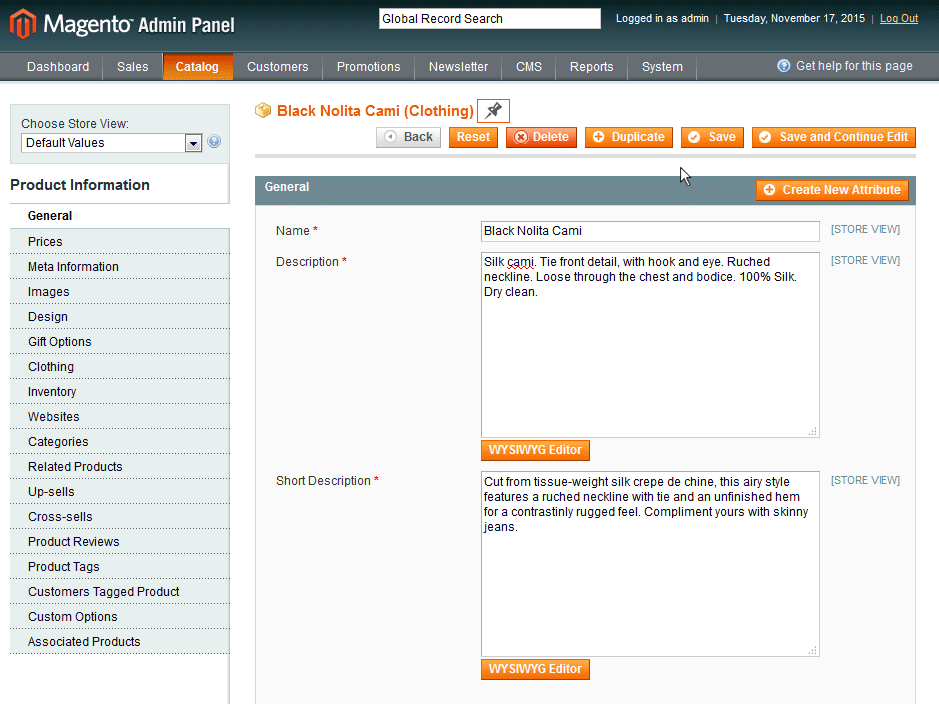 Want to know how to extend your product grid for admin users?
Try out the Magento admin grid w/t custom filter extension. Add a limitless number of product attributes and edit them right on the grid. Display product categories in one place.
Other Features
100% Open Source — Easy To Customize
Follows Magento Code Architecture
Separated HTML/CSS/JS
Simple installation via Composer
* The name "Magento" and the logo are the trademarks of Magento, Inc.
Excellent extension!
Purchased this extension and it has really made our life easier. Makes it so much faster to work in the admin backend without having to go through all the menus.
This is something every store should have!

You need this extension!
You've all experienced this. You know where all the admin functions you use on the menu are located, you don't have to even think about it, your mouse goes there automatically. Then you install a new extension and it adds something to the menu and everything shifts. Or it's tricky getting to Catalog > Reviews > Customer Reviews > Pending Reviews on your smartphone. Or you just have to go to System > Cache Management and System > Index Management a lot.

Admin Bookmarks solves all those problems, and more. Just pin those functions to the top of the admin screen. And being able to pin a specific filter view is awesome. I'm working with a product brand and I want to see all of them on the screen. So I filtered by brand, sorted by SKU, with 200 per page and pinned it. Now I can bring that view up instantly while I'm working with that brand.

The only think I didn't like about the extension was that you couldn't rearrange the bookmarks. I opened a ticket and said it would be nice if I could drag and drop the bookmarks. They replied and said they would put that in a future release. A few days later I got another reply that the new release with drag and drop was ready for download!

This extension almost seems too simple. Sure, it only saves you a few seconds a day. But it's not about saving time, it's about making your admin tasks easier. I've been amazed at how much more smoothly my daily tasks run when I can go directly to a page instead of flipping through menus.
Timesaver!
The mod is very simple - it adds additional navigation to magento backend. When I work with particular magento sections like cart price rules or customer groups I bookmark them to the top of my admin panel and quickly switch between them. It saves me lots of time, especially on holidays. My developer also highly rated this novelty.
Write Your Own Review
You can always download the recent version free of charge from your account
Installing an upgrade is easy — check now
My Downloads
Version 1.2.3
Last Update: Nov 19, 2018
Fix the issue with the error on the extension's configuration page was resolved
Fix The issue with error ouptup was resolved
Fix security issues were resolved
The "Access Control List" option is added. Now admin users can rename or edit only their own tabs.
Version 1.1.0
Last Update: May 30, 2016
New feature: now it's possible to re-align (sort) tabs with the drag-and-drop option
Version 1.0.2
Last Update: Dec 18, 2015
Change the color of a pin button when deleting the current page from the bookmarks
Minor fix for the backend controller