Edit Lock
for Magento 1
Lock your backend tabs and pages to prevent them from being edited by multiple admin users simultaneously in order not to lose important store data. Effectively manage the work of admin users and increase their productivity.
Lock certain backend pages for specific admin users
Clearly show which tabs and pages are being edited at the moment
Specify custom time for lock duration
Let particular admin users decline the lock of specific pages
Enable admin users to open and view locked pages
Effective store management
Looking for a handy tool to effectively manage the work of your staff and quickly edit store information without any data loss? It's a really hard task to do, especially when numerous admin users start editing one and the same page synchronically. This may lead to partial or even total removal of important changes made by one of the store admins.
Edit Lock Magento extension will help to prevent your backend tabs and pages from being edited by two or more store administrators simultaneously and keep your store data up-to-date and clean. Mark tabs and pages which are being edited with a lock icon and block them for other administrators within a specified time period. Therefore, all data changes will be successfully saved one by one.
Lock options for multiple pages
With the simultaneous edit lock module for Magento you will easily block numerous store entities for all or specific admin users. To keep store data save and prevent backend changes from overlapping you can lock the following pages:
Products
Customers
Product Аttributes
Shopping cart price rules
CMS pages
CMS blocks
NOTE: When someone edits store data other admin users can easily open and view locked pages as well as switch between tabs, but the editing mode will be disabled.
Mark tabs which are being edited
Let admin users clearly see which tabs and pages are being edited by others. Special lock icon will be displayed on the customer, product and other grids. In case the admin user hovers the mouse over a particular icon, he/she will see the name of the store admin who edits the page at the moment.
Display warning message
The informative message containing the name of an admin user who is editing the tab and the time when he/she started working is displayed on each page marked with the lock icon.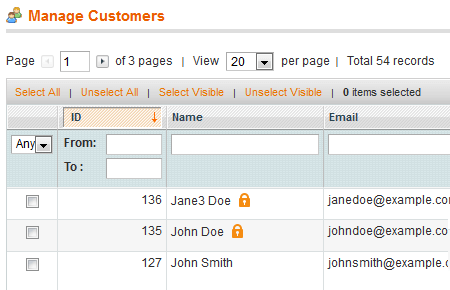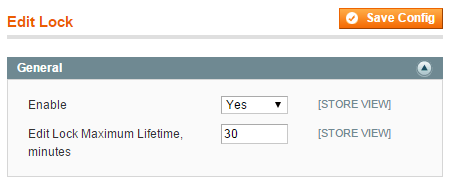 Specify maximal time for lock option
The module enables you to set the maximal time for lock duration. For example, if you specify 30 minutes, the page will be unavailable for editing within the set time period since the first admin user started working on it.
Advanced features for admin users
Remove lock option
With the Magento lock editing extension you can enable particular admin users to decline the lock option if necessary. Simply tick the corresponding option while creating custom roles for such users, and they'll be able to easily remove the lock at any time they need.
Limit admin actions
The module's functionality allows you to switch off the lock feature for some admin users. In this case when the admin user with the disabled lock option edits a specific page, this page won't be marked as locked and will be available for editing by other admins.
Other Features
100% Open Source — Easy To Customize
Follows Magento Code Architecture
Separated HTML/CSS/JS
Simple installation via Composer
* The name "Magento" and the logo are the trademarks of Magento, Inc.
Quality module
I've been looking for such a module for ages. The tool is easy to navigate and use. The fewer options - the fewer problems, so this small module really does its job and does it well.

Highly recommend it to everyone who runs huge stores with more than 2 admins - really helps in saving product data and avoid overlapping.
Are you looking to add specific functionality for this extension or want to acquire a reliable development partner altogether? With custom development services by Amasty, you will receive high quality and cost-effective solutions developed by Magento professionals according to industry's best practices.
CE 1.4.x - 1.9.x, EE 1.8.x - 1.14.x
You can always download the recent version free of charge from your account
Installing an upgrade is easy — check now
My Downloads
Version 1.0.4
Last Update: Nov 08, 2017
Fixed issue with function getUserId
Products are now being locked (depending on the new setting) when using "Update Attributes" mass actions
Possibility to remove lock set by yourself