Zero Product Sales
for Magento 1
Add a special 'Zero Sales' report to find out which of your store items are not selling. Sort products by type, status, price and other parameters to keep track of all zero sellers. Modify special price right on the grid to improve your marketing strategy and boost profits.
Detect zero-sellers and low-performance items
Generate reports within specified time period
Export reports data to CSV and XML files
Disable particular products right from the grid
Apply mass actions to change special prices
Do you know how much money you lose on zero sellers every day? Why keep offering items which don't bring any profit? With the Zero Product Sales extension you will easily convert lost opportunities into sales. Due to automatically generated reports you'll be able to keep track of all store items which are not selling. Easily change product special prices right on the 'Zero sellers' grid to draw customers' attention to necessary items and increase sales. Get additional reports on your store performance with the Magento reports extension.
Keep track of 'zero sellers'
Add a detailed zero selling report
The module automatically generates an informative report which includes the list of all store items with low and zero sales. Due to the report an admin user will quickly find out which products don't enjoy popularity and eventually don't bring any profit.
Set the time period for report generating
Specify any time period you need for accurate report generating to get precise information. This handy option will help you create up-to-date reports and immediately modify special prices if necessary.
Specify maximal allowed number of sales
The module allows you to generate reports basing not only on zero sales, but on low sales as well. Therefore, you can specify the number of product sales that should be also included in the report.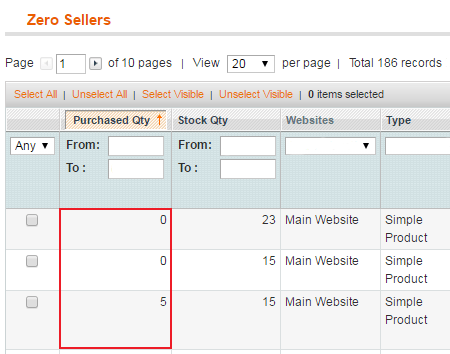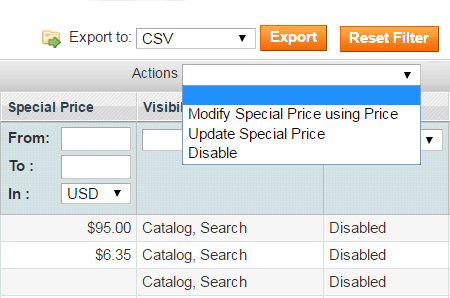 Modify special price right on the grid
To make unpopular items more attractive to customers you can easily assign special prices to corresponding products and change them if necessary. With the zero sales tracking tool you'll be able to modify special prices right on the grid in a couple of clicks. Choose one of two price modification modes:
Modify special price using price;
Update special price;
Change special prices in bulk
Due to flexible settings it's possible to edit and assign special prices in bulk. Simply select necessary items, choose the price change mode, specify the price change amount (e.g. -20, +10) and click the 'Submit' button.
Export the 'Zero sales' report
Export report data to CSV and Excel XML files for further consideration. Look though zero sale items to find out the reasons for their low popularity and change your marketing strategy accordingly.
Disable products from the 'Zero sellers' grid
In case you want to stop selling particular products from the zero sellers list you can easily disable them right from the grid. Use the 'mass actions' option to switch off multiple items in one go.
Filter zero sellers by different parameters
The module lets you easily sort grid items by product type, name, status, price, stock quantity and other criteria to quickly find necessary products and modify their data the way you need.
Other Features
100% Open Source — Easy To Customize
Follows Magento Code Architecture
Separated HTML/CSS/JS
Simple installation via Composer
* The name "Magento" and the logo are the trademarks of Magento, Inc.
Great extension
I am always happy to find such clever extension for my Magento. Works great !
Amasty answer
Sep 06, 2018
Natalya Chekanina
/ Head of Sales Team
Maxime, thank you for your review! We'll be glad to see you in our store again!
Great extension
Great extension, even better support. Amasty fixed an issue in the first version which made the extension slow to load. Now it works just fine.
Helpful and free
I was pleasantly surprised to come against this free plugin. It really adds some points to our store functionality and generates pretty good zero sales reports. The app installation was easy and everything runs as described. I've been using it for two days and hope it'll work the same way as it does now.
Are you looking to add specific functionality for this extension or want to acquire a reliable development partner altogether? With custom development services by Amasty, you will receive high quality and cost-effective solutions developed by Magento professionals according to industry's best practices.
CE 1.4.x - 1.9.x, EE 1.8.x - 1.14.x
You can always download the recent version free of charge from your account
Installing an upgrade is easy — check now
My Downloads
Version 1.0.1
Last Update: Aug 19, 2016
Significant improvement of report execution time