Promo Banners
for Magento 1
Now you can increase profit from each order! Place image banners on the customers' path to purchase - offer them promos which will stimulate them to add more items to cart.
Display promo banners on the cart, category and product pages
Display promo banners among the products
Inform customers about new deals in an engaging way
Show deals relevant to the products viewed by customers
Mobile-friendly design
Promote specials efficiently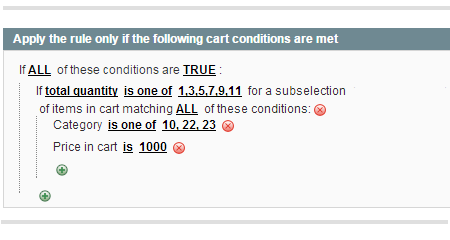 Show relevant promotions to customers
Standard Magento CMS functionality doesn't allow creation of banners according to specific conditions, that's why sometimes it's just impossible to display ads to relevant target audience. The Magento 1 banner extension comes to the rescue. Display banners with special offers, which are highly relevant for customers' situations. E.g. cart subtotal is less than 50, so show banners saying "Free shipping for orders over 50" or "add 1 more item to get a discount". Such banners will stimulate customers to buy more products and increase your income.
Lists of promoted products
Due to Magento easy banner module you can make specials more relevant with the list of promoted products added to your HTML-, cms-block- or image banner. Customers will get much more involved in the shopping process choosing the very free or discounted item they prefer.

Get more out of upsells
With this Magento banner manager tool you can easily set banners to show only when a customer has already added something to cart. Find out, which products are often bought together, e.g. suits and shirts. And when customers add one of them to the cart, offer him or her a relevant upsell product by displaying a banner, which is impossible not to notice. The great thing is it will be shown automatically each time the conditions are met.
Activate impulse purchases at your store with Magento category banner option
Easy-to-use Magento 1 banner manager enables you to show product list banners on product or category pages to stimulate customers add items to cart.
Encourage your customers to purchase more
To increase average order amount you have to motivate customers to buy another product or the product you need to sell. For example, on shirt pages you can display Magento banners saying that customers can get 20% off for a tie with each shirt. Catch the opportunity to bring your upselling to a new level.
Display banners based on search terms
Banners can be shown when certain search terms are used by customers. This feature works very well in combination with our other module Search Pro.
Display banners for customers from particular countries
The extension offers a convenient feature, that display banners depending on customers' location. Simply select necessary countries on the general settings and the extension will consider the users' GeoIP addresses.
Gather statistics via Google Analytics
It's possible to analyze the effectiveness of your promo campaigns using Google Analytics service. You just need to specify the tracking code and monitor the number of clicks on the displayed banners.
Clearly inform customers about deals
New positions for banner are available
Often customers don't accept deals just because they don't know about them. Now they will not miss anything with a Magento banner that can be displayed in various places of the page, where you think it will work best:
right on the top of page;
on the homepage directly under menu;

new!

among the products on the list
above the list of items on the shopping cart page;
above the product description;
in the sidebar.
It is also possible to choose different places on the mentioned pages.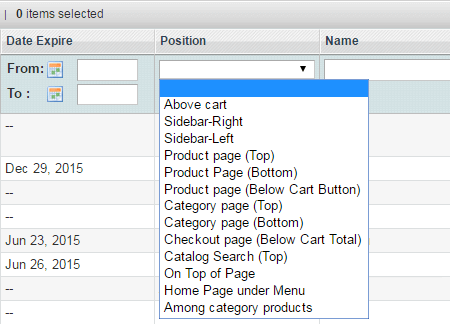 Show banners based on product attributes
When you offer a deal for a particular product or a group of products, it is necessary to display a banner in Magento right on the pages of these products to increase conversion rate. With this Magento easy banner tool you can display banners based on product attributes, e.g. for all green products or for all monitors with resolution 1920*1200.
Present visual information to customers to make your specials more effective:
According to the latest researches (http://www.billiondollargraphics.com/infographics.html), human brain processes visual information 60.000 times faster than plain text. It means that the decision to make a purchase will appear faster and won't take much time and effort
Take into consideration that 60% of the world population are visual learners, so the proven way to success is to capture their attention and loyalty
Decrease the number of abandoned carts
Prevent customers from abandoning carts
Again, according to researches, from 50 to 70% of customers abandon their purchases when visiting e-commerce stores. While there are a variety of methods for recovering abandoned carts, you can still 'catch' customers before they leave your website. Magento checkout promo banners will enable you to influence your customers' choice with the banners shown based on the shopping cart contents - let them know, that there are specials.
Inform customers about free little gifts
Use a colorful banner to inform about a free gift, when a customer's order satisfies the necessary conditions. Moreover, give the customer a chance to choose ANY gift he/she likes from the list above the cart! E.g.one of 4 free nice belts for the trousers which are already added to the cart. Give customers the final decisive reason and they will never leave your web-store without a purchase!
Use in combination with promotion extensions
Already using Auto Add Promo Items and Special Promotions extensions for decreasing shopping cart abandonment? Promo banners extension is a great addition to make your promotions visually attractive and a lot more effective!
You can also enhance your promotions with Product Labels highlighting 'on sale' products, products with special price, new products, etc.
Summary of banner features
3 types of banners are at your disposal: upload images, use cms-blocks or format banner with HTML-editor.
It's possible to add lists of products to all banners types. In this case customer will see product list under the main banner.
Show Magento banners on product and category pages or in shopping cart.

new!

Choose how many banners to show on the same position. In case several banners are active for one position you can choose whether to show a banner with the highest priority or all banners, sorted by priority.
Create 'smart' banners, which 'review' shopping cart content and appear depending on it - indicate conditions based on subtotal, product quantity, product attributes, shipping address, etc.
Ability to specify multiple product categories for banner display. This means you can show banners at pages of all products from certain categories.
Display banners for products based on the product attributes. E.g. show banners only on pages of products of HTC brand.
Choose store views and customer groups for which to display offers.
Link banners to any page - either to your website or to some other one. So you can promote offers from both your store and other ones. So you can use high-traffic established stores to advertise the new ones you've just started.
Specify priority. When there are two or more banners for the same position, the banner with higher priority will be displayed at the top. You can also select dates and time for banner display.
Winning combination with other modules
Do your utmost to create effective promotions
Promo Banners is also a great addition to Special Promotions extension. By equipping your store with such a combination of tools you'll be able to create catchy promotions and timely inform customers about all the deals you offer. Why not make promotions visually attractive and much more effective?
Let's check out the way you can provide customers with a free product with purchase or the products with a percent discount:
Step 1 Create the rule like 'Buy X, get Y' with the help of Special Promotions module. You can specify as many product SKUs to offer with a discount as you wish.
Step 2 Create the rule for Promo Banners to inform shoppers about the chance to get a free item or the item with a discount. The banner will be displayed when a customer adds to cart X product, but doesn't add the promo item (Y product).
For example: A customer adds to cart 2 shirts and above the cart he/she sees the banner offering to add a pair of shoes with a discount. In case you've specified several product SKU's, the customer will get the opportunity to choose one of the promotional items among the products you've specified in the rule. As you can see, the tool enables you to offer not only simple products as promotional items, but configurable ones as well.
You can also enhance your promotions with Product Labels highlighting 'on sale' products, products with special price, new products, etc.
Product questions

Can I display promo banners on my homepage?

Yes, sure. You can enable a homepage banner or a category banner by changing settings at the 'Banner Position and Type' tab. Go on reading to see the screenshot of settings.

Can I create different banners for each category of my store?

Yes, you can create different banners for different categories pages. Go on reading to see the settings.

Can I control banners display by store view?

Yes, with the Promo Banners extension you can choose in which store views to display the banners and select customer groups to whom you want to show them. To see all the settings continue reading.

Can I display banners on certain product pages only?

Yes, there are two options for you to specify product pages where your product banner should be shown: by SKU or by product attribute. Read the complete answer to follow the bit-by-bit instructions.

Is it possible to tag banners with utm tags for Google Analytics?

Yes, you can tag banners for Google Analytics in Promotions section. Read on to see more details.

Can I show a promo banner like "Spend $X more to get free shipping"?

Yes, sure, all you need is to set appropriate Cart Conditions on the Banner Page. Go on reading to see how to make it correctly.

What is the difference between Magento Enterprise default banners and this extension?

Magento EE shows banners for already applied rules, while this module allows you to create the rule to advertise special offers. For example, the cart is $86 and you have free shipping + gift on orders over $100. So you can show this banner to the customer to stimulate him to add $14 product, and then, when he adds the product, you can *hide* this banner and show a new one, say for "each 2-d free for orders over $150".

Can I add banners to any custom positions?

Yes, sure. You can use the block in any of the positions: above a cart, sidebar, product/category page, etc. To see the code follow a complete answer.

Read the FULL answer
Other Features
100% Open Source — Easy To Customize
Follows Magento Code Architecture
Separated HTML/CSS/JS
Simple installation via Composer
* The name "Magento" and the logo are the trademarks of Magento, Inc.
Really great extension for displaying promotions
Purchased this extension and it really turned better than we expected. It is really easy to add different promotional banners all over the store. Can really recommend this extension.
good
The extension is really feature rich, but detailed guides and tutorials on integration with other extensions mentioned in the description would really help. Had to spend some time and ask a lot of questions to the support to figure things out. I think you guys will also save time if you write those tutorials =)
Pretty good but has a major flaw
Have been using this for a few weeks now and has been pretty useful.
There is one big problem however. When you include a search term for the banner to be displayed it is case sensitive. I made a banner for a product and wanted the banner to show up when someone searched for the item. After it was on our live site I could not get the banner to display. We came to find out that it was because we had used all caps for the search term when setting up the banner and while searching on the site we were not using caps. Seems a little ridiculous.

Love it!
Saves me a lot of time and I love the functionality. The only one thing which I would love to change is the way of picking menu. Since we have a lot of them it takes a while :)
Evelina
Magento Connect
Works like a charm
I have been looking for any module which can add banners with promos on my jewelry store as I can't do it myself. Finally I decided to buy this one.
The extension is simple, just does that supposed to be. What I like most about it is a possibility to display banners in different places of the store. All the options are perfectly compatible with my store theme.
Amasty helped me to install module just at once as I wrote them. I was very pleased with such attentive response. Good company, it made my day!
abizned
Magento Connect
Really usefull
A client asked if he could easily and regularly change banners himself. After trying myself I found it pretty complicated to do, especially in his custom templates.After some browsing I found out Amasty, which already supplied his shipping restriction, did an extension for this. After installing and testing it does exactly what it says on the label. Client happy, developers happy.

Magento Connect


Amazing support!
It was a tragedy when before the day the promotion for Valentines day should start - the banners broke because we changed design scheme. Amasty played the role of magician. They made everything work with our design scheme and we succeded with our promotional campaign.
Easy to use and efficient
Bought the extension for the opportunity to create and place banners in an easy and quick way. I especially like the choice of variants for banner positions. Conversion increased 20% - i'm happy.
Product list banners - great feature!
I really like the feature of banner with product lists! It's easy to create and really efficient!
The best module for banners creating!
I searched for a solution to create banners quickly and easily, and Amasty's module is the best among all. Thanks!
Increased conversion 10%!
The module gave me great opportunity to place banner, offering 50% on second purchase, for the customers who have already 100 dollars-product in the cart! Conversion increased by 10%! Wow!
Show customers your promotions
This extension is a great tools for everyone who want to infrom customers about different promotions and free gifts. And also this extension plays stimulative role for customers, now they buy more. I'm really happy

Regards,
Alan
The coolest extension ever!
I bought the extension after reading their newsletter, where they showed some tips how to use the mod. I applied a few at my store, a banner on cart page and on category page, and am very glad! According to GA the number of returning customers has increased by 15% in 1,5 month. Surprisingly high.. thank you Amasty!

beavum,
Magento Connect
Are you looking to add specific functionality for this extension or want to acquire a reliable development partner altogether? With custom development services by Amasty, you will receive high quality and cost-effective solutions developed by Magento professionals according to industry's best practices.
CE 1.4.x - 1.9.x, EE 1.8.x - 1.14.x
You can always download the recent version free of charge from your account
Installing an upgrade is easy — check now
My Downloads
Version 1.3.7
Last Update: Nov 08, 2018
Fix security issues were resolved
Fix the issue with promo banner's name saving was resolved
Fix for category condition validation
Fixed possible issues on banner saving
Fixed `All Categories` assign
Fixed JS error on banner save action in the admin area
Compatibility for older versions of Magento improved
Minor fix for installation script
Possibility to display banners for specific countries (using GeoIP, included)
Possibility to specify exact column (position) where banner will be displayed, when set to be among products
A number of general improvements
Version 1.2.4
Last Update: Dec 12, 2016
Fix for banner on a cart page when cart is merged with checkout process on a single page
Fix for resizing banner on a category page when used among products
New position: Below Cart
Option to filter assigned to banner products in admin area
Banners are now responsive, can change it's size while resizing screen on responsive themes
A number of general fixes and improvements
Google Analytics parameters can be applied to banner links
Possibility to place banners among products
Version 1.1.9
Last Update: Sep 02, 2016
Two new positions: Product page Sidebar Right and Sidebar Left
Admin routing patch (SUPEE-6788) compatibility
Option to select products attributes to show banner on the products page has been updated
New banner positions: On top of a page; Home page under menu
In case several banners are active for one position we can show only one with the highest priority or all, sorted by priority.
Better support for AJAX-reloaded content
Fixed from/to date selection for some Magento versions
Templates moved to /base/ folder
Version 1.0.8
Last Update: Mar 23, 2014
Fix for category filtering on product view page
New feature - display of banners based on search terms - works well with new Search Pro module.
Bugfix for category banner display.
Added 4 more positions for banner display.
Corrected issue with multiple select attributes.
Fix for multiple attribute values and products in several categories.
Ability to specify multiple product categories for banner display. This means you can show banners at pages of all products from certain categories.
Ability to display banners for products based on the product attributes. E.g. show banners only on pages of products of HTC brand.
Creation of nicely-formatted banners with HTML-editor.
Display of product lists according to specific cart conditions to customize your promotions.
Set specific time (not only dates) for banner display.
Display banners depending on carts' content.