Extended Product Grid with Editor

|

v4.12.17
Screenshots:
Looking for a tool to quickly edit product data and take product management to a new level? With the Extended Product Grid with Editor extension you'll be able to modify any product information just in a few clicks.
Adjust your Magento product grid to business needs
Add attributes to the product grid
It is possible to add any attributes of 'text', 'text area', 'dropdown', 'multiple select' and 'yes/no' types to the product grid. So you can display all the necessary information on your Magento editable grid. With the filter by attribute feature you can easily filter and sort products. Make your Magento admin grid a lot more informative and functional.
Individual display of attributes for each admin user
Each admin user can choose which Magento product attributes should be displayed on the grid. So if you have several product administrators which edit different attributes, each of the admins can make Magento grid customization according to his or her needs.
Disable some columns in the Magento admin grid
You can also disable these product grid columns if you need: Type, Attribute Set Name, Status and Websites and enable them back at any time.
Display product thumbnails on the grid. Find products without images
Images are much faster to recognize than words, so now you will find the right products a lot easier with our enhanced product grid tool. You can see full view of the image by clicking on the thumbnail, the extension is integrated with lightbox. In addition, you can sort products by thumbnails, so it will be easy to find products without images.
Display related, cross-sell and up-sell products on the grid
The module enables you to show related, cross-sell and up-sell products on your configurable grid, so you can easily manage products in Magento and quickly see related items for each product.
Product dates on the grid
It is possible to display product creation date on the grid, sorting and filtering for this option are available. Also you can add last modified date to the Magento editable grid to see when the product was changed last time.
Display product thumbnails on category pages in Magento admin grid
So you can see product images when assigning products to a category and do assignments with much higher accuracy.
Manage grid view columns with drag-and-drop
Easily manage product columns by customizing grid in Magento according to your needs - display columns in the order, which suits you best. What's even more amazing, each admin user can set the order of columns individually.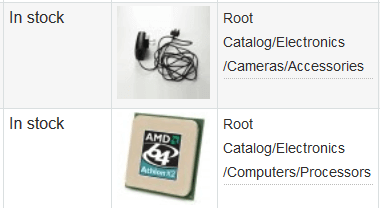 Show product categories on the grid
Now can easily manage categories by showing them on the product grid, Magento grid filter for categories can be activated as well. You can even find all products that have no category specified.
Identify products without categories
Some products may be not assigned to categories, for example after you've imported new products. This means they will not be displayed on the front end, won't be ordered and you will lose money. The extension makes it very simple to find such products.
Save columns order per template, not per user
Of course, it is possible to allow various columns on the grid for different admin users to make the grid more convenient. Thus if you prefer to bring all the work to a certain standard, just create a template and set is as default for all admin users; it is just a matter of one checkbox.
Display attributes on category products tab when editing a category
Due to this handy Magento editor you can make the category product grid a lot more informative by adding more attribute columns to it.
Create custom grid templates with different column sets
Create product grid templates with different column sets according to your specific needs. Quickly switch from one set to another to easily find and edit necessary product information.
Switch grid columns templates right on the grid page
Now there is no need to open any additional windows or pop-ups to set a template for the grid - you can quickly switch from one grid attribute columns set to another right on the grid page.
Quickly edit product information right on the grid
Edit vast majority of product information on the admin product grid
You can edit product name, descriptions, sku, price, special price, cost, quantity, visibility, status, stock availability, 'price' type attributes, such as MSRP and most of other product attributes in Magento right on the product grid. Edits are easy to do and safe.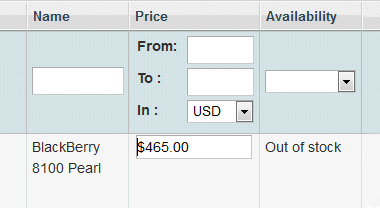 Save edits either one by one or in bulk
If you choose to save edits one by one, each piece of information, for example some product quantity, will be saved right after it is modified. If you choose bulk editing, you can edit multiple pieces of information and then save them all in one go. Single saving works great for cases when you need to edit only one or two cells. Multiple saving is more convenient when you edit larger volumes of information.
Save a lot of time on product editing
Some of you have to edit products day in and day out. Now you won't need to go to the product page to make a small edit - you can do this on the product grid. Ajax-based quick saving of data will dramatically improve your time efficiency.
Easy grid columns management
Now admin users can easily manage product columns display: standard, attribute and extra columns can be changed right from the product grid. There is no more need to switch between numerous pages to customize product grid according to your needs. Simply click the 'Grid Attribute Columns' button and specify the columns that you want to see on the grid.
Product data validation based on attribute class
The validation feature prevents you from making mistakes when editing product information on the grid. In case you leave any field empty, or for example, enter letters instead of numbers in the price field the module won't save wrong values. Therefore, your product data will always stay clean.
Export lists of products right from the grid
Sometimes you may need to export products belonging to a certain category, manufacturer or based on some other characteristic. The module makes this extremely easy - just add the necessary parameters to the products grid, filter products by the parameters and click export button. Both CSV and XML formats available.
Ability to quickly check out your changes on the front end
The module lets you show a column with direct links to the product pages on front end. So you can quickly go to any front end product page right from the product grid and check if all your changes have been applied correctly.
Control product quantity efficiently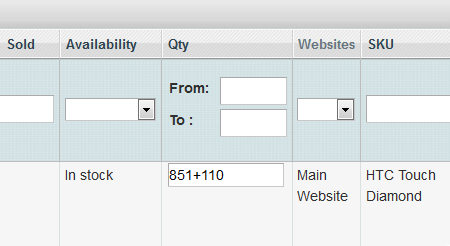 Add and deduct product quantity
When you receive another installment and need to modify product quantity, it is easy to miscalculate the updated quantity and mess up inventory. With the extension you can just add the number of items which arrived to the number you have in stock. For example you have 72 items and 450 items arrived, so you just type 72+450 in the quantity field and job done. You can deduct quantities the same way by using minus '-' symbol. Please be aware that this feature only works on product grid, it doesn't work on the 'edit product' page.
Automatic Quantity Based Availability
You can set availability status to change it automatically to 'In stock' when quantity is positive and to 'Out of stock' when quantity is zero or negative. If you prefer to indicate availability status manually, feel free to disable this feature.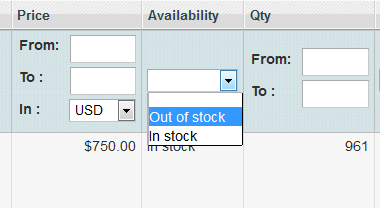 See product quantity sold for specified period
Straight on the product grid you can see product quantity that have been sold during the certain time period. All you need is to specify a calendar scale you want to check.
Compatibility with other extensions
The extension does not replace default product grid page, so it will be compatible with majority if third-party extensions out of the box. If you will have any issues - be sure to let us know.
Full Page Cache compatibility
With the Full Page Cache extension you can trigger the product view page re-cache when editing store items from the grid in bulk.
Extended Product Grid Video Review
To see the way Extended Product Grid with Editor works please watch the extension video review.
7 reasons to choose
Risk-free Investment
30-day moneyback guarantee for all extensions. No questions asked.
Comprehensive Documentation
There is a detailed user guide with examples even for tiny addons. FAQ section and videos also available.
Solutions Which Work
Careful in-house testing ensures you get robust applications. Multiple stores support. Custom themes compatibility. All included.
Outstanding Support
Our support service is friendly and of high quality. And it is free. Unbelievably. Just check independent reviews at Magento Connect.
Usability and Performance
Nice and easy to use interfaces. Fast algorithms. Save your time and get things done.
Flexible and Easy Licensing
No product or store view or domain limits. No monthly fees. No hidden charges. One extension license for one Magento installation.
Long Term Strategy
We've been in the market for 5+ years. We're proud to be a Bronze partner and are planning to stick to Magento platform for years ahead. We're doing our best to build extensions which maximize effectiveness of your business. We're open to customers' suggestions and constantly update our products to match your needs.
Other Features
100% Open Source — Easy To Customize
Follows Magento Code Architecture
Separated HTML/CSS/JS
W3C Validated Code
* The name "Magento" and the logo are the trademarks of Magento, Inc.
General Questions

How can I pay for Amasty extensions?

What is the license policy? On how many websites can I use Amasty extensions?

How to install Magento extension by Amasty?

Can I test an Amasty extension on a staging site before transferring it to a live one?

Can I get a refund if an extension doesn't suit me?

Will I get any other benefits?

Product questions

How to add special price to Extended Product Grid?

Can I edit custom product attributes on the grid?

Is it possible to download/export the grid view?

Can different sets of columns be used by other admins?

Can the product quantity sold be displayed on the grid?

Can I add product attributes to the show on the Product Grid?

I need to filter products by category. Is that possible with your extension?

Can I set the order of columns?

How can I edit anything on the grid?
Easy and effective!
Running a terribly huge store required us to look for product management optimization. And you know, this extension let us cut down our expenses on store admins!

We simply added all data we needed to the grid in about 30 minutes and that's it. Now it takes a couple of clicks to track and edit necessary product details. Highly recommend this extension and developer to everyone.
Perfect!
I have installed 3 Amasty extensions now, including this one and I have yet to find out if their support is any good, because in all three cases the extensions have worked perfectly right out of the box. I have been using the Extended Product Grid for about two weeks now and it does exactly what it is supposed to do.
This extension really does save loads of time for managing your store.
When I demo'ed this extension for our store manager she was ecstatic when she discovered that she could change prices and other attributes without having to leave the product grid...plus when I had a problem with the Export function, Nikita from Tech Support was extremely helpful and ultimately resolved our issue.
Quality extension!
Great extension! Does exactly what you need it to and saves you a ton of time:)
Great Editor but NO category editing in Product Grid
It's a solid tool but lacks doing AJAX category editing in the Product Grid. This is precisely one of the reasons I bought the extension, so disappointed there.
It works well for all the other features, it's just a mystery to me why the developer would leave that functionality out.

Huge Time Saver
This is an excellent extension that has saved us countless hours when updating products.
This extension worked exaclty how we need so no support was necessary but we use a number of other Amasty extensions across multiple websites and the support has been phenomenal.

Highly customizable
I like the seamless work of this extension. I have it installed on a few different stores of my clients' and it works great for each of them It's very flexible and thou can be configured to serve the admin needs no matter which niche you belong to. Superb

I love it but need more features
I like this enhanced grid as I can't imagine my work without it. However, I would like to have more features. For example, I would like to have an ability to drag and drop products to assign their order in categories instead of setting up the priority one by one.
Great but need thumbnails of related products displayed
This module helps me a lot in editing products. However, I would appreciate having thumbnails of cross & upsells on the grid. Apart of that, everything is great.
Awesome extension
Wow! What a great extension. This was my first one from Amasty and I wasn't sure that it would work ok. But this extension made it so easy to edit products from the grid. I like that it's customizable as I can display only necessary columns here. Awesome!
This is a lifesaver!
This extension is an absolute must-have. It has saved us huge amounts of time, and allowed us to handle problems easily. The best features (so far)...

- Relate products from the grid... quick and easy

- Changing a product's attribute set... brilliant!

- Column grids... incredibly useful. We just found out that someone had added a lot of products from a manufacturer, and forgot to set the brand and color for some of them. I was able to set up a custom column setting that displayed the manufacturer, brand, and color, then filter the manufacturer and easily see which products needed to be updated. That save a *lot* of time, instead of having to open each product to check the fields.

I'm sure we'll find other uses for this extension. If you don't have this installed on your Magento store... what are you waiting for?
Valuable module
Great extension! It simplifies and speeds up the important process of product managing. Now store admins have only the info they need on the screen, the while process becomes faster and more accurate. Working with categories right from the grid is really comfortable. In my opinion, it is one of the modules, which you need to have in your magento-store right from the start.
Good program for your grid
It runs the way I expected, very easy-to-use program. With this module I have all necessary product attributes on the grid and can edit them right from the grid as well. It doesn't conflict with any other 3-d party programs in my admin panel, so I'm happy with the purchase. I think it's worth the money I paid.
Handy app
Fast installation, quick support replies, clear documentation. The app works like a charm. After the update - all attributes are gathered in one tab, which is really handy. The only slip is the lack of ability to delete already created templates for different admins. Hope this will be fixed soon.
Save your time
Simple and useful!
If you want to save your time you are on the right place.
The best addon for my Magento installation...
This module is actually a GREAT BENEFIT: time saving, lets you catch all the problems within your product database within seconds...
Editing of the wrong data, of fixing it is done within seconds, saving a lot of time...
It lets you focus on your goal, not on the boring Magento pages...
If you have been working with a spreadsheet in the past, you will find it makes your database look like a spreadsheet... :-)
If this was not existant, I would have been desperately seeking such a module...
Support is also AWESOME: after my support period was over, they still supported me with updates required after Magento security patches.
GREAT SERVICE AND SUPPORT !

Great time saver
I don't know whether this very grid addon is the best among similar offers in the market, but what I know for sure is that it perfectly works as described. The quick link to the frontend option was a pleasant surprise - it helps us quickly check all changes we make from the backend. Keep on codin' guys!
Real game-changer
Awesome extension!
Although I ran into some issues with other modules when got started, but I managed to fix it on my own.
There are so many features and settings, especially in the system configuration. It seems difficult at first. When settings are done, configuring the grid becomes very logical an easy.
good features and support
I like this extension very much. It helps a lot in regular store-management work. What I like most about this extension is showing thumbnails on the grid. It is so helpful for managing products with high accuracy and in a very short time. Besides I'm positively impressed with prompt support.
Thanks, Amasty!
Essential
Good tool to make product grid clean, quick and efficient. The possibility to edit right from the grid speeds up the work a lot. Some of that functional should actually become default in Magento!
Worthy addon
Good tool to make product grid clean, quick and efficient. The possibility to edit right from the grid speeds up the work a lot. Some of that functional should actually become default in Magento!
Outstanding Company
I have to say that any extension of this company is outstanding and if there are any (also tiny) problems, I got help within a couple of hours.
I will never do a Magento Shop without at least three Amasty Extensions and this is one of it.
thanks
A+++++. I buyed this module with a discount. I asked to help me because I wanted to translate it to Hindi, and Vital hepled me very fast.
it became better
I left a four star review on this product a year ago or so, wanted to update it but couldn't find it (not sure if I left it here, maybe somewhere else).
Anyway, the extension was updated a lot during the latest six months, and the company implemented almost all the features we have been asking for (apparently, not only us but other buyers, too).
I wish that more Amasty extensions were updated this often.
good
This is an extension Magento should preinstall on all stores. All features a very handy. No problems with installation and using. Please add editing category from the grid. Thanks.
Time saver
I've been looking for such an extension for a while & came across this one. I must admit, this is everything I have been looking for and it makes managing products catalog very easy. I'm using magento 1.9 and it was easy to install that mod! I added many columns to my admin grid, including images and attributes, and it worked as expected.
The only minor down side for me is that category path filter does not support anchor style. When I choose a parent category I list all products from its sub-categories. So I would like to see the extension modified a bit.
Anyway, thank you so much. You did a great job!
Elmavir
Magento Connect
Awesome. Flawless. Time Saver. Life Saver.
This extension is a must. Works wonderfully. Well designed. Thanks so much.
Excellent!
This has to be one of the best Magento extensions ever! Saves so much time if you have loads of products and are making changes to your catalogue all day, everyday. Best $99 bucks we have ever spent!
Buy it now
This module is an absolute must have if you own a store with lots of items. The fact is that Magento product grid is very, I say, too limited and this extension is one of the first ones that I install on my clients' shops. Drag and drop columns, enter prices and quantity with ajax, quick sorting – I can't imagine how you can edit or even sort 20,000 and growing number of items with tens of custom attribute fields another way. I am using this module on 20+ shops.
The only small thing is that you can't edit categories from the grid although you can sort products by category. But usually there are other extensions to do that so no big deal.

DepUR,
Magento Connect
Greate Product - Excellent Support
By using Extended Product Grid my project was able to satisfy our client, and save many hours of our own analysis and development time. The product has worked extremely well for us. I am even more impressed though with Amasty's technical support - long after the sale. When, after an upgrade, we had a problem in a related section of the admin area, they helped me troubleshoot it without any quibbling up front about whether the issue was likely to be a problem with their extension. When, through troubleshooting, it became obvious that the Amasty extension was not at fault, they still offered helpful guidance on how to track the problem down and fix it. That is support that goes above and beyond expectations, and it would give me great confidence in choosing Amasty extensions for future projects.
Really good module
The module saves much of my time and efforts. Thanks!
My best purchase ever!
Hello,
I discover Amasty's extension and Amasty's support, and i'm fan !
I switch progressively my extensions to Amasty's one.
Let me get a more coherent site and an integrated support :-).
Thanks for all.
Almost impossible to live without
We use this extension for our store http://bodymod.no/ and we just couldn't imagine having to live without it. Amasty truly did a great job with this!
Good and happy
I needed a simple way to view product images in the order grid and amasty's extension does it well with no hiccups.

Have purchased a few of their extensions and so far it's working really well. Lightweight, and without bloat. I have also purchased extensions from other developers but it just doesn't compare well, and most of the time, i just come back to Amasty to find the stuff i need.

Highly recommend them.
Very Good, Close to Excellent
I am a former IBM Architect at American Express; so I have at least some authority in the area of reviewing a product. It is relevant that I am, and will remain on, Magento Community Edition.
By far and away, from an administrative user perspective, THIS one product has helped me save a ludicrous amount of time and money. The product works fluidly, quickly, and allows my website, with in excess of 30,000 products (and growing), to make the necessary bulk changes I require. There is no way on God's green earth I could have sorted as diverse a gold jewelry database I have, in as short of a time as I did (with 100+ custom attribute fields and all), without it.
I am rating it only 4 stars for ONE reason and it is relevant that, in my opinion, a typical, proven, Enterprise Class product would rank 5 stars:
IF Amasty builds in solid support for Read / Write Separation, this product will be a SIX (6) Star Product, and an absolute MUST have for any website looking to break out of mediocrity and join the world of Enterprise Class websites.
Thank you for your time and attention.
Christopher Lazaro
Executive Vice President @ OROLATINA.com®
The first extension I always install
I have been using this extension for over a year and about to install it on three new stores. I can't imagine not having this extension - it make the product grid so much more useful and faster to work with. It is a must have extension particularly for stores with a lot of products or owners with not much time!
Best chose for any admin
That was first time I managed to install the module by myself. Everything is as clear as it can be. Now I easily add any columns to my product grid and have a great variety of options to edit product data. Hope new updates will bring me even more handy features.
My do love my product grid now
You've developed indispensable tool for all admin users like me:) Now my product grid has become handy and very productive, so I can save some time for other activities :)
Love this Product
This is a great extension! It save me so much time I can't even begin to tell you. Don't know what I'd do without it.
The best thing I've used!
I would like to say that your product Extended Order Grid is the single best Magento extension I have ever used!! Having used it only a few days I can't now imagine being without it. It really has cut off MONTHS from my anticipated launch date. I had managed 20 odd products in a week due to putting it off because it was so monotonous and long winded using the default magento product editor but with your Extended Order Grid not only have I completed 184 products I have also been able to create more detailed profiles just because its more friendly and able to review all data in one go!
Amazing!
i bought Mass Product Actions and Extended Product Grid with Editor .. make me happy with my store. worth every single dollar.


thank you ...
Ramya108
I ordered this extension about 5 months ago.
Installation was easy, I did not have any problems.
I use this extension every single day, it is so useful. I removed the unnecessary fields from my product grid and added what I really needed - product name, price, special price, product image, brand name, product quantity and weight.

Now I can edit all of these fields on the fly via ajax. This is so simple and it makes my life so much easier!

Thanks Amasty for great extension!
Manage products and categories efficiently especially together with Mass Product Actions
Great extension!
Coupled with Mass Product Actions, it makes products and categories management so much more efficient! Not to mention both extensions are very easy to install and works flawlessly (Magento 1.6.2).
The customer support is also one of the best. Fast support, professional and helpful. The purchase is also eligible for 6-month free updates, and we have since upgraded our extensions numerous times, each with added useful features.
Nice job and highly recommended!
Must have! Highly recommend
An absolute must have for multistore and products with multiple attributes - saves hours and hours of work. Install and setup is easy and the support from Amasty is professional and personal. I would recommend this product and Amasty any day !

Kurt Hansen, Royaleshops
great extension, great support
bought this extension because I was missing this functionality. The site and reviews of Amasty were promising.
Easy installation and useful documentation. Great support afterwards. Got answer next business day.
Also bought mass order actions and who knows what else I need in (near) future. Will check out Amasty first!

sebasw, Magento Connect
Love this Extension
We are a small online business with many products and this extension has saved us so much time!!!

thefeathershop, Magento Connect

Excellent support team
A great little extension that will save my clients loads of time! It conflicted with another product grid extension we had (because that extension completely replaced Magentos product grid) but excellent support from Amasty solved this really quickly.

StickyLizard,
Magento Connect
Must have extension
Great extension saves hours of editing time when doing quick edits.

I have also found Amasty's support to be second to none. They have done quite a few tweeks, adjustments and bug fixes for us and always been willing, quick and conscientious with there work. Working over weekends has been particularly impressive for a small firm based in UK.

Suggestions for the next version include ability to edit multiple fields without a page reload between each one and ability to hide (some of) the default attributes shown on the basic grid.

Well done: great product, excellent support!

HarryM,
Magento Connect,
Free time
This module saves us many hours of work every week. We used it for 1 1/2 years so that's a huge amount of money we have saved! Great thing about Amasty is that they listen to their users and keep adding great new features. We initially had some issues with the module because we have a several hundred attributes and we simply couldn't see them all in the grid configuration pop-up screen, but Amasty immediately updated their module and added a scroll bar to the pop-up. Since we first bought the module Amasty has added several essential features, such as categories on the grid, thumbnail zoom, remove default columns and ability to see/edit stock status on grid. At $99 this module is a steel that you will recapture in a week or two - a highly recommended module!

papimaui ,
Magento Connect
Fast reply
Bought this extension couple of days ago. Installed it with very easy steps. It seemed to work fine. But there were some problems after all. I mailed Amasty today. They have excellent support. They reply very fast. The problem was solved within couple of hours after i sumbitted the problem. Great job.

Oh btw, the extension is great. :)

Aquive,
Magento Connect,
Cool extension
We recently purchased your extension "Extended Product Grid with Editor," and we LOVE the extension so much!
It is the GREATEST extension we ever installed with Magento.

Hironori Mii,
yoyocompany.jp


Great Extension
Excellent work,Very useful extension.Although I had a small issue, Amasty Support solved it very fast!!!!
Great Support!
This extension has great features!
Great features, great support!
Very very good
Thanks
Saves us a lot of time
We can now easily bulk update attributes because we can make a selection in the grid filtered by any attribute, brand for example.

The thumbnail in the grid makes it easier to find the right product.

Updating stock right from the grid makes it easier to perform stock updates.

This extension has saved us a lot of time!
Great extension with excellent features!
I ordered this extension 2 months ago from Amasty.Very easy set up and installation as described in the manual.
We use it every day because we use magento as ERP.
It is working perfect and you can see and edit in the grid everything you want.So it is very helpful.

But the most important for me is Amasty's great support.I had some issues and they solve them immediately.
I love Amasty and I use 4 of their extensions!!!!
Brill Extension - and top support
I am not easily impressed, I've seen too many poor add-ons and/or support in my 3 years using Magento. This add-on does exactly what it says it will and Amasty support is there when you need it.

Well done Amasty - great job!
Great product and amazing support
Product does what it says it does and makes editing products fast and easy, support is quick to return questions and solve problems.
So glad I bought this!
This module is literally going to save me months of work in the long term. I have been "migrating" my old website, and much of the data is having to be re-entered manually. Little things like setting the brands and changing the stock levels etc are taking forever. With the standard product editor you have to click on a product, wait for it to load before you can change and save. Then you have to re-scroll to the next on the list. Forever going backwards and forwards and waiting for your slow internet to load the pages.

With this module I can select and sort the columns I want displayed on the editor, and simply click in a cell, change it. The data is automatically saved (This is a setting, you can change multiple cells and then click a save button if you like).

If you have admin staff working by the hour, this will save you a fortune.
Also, I required some support to install it due to my lack of experience. Reply was quick, and solution was easy.

This is my second module from this developer, and I'll be back for the rest in time. Highly recommended!
How do you use Magento without this?
I am new to Magento and installed this the very first week. I can't imagine setting up a store without these features. If you place any value on your time at all, buy it.
Write Your Own Review
Version 4.12.17
-
October 18, 2016
– Added templates switcher for single store mode
– Date format now uses locale settings
– Option to show products from children categories for category filter
Version 4.12.16
-
September 07, 2016
– Option to include children categories products with "Is Anchor" = "Yes"
Version 4.12.15
-
August 16, 2016
– Improvement for Quantity Sold column indexing
Version 4.12.14
-
August 06, 2016
– qty sold works better with import orders extensions like m2e
Version 4.12.13
-
July 08, 2016
– Fixed issue with new templates creation
Version 4.12.12
-
June 23, 2016
– Improvement for filtering products that have no category assigned
Version 4.12.11
-
March 01, 2016
– Several minor improvements
Version 4.12.10
-
January 15, 2016
– Fix for editing multiple select attributes
– Minor visual improvements for cell editing
Version 4.12.9
-
December 09, 2015
– Use of database prefix for index tables (quantity sold index)
Version 4.12.8
-
December 06, 2015
– Improvement for the quantity sold calculation mechanism
Version 4.12.7
-
December 02, 2015
– Now it's possible to switch grid columns template directly from the grid page
– General performance and compatibility improvements
Version 4.12.6
-
November 06, 2015
– Fix for backend URLs for products export
– Improvements for working with date type attributes
– Improvements for scrolling on the product grid
Version 4.12.5
-
October 27, 2015
– Admin routing patch (SUPEE-6788) compatibility
Version 4.12.4
-
August 19, 2015
– Minor improvements
Version 4.12.3
-
August 06, 2015
– Improvements for date type attributes save routine
– New visual style for drop-down elements on the grid, with search by value feature
Version 4.12.1
-
July 21, 2015
– It is possible to save columns order per template, not per user.
Version 4.12.0
-
July 09, 2015
– Allows to save columns order per template, not per user.
– Compatible with Magento 1.9.2.0 security patch
Version 4.11.9
-
June 19, 2015
– Fix for Magento issue with incorrect date value being saved for product attributes in some cases
Version 4.11.8
-
June 18, 2015
– Improvement for extension upgrade procedure
Version 4.11.7
-
June 16, 2015
– Minor improvements for custom attribute columns
Version 4.11.6
-
June 11, 2015
– Compatibility improvements
Version 4.11.4
-
June 03, 2015
– Fix columns sorting
Version 4.11.2
-
May 29, 2015
– Minor improvements
Version 4.11.1
-
May 25, 2015
– Minor code improvements
Version 4.11.0
-
May 21, 2015
– "Grid Attribute Columns" window user interface major refactoring/improvement: now everything in one place to manage grid columns
Version 4.10.0
-
April 14, 2015
– Possibility to create column templates for fast switch between column sets
Version 4.9.5
-
March 31, 2015
– Added JS validation based on attribute class
Version 4.9.3
-
February 05, 2015
– Amasty Full Page Cache re-cache is now triggered when editing products from the grid in bulk
Version 4.9.0
-
December 11, 2014
– New column added to display quantity of sold items: from/to date settings can be configured under System - Configuration; uses indexes to improve performance
Version 4.8.1
-
July 02, 2014
– Low Stock information column added
Version 4.7.1
-
April 02, 2014
– Correct handling of percent-based special price for bundle/grouped products
Version 4.7.0
-
March 07, 2014
– Support for custom "date" type attributes
Version 4.6.3
-
March 06, 2014
– Minor fix for export to CSV/XML (unnecessary columns removed)
– Modification of number conversion algorithm (better currencies support)
Version 4.6.1
-
January 31, 2014
– Code refactoring to improve extension speed
– Bugfix for weight attribute
Version 4.5.2
-
October 21, 2013
– Minor bug fixes
Version 4.5.1
-
October 21, 2013
– Bug fix for indexer after stock update.
Version 4.3.7
-
September 04, 2013
– New great feature: ability to show a column with links to front end product pages. This way you can quickly go to a product page and make sure the changes got applied.
– Automatic re-index after stock data edited.
– Bugfix for sorting columns.
Version 4.3.4
-
July 11, 2013
– "Display categories column" now can be set by each admin user individually from the "Grid attribute columns" popup.
Version 4.2.1
-
June 11, 2013
– Ability to show attributes on Category Products page when editing a category.
– Display of related / cross-sell / up-sell products on the grid (with settings).
– Bugfix for editing products in a specific store.
– Bugfix for price editing.
Version 4.1.7
-
May 23, 2013
– Bugfix for editing price attributes with currency symbols.
Version 4.1.5
-
May 03, 2013
– Bugfix for dot symbols in price value.
– Syntax error fix in layout file.
– Bugfix for export to CSV.
Version 4.1.0
-
December 05, 2012
– Last modified date can be now displayed on the product grid.
– Bugfix for cost/special price being added twice.
Version 4.0.0
-
November 15, 2012
– Possibility to change order of columns on the product grid by drag-and-drop.
Version 3.0.0
-
October 03, 2012
– Display of product thumbnails on category page in admin panel.
Version 2.9.1
-
October 03, 2012
– Ability to display product creation date on the grid, sorting and filtering for this option also available
– Each admin user can individually setup display of additional attributes on the product grid.
Version 2.8.1
-
July 05, 2012
– Support of 'weight' attribute for Magento 1.7.x versions (worked before in older versions)
– Support of 'price' type attributes, such as MSRP (manufacturer suggested retail price)
Version 2.8.0
-
June 22, 2012
– Automatic Quantity Based Availability.
Version 2.6.0
-
May 21, 2012
– Ability to export filtered lists of products.
Version 2.5.0
-
April 03, 2012
– Support of multiple select attributes.
Version 2.4.1
-
March 12, 2012
– Ability to disable some columns for the product grid.
Version 2.4.0
-
February 22, 2012
– Ability to save multiple edits with one click. Admin can choose whether to save edits one by one or in bulk.
Version 2.3.0
-
January 16, 2012
– Ability to zoom product thumbnails on the product grid with the help of lightbox.
Version 2.1.0
-
November 11, 2011
– Edit text area type attributes on the grid, for example short description and description.
Version 2.0.0
-
August 09, 2011
– Display of categories on product grid.
Version 1.2.1
-
August 04, 2011
– Ability to display product thumbnails on product grid.
Version 1.1.0
-
July 19, 2011
– Ability to display and edit special price and its from/to dates on the grid.