Countdown Timer
for Magento 2
Сreate a sense of urgency with Magento 2 Countdown Timer ⌛ to boost sales and decrease customers' decision-making time.
Design catchy countdown timers with ready-made templates
Create limited-time offers to speed up purchases
Easily schedule your countdown timers display
Attach countdown timers to any products and store pages
Manage all your countdown timers in one handy grid
Compatible with the Jet Theme by Amasty
BOOST YOUR SALES BY CREATING A SENSE OF URGENCY
Challenge
To promote certain products merchants often use limited offers. Though the offers are good, customers may not be motivated enough to rush and use them. However, after a while customers may simply forget about them. All your efforts will be done for nothing.
Solution
Visualize limited offers with Magento Countdown Timer ⌛ to create a sense of urgency and the fear of missing out on the offer. This will help you increase conversion and motivate customers to make their decisions on the purchase faster with a convenient pricing.
What benefits do you get for your store
Increase conversion by up to 8% — make visitors understand the time is running out
Run automated sales campaigns by scheduling the countdown for attractive promos
Motivate visitors to make more purchases by showing limited-time offers
DECREASE CUSTOMERS' DECISION-MAKING TIME
Speed up purchases with magento 2 daily deal extension
Configure a countdown timer to show how many days, hours, minutes and even seconds are left until the end of the offer. Customers will fear to miss it out and buy faster with a special price.
Add timers to any place of the store
Draw customers' attention to your special offers everywhere by attaching cart timers on any products and pages of your store via widgets.
Manage your sale countdown timers in a handy grid
It's difficult to control all your countdown widgets, especially when you run several sales campaigns at a time. Magento 2 Daily Deal extension helps you monitor all countdown widgets in one handy grid.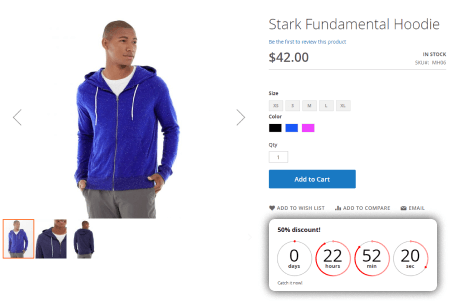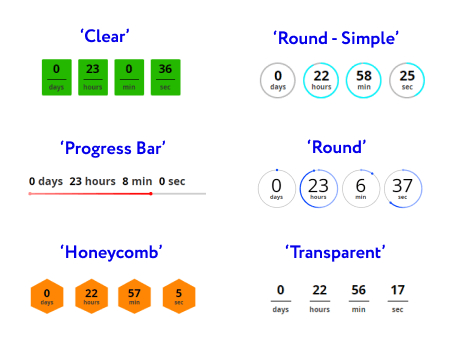 Design timers with 6 ready-made templates
Pick one of 6 ready-made countdown templates and customize it to look catchy and match your store design. Change the timer color, add promotional text before and after it to engage and excite customers to attractive promos.
Easily schedule your timers display
With Magento Countdown Timer extension you can schedule your html timers to display when needed. Just set up the right time and the timing display — the countdown will be turned on automatically.
Let customers quickly find products with special offers
Put a link on any countdown timer to let customers quickly open products with promotions from catalog, category and CMS pages. According to the statistics, magento daily deal can cover each business need in synergy with the following solution: cross sell magento.
Advanced Options for Timers
Limit timers display for particular store views
During the widget configuration, you can create multiple timers for various store views to make your promotions even more targeted. Moreover, specify timer sort order to choose which timers will be shown first according to your marketing purposes.
Customize timer text offer
With the extension, you may specify offers displayed above the timers and make them eye-catching using HTML tags support. Provide appealing offers and motivate customers to click the timer immediately.
Manage promo widgets layout
Due to the default widget options support, store admins can add timers to multiple places at the store, including product pages, categories and CMS pages. It is also possible to configure the position by selecting the necessary container on each page.
Drive extra traffic to specific pages
Store owners can also use the module to redirect customers to particular pages using timers. Just attach links to the needed timers and boost the number of views for special products, categories or custom pages.
According to the statistics, the extension can cover each business need in synergy with the following solution: magento 2 custom invoice and magento 2 custom checkout fields.
Other Features
100% Open Source — Easy To Customize
Follows Magento Code Architecture
Separated HTML/CSS/JS
Simple installation via Composer
* The name "Magento" and the logo are the trademarks of Magento, Inc.
Increase my sales
Snap for information Technology, CTO
I've been using Countdown Timer for Magento 2 for 1 year. I wanted to count down promotion that helped me to increase my sales. It is ease to use and install. Support Team is doing perfect.
Amasty answer
Mar 02, 2020
Natalya Chekanina
/ Head of Sales Team
Hi Mam! Thank you for your feedback for our Countdown Timer for Magento 2. We would be happy to see you in our store again! Amasty Team
Very good module
We are happy about this module. The settings are flexible and the visual appearance is absolutely good both on desktop and mobile. Glad to have opted for this extension.
Amasty answer
Jan 30, 2020
Natalya Chekanina
/ Head of Sales Team
Dear Davide! Thank you for choosing our extensions. I'm glad that you appreciate their quality. We would be happy to see you in our store again!
Doesn't work with my theme
I like the idea, must be good for my store. But it doesn't work with my custom theme. They overlap and the timer gets blurry. I can't use it for now. I called support and now I'm waiting for a fix from them.
no complaints
I run promos regularly, but my clients often miss them and complain. I have this module in from 1st day, and really sales jumped up. I had a special offer for april's fool - all tricky flower gifts got sold, and I even had to make some more. I recommend, total win.

Sales grow
It's so surprising, but with this simple tool sales grow. I subscribed before the release, so I got it 2 days ago and set it up. I tested it on 3 promos - and for each number of buyers grew. For one product even doubled (2 to 4). I will use it a lot, definitely.
Are you looking to add specific functionality for this extension or want to acquire a reliable development partner altogether? With custom development services by Amasty, you will receive high quality and cost-effective solutions developed by Magento professionals according to industry's best practices.
Magento 2.2, 2.3, 2.4
You can always download the recent version free of charge from your account
Installing an upgrade is easy — check now
My Downloads
Version 1.0.2
Last Update: Nov 12, 2020
Fix we solved the problem with sorting on widgets grid
Compatibility with Magento 2.4.0 was aded