Set up relation rules
Use stats to adjust offers
Create cross-sells manually
Fine-tune the display
Use the 'Same as' condition
Create flexible conditions
Display cross-sell / upsell products the way you need
Set up smart relation rules to get magento 2 cross sell products programmatically. Choose how many products to show so as to keep an attractive and easy-to-navigate appearance of your store. Decide for yourself whether to replace or complement manually added product suggestions with the module recommendations.
Maximize profits with analytics
Analyse how each rule performs with Magento 2 Up Sell. Get useful insights and understand which configuration has the biggest success to timely modify your marketing strategy and grow revenue.
Assign related items for each product
As you edit product attributes, you can manually assign specific positions that will be recommended. They will be displayed on a product page, and you can set certain cross-sells or upsells to maximise the accuracy of recommendation and raise customers' satisfaction. This task can also be performed via creating rules.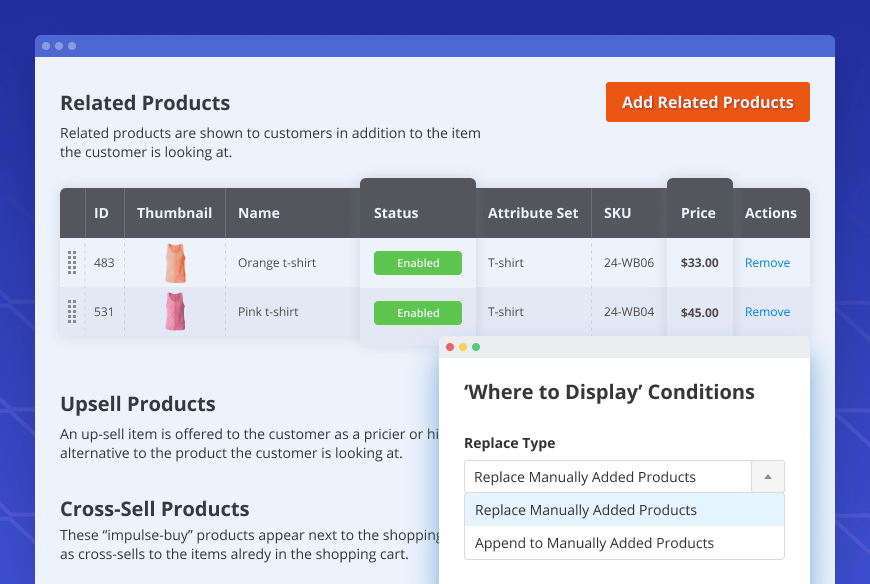 Customize upsell/ cross-sell block display
Choose the way how you prefer to display magento 2 cross sell items on product or category pages. To blend with store content and implement such marketing strategy in an unaggressive way so customers won't reject it, you can set up a custom block name — for example, instead of the usual 'You May Also Like', try 'This Product Will Perfectly Work With' to attract buyers' attention.
Show only relevant upsells
The Magento 2 Cross Sell Products extension allows you to tweak multiple parameters as well as add custom rules using the Data Source option. For example, you can select goods by the same attribute value to display in the block.
Fine-tune precise product-relation rules
You can create as many diverse relation rules as you need to make item suggestions accurate and relevant. By combining multiple conditions, you can design sophisticated rules that encourage the sales of particular products.