Screenshots:
According to the survey, conducted by Econsultancy, 50% of respondents had abandoned a purchase because of inconvenient delivery options. Among the required options mentioned by respondents are a fixed delivery date, next day delivery, 2-hour delivery slots, etc. The conclusion is obvious – customers are not satisfied with standard delivery and demand flexible and individual delivery options to plan their time. If they don't get the options, they leave your store.

This is the truth of the modern e-commerce world: The product is no longer the king but the service is.

With the Magento delivery extension you will avoid misunderstanding in communication with customers by providing clear and simple delivery process. Specify the dates and time available for delivery and let customers choose the suitable variants.
Flexible delivery schedule configuration
Manage date and time exceptions
Create flexible time ranges for delivery
No more additional calls, customers leave all the necessary info during the checkout
Reduce abandonment score
Improve usability
Delivery process has never been so clear
Customers will love you :)

Let customers set preferable delivery dates and time during checkout
The module provides customers with the option of delivery time selection. Now they can set particular days and time periods when they'd like to receive the order. For example, one can choose the day – November 22, and the time interval from 10.00 a.m. to 11.00 a.m. if it's available in your delivery schedule. This easy, but very important option significantly enhances customers' experience allowing visitors adjust delivery time to their personal needs.
Along with the opportunity to set the preferable delivery date customers get the chance to write delivery comments. Now they can inform you beforehand about their specific preferences which will definitely improve your delivery service.
Let the customer see the delivery data in the checkout progress column.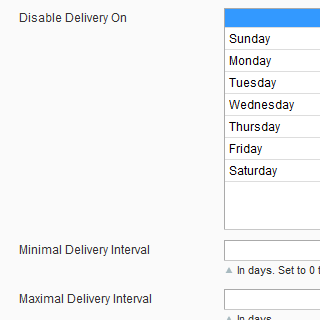 Next-day or the same day delivery is a great bonus for your customers
Use maximal and minimal delivery intervals to customize the most convenient time intervals between the order and the day of delivery. You can also indicate by which time customers should make a purchase in your store in case they want to receive their order the same day or the next day after the order is made.
In the general settings section you can specify:
Days not available for the delivery
Delivery comments
Date format
Delivery quota per day (NEW!)
new!

Send email reminders before delivery

With the reminder option you can inform customers about the upcoming delivery. Specify particular time (in hours) before the delivery to send the reminder. The extension also enables you to send reminders not only to customers, but to their sales representatives as well (available to Sales Reps and Dealers extension owners only).
new!

Notify customers when the delivery date value is changed

Let customers know if admin user changes specified delivery date. This small option will significantly improve customer shopping experience and help to avoid delivery date confusion.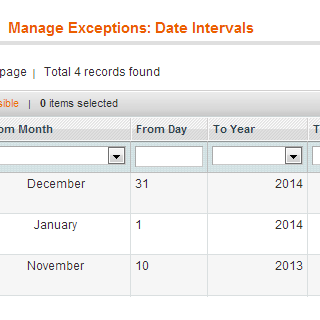 Customers see only the dates available for delivery – you exclude the others
The extension provides you with nearly unlimited opportunities for time-table configuration. Specify not only particular days and time intervals to be excluded from the delivery plan, but even date intervals as well.
You can exclude from your timetable:
Specific days of the week
Any dates, e.g. national holidays
Date intervals like December 24 – January 7
Time intervals like 10 a.m. -11 a.m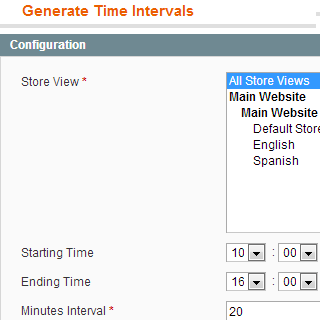 1-2-3-hour delivery slots will make your customers pleased
Remember the situation when you don't know the exact time of delivery and spend the whole day waiting? With the advanced Magento delivery tool you can save your customers from time waist by offering time intervals. You can create intervals both manually and automatically for each particular store view.
To start generation you just need to:
Set starting and ending time
Specify starting value for position
Specify the step for position to correctly sort time intervals on the frontend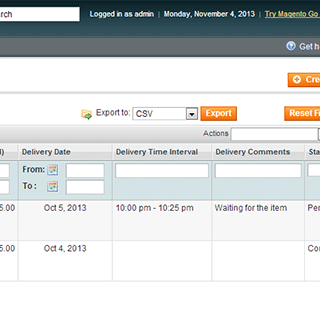 Display delivery information everywhere you need
Easily adjust the display of delivery data like date, intervals or comments according to your needs.
You can display the data at:
Order grid
Invoice grid
Shipment grid
Order view page
Shipment view page
Invoice view page
Include delivery data in e-mails and PDF-documents
It's up to you whether to include delivery information in order confirmation e-mail or invoice e-mail, as well as in PDF documents like Invoice PDF or Shipment PDF. All the delivery data will be displayed to customers on the checkout page in the Checkout progress column.
new!

Place delivery date on the Print Copy of Order Confirmation

Now you can display delivery date values in the print copy of order confirmation which customers will easily find on their account page in the My Orders tab.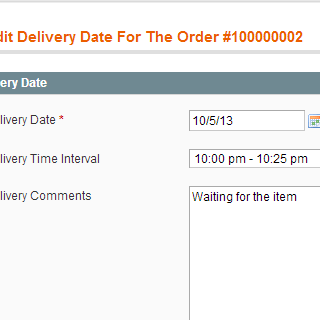 Enable admins to edit delivery data
You can enable your managers to edit any delivery data after the order is placed.

To do this you just need to:
Open the 'Add new role' tab
Choose custom resource access
Tick the 'Edit delivery date role' in the folder tree
7 reasons to choose
Risk-free Investment
30-day moneyback guarantee for all extensions. No questions asked.
Comprehensive Documentation
There is a detailed user guide with examples even for tiny addons. FAQ section and videos also available.
Solutions Which Work
Careful in-house testing ensures you get robust applications. Multiple stores support. Custom themes compatibility. All included.
Outstanding Support
Our support service is friendly and of high quality. And it is free. Unbelievably. Just check independent reviews at Magento Connect.
Usability and Performance
Nice and easy to use interfaces. Fast algorithms. Save your time and get things done.
Flexible and Easy Licensing
No product or store view or domain limits. No monthly fees. No hidden charges. One extension license for one Magento installation.
Long Term Strategy
We've been in the market for 5+ years. We're proud to be a Bronze partner and are planning to stick to Magento platform for years ahead. We're doing our best to build extensions which maximize effectiveness of your business. We're open to customers' suggestions and constantly update our products to match your needs.
Other Features
100% Open Source — Easy To Customize
Follows Magento Code Architecture
Separated HTML/CSS/JS
W3C Validated Code
Online Extension User Guide
Great after sales support!
We experiencing some conflict of the Delivery Date extension with others 3rd party shipping method extension. I contact Amasty support regarding it and they provide straight to the point support with minimal description you only need to wrote.
They not only look into the issue in every aspect(code, front-end, admin) but also inspect on the other company extension and inform back their extension also having issue too.
Thanks Amasty!
Very useful extension
Extension works very well. No problems with installation. Also no issues in custom template and custom checkout. Highly recommended!
improves communication with customers
This extension has greatly helped us in communication with our customers. Many of them were not satisfied with our delivery as we could not give options to choose at least date. We also lost money as sometimes our carriers had to go to the shipping address twice to find the receiver. So this extension solved the problem of delivery at the right time.
The settings are not very complicated but still you should take time to study them as each mistake in configuration can have negative results. For example, we offer same day delivery and let customers know about that with special labels. But the quota was set to default 1 and at first I couldn't even understand why we got only one same-day delivery each day. So be careful.
Effective and easy to use extension
Works well as described. We had one issue with a conflict in the order grid which the developer sorted out immediately. Support is very good. Using 1.9.0
Good one
I am using magento 1.4 and it works perfectely on my shop. The extention is cheap and does what it does. My shop is a jewelry shop and the tool is a time saver because I don't have to copy categories manually. We have many items so I was lucky to buy it. We had an error installing it on our shop but great men in support helped us. Very fast support, thank you.

Petros1,
Magento Connect
Fantastic Extension
This is a great extension. It was easy to set up and customize. It has really helped our business move forward with delivery scheduling. Amasty have the fantastic support and are always willing to help. Thanks!
Brings delivery to a new level
My customers are stunned by the option of delivery date selection! It's convenient from both ends - we can better control our delivery system and customers feel our personal approach and willingly set the time of preferable delivery. Thanks Amasty!
Very good implementation! Highly configurable extension.
There are several similar extensions on the market, but Amasty created the best one. This is exactly what everyone needs to configure delivery date/time functions for their own. It allows to setup anything I can imagine for my store. Thanks for such a great extension!
Write Your Own Review
Version 1.2.6
-
Sep 24, 2015
– Possibility to specify time offset relative to current time for the same day delivery
Version 1.2.5
-
Sep 02, 2015
– New setting to ignore delivery date exceptions for admin: admin can select any delivery date.
Version 1.2.4
-
Aug 31, 2015
– Fix for default delivery date value being set incorrectly in some cases
Version 1.2.3
-
Aug 28, 2015
– Better compatibility with Extended Order Grid extension
Version 1.2.1
-
Jul 14, 2015
– Option to set maximum order quantity per time interval
Version 1.2.0
-
May 08, 2015
– Possibility to display Delivery Date values on the Print Copy of Order Confirmation (Frontend)
– Added Delivery Date Reminder and ability to send reminder emails to appropriate Sales Reps (when having Sales Reps and Dealers extension installed)
– Possibility to notify customer when admin changes Delivery Date value
– Compatibility improvements
Version 1.1.5
-
Jun 12, 2014
– Bugfix for delivery date being duplicated in the payment section on checkout
– Bugfix for calendar component issue on the orders grid
– Better compatibility with Order Attributes extension
Version 1.1.4
-
Mar 23, 2014
– Specify delivery date/time/comment when editing or creating order from the backend
– Possibility to display delivery date fields only for specified customer groups
Version 1.1.3
-
Feb 12, 2014
– Possibility to set daily quota of deliveries
– Possibility to pre-select date field value on checkout
Version 1.1.2
-
Jan 20, 2014
– Fix for error when trying to generate PDF from invoice/shipment grids.
Version 1.1.1
-
Dec 19, 2013
– Fix for filter by date on order grid
Version 1.1.0
-
Dec 02, 2013
– Correct support for locales
– Setting for date format
– Template files rebased
Version 1.0.5
-
Nov 26, 2013
– Better compatibility with older Magento versions
Version 1.0.4
-
Nov 14, 2013
– Minor bugfix
Version 1.0.3
-
Oct 29, 2013
– Fix for calendar component when today is disabled for delivery
Version 1.0.2
-
Oct 25, 2013
– Possibility to hide/show delivery date, time and comment fields based on current shipping method selected (separate setting for each field)
Version 1.0.1
-
Oct 21, 2013
– Support for shipment e-mail.
– Minor bug fix.