HTML Sitemap
for Magento 2
Generate a clear HTML sitemap to help customers easily navigate your website. Include/exclude particular pages from the sitemap and customize its layout to make it perfectly structured.
Include categories, products and CMS-pages in a sitemap
Add any additional links to a sitemap
Configure a sitemap layout according to your needs
Specify metadata for a sitemap page
Effectively manage internal link juice throughout the website

Why do you need an HTML sitemap for your website?
An HTML sitemap enables store visitors to quickly navigate a website using a properly organized text version of the store menu. Customers willingly use the sitemap to locate a topic they are unable to find by searching the site. Therefore, by providing clients with a well-structured sitemap you'll dramatically increase customer satisfaction and improve store usability making your website more attractive to search engines as well.
Build a unique HTML sitemap
As soon as default Magento 2 functionality doesn't provide a ready-to-use HTML sitemap, you need a tool to quickly generate it in a couple of clicks. With the HTML Sitemap Magento 2 Extension FREE admin users will be able to create a detailed sitemap and configure it depending on their specific needs. The module allows displaying not only products and categories, but CMS-pages and any additional links. It also lets customers use a quick search window to find necessary information in no time.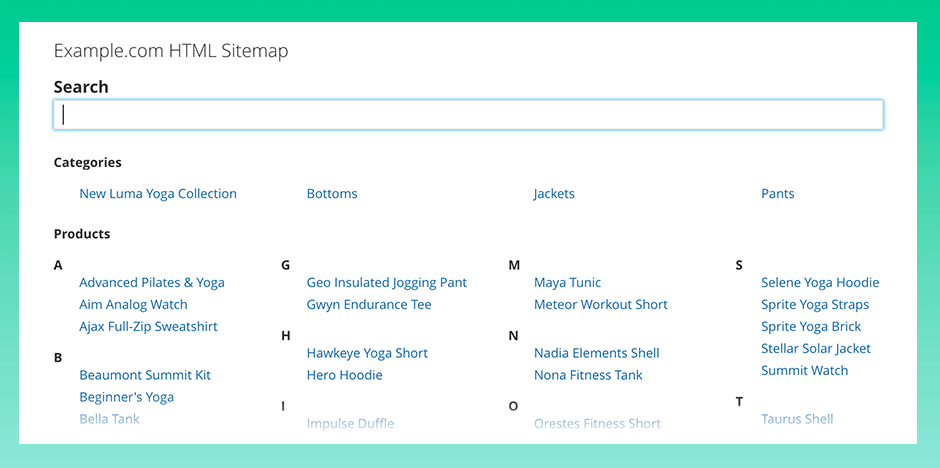 Generate Magento 2 sitemap in seconds
Include necessary links in the sitemap
The Magento 2 HTML sitemap tool lets you add a great variety of links to your sitemap to make it extremely informative. You can include the following link types:
Categories;
Products;
CMS-pages;
Landing pages*;
IMPORTANT
*The option works only with the Landing Pages extension.
Exclude specific CMS-pages and out of stock items
Due to flexible settings you can easily exclude any CMS-pages as well as 'out of stock' products from your HTML sitemap to display only the links you really need.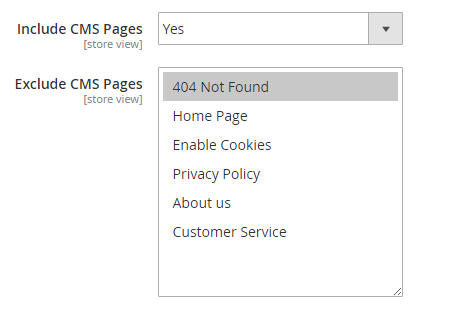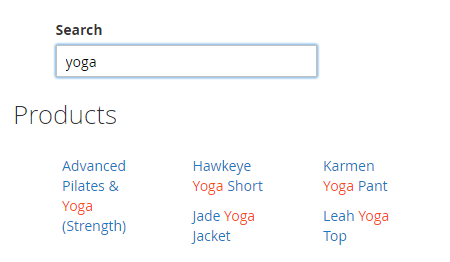 Show a quick search box
Display a quick search window on the Magento 2 HTML sitemap to let customers find necessary pages in seconds.
Specify Meta tags
Relevant metadata for your store pages help search engines to easier understand your content. With the extension you can indicate a custom meta description for your HTML sitemap to get it properly indexed.
Specify the order of content to be crawled
Drag-and-drop the blocks to set the priority and importance of the content. The highest position assumes that the entity will be crawled by Google in the first place.
Fine tune HTML Sitemap display
Set the number of columns
You can easily customize your HTML sitemap layout by setting the number of columns for each content block separately.
Select a display type for categories
Product categories can be displayed in two ways. Choose the one which works better for your HTML sitemap page:
Tree display type;
List display type.
Use custom subheaders
Specify unique subheaders for each sitamap block to customize the layout depending on your specific requirements.
Split products by the first letter
To accurately organize multiple product links you can not only group them in the alphabetical order but split by the first letter. This way customers will be able to quickly find the column with the products they need.
Other Features
100% Open Source — Easy To Customize
Follows Magento Code Architecture
Separated HTML/CSS/JS
Simple installation via Composer
* The name "Magento" and the logo are the trademarks of Magento, Inc.
Works as described.
This is simple and must have SEO tool for every online shop. Works as described. Easy to configure. No support needed. Thanks a lot!
Do you have any questions?
Schedule a demo and get all the answers you're looking for!
book a live demo
Are you looking to add specific functionality for this extension or want to acquire a reliable development partner altogether? With custom development services by Amasty, you will receive high quality and cost-effective solutions developed by Magento professionals according to industry's best practices.
2.4.2-p1, 2.3.7, 2.4.2, 2.4.1-p1, 2.3.6-p1
You can always download the recent version free of charge from your account
Installing an upgrade is easy — check now
My Downloads
Version 1.2.3
Last Update: Dec 26, 2019
Improvement minor improvement was implemented
Fix the problem with mobile view was resolved
New the information section was added. Now, you can see the version of installed extension, available updates, the user guide link, conflicts and other useful information right on the module configuration page
Improvement the configuration page was enhanced
New the option that allows to exclude categories from the sitemap was added
Version 1.1.2
Last Update: Jul 23, 2018
Fix an issue with empty magento data was resolved
New allows to sort the sitemap content order (Categories, Products, CMS pages, Landing pages) making Google to crawl the most important things first
New allows to limit for maximum products displayed in HTML Sitemap
Version 1.0.1
Last Update: Nov 09, 2017