Login with Apple ID for Social Login (Add-On)
for Magento 2
Improve customer retention by offering them a secure and user-friendly login option on your website. Let users register and sign in with one click with a trustworthy Apple ID.
Register and sign in with Apple account
Provide two-factor authentication for advanced security
Works only as an Add-On for Social Login extension
Challenge
When browsing on a new website, 76% of visitors avoid filling in registration forms. Shoppers don't want to remember the multitude of various passwords and usernames. Moreover, users are often concerned about the security of their accounts. If there is no reliable login method available, a customer might abandon the store. That's why many merchants are seeking new ways to provide seamless registration on their website.
Solution
The Login with Apple ID Add-On for Social Login by Amasty is the first to introduce the fastest way to securely onboard new users. With a one-click login, visitors can quickly create accounts on your Magento 2 website using their Apple account credentials. For admins, there are notably fewer spam accounts, as most Apple accounts are protected by the two-factor authentication and require little or no developer maintenance.
Engage more users with simple Apple login
Be the first developer to offer the Apple ID login for your Magento 2 clients
Provide users with a fast way to sign in while protecting their privacy
Employ an easy-to-implement solution, no additional coding required
Employ quick and secure login option
Turn your visitors into clients from the first tap
Oftentimes, merchants give special promotional gifts to motivate a customer to create an account. You can save a lot of money in the long run by introducing a handy Magento 2 login option via Apple account. The easier login and signup process, the more likely a visitor is to make a purchase at the end of their browsing experience.
Offer trustworthy Magento 2 Apple ID login
96% of customers are concerned about the lack of privacy for their accounts, so adding the Magento 2 Apple login is a great decision for your business. With Apple login, there is a built-in secure two-factor authentication system. The user will be asked to prove their identity by entering the code obtained either via SMS or via a trusted Apple device.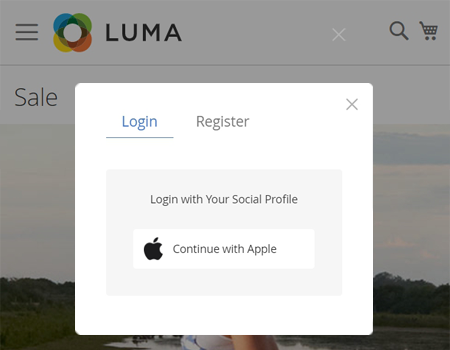 Tailored for Magento 2 web stores
Many stores offer both the mobile application and the website. That's why it's a very smart move to create a single login method that will work across numerous platforms. It creates a smooth user experience, as customers are no longer required to keep separate accounts for the website and the app. With a single click, clients will be able to access their accounts on Magento 2 websites via Apple login.
Prevent frauds and spam accounts
The Apple login employs on-device machine learning and counts numerous other factors to give you confidence in new users. Based on gathered data, it provides a privacy-friendly signal on whether a newly generated profile is a real person or an account you might want to take another look at. This is highly valuable in e-commerce, as merchants are always on the lookout to prevent fraudulent actions.
Offer seamless store login for users
Now visitors can log in into their accounts in less than second! If a user has an account on your website and connects their Apple ID to it, the next login will be as simple as one button click. It positively impacts the clients' shopping experience.
Easy to implement on your website
Save the precious time you have as a business owner or a developer. To connect the add-on to the Apple sign-in system, you will simply need to paste the basic social login credentials, and the module will do the rest. No additional coding required.
Engage customers with instant login
This add-on works only as a part of the
Social Login
extension for Magento 2. Let customers authorize on your website via social login buttons for seamless shopping experience.
Choose the extension edition up to your business needs
Features

Social Login Lite

view demo

Social Login Pro

view demo
Enable up to 8 social login options
Adjust social buttons style to your site design
Provide shoppers with mobile responsive login
Display social login in a popup on any site page
Monitor social login stats with user-friendly dashboard
Protect your store from bots with Google Invisible reCaptcha
Social Login with Facebook
Social Login with Twitter
Social Login with LinkedIn
Social Login with Amazon
Social Login with PayPal
Social Login with Google
Social Login with Instagram
Social Login with Twitch
Boost loyalty of your Apple site visitors
Social login with Apple ID
Login by Touch ID and Face ID
Auto notification about the Apple ID and API key expiration date

$179

add to cart

$269

add to cart
Other Features
100% Open Source — Easy To Customize
Follows Magento Code Architecture
Separated HTML/CSS/JS
Simple installation via Composer
* The name "Magento" and the logo are the trademarks of Magento, Inc.
too high price
Director
The addon costs half price the module itself. I do not argue, everything was done efficiently and works without errors, but as for me, the price is too high.
Amasty answer
Feb 21, 2020
Natalya Chekanina
/ Head of Sales Team
Hi Daniel! Thank you for your feedback. We've already postponed the information to Login with Apple ID for Social Login (Add-On) Team. We would be happy to see you at our Amasty store again!
Can be used separately
It is amazing that you can use addon separately from the extension. Thanks!
Amasty answer
Jan 10, 2020
Natalya Chekanina
/ Head of Sales Team
Hi Alex! Thank you for your notice regarding Login with Apple ID for Social Login (Add-On). We would be happy to see you in our Amasty store again.
Are you looking to add specific functionality for this extension or want to acquire a reliable development partner altogether? With custom development services by Amasty, you will receive high quality and cost-effective solutions developed by Magento professionals according to industry's best practices.
2.4.2-p1, 2.3.7, 2.4.2, 2.4.1-p1, 2.3.6-p1
You can always download the recent version free of charge from your account
Installing an upgrade is easy — check now
My Downloads
Version 1.0.3
Last Update: Feb 23, 2021
Fix we corrected login with Face ID and Touch ID
New now the extension is working on Hybridauth v3 library. Please, update it for further proper functioning of the plugin
Improvement administrator is now notified about expiration of Apple ID authorization key