Facebook Feed
for Magento 2
Make advertising via Facebook Dynamic Ads easier by using this Magento 2 Facebook feed extension for quick and accurate product feed generation. Attract more customers to your Magento 2 store with always up-to-date info about your products on social media.
Use a handy Wizard to set up Facebook product feeds in 7 steps
Apply templates to quickly generate feeds in line with Facebook requirements
Create feeds manually and automatically
Schedule automatic updates of your feed
Create an unlimited number of profiles
Create product feeds for different store views
What a Facebook Product Feed is
Facebook is considered the top social advertising channel by 72% of B2C marketers and 43% of B2B marketers. If you also leverage Facebook Dynamic Ads to offer your products to the right people and at the right time, you definitely thought of a tool to generate data feeds for the Facebook integration with Magento 2 shop.
A Facebook product feed is a file that contains data about all the items you want to advertise. It includes such information as unique IDs, pricing, stock availability presented in line with Facebook standards. Such feeds allow uploading products from Magento 2 to Facebook Product Catalog in bulk instead of handling them individually.
What you get with the extension:
Increase the number of purchases by promoting products on the worldwide social network
Boost the number of repeated purchases by accurately finding the target audience
Make your brand popular among millions of people and build trust among potential customers
Connect Magento 2 to Facebook Shop in 7 steps
Facebook accepts Google feeds as well as long as they meet their requirements. The Google Wizard included in the extension will minimize your efforts by guiding you through 6 stages of Magento 2 and Facebook integration.
1: Set up the basic settings
2: Include/exclude categories
3: Rename categories according to Google requirements
4: Specify product attributes to add to the file
5: Add optional info
6: Schedule the generation process
7: Upload your feed to the Google server automatically
Magento 2 Facebook Feed: Simplify File Generation
Generate feeds per store view
While generating a feed, you can specify the store view and base currency. Exclude disabled, not visible and out of stock products from the file to present only relevant info. This way, you can carefully plan how to use Facebook and Magento 2 store integration to promote your products worldwide.
Create files in different formats
This Magento extension allows creating feeds in a bunch of file formats, including XML, CSV, and compressed ZIP, BZ, and GZ files. For sure, all of them are supported by Facebook.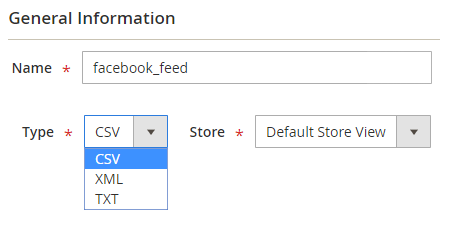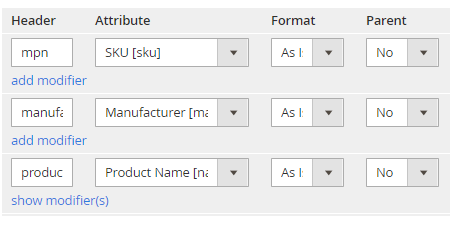 Work with all types of attributes
Using Magento Facebook Feed extension, you can add and manage all types of attributes. Pick custom prices and attribute values for each profile, attach product images, thumbnails and include GTIN (Global Trade Item Number) and MPN (Manufacturer Part Number) product attribute if needed. Flexibly manage attributes via modifiers.
Apply relevant price types
To connect Magento to Facebook, specify the necessary price type and decide whether to include or remove taxes. Round price values if needed.
Set the condition-based products export
As the Facebook ADS extension for Magento 2 can handle all types of products, you are free to choose any type (simple, virtual, bundle, configurable product, etc.) that you need to create conditions for feed generation. Also, you can include products in the feed with regard to their category and attributes.
Automate feed generation
The cron option allows you to deliver products automatically. Choose the most suitable time and frequency (hourly, daily, weekly, etc.) and let your catalog be always up-to-date without extra burden on webstore performance or your constant control. This way you can schedule price and availability updates of your profiles.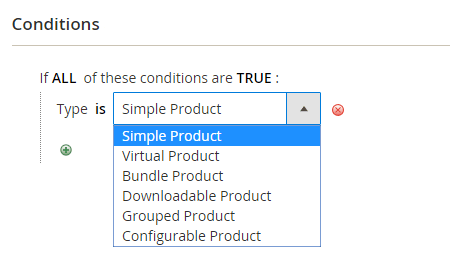 Leverage Google Analytics
Enable the connection with Google Analytics to get reports in your GA account. For this, you need just to fill UTM parameters in a special tab of the extension. Once ready, you can go straight to GA and keep monitoring your campaigns.
Submit feeds from Magento to Facebook via FTP/SFTP
Is your catalog updated often? Is your feed hosted on an FTP client? Consider linking Facebook catalog to your Magento 2 store and scheduling regular updates by configuring FTP/SFTP settings in the extension and Facebook Catalog Manager.
More than just for Facebook
It is likely that Facebook is not the only shopping engine that you use to advertise your products. With this module, there is no need to look for extra tools. The Magento 2 Facebook Product Feed extension provides settings and templates to generate data feeds for multiple engines, including Google, Bing, Shopping.com and others (using custom forms).
GOOGLE SHOPPING: ONE MORE WAY TO BOOST SALES
Google Shopping is one of the biggest commercial platforms for promoting products. Previously, sellers needed to pay for using it, but in May 2020 Google announced that merchants can sell on the Google Shopping platform for free. As Facebook uses the same product feeds as Google, now you can widen your target audience without extra charges. Just use a ready-made feed for Google Merchant Center and make your offers visible on the most popular searching platform.
Additionally, Google is constantly expanding the partnership to widen merchants' opportunities. For example, now business owners can connect their accounts to PayPal, and it's only the beginning. Start using Google Shopping now and don't miss the opportunity to grow your business with the Magento 2 Facebook extension.
Advanced Options
Use Multi-Process Generation to create as many feeds as you need at once
Check file correctness using the preview mode
Monitor and manage cron tasks and cron jobs in a special Cron Tasks List grid
Limit the number of items to process in one iteration
How to make Facebook feed integration with Magento 2 store?
Follow these steps to make Facebook feed integration with your Magento 2 store. It is similar to Google feed integration:
Make general settings.
After that exclude Categories and rename Categories.
Fulfill Basic Product Information, complete Optional Product Information.
After that complete Schedule Settings and finally, upload to Google Server.
Facebook store Magento extension with free support is a tool that offers tremendous marketing opportunities to sell your products on a big variety of shopping platforms. The Facebook Feed extension allows you to create your own feeds from scratch or customize existing ones using an extensive set of templates and tools allowing you to tailor the feed to your needs and start promoting your products.
Product questions

What should I do if Google Merchant Center rejects my feed?

After uploading the feed to Google Merchant Center I'm getting issues and the feed is not accepted on the Google side. How Can I solve them? Please click 'Read FULL answer' link below to see the most frequently reported issues.

Read the FULL answer

We get 'XML formatting error' upon uploading our feed file to Google Merchant Center. How can we solve it?

In most cases, this error appears when special characters inside tags are present in your feed file. Please use HTML escape option for such tags to solve it. Proceed to the full answer to get a step-by-step guide.

Read the FULL answer

What should I check if the feeds are not being generated on a daily basis?

There are two factors that may affect scheduled feed generation. Please proceed to the full answer to find the most common reasons that may prevent your feed from being generated at a specified time.

Read the FULL answer

Warnings and other difficulities after updating the extension to v2.3.0 or above

Updating Feed from v2.2.8 or older to v2.3.0 or newer requires few additional steps to complete this process successfully. Please check full answer for more details.
Other Features
100% Open Source — Easy To Customize
Follows Magento Code Architecture
Separated HTML/CSS/JS
Simple installation via Composer
* The name "Magento" and the logo are the trademarks of Magento, Inc.
Reliable and easy to install
Eau Rouge, CEO
We needed a solution to connect Facebook and Instagram with our catalog and the extension helped us to do this. The extension is reliable and easy to install. Now the catalog is successfully published on social networks.
Amasty answer
Oct 26, 2020
Alena Hamolka
/ Product Team Lead
Hello Fernando, it is great to see that the extension has addressed your needs! Keep tracking the extension updates, and don't hesitate to let us know if you need any assistance!
Good extension
I had problems with installation, however guys in support team helped me to run this module. Now I use it for 3 shopping engines including facebook. There are several templates so you won't have problems adapting it to work with bing or google.
Cool wizard, quickly creates feeds
I like feed wizard. It is intuitive and I just follow steps and get a feed as a result. For the first time I was puzzled because shopping engines have different requirements. But now it's ok. The module works fine.
Good for google and facebook feeds
I use this extn to upload feeds to google merchant and facebook dynamic ads. Works fine and saves a lot of time. Also, thanks to cron I could just set everything in the beginning and now I periodically control it. Feeds are generated automatically.
Are you looking to add specific functionality for this extension or want to acquire a reliable development partner altogether? With custom development services by Amasty, you will receive high quality and cost-effective solutions developed by Magento professionals according to industry's best practices.
Magento 2.2, 2.3, 2.4
You can always download the recent version free of charge from your account
Installing an upgrade is easy — check now
My Downloads
Version 2.6.12
Last Update: Jul 26, 2021
Improvement we added the 'Select All/Deselect All' link to the second step of Google Feed for you to include/exclude all the categories from your product feed
Fix we fixed the issue with the output of attribute values by store view if the use of a parent's value is specified
Fix we fixed the issue with the incorrect sender name specified in emails when sending a notification about feed generation
Fix we fixed the issue with price modifications by fractional percentage worked as a fixed value
Fix we fixed the issue with product links generation when several stores are configured
Improvement minor code improvements were implemented to enhance the extension security
Compatibility now the extension is compatible with Magento 2.3.6
Fix we resolved the problem with incorrect utm markup
Compatibility compatibility with Multi Source Inventory was enhanced
Fix we fixed the "SKU is one of" feed condition error on Magento 2.3.2
Improvement we improved code constructions for Magento Marketplace standards
Fix we fixed the issue with an empty value for 'availability' attribute when the product was disabled in Magento 2.2.x
Fix we fixed the issue with sending emails to multiple recipients
Fix we fixed the issue with feed generation when Email address for notifications was empty
Fix we fixed the issue with feed generation by cron avoiding feed generation twice for one profile
Fix we fixed the issue with XML feed downloading in Magento 2.3.5
Improvement we implemented a performance enhancement - now feed index process will take less time up to 50 times
Improvement we improved code constructions for Magento Marketplace standards
Fix we solved the problem with Category Mapping deleting while Google Feed creating/editing on Magento 2.2.x
Fix we solved the problem with data migration for Commerce Edition
Fix we solved the issue with upload generated feed by FTP/SFTP
Version 2.5.2
Last Update: Dec 04, 2019
Improvement now it is possible to use custom text in condition-based attributes. Set conditions based on the product attributes and get a certain attribute or custom text as an output value in the feed file
Improvement we renamed Custom Fields to Condition-Based Attributes
Improvement now the feature of manual feed generation will check index status in Magento instance
Fix we solved the problem with incorrect stock status for bundle products in feed
Fix we solved the problem with manual extension upgrading on Magento 2.2.7
Fix we solved the problem with undefined index url_key
Fix we solved the problem with running integrations tests
Fix we resolved the problem with generating feeds by cron
New we added a new option that allows you to use multiple threads to minimize the required time for feed generating
Fix we solved the problem with feed generation if conditions were set empty
Version 2.4.0
Last Update: Sep 17, 2019
New we added 4 new templates for Amazon marketplace
New now, the extension includes a new option that lets you choose a folder where your generated feeds will be saved: var or media
Improvement we replaced symbols "&" and ">" to codes in Google Feed according to google requirements
Version 2.3.5
Last Update: Sep 03, 2019
Fix we resolved the issue with saving category filter
Fix we fixed the problem with getting full product url
Fix we implemented a stability enhancement with creating Google Feed
Fix we solved the issue with missing conditions
Fix we resolved the problem with the display of additional modifiers fields
Fix we implemented a stability enhancement with generation product feed in Magento Cloud
Fix we resolved the issue with displaying base images in the media gallery
Fix we fixed the issue with not existing class: 'Class Amasty\Feed\Model\Rule\getValidFeedProducts does not exist'
Fix we fixed the possible problem while installing the extension via composer that appeared after the last update
New we covered the extension with Unit Tests
Improvement we deeply refactored the extension's code making it faster and more stable. Please, completely remove the 'app/code/Amasty/Feed' folder and copy the new version of the extension there, if you previously installed it by copying files. Updating via composer needs no extra actions
Version 2.2.8
Last Update: May 29, 2019
Fix the issue with creating a feed file with compression was resolved
Fix the 'Cron Schedule List' extension being the part of 'Product Feed' is now available for installation via composer
Fix the error 'Something went wrong: Notice: Undefined offset:... ' while creating a CSV feed file for Magento 2.2.7 CE was resolved
Fix the issue with assigning a newly created category to a Google category by mistake was resolved
New we have added 'if not empty' and 'if empty/not empty' modifiers
New now it is possible to use the image of a parent configurable product for a child simple product
Improvement we have improved the feed generation process to make it more stable
Improvement the security was enhanced
Improvement now it is possible to generate feed via CLI. Use commands 'feed\:profile:list' to get the list of profiles and 'feed\:profile:generate PROFILE_ID' to start the generation of the profile.
Improvement the ability to use store view-specific values in a product feed file was added
Improvement a feed name was added to the feed download link
Fix the module.xml file code was updated
Fix the issue with images while selection 'additional images' while feed generation was resolved
Fix the issue when feed generation starts at the wrong time was resolved
Fix the error while feed generation with the setting 'Use for promo rule condition' = Yes was fixed
Fix the issue with catalog price rules while feed generation was resolved
New the ability to manage all existing cron tasks on a Cron Tasks List grid in backend was added. Run cron tasks and generate their schedule by clicking the 'Run Cron' button. Also, delete tasks in bulk, use filtering and sorting options when it is needed
Improvement We have moved the feed cron job to a separate cron group. Now when feed cron task is in progress it doesn't affect the execution of other cron tasks. It is possible now to launch feed cron job with the following command: bin/magento cron:run --group="amasty_feed" command
Fix the possible issue while setup:upgrade was fixed by adding a dependence from Magento_Config module
Fix issue with excluding categories when editing category mapping was resolved.
Fix issue with special price was fixed.
Fix issues with wrong product URLs were resolved.
Fix CDATA related issues were fixed.
Improvement link to the FAQ article regarding feed validation was added.
Fix html-markup inconsistency was fixed.
Improvement new attribute "categoryID" added.
Fix issue with downloading the feed was resolved.
Fix issue related to inability to proceed to the next step when using Feed Wizard was fixed.
Fix issue related to attribute values inconsistency across different stores was fixed.
New the "optional" modifier for XML feeds was added. It provides the ability not to display the attribute with an empty value
New the feed generation pop-up window was improved. Now, it displays an approximate feed generation time, the number of products, and provides the errors output (in case they arose in the process of generation)
New the "feed preview" function for quick preview of a feed format without the feed generation was added
Improvement now, the feed grid displays additional information: the number of products in the feed, the date of the last feed generation and the current status of the feed
Improvement the ability to select several days of the week for a feed generation by crone was added
Version 2.1.0
Last Update: Nov 12, 2018
New hints for category names according to Google Taxonomy were added
New the Google Feed Wizard was redesigned - options from Custom Feed were added
Improvement the reference information about the launch time of the latest cron jobs was added to the Configuration settings of the module
Version 2.0.0
Last Update: Oct 29, 2018
New new modifiers, namely: Uppercase, Capitalize, Round, If Empty, To secure URL, To unsecure URL, were added
New the ability to set modifications - change the price, replace the value with text - for Custom Fields was added
New the ability to send email notifications on the successful/unsuccessful results of feed generation by cron was added
New the feed generation queue settings were redesigned. Now, the feed generation will be carried out weekly on the selected day and time period
Version 1.9.1
Last Update: Oct 25, 2018
Fix the issue with uploading via FTP was resolved
Fix the issue with duplication products in feeds was fixed
Fix the issue out of stock products was resolved
Fix the issue with product URL's when products don't have URL rewrite was fixed
New the ability to create rule based values for custom fields was added - now you can combine several fields to get one value depending on conditions
Version 1.8.2
Last Update: Sep 20, 2018
Fix the issue with the invalid xml custom feed was resolved
Fix the issue with the updating of the extension to the new versions was resolved
New the ability to add the timestamp of a feed creation in the xml feeds header was added
Version 1.7.2
Last Update: Sep 13, 2018
Improvement the ability to test FTP/SFTP connection, while configuring the feed, was added
Fix the issue with duplicate products in the generated feeds was resolved
Fix the issue with products without category in the feed was resolved
Improvement now, the extension works through indexing. The feed generating time was improved
Fix the incorrect column name with fields enclosed by "None" in CSV exporting was fixed
Fix the issue with saving several categories mapping was fixed
Version 1.6.0
Last Update: Jul 19, 2018
New the easy-to-copy link to the generated feed on the grid was added
New now, 3 new settings, that allow excluding disabled, not visible and out of stock products, are available in custom feed
Version 1.5.6
Last Update: Jul 05, 2018
Fix the issue with batch size was resolved
Improvement the code was enhanced
Improvement the stability of feed generation process was improved
New Information section is added. Now you can see the version of installed extension, available updates, User Guide link, conflicts and other useful data right on the module Configuration page
Fix installation issue was fixed.
Improvement Google Analytics hints are now more consistent
Fixed an issue with attribute type Multiselect not being exported correctly
New 'Product ID' attribute is now possible to export
Version 1.4.0
Last Update: Mar 06, 2018
New In this release, we've implemented the Google Feed Wizard. Now you can set up custom feed profiles for Google Merchant just in 4 steps. This option you can find in Products -> Feeds -> Profiles -> Setup Google Feed.
Version 1.3.5
Last Update: Nov 24, 2017
Improved Magento 2.2 compatibility and migration from older versions
Fixed rare case of feed templates being unintentionally deleted
Magento 2.2 compatibility improved
Fixed redirect behavior when attempting download feed from removed profile
Fixed the issue with saving feed profile by using template
Magento 2.2 compatibility introduced
New now you can make Feed ignore certain categories in Category attribute and Category mapping output
Fixed generation issue for very large catalogs
Version 1.2.0
Last Update: May 18, 2017
New You can now control whether the shortest or longest category path will be used in output URL
Number of minor fixes
Product Enabled and Stock Availability conditions are now available by default
Version 1.1.3
Last Update: Mar 31, 2017
Fix for incorrect product URLs in a feed in some cases
Optimized product validation when generating feed
If no products match condition, empty feed will be generated (instead including full list of products)
Parent data fetching for XML feed type
A number of minor improvements
Now it is possible to compress feeds in ZIP BZ or GZ archives to speed up downloading
Version 1.0.3
Last Update: Aug 22, 2016
New field available: Price with TAX(VAT)