Store Pickup
for Magento 2
Drive more sales with Magento 2 Store Pickup extension! Offer improved shopping experience by allowing your customers pickup their orders from the nearest store.
Allow users to choose store pickup at checkout
Easily add multiple points of sales for store pickup method
Show the order summary with saved shipping charges
Adjust store pick up method availability for certain customer groups
Let customers check shipping method details on their account
Challenge
Quite often, customers check if needed items are available at a nearby point of sales while ordering online. They may not have enough time to wait until their purchases will be delivered or they just may prefer not to spend extra money for shipping. In such cases customers more likely to choose the store with a self-delivery option.
Solution
With Magento 2 Store Pickup your customers can order online and pickup purchases from a nearby store at a convenient time. Thus customers save shipping charges and delivery time that motivates them to make more purchases. As a result a store owner will increase sales revenue and enhance brand recognition.
What benefits do you get for your store
Grow your sales providing customers with advanced shipping method
Increase customer base allowing users to take out their orders by themselves
Enhance customer loyalty by helping save time and money for shipping
BOOST THE TRAFFIC OF YOUR POINTS OF SALES
Let customers pick up their orders
During the checkout process buyers can choose "Store Pickup" as shipping method. After that they will be offered to collect their orders from the nearest store.
Enable customers plan pickup time
With Magento 2 In Store Pickup customers may plan the pickup time by themselves checking the working schedule of the certain store and not paying extra charges for delivery.
Add engaging text labels
Customize store pickup labels and display at checkout to draw customers attention to new shipping method.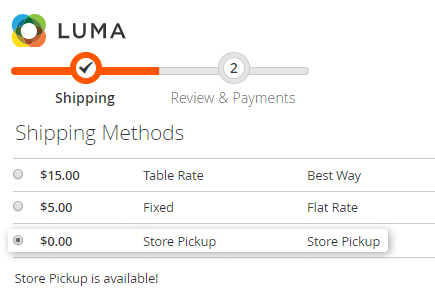 Keep customers informed
Magento 2 Store Pickup extension enables customers to easily view their orders status and store pickup addresses from their account in "My Orders" section, where all the orders are listed.
Notify customers about store pickup details
After submitting an order, send an email notification to a customer with order total information and store address to receive a purchase.
EASILY MANAGE ALL STORES IN A HANDY GRID
Add multiple points of sales
Configure unlimited quantity of stores in the backend. View and manage all the stores in a convenient grid. Easily add a new store to your existing list at any time.
Adjust store pickup availability
Make store pickup method applicable for all customers or just for specific customer groups. Set the method's visibility for particular stores.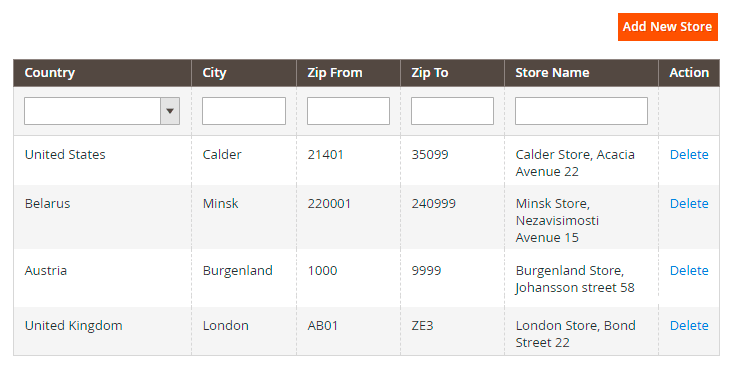 Take your shipping process under control
Boost shipping profitability with
Shipping Suite for Magento 2
. Get the greatest benefits from the synergetic work of 3 smart and useful shipping managing tools.
Other Features
100% Open Source — Easy To Customize
Follows Magento Code Architecture
Separated HTML/CSS/JS
Simple installation via Composer
* The name "Magento" and the logo are the trademarks of Magento, Inc.
Feature needed
Module is set-up-and-run, no difficulties with this. It really works for but is it possible to schedule not only date of deliveries, but also time? Because now bigger number of customers starts banging on my store chatbot and email from 6 am. They control their deliveries, but I really lose track.
Good for reputation
Best thing is that customers know about it. It's not like you push them to order and then you leave them. You give them control also. You show respect and they return.
smart and flexible
Doubted, but then I studied settings and saw base rate for order I can add for each pick up point. This motivates my shoppers. Like ok, they will deliver to the nearest store if the order costs $50. I have now for $42. And they add for $8 more.

1 day in and working
It's active just a day - and already people order better. On average I had 5-7 orders daily. After I added ship to store option, my order-per-day figure is growing by 2 daily. I totally recommend.
Magento 2.1, 2.2, 2.3
You can always download the recent version free of charge from your account
Installing an upgrade is easy — check now
My Downloads
Version 1.0.1
Last Update: Jul 18, 2019
Fix the issue with displaying comments for store pickup shipping method on checkout page was resolved